Easy Homemade Cinnamon Rolls
The only thing better than homemade cinnamon rolls with that delicious cream cheese glaze is easy homemade cinnamon rolls made with a shortcut so you can get them in you belly sooner!
These easy homemade cinnamon rolls have power behind them… real power. You could pretty much get anything you wanted if you showed up toting a plate of these warm cinnamon rolls with cream cheese icing oozing down the side. You can use them as wonderful gifts of gratitude and tokens of caring.
I especially love that I can make these ahead of time and put them in the fridge to pop in the oven first thing in the morning, which makes your gifts of gratitude and tokens of caring even easier to provide!
I have been making these cinnamon rolls for years, but only in the past few have I started using this shortcut method that involves no yeast so no proofing or kneading. While it's fun to make the dough from scratch (see recipe for cinnamon roll dough from scratch below), it's much more time-consuming and not that easy on your hands. Using store-bought bread dough as opposed to making your own makes this homemade cinnamon roll recipe super easy for anyone to make, regardless of experience in the kitchen.
Besides the dough, all you need is butter, cinnamon, cream cheese, brown sugar, and confectioner's sugar. I can't wait for you to try these cinnamon rolls. There's just something about the combination of soft warm bread, cinnamon sugar, and sweet creamy icing that I, for one, can't get enough of. Are you ready to give this recipe a go?
Recipe Ingredients
Frozen white bread dough
Unsalted butter
Ground cinnamon
Cream cheese (here's my easy recipe for homemade cream cheese)
Brown sugar
Confectioner's sugar
How to Make Easy Homemade Cinnamon Rolls
Get out one loaf of frozen bread dough and sit it on a plate at room temperature to thaw. This will probably take about an hour.
Just go check on it now and then and poke it a bit to see if it is still frozen in the center. We need it completely thawed because we're gonna take our rolling pin and put some elbow grease into flattening and stretching that puppy out!
In a small bowl, place brown sugar and cinnamon and mix them together.
Place your thawed bread on a floured surface.
I always roll out a bit of waxed paper to do this on for easy clean-up.
Now, putting some elbow grease into this, roll out the dough.
What dimensions should you roll it out to?
Now, my original cinnamon roll recipe called for it to be rolled out to about 16×21 but that was when I was making the dough from scratch. When I use a loaf of dough, I roll it out to about 9×16. It comes out just the same but you just don't have as many spirals to your cinnamon rolls.
Take half of your stick of melted butter and spread it over your dough.
Sprinkle your brown sugar mixture over it and pat down lightly.
Carefully begin rolling it all up into a log.
Like this. Press that together just a little bit.
Using a serrated knife (because that is what works best for me, but if you prefer some other type feel free) cut one-inch slices all down your log.
Place the slices in a greased 9×13 baking dish.
Cover the uncooked cinnamon rolls with cling wrap and place them in a warm place to rise until doubled in size. This can take anywhere from two to four hours, depending on the temperature.
How to find a place for the dough to rise
In summer, I sat them outside on my deck and they were done in 1.5 hours. But in winter, I get creative and set them on top of the washing machine while I dry my clothes in the dryer nearby.
Another option is to put them in the refrigerator and let them rise overnight. They will rise much more slowly in the fridge, so get up about an hour before you want to bake them because you may need to sit them on the counter for about an hour to let them finish rising.
Looky there! Isn't that beautiful? See how easy this is?
Now remove cling wrap and bake at 400 for 15 minutes or until golden brown.
How To Make The Cinnamon Roll Icing
Place the cream cheese and the remaining butter in a mixing bowl.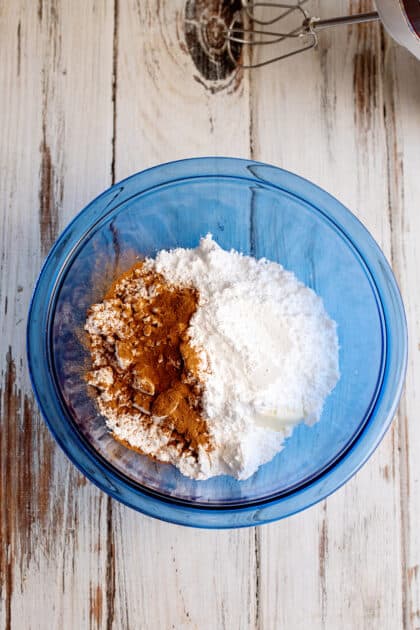 Add confectioner's sugar and cinnamon.
The cinnamon gives your icing a bit of oomph!
Mix that up until smooth and creamy.
Now if I am serving these rolls right out of the oven I let my family and guests ice them on their own. But if I am taking them someplace I ice them myself. Whatever you do is perfectly fine!
Ooooh Lawdy, isn't that gorgeous?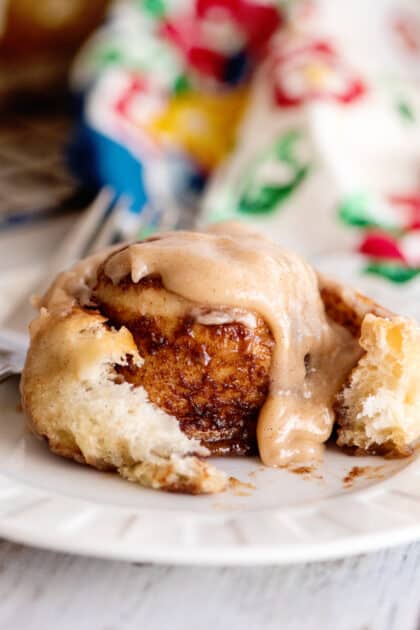 These heat up well, too. You can make them for dessert after dinner and then heat them up for breakfast in the morning. Delicious!
Storage
Store leftover cinnamon rolls in an airtight container in the fridge for up to 1 week. You can quickly reheat them in the microwave, oven, or air fryer.
You can also freeze cinnamon rolls for up to 3 months. Double wrap them in plastic wrap and then foil to prevent freezer burn. Then let them thaw in the fridge before reheating as above.
Recipe Notes
Another shortcut you can use is to use store-bought frosting instead of homemade frosting. Whatever works for you! You can also add coffee icing by quickly mixing together 1 cup of confectioner's sugar and 2 tablespoons of strong coffee.
Another way to get your cinnamon rolls to rise in winter is to heat your oven to 150°F. Then turn it off and place the covered rolls inside. Leave the oven door cracked open for about 30 minutes, then shut it, and keep an eye out to see when they've finished rising.
For the cinnamon roll filling, you can use either light or dark brown sugar, or a combination of brown sugar and granulated sugar.
If you want to add a filling to your cinnamon roll spread some chopped nuts (slivered almonds or chopped pecans work well) or raisins over the cinnamon sugar mixture before rolling it up.
You can also add more spices if you like, like a teaspoon or two of pumpkin pie spice, ground nutmeg, ground cardamon, or apple pie spice.
Recipe FAQs
How do you make cinnamon roll dough from scratch?
This dough replaces the frozen loaf of bread dough. Use the rest of the recipe as written above.
1 cup lukewarm milk
2 large eggs at room temp
1/3 cup unsalted butter or margarine, cut up
4 3/4 cups all-purpose flour
1 3/4 tsp salt
1/2 cup sugar
2 1/2 tsp instant or bread machine yeast
Place all of the dough ingredients into the pan of your bread machine in the order listed. Program the machine for dough or manual and press start. After about 10 minutes, check the dough's consistency. It should be smooth, not too sticky, and not too dry. Adjust its consistency with additional flour or water if necessary to allow the machine to complete the kneading.
If not using a bread machine: combine all of the dough ingredients in a large mixing bowl and stir until the mixture becomes cohesive. Transfer to a lightly oiled work surface and knead by hand for five to eight minutes or until it is smooth.
Place kneaded dough in a lightly oiled bowl and turn to grease on all sides. Cover the bowl with plastic wrap and let it rise in a warm place for one hour, until it's nearly doubled. Transfer to a floured work surface and roll into a 16×21-inch rectangle. Spread with 1/2 stick of margarine and sprinkle with cinnamon/sugar mixture. Complete using the recipe above.
Check out these other cinnamon-spiced recipes:
Cinnamon Roll French Toast Bake
Upside Down Cranberry Pecan Cinnamon Rolls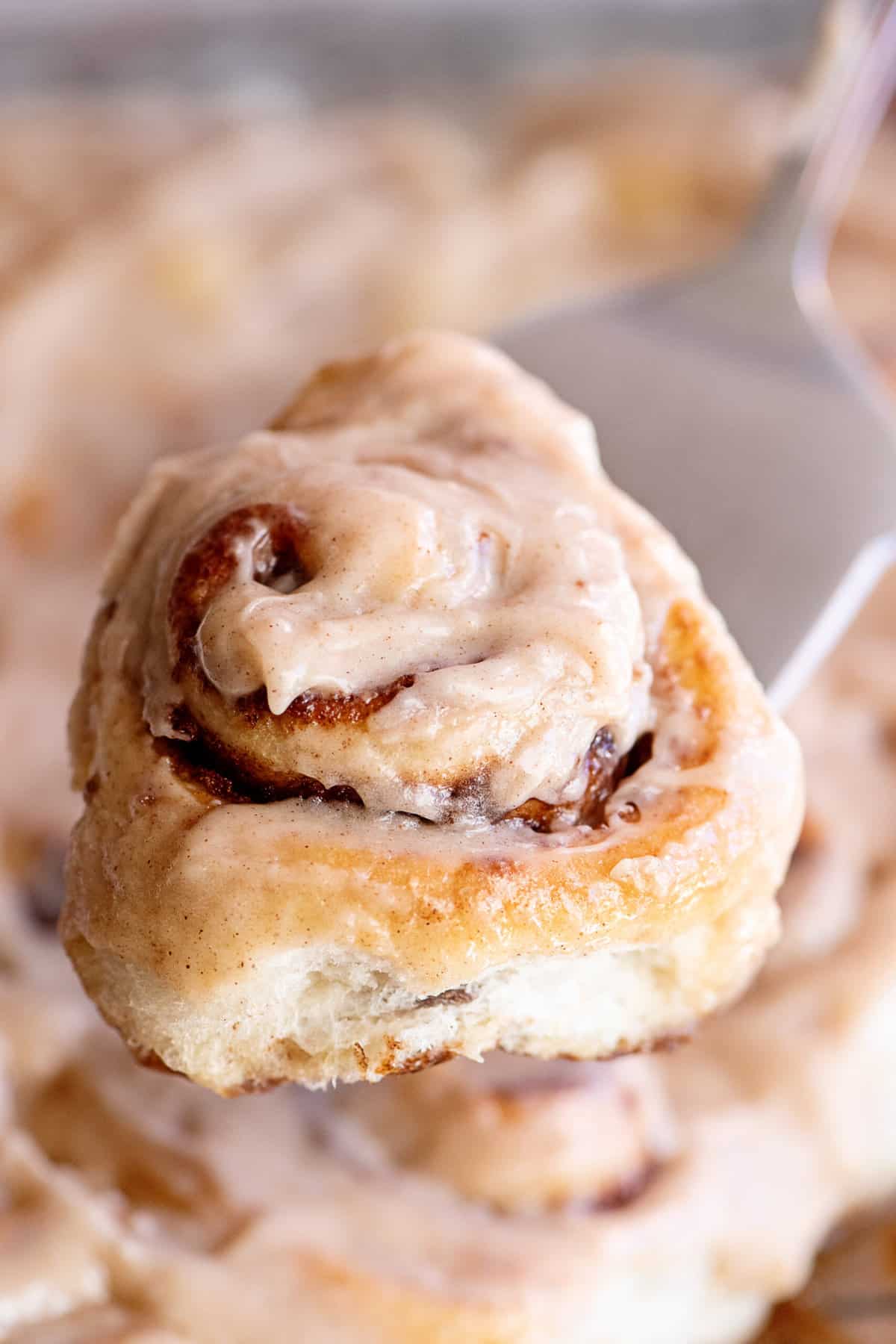 Ingredients
1

loaf

frozen white bread dough

such as Rhode's
Filling
1/4

cup

softened butter or margarine

1

cup

packed brown sugar

3

tbsp

ground cinnamon
Icing
3

ounces

softened cream cheese

1/4

cup

softened butter or margarine

1.5

cups

confectioner's sugar

1/2

tsp

vanilla extract, optional
Instructions
Place the loaf of dough on a plate and let sit at room temperature until thawed. Once thawed, roll out onto a floured surface to the size of about nine inches by sixteen inches. Spread butter/margarine over the dough.

1 loaf frozen white bread dough,

1/4 cup softened butter or margarine

In a small bowl, mix together brown sugar and cinnamon. Sprinkle over the top of the dough, stopping about 1/2 an inch away from the sides so it will seal. Carefully roll up the cinnamon roll dough into a log and press lightly to seal. Slice into one-inch slices with a serrated knife.

1 cup packed brown sugar,

3 tbsp ground cinnamon

Place in a greased 9x13 baking dish and cover with cling wrap. Place in a warm spot and allow to rise until doubled in size. Remove cling wrap and bake at 400 for about 15 minutes or until golden brown.

Mix all icing ingredients together and beat with an electric mixer until creamy. Spread over cinnamon rolls.

3 ounces softened cream cheese,

1/4 cup softened butter or margarine,

1.5 cups confectioner's sugar,

1/2 tsp vanilla extract, optional
Video
Nutrition