What do you get when you combine soft and fluffy canned cinnamon rolls with a creamy cinnamon and maple syrup-flavored sauce? This quick and easy cinnamon roll french toast casserole that's destined to take your breakfast game to the next level.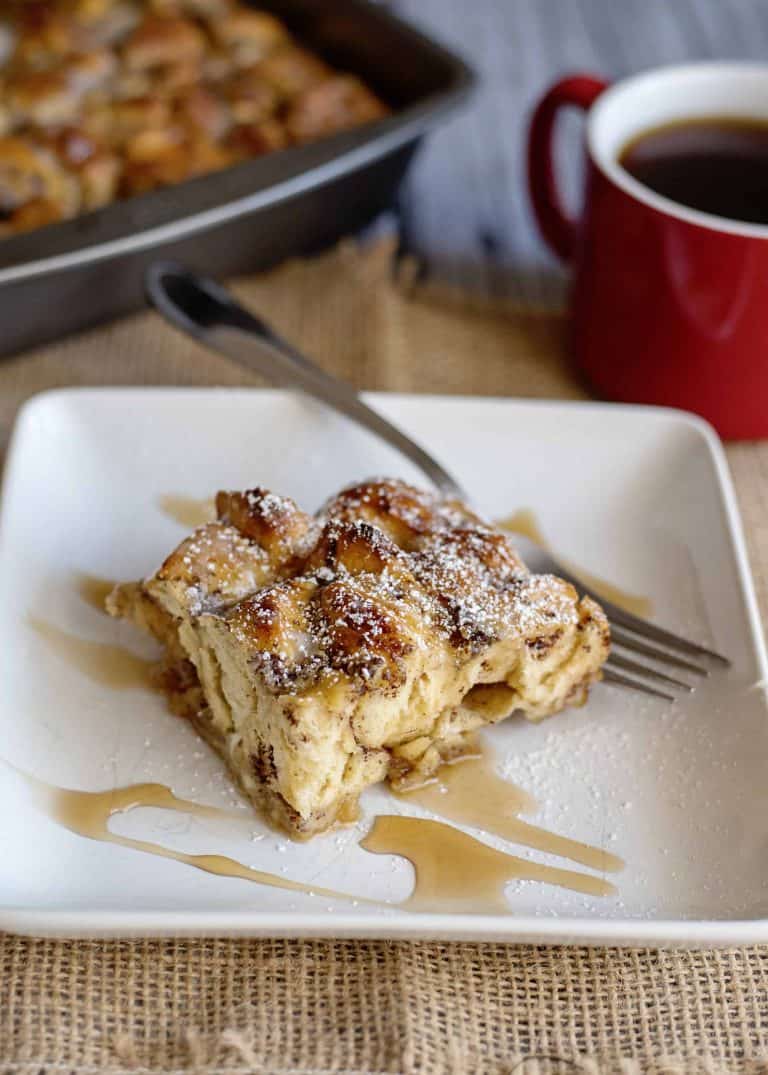 One of my favorite store-bought shortcut sweets has got to be canned cinnamon rolls. They couldn't be easier to make and everyone loves them, especially hot from the oven with that delicious drizzle of icing. This recipe takes all of those great flavors up a notch, turning canned cinnamon rolls into a magnificent cinnamon roll french toast casserole. It's great if you want to make breakfast a little extra special but are still short on time and it also adds just a wee bit of protein into our favorite treat.
So, besides canned cinnamon rolls, what else do you need to make this cinnamon roll french toast bake? That would be egg, milk, butter, ground cinnamon, vanilla, and maple syrup. The instructions couldn't be easier. You just need to cut up the cinnamon rolls and place them in the bottom of a baking dish. Then we just mix together the sauce ingredients and pour that on top. Bake for 20 minutes and serve, that's all there is to it.
Serve them with your favorite pancake syrup or go with pure maple if you like. I find this cinnamon roll french toast casserole goes perfectly with a light side of fruit or fruit salad. However you serve it, I hope you enjoy this unique take on french toast. You've got the texture of soft and fluffy cinnamon rolls paired with a sweet and creamy cinnamon-spiced sauce. What more could you want?
Recipe Ingredients
A can of Pillsbury cinnamon rolls
One of the milk options in the recipe (see the card at bottom of the post).
Butter
Eggs
Ground cinnamon
Vanilla extract
Maple syrup
How to Make Cinnamon Roll French Toast Casserole
Melt your butter and place it in the bottom of an 8×8 baking dish.
Cut your refrigerated cinnamon rolls into small pieces.
Place them on top of that melted butter.
Place eggs, milk, cinnamon, and vanilla in a medium mixing bowl and make like Michael Jackson (beat it).
Pour this mixture over your cinnamon rolls.
And drizzle some syrup over all of that.
Bake at 375 for about 20 minutes or until golden brown on top.
Top with cream cheese icing from the can of cinnamon rolls.
Serve warm, with your favorite syrup on top and a dusting of powdered sugar.
This easy cinnamon roll casserole is great as a brunch dish and is best served with a side of fresh fruit.
Enjoy!
Storage
Store leftover casserole in an airtight container in the fridge for up to 5 days. While you can reheat it in the microwave, I recommend reheating quickly in the oven.
You can also freeze leftovers for up to 3 months. Thaw in the fridge overnight before reheating as above.
Recipe Notes
A great dairy-free alternative to the milk options below is coconut milk, as it has a creamy consistency.
For extra texture, sprinkle a cup of chopped pecans or chopped walnuts over the top of the casserole before baking.
Maple bacon cinnamon roll french toast bake, anyone? Sprinkle half a cup of crisply cooked chopped bacon bits on top of the dough pieces (thanks Pillsbury for the tip).
Recipe FAQs
Why is my baked french toast casserole soggy?
A french toast casserole will become soggy if there's too much egg mixture. However, I've never had a problem with this particular cinnamon roll french toast casserole being soggy, so stick to the measurements below and you should be good to go.
Can I make my cinnamon roll french toast casserole in advance?
Yes! What you can do is prep the entire casserole in advance, cover it with plastic wrap, and store it overnight in the fridge. Then the next day, bake it according to the instructions. Otherwise, the baked casserole lasts for up to 5 days in the fridge, so you can bake it and then reheat it in the oven until heated through before serving.
How do you serve cinnamon roll french toast casserole?
You can serve this french toast bake how you would normal french toast. Here are some delicious toppings I recommend:
Fresh fruit like blueberries or diced apples.
Whipped cream or a scoop of vanilla ice cream.
A drizzle of Nutella or peanut butter instead of more syrup.
Check out these other treats:
Overnight Stuffed French Toast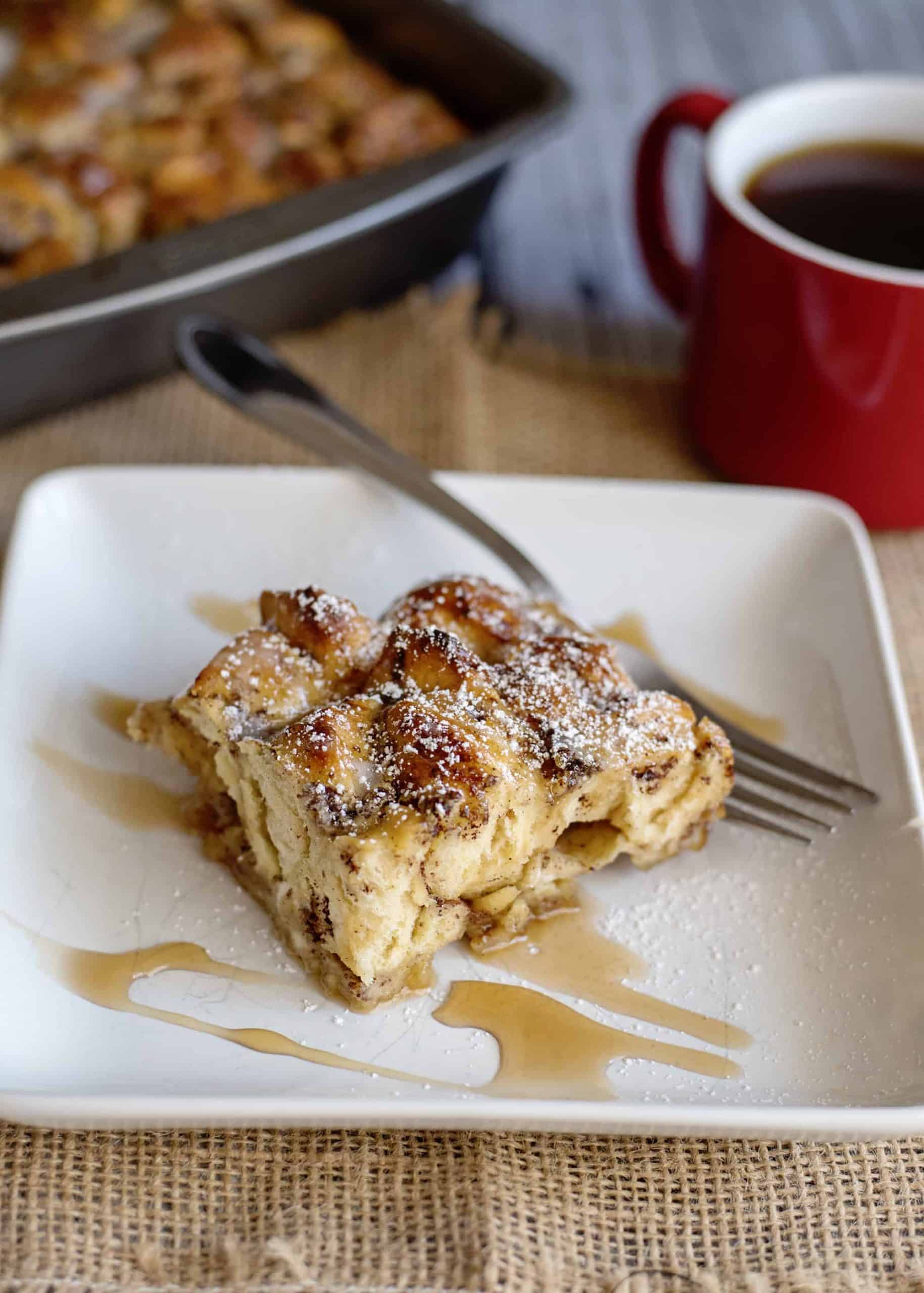 Ingredients
2

tbsp

melted butter

1

12.4-oz can

Pillsbury original icing cinnamon rolls

3

large eggs

¼

cup

heavy cream, half-and-half, or whole milk

1

teaspoon

ground cinnamon

1

teaspoon

vanilla extract

1/2

cup

maple syrup
Instructions
Preheat oven to 375 degrees and pour the melted butter into the bottom of an 8x8 baking dish.

Cut each cinnamon roll into small pieces.

1 12.4-oz can Pillsbury original icing cinnamon rolls

Arrange the cinnamon roll slices over the butter layer.

In a medium bowl, beat together the eggs, milk/cream, cinnamon, and vanilla until well combined. Pour into the dish.

3 large eggs,

¼ cup heavy cream, half-and-half, or whole milk,

1 teaspoon ground cinnamon,

1 teaspoon vanilla extract

Drizzle the maple syrup all over the top.

Bake for 20-25 minutes until the top is golden brown. Cool for a few minutes.

Remove the metal lid from the icing container and microwave the icing for 5-10 seconds, until it's thin enough to drizzle.

1 12.4-oz can Pillsbury original icing cinnamon rolls

Pour the icing all over the top. Best served warm with a little extra syrup and powdered sugar.
Nutrition
I learned a long time ago never to wrestle with a pig. You get dirty and, besides, the pig likes it.
~George Bernard Shaw
You might enjoy this gingerbread spiced coffee recipe too.