Do you want to learn how to make cloud dough? Well, I'm here to share my inexpensive, oh-so-fluffy, and easy 2-ingredient cloud dough recipe with y'all today. Kids love it and you may even find yourself playing with it during nap time. It's almost therapeutic!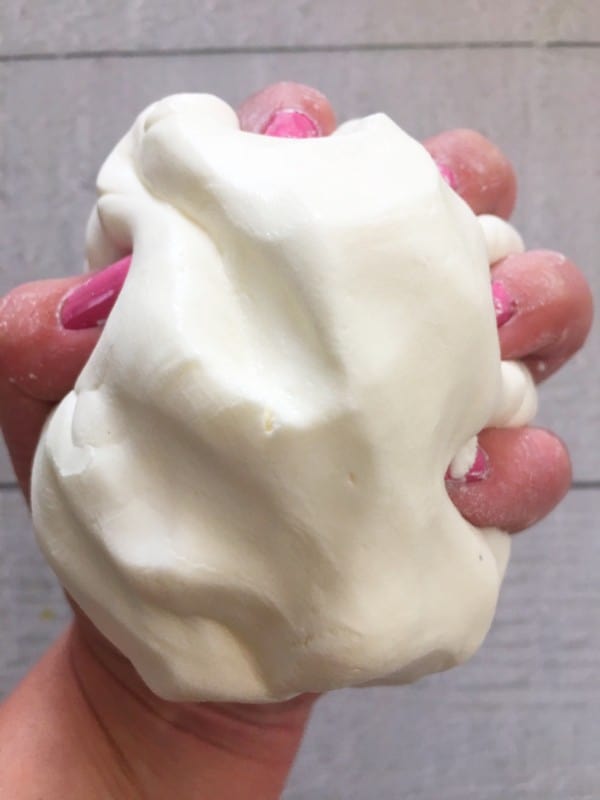 If you have kids at home these days, you're probably well acquainted with the range of homemade play doughs. Today I'm bringing you a super simple recipe about how to make cloud dough that only takes two ingredients (and you may already have them in your pantry). If you don't, rest assured that they're super inexpensive.
Okay, so what are the two ingredients? Today we're making homemade cloud dough with conditioner and cornstarch! These two basic ingredients combine to make the fluffiest play dough imaginable. Yeah, it lives up to its name because it feels as soft and fluffy as you'd imagine a cloud feels.
Now, when I say this is a quick and easy cloud dough recipe, y'all know I mean it. All we are going to do is pop our two ingredients in a mixing bowl, mix them together with a rubber spatula, and then we use our hands to knead the dough together. This is the kids favorite part! They love to feel the ingredients squish and gush between their sweet pudgy little fingers. In less than 10 minutes your moon dough is ready for the kids to enjoy. This cloud dough is so easy to make that I often just hand over the reins to my kids and let them create it all on their own! If your kids love playing with cloud dough make sure you check out Homemade Lemon Scented Play Dough or Homemade Smurf Play Dough, these will keep your kids entertained for hours.
Alright, who's ready to make some soft and fluffy cloud dough? Let's get to it!
Recipe Ingredients
Helpful Kitchen Tools
H

ow to Make Cloud Dough
Measure out your cornstarch into a bowl and then add the conditioner.
Begin stirring until it's well incorporated but crumbly and hard to mix.
Now we need to use our hands.
First, knead it together until it becomes smooth.
Next, we are going to continue kneading the dough until it's fully blended and cloud-like.
Lastly, store it in an airtight container when you're not enjoying it.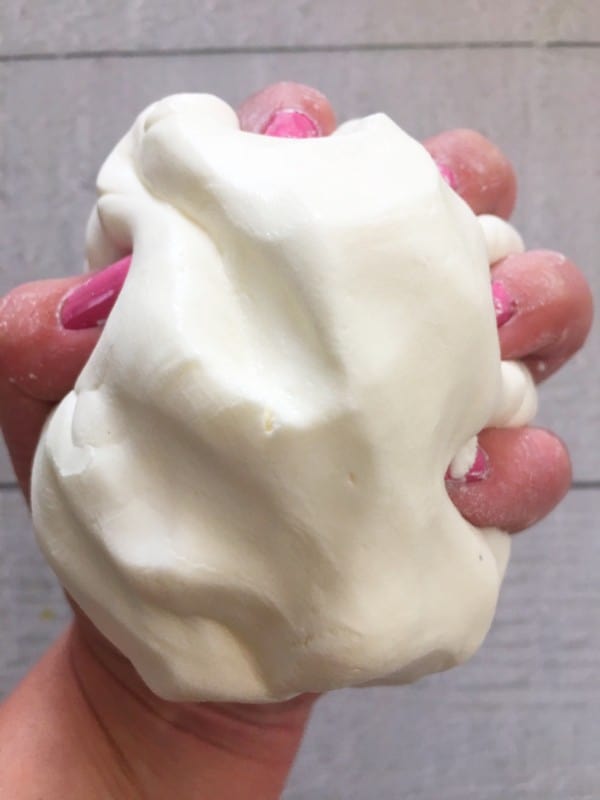 Have fun with your dough!
Storage
Store cloud dough in an airtight container for a few weeks. Just ensure you squeeze the air out every time. You can also wrap it in plastic wrap before popping it into the sealable container to extend its lifetime.
Notes
You can use any conditioner but scented is really fun to make it a sensory experience for your kiddos! If you don't have scented conditioner you can also add in a few drops of essential oils.
Instead of cornstarch, you can use regular all-purpose flour as well. I just prefer the texture of cornstarch.
FAQs
Is this similar to moon dough?
Moon dough is the exact same thing! Just another name for it. 🙂
What are the ingredients of cloud dough?
All you need is cornstarch and hair conditioner.
How do you make cloud dough with 3 ingredients?
The 3-ingredient dough includes cornstarch, hair conditioner, and food coloring. You can do this with artificial food coloring or you can experiment with natural food coloring like beet powder or turmeric.
Can you use any lotion for cloud dough? Are there any alternatives?
You can use hair conditioner, baby oil, shampoo, hand lotion, body lotion, or baby lotion.
Does shampoo work for cloud dough?
Yes, you can use shampoo or conditioner. I just prefer the creamy texture of the conditioner.
What is the difference between cloud dough and play dough?
Play dough has a stiffer texture, while this has a soft and grainy texture like wet sand or kinetic sand. This is why our dough is perfect for sensory play!
You may also like these posts:
My Favorite Kid-Friendly Halloween Crafts
Bunny Pom Pom Crafts (with free printable)
Homemade Lemon Scented Play Dough
Ingredients
2

heaping cups

cornstarch

1

cup

scented conditioner
Instructions
Measure and add your cornstarch to a large mixing bowl.

2 heaping cups cornstarch

Measure your conditioner and pour it into your bowl of cornstarch.

1 cup scented conditioner

Use a long spatula to mix your two ingredients together until it gets hard to mix.

Use your hands to finish kneading the dough together. One way I do this is to put it all in a gallon zipper seal bag and continue kneading it.
Video
Notes
This is a craft activity. This is not for consuming (eating). It's just for playing with.
One hundred years from now
It won't matter
What kind of car I drove
What kind of house I lived in
How much money I had in the bank
Nor what my clothes looked like
BUT
The world may be a little better
Because I was important
In the life of a child
by Forest Witcraft