2-Ingredient Biscuits With Ice Cream
These 2-ingredient biscuits use self-rising flour and vanilla ice cream to make fluffy Southern biscuits with the perfect amount of sweetness.
In honor of National Biscuit Month, I'm sharing a unique recipe about how to make 2 ingredient biscuits with you today that appears in my second book, Come Home To Supper. This cream biscuit recipe came from Christy's dear friend, Jyl, who is a wonder in the kitchen. Everything Jyl makes is delicious.
Biscuits are as much a part of the Southern heritage as "y'all" and humidity. They've kept our ancestors from starving and sent our kids off to school for generations with a full tummy. In case you were in any doubt, there are LOTS of biscuit recipes on Southern Plate. From 3-ingredient biscuits to drop biscuits and buttermilk biscuits, you bet all bases are covered.
But today we're turning our attention to my 2-ingredient biscuit recipe, which is a fun twist on the classic biscuit that requires only two ingredients. I personally call 'em ice cream rolls because they look a little fancier but once you take a bite, you'll know they're just good old biscuits in disguise. Not only do you only need 2 ingredients, but the recipe takes 15 minutes from start to finish. Simply mix the ingredients together, pop the batter in a muffin tin, and you have homemade biscuits in a flash! This is one of the easiest biscuit recipes out there.
Many cream biscuit recipes use heavy cream in place of the vanilla ice cream, so you can use either. The rolls are the texture of a fluffy Southern biscuit with the slightest hint of sweetness thanks to the ice cream. Are you intrigued and ready to give them a go? Let's get cooking!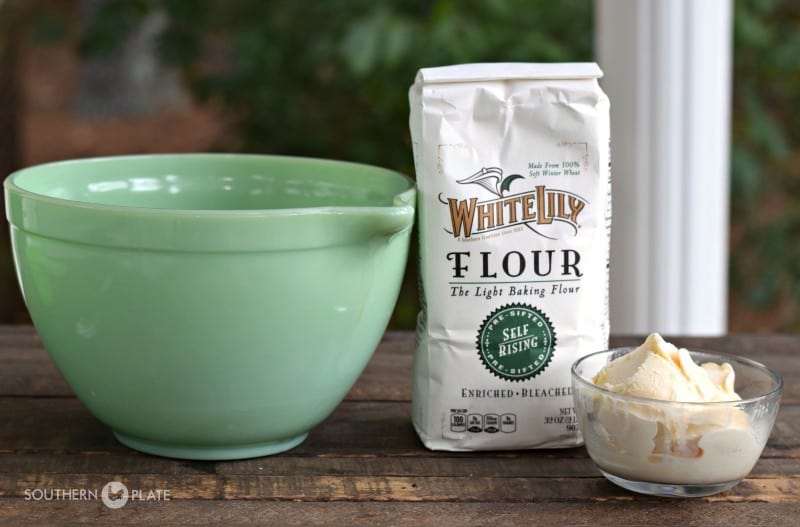 Recipe Ingredients
White Lily self-rising flour (a staple in the South) but any self-rising flour will do.
Vanilla ice cream (you're going to have to let the vanilla ice cream melt or microwave it a minute to get it there).
How to Make 2-Ingredient Cream Biscuits
Combine 2 cups of both ingredients in a medium bowl and stir.
If the batter here looks a little stiffer than yours will be on account of the fact I kinda sorta accidentally dumped a little extra flour in… But either way, they'll be fine.
Now, one of my favorite parts about this biscuit recipe is there's no need to knead the biscuit dough or get out your biscuit cutter.
Just grease six wells of a muffin tin with cooking spray and divide the biscuit batter evenly among the cups.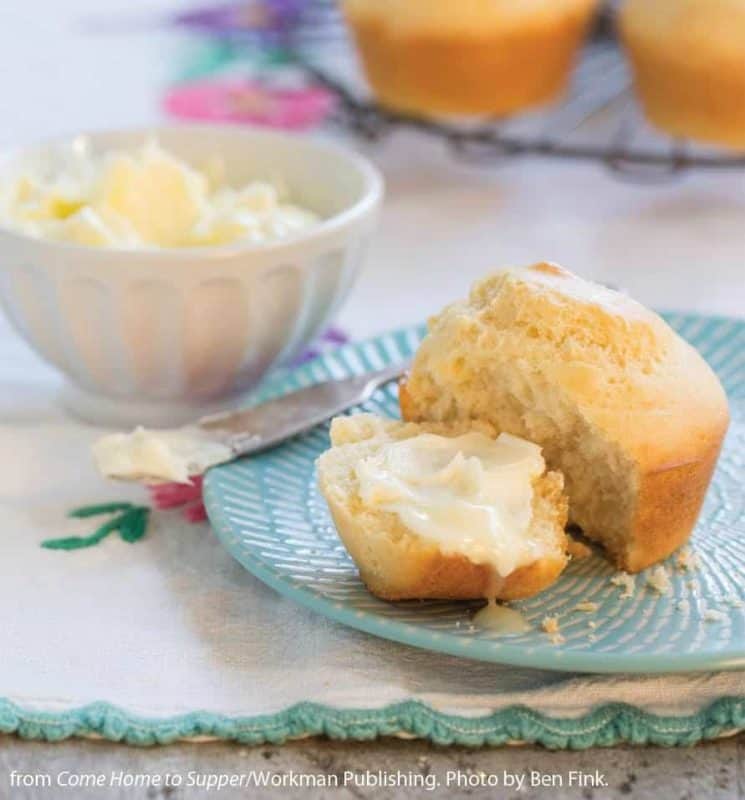 Bake at 350 for 8-10 minutes or until golden brown and serve warm with butter. Enjoy!
Storage
Store additional biscuits in an airtight container at room temperature for up to 3 days or in the fridge for up to 1 week. You can reheat them in the microwave, oven, or air fryer.
You can also freeze biscuits for up to 6 months. Thaw in the fridge or at room temperature before reheating as above.
Recipe Notes
To make your own self-rising flour for this recipe, you need 2 cups of all-purpose flour, 3 teaspoons of baking powder, and about a teaspoon of salt.
As mentioned in the intro, you can substitute vanilla ice cream for heavy cream if you prefer to make 2 ingredient cream biscuits. It's the more popular option, but either way, they taste delicious.
Another substitution is Greek yogurt.
For sweeter biscuits, add 1-2 tablespoons of maple syrup or white sugar to the batter.
You can add a glaze if you like. Just brush the biscuits with honey, milk, or melted butter before baking.
Recipe FAQs
How do you serve cream biscuits?
Southern biscuits go with everything! Here are some suggestions:
Serve them with butter, jam, honey, Nutella, nut butter, or my spiced peach butter for breakfast.
Add bacon or sausage and eggs for an epic breakfast sandwich.
Can you make gluten-free biscuits?
Absolutely, just use gluten-free self-rising flour instead.
Are cream biscuits the same as scones?
While you can serve biscuits with jam and cream as they do with scones in the UK, cream biscuits are not the same as scones. Texture-wise, cream biscuits are light and fluffy, while scones are more dense and crumbly.
Check out these other biscuit recipes:
Sausage Biscuits With Cheese & Chiles
Easy Chicken and Dumplings With Biscuits
Homemade Biscuits Easy with Pioneer
Garlic Cream Biscuits with Bacon Gravy
Ingredients
2

cups

self-rising flour

2

cups

vanilla ice cream

Let the ice cream melt slightly before using
Instructions
Combine both ingredients in a mixing bowl and stir.

2 cups self-rising flour,

2 cups vanilla ice cream

Grease the wells in the muffin tin.

Divide the batter evenly among the cups.

Bake at 350 degrees for 8-10 mins or until golden brown.
Nutrition