If you're a fan of peaches and apple butter, this spiced peach butter is the perfect recipe for you! There is nothing like being able to take the taste of fresh, local peaches with just a hint of spice, and smear it atop a hot fluffy biscuit!
Okay so I've been on a canning roll lately and if canning isn't your thing you may think you're just out of luck but you can actually forego canning each of these recipes and just pop them in your fridge if you like, – I'm sure you won't get any complaints if you share extras with friends! .
To make this delicious peach butter you're going to need these recipe ingredients:
Peaches. About twice what you see photographed here.
Sugar
Cinnamon
Ginger
Allspice
Water
Oh, and canning jars 🙂

For full recipe and printable recipe card, keep scrolling…
Peel peaches and cut them in slices, discarding the pit. Place peaches in a large pot along with all other ingredients. (Instead of peeling them, you can dip them in boiling water for a minute or two and the skins will come off pretty easy, but its quicker for me to to peel them rather than fill a pot with water, wait on it to boil, etc)
Place this over medium high heat and chop them up a bit while you stir and cook them, stirring often to keep it from scorching.
Once peaches are soft, strain them out in batches to puree either in a blender or food processor.
I'm using a blender. Now y'all, this is hot at this point. Know that going into this, k?
After peaches are pureed, add back to big pot and continue cooking over medium heat, stirring often, until mixture is thick and reduced by an inch or two, about thirty minutes. Watch your heat here and keep stirring a good bit because it can still scorch.
Once it is thickened, ladle into pint jars using a canning funnel to keep from making a big old mess. Here is a ladle that you might like to consider. It keeps everything nice and tidy..
Wipe the rims with a damp paper towel to remove any sticky residue where you may have had a little spill. Place lids on jars and process in boiling water bath for fifteen minutes. For instructions on how to do that, click here.
If you aren't canning
Store jars in the refrigerator and try to use within a month or two. You could store them in the fridge longer but if you have something this good in your refrigerator you need to be eating it!
My favorite way to enjoy this spiced peach butter is on big old cat head biscuits!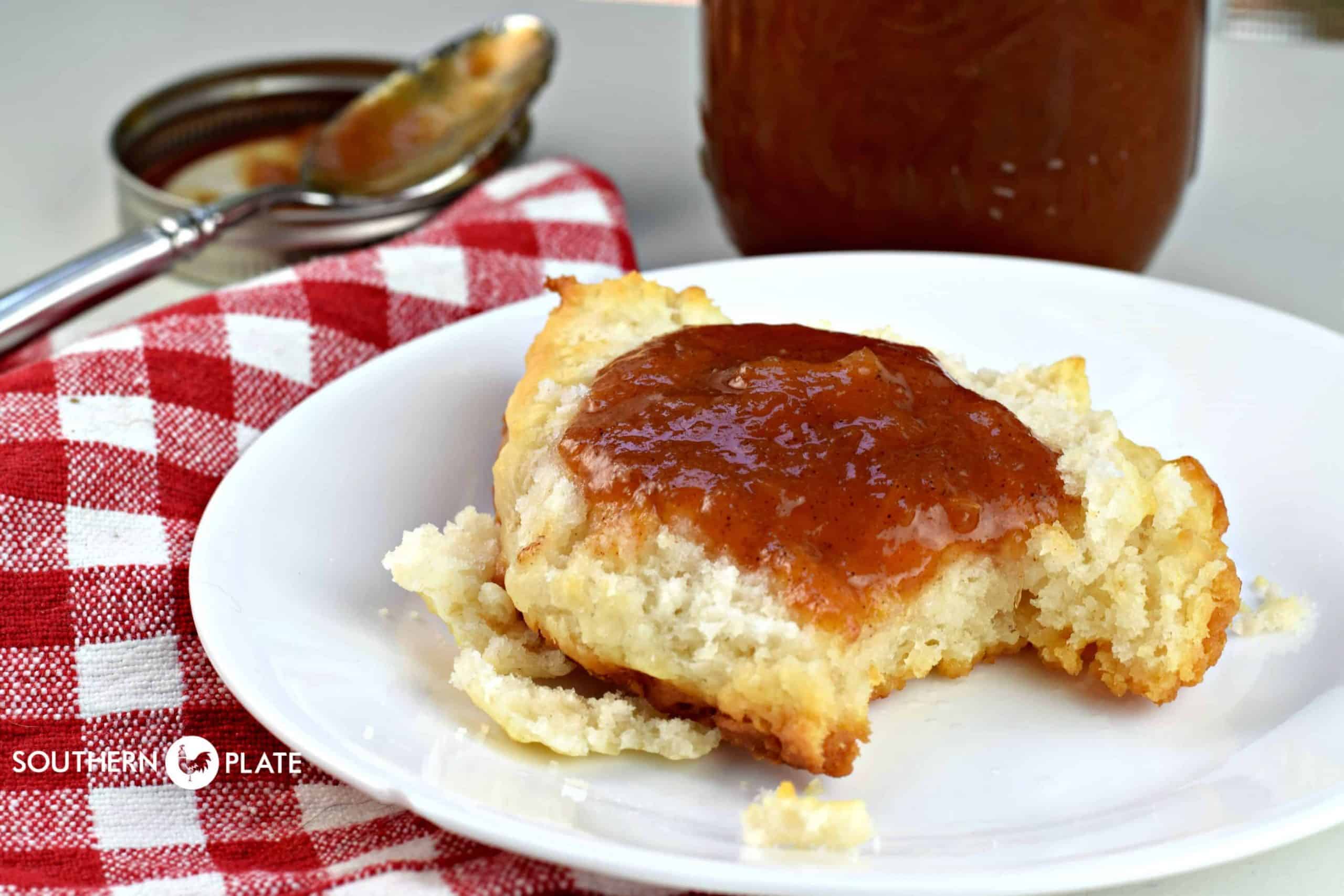 Ingredients
About 10 pounds of peaches

18-20 medium peaches

6

cups

sugar

don't freak out

1

cup

water

1

tablespoon

cinnamon

1

teaspoon

ginger

1

teaspoon

allspice
Instructions
Fill large canning pot with water and add 6-7 pint sized mason jars and lids. Place over medium heat and bring to a simmer while you prepare recipe. If you'd rather not can these, skip this step and just sit clean jars on towel lined countertop while you cook peaches.

Peel and slice peaches, throwing away the pits. Place in large pot along with all other ingredients.

Place pot over medium high heat and cook, stirring often, while chopping up peaches.

Once peaches are good and hot (about ten minutes), strain them out in batches and run through a food processor or blender until pureed. Place back in pot. Continue heating until it just barely comes to a boil, stirring constantly. Remove from heat.

If canning, remove jars from canner (carefully) and drain water. Place on towel lined counter. Using a canning funnel, fill each jar to within 1/2 inch of the top. Use a damp paper towel to wipe the top and threaded sides of each jar before placing lids on jars.

If canning, place jars in water bath canner, making sure that there is enough water to cover them by a depth of one inch over the top. Put lid on pot and bring to a boil. Once it reaches a full rolling boil, process for 15 minutes for pint jars.

Enjoy! My favorite way to eat this is on cat head biscuits!
Notes
If not canning, allow jars to cool slightly and then place in the refrigerator. Keep what you can use within a month or two and give the rest to friends, being careful to let them know that it hasn't been canned and must be kept refrigerated.
Nutrition
You may also enjoy these butter recipes:
Butter Bars From Scratch: Gooey Goodness Awaits!
Crock Pot Apple Butter Recipe Easy and Delicious
"Nine-tenths of wisdom is being wise in time."
~Theodore Roosevelt