Sausage Biscuits With Cheese & Chiles
Bursting with flavorful sausage, cheese, and diced green chiles, this sausage biscuits recipe is a modern take on the old-fashioned Southern biscuit.
Today I'm thrilled to share with you a family favorite recipe. These sausage cheddar biscuits, made Southern-style, are a modern take on an old-fashioned Southern biscuit, loaded with flavorful breakfast sausage, cheese, and diced green chiles. They are bursting with flavor, but not what I would consider spicy at all, and have an unexpected hint of sweetness (even though there is no sugar). They taste a little like a sausage ball, but without all of the work.
Since this is an easy, no-knead biscuit recipe, this is a perfect one to get your helpers in on. Have kids gather ingredients, measure out, stir, and spoon them into the muffin pans. Using a muffin tin makes life so much easier (trust me). Don't just cook for your family and friends, teach them how to cook for themselves!
This sausage biscuit recipe also gets bonus points as it's very versatile. Enjoy them for breakfast when you need something on the go. Otherwise, serve them as an appetizer. The choice is all yours.
Recipe Ingredients
Self-rising flour
Whole milk or buttermilk
Vegetable shortening
Sausage
Chopped green chiles
Shredded cheddar cheese
How to Make Sausage Biscuits with Cheese, Southern-Style
Place flour and shortening in a medium bowl.
Mix in with a long-tined fork or a pastry cutter.
I generally stay in the long tined fork camp but I opened the drawer and saw this so went for the easy way out.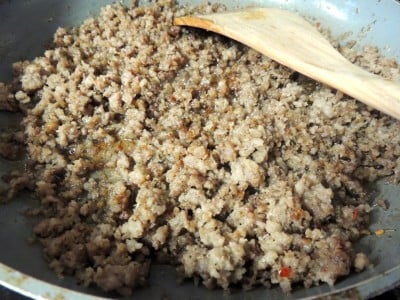 Brown your sausage in a large skillet over medium heat. Chop it up a bit as you cook it like you do ground beef, until no longer pink in the center.
Let it cool slightly so it won't melt your shredded cheese. If you don't have time to let it cool, place it in a colander and run cold water over it for a minute or so.
Place sausage, chiles, and cheddar cheese in the mixing bowl, along with the flour mixture.
Stir well to combine.
Add milk.
Stir it up until it is well mixed.
It will be kind of like a soupy biscuit dough or muffin batter.
Divide dough among muffin cups in a tin that has been sprayed with cooking spray.
This makes 15 so you'll need more than one tin.
Bake at 400 for 15 to 20 minutes, or until lightly brown on the top.
Enjoy your sausage biscuits!
Storage
Usually, when I make a batch of these we polish them off pretty quickly. But if there are a few left, I just toss them in a zipper seal bag or airtight container in the fridge and wrap them in a paper towel to reheat in the microwave the next day. Store in the fridge for up to 3 days. You can also reheat in the oven or air fryer.
Wrap completely cooled sausage cheese biscuits in aluminum foil and freeze for up to 3 months. Thaw in the fridge before reheating.
Recipe Notes
The self-rising flour is key here because it simplifies the whole process by cutting out a few steps and ingredients.
Feel free to make this biscuit recipe your own. Substitute the sausage for ham or bacon. You can also substitute the cheddar cheese for Monterey Jack, , gruyere, or Swiss cheese. Another option is to substitute the green chiles for green onion or diced jalapeno instead.
Here are some different serving suggestions:

Some people love to serve their breakfast biscuits with a drizzle of honey. YUM.
Otherwise, cut in half and spread on some butter.
Cut in half and top with a fried egg or scrambled eggs for a delicious breakfast.
Here are more delectable biscuit recipes:
Southern Biscuit Recipe (3 Ingredients Only)
Easy Chicken and Dumplings With Biscuits
Featherlight Chocolate Biscuits
Easy Homemade Biscuit Recipe With Pioneer
Ingredients
2

cups

self-rising flour

1/4

cup

vegetable shortening

3/4 to 1

cup

whole milk

or buttermilk

1

pound

mild pork sausage

browned and cooled

1

cup

shredded cheddar cheese

4

ounces

diced green chilies

drained
Instructions
Cut shortening into the flour using a long-tined fork or pastry cutter, until well blended.

2 cups self-rising flour,

1/4 cup vegetable shortening

To the flour mixture, add the cooked sausage, shredded cheese, and chiles. Stir until combined.

1 pound mild pork sausage,

1 cup shredded cheddar cheese,

4 ounces diced green chilies

Add in 3/4 cup of milk and stir well. Add in an additional 1/4 cup if needed to make a batter the consistency of muffin batter.

Divide batter among 15 muffin cups that have been sprayed with cooking spray. Bake at 400 for 15-20 minutes, or until lightly brown on top.
Nutrition
"What you do every day matters more than what you do every once in a while."
~Charles Duhigg