"Wonder what I'm going to fix for supper?" That is a question we all ask on a regular basis and I'm certainly not immune to it. I found myself out running errands last week and planned on stopping off at the grocery store on my way home once I had figured out what I was in the mood to cook. You see, I'm not a menu planner. I've done that before and it was all good and well, I used to even do the cook one day have food for a month thing, but I've found that I just prefer to see what I'm in the mood to cook. This usually works out really well for me because I always have plenty of fixin's for a variety of meals in my pantry and freezer.
On this particular day, though, I needed to go to my P.O. Box and lo and behold, there was a card from Jen Hauler, one of my favorite Southern Plate family members. I opened up the card to find birthday wishes and this recipe handwritten on the left side. Dinner solved.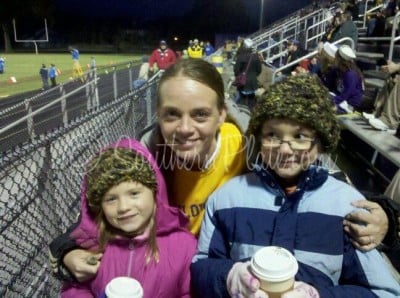 I gotta give you a little background and Jen now, because she is just too much fun. Jen started reading Southern Plate a pretty good while back. I know she was reading it while I was working on my book because I used to take breaks and respond to her messages when I was getting a little too overloaded from chipping away at my manuscript. Well, Jen mentioned in passing that her birthday was coming up and that she would love a phone call from me. I didn't actually call her on her birthday but I did manage to get her phone number and one day slipped away to my little office (when I'm writing a book I actually have a little office area when I have to do the serious focus work, other times I sit in the living room) and placed the call.
She answered and I said "May I speak to Jen please?"
She told me it was her and I said "Hey Jen, this is Christy Jordan."
I wish I had of recorded the next five minutes of that call. It was pretty much "OH MY GOSH! IT'S CHRISTY JORDAN! IT'S CHRISTY JORDAN! CHRISTY JORDAN IS ON THE PHONE!" The way she was screaming and carrying on, you would've thought I was somebody. Shoot, after a few minutes of listening to her go on, I found myself getting excited and it was all I could do not to yell back "Hand me the phone!! I wanna talk to her too!!!!"
We had such a fun phone call and I have to tell you, Jen is one of the most memorable people I've ever met. She's also a sweet and dedicated mother, too. My family sure did enjoy this recipe and I know you will as well so here we go.Oh wait, I forgot to say something…
OH MY GOSH IT'S JEN HAULER!!!
~giggle~
This recipe is wildly customizable (see instructions at bottom of post) but for the basic recipe you'll need: Penne Pasta, Mozzarella, Pepperoni, Ground Beef, and two jars of pizza sauce.
Right off the bat you'll notice that Jen's recipe includes double meat with an added bonus of being from multiple critters. Anytime there is double meat in a recipe, I'm all over it.
Jen also uses some seasonings in her recipe but I made this right at supper time and most of y'all who follow me on facebook know that I'm a mega morning person. Well, ye olde brain cell fires up purt early in the morn but by the time late afternoon/early evening arrives, that flame is a flickering. Add a hectic schedule into the mix and we're just lucky to have supper.
This was a crazy day. I was tired. I left out seasonings. It was still wonderful.
As Jen says, this is easily customizable to everyone anyway. Give me a forgiving recipe over a fussy one any day of the week!
Jen's recipe in it's entirety is at the bottom of this post.
Cook your pasta according to package directions.
When it is done, drain off the water and just leave it in the pot. We can mix it all up in there without dirtying up another dish.
Add in your pepperoni and pizza sauce.
You'll notice that I used not one but two different generic brands of pizza sauce. I'm just all elite and cool like that.
If you can save a quarter or even ten cents, it really adds up when feeding a family.
If your brain cell is still working, you can also add in the seasonings Jen uses at this point (see recipe below).
If your brain cell isn't working, just let it stay on sabbatical and keep rollin'…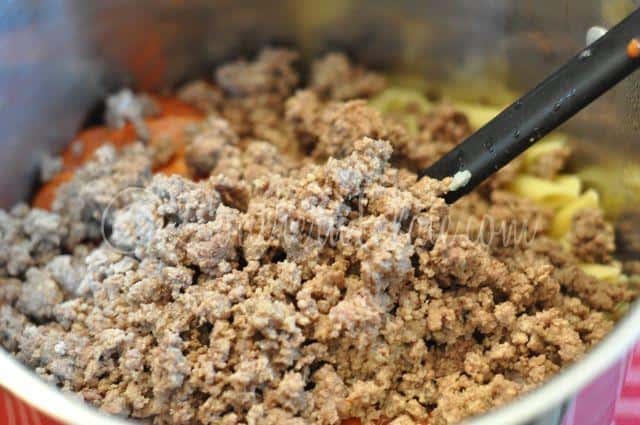 Add in your ground beef.
Now give that a big old stir until its all good and mixed up.
Spray a 9×13 inch pan with cooking spray.
If you're like me, at this point you are thinking "There is no way all of this is going to fit into a 9×13 pan…."
But it does.
That'll teach us to have faith in Sister Jen!
Top that with your cheese and bake at 350 for 20 minutes or until cheese is melted and sauce is bubbly.
Dig in!
Thanks again, Jen!
Pizza Casserole

Ingredients

2 lbs ground beef, browned and drained
1 box of Penne pasta
2 jars of pizza sauce
½ an onion (or more if you like onion)
1 tsp. garlic powder*
2 tsp. season salt (more or less to taste)*
2 c. mozzarella cheese (or more if you love cheese)
1 pack of sliced pepperoni
salt and pepper (to taste)

Instructions

Prepare pasta according to directions, drain water and set aside. Mix pasta, sauces, hamburger and 1 cup of the pepperoni together and put into a lightly greased 9 x 13 baking pan.
Put more pepperoni on top if you want to do it like Jen does or overlook this step like I did and just stir it all up in there.
Cover with cheese (as much as you like) and bake at 350 for 20 minutes or until the cheese is melted and the sauce is bubbling.
Jen says: The beauty of this recipe is that you can customize it to what your family likes on their pizza. You can add more of the ingredients that are posted or add your own. It's very versatile.
*I totally forgot to add these things in and it still turned out delicious. I plan on doing the pepperoni on top like Jen does next time I make this.
"I don't like food that's too carefully arranged;

it makes me think that the chef is spending too much

time arranging and not enough time cooking.

If I wanted a picture I'd buy a painting."

~Andy Rooney
Yum