Ever have a homemade pizza roll? Well if you have had one then you know what I am talking about but if you haven't, here's what you have been missing. These incredibly satisfying Pizza Rolls are filled with ground beef coated in pizza sauce, a generous serving of cheese on a hearty sub roll. Make a batch ahead of time and have a quick grab and go meal whenever the need arises. And no pizza dough needed!
Scroll to bottom of this post for a printable recipe card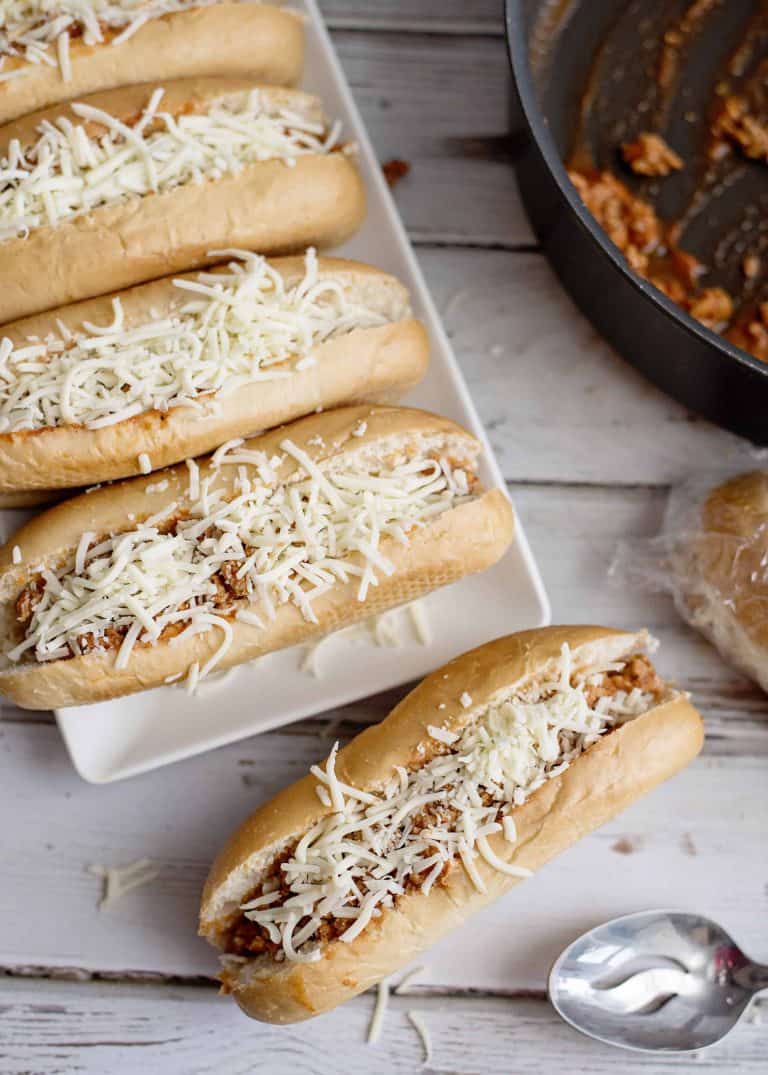 I've been enjoying a Pizza roll for lunch, dinner and ok, maybe even breakfast most of my life and I've found them to be real family pleasers, especially during those times when everyone is going in different directions and schedules have a hard time matching up.
My mom used to make these when she and my dad went out of town. We were all in our late teens by then and with a batch of these in the fridge and a little extra money for any unforeseen needs, she could go off for a weekend confident that we wouldn't starve to death.
We're not at a point where we go off on a regular basis sans kids, but I still love to make these from time to time, especially on Fridays, because it means I can take the weekend off from cooking!
Recipe Ingredients:
(Some people add too as an option)
TWO jars of too, click here) or you could use a if you like as well. (I have a recipe for

Plastic cling wrap

Beef
Optional Ingredients
you could add and call these too. Create it how ever you like! or other ingredients work too. Heck if you like
and additional is an option as well depending on what you end up using.

Onions and bell peppers. You can add this to the recipe as well for more flavor too.
We're going to make a dozen of these homemade pizza rolls. If you'd like to make only six, just half it. I always buy saran wrap when I make these as you will be using a good quantity of it and I'm usually running low about this time anyway, so Saran Wrap is just kind of part of the recipe for me.
Brown ground beef in large skillet over medium high heat. You could add pepperioni here, or italian sausage or whatever cranks your tractor.
This is where you could have this skillet full of sauteed onions and bell peppers as well. Another great option for this dish.
After your beef is browned, stir both jars of pizza sauce.

Stir well and cook on medium until bubbly.
Slice each of your rolls as you would a hot dog bun, careful not to go all the way through.
I like to get the buns that aren't slices so that I can have them like this, it makes the sub so much easier if it isn't sliced all the way through to the other side.
Fill with beef mixture.
Top with mozzarella cheese. You can mix with parmesan cheese too if you like.
Wrap in Saran Wrap.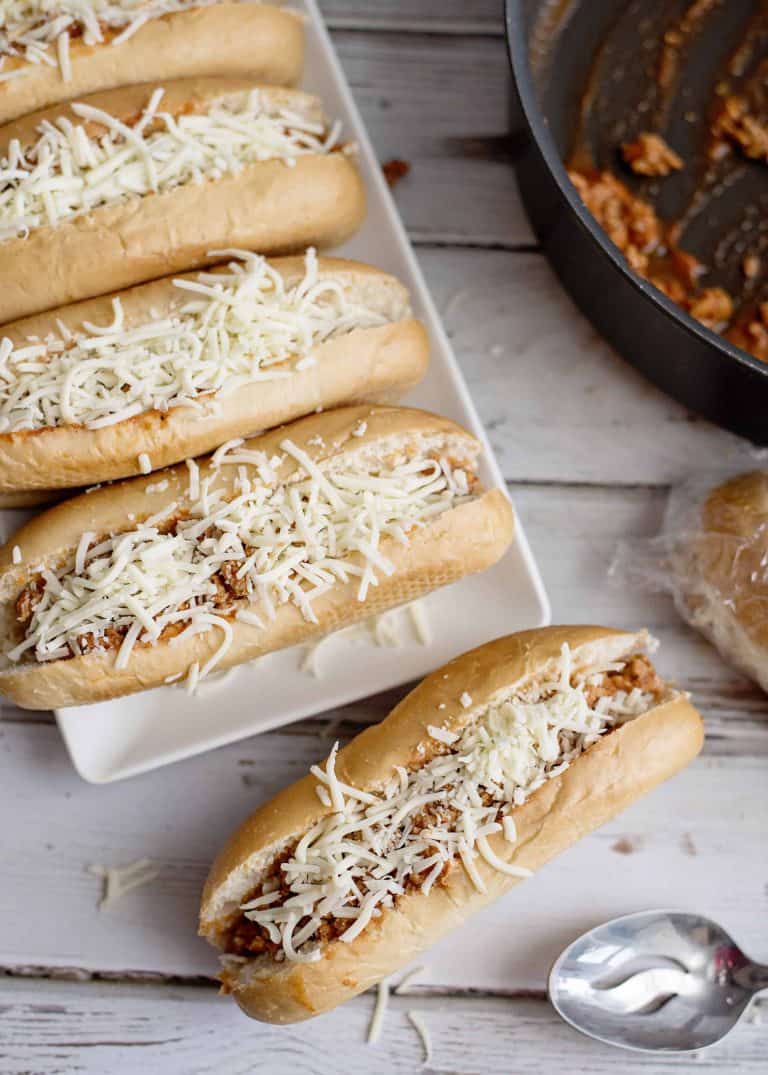 Tuck the ends onto the side and you've got a pizza roll! Now that we know what to do here, lets set up an assembly line for the rest.
All done!
I like to save my original sub roll bags to put the wrapped rolls back in for an extra layer of protection in my fridge.
Plop these pizza rolls in the fridge and whenever you want one, just get it out and microwave for one minute! Or for a crispier bun open the sandwich and broil in the oven.
You can now take the weekend off from cooking – for the most part, at least. 🙂
Guess what I'm making today?
Enjoy!
Frequently Asked Questions:
What goes good along with pizza rolls?
Honestly, just about anything! You can dip these rolls in a marinara sauce, ranch dressing or any sauce you like. You can serve with french fries or cole slaws like Millie Cole Slaw or Vinegar slaw. You can even have with a salad on the side.
Do these freeze well for lunches?
These freeze well to have anytime whether it's lunch or dinner. And after they are thawed in the oven or microwave you can add some olive oil or garlic butter as well to take it over the top. You can slice the rolls up into bite size pieces as well and have them in a lunch. You can also make them and refrigerate them instead of freezing to add to lunch boxes for the week.
What other rolls can I use?
You could use crescent rolls. Bake them up and slice if you want a smaller version. I like the thicker rolls better as the sauce doesn't seep through as easily when I refrigerate them but if you eating them right away and typically like thinner pizza crust from a thinner pizza dough then the crescent rolls may be perfect for you.
Do you use any other meats besides the ground beef?
If you like pepperoni pizza you can use pepperoni slices but I have used italian sausage too. Any other type of meat you would like on a pizza would normally go well on this sandwich.
Ingredients
2

lbs

ground beef

2

Cups

shredded Mozzarella

1

Dozen sub rolls

2 - 15

oz

jars of pizza sauce
Instructions
In large skillet, brown beef over medium high heat while breaking up into small pieces, until no longer pink and fully done. Drain off any grease.

Add both jars of pizza sauce to beef in skillet. Stir and cook on medium until bubbly.

Slice each bun almost through and spoon beef mixture into the bun. Add cheese on top and seal with plastic wrap. I like to save the bag the rolls came in and place the sealed ones back in there for an extra layer of protection. Place in refrigerator.

When ready to eat, heat individual rolls in microwave for about one minute.

Can be stored in fridge for several days.
Notes
or other ingredients work too in the filling.  Create it how ever you like!
and additional is an option as well depending on what you end up using.
Onions and bell peppers. You can add this to the recipe as well for more flavor too.
You can slice these up into smaller pieces and dip in marinara or your favorite sauce.
Nutrition
You may also like these pizza recipes: