These incredibly satisfying Pizza Rolls are filled with ground beef coated in pizza sauce, a generous serving of cheese on a hearty sub roll. Make a batch ahead of time and have a quick grab and go meal whenever the need arises.
Scroll to bottom of this post for a printable recipe card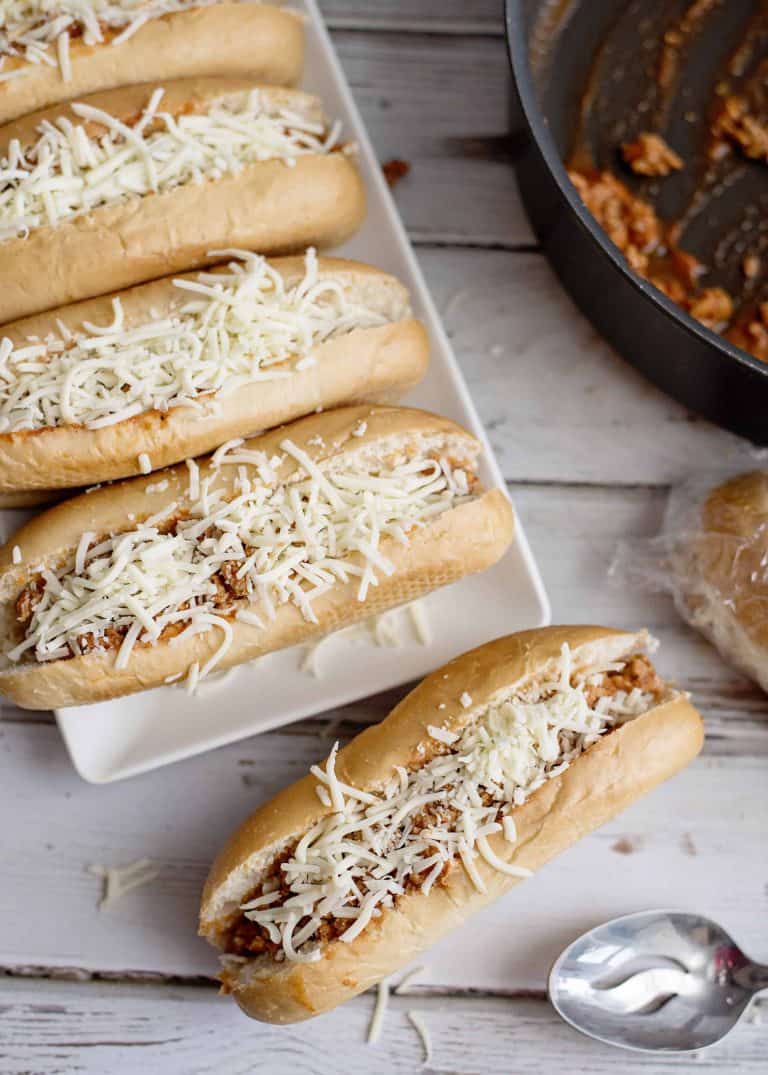 I've been enjoying these Pizza rolls most of my life and I've found them to be real family pleasers, especially during those times when everyone is going in different directions and schedules have a hard time matching up.
My mom used to make these when she and my dad went out of town. We were all in our late teens by then and with a batch of these in the fridge and a little extra money for any unforeseen needs, she could go off for a weekend confident that we wouldn't starve to death.
We're not at a point where we go off on a regular basis sans kids, but I still love to make these from time to time, especially on Fridays, because it means I can take the weekend off from cooking!
You'll need:
TWO
packages of sub rolls, mozzerella cheese,
TWO
jars of Pizza sauce, Plastic cling wrap, and beef. We're going to make a dozen of these. If you'd like to make only six, just half it. I always buy saran wrap when I make these as you will be using a good quantity of it and I'm usually running low about this time anyway, so Saran Wrap is just kind of part of the recipe for me.
Brown ground beef in large skillet over medium high heat.
This is where normal people would have this skillet full of sauteed onions and bell peppers as well. Normal people would like to have sauteed onions and peppers in with this dish. Normal people would find that delicious in addition to smelling downright heavenly. However, I am convinced that out of my entire household (even my own children), I am the only one who was not dropped on their head as a child. No one in my household will eat these if I put onions and bell peppers in them. Normal = me. Abnormal = my family. If you are normal, feel free to add some sautéed onions and peppers. 😀
After your beef is browned, stir both jars of pizza sauce. 

Stir well and cook on medium until bubbly.
Slice each of your rolls as you would a hot dog bun, careful not to go all the way through.
I like to get the buns that aren't slices so that I can have them like this, it makes the sub so much easier if it isn't sliced all the way through to the other side.
Fill with beef mixture.
Top with cheese.
Wrap in Saran Wrap.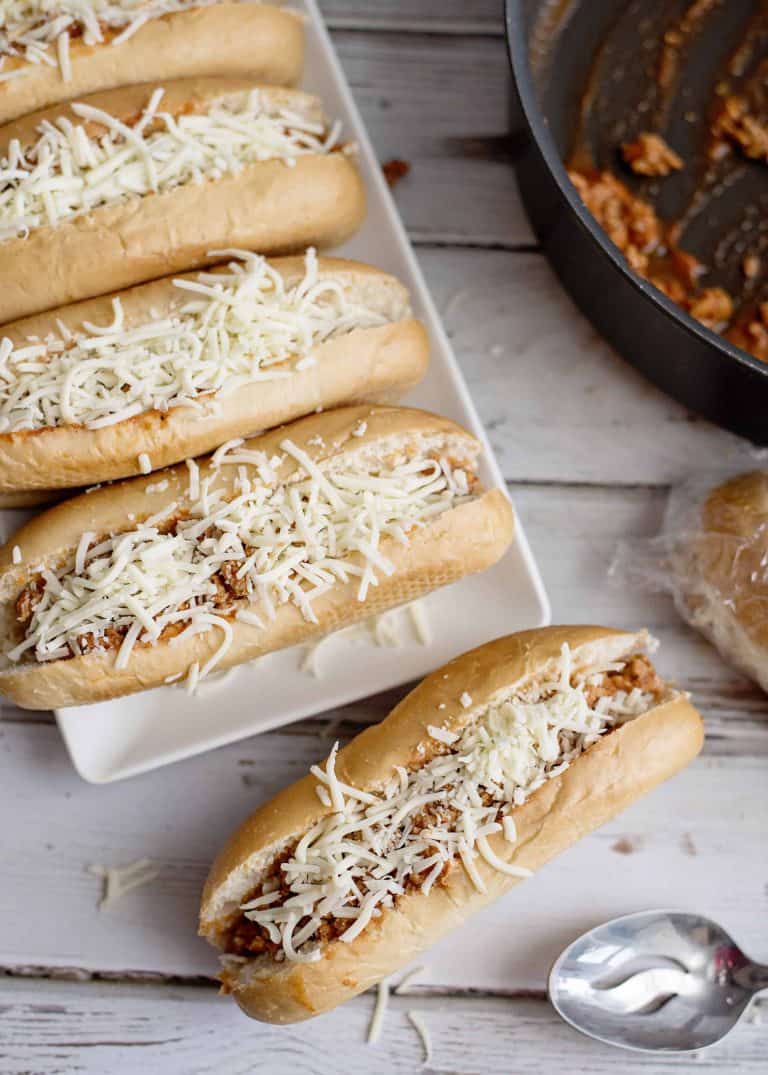 Tuck the ends onto the side and you've got a pizza roll! Now that we know what to do here, lets set up an assembly line for the rest.
All done!
I like to save my original sub roll bags to put the wrapped rolls back in for an extra layer of protection in my fridge. 
Plop these puppies in the fridge and whenever you want one, just get it out and microwave for one minute!
You can now take the weekend off from cooking – for the most part, at least. 🙂
Guess what I'm making today?
Enjoy!
Ingredients
2

lbs

ground beef

2

Cups

shredded Mozzarella

1

Dozen sub rolls

2 - 15

oz

jars of pizza sauce
Instructions
In large skillet, brown beef over medium high heat while breaking up into small pieces, until no longer pink and fully done. Drain off any grease.

Add both jars of pizza sauce to beef in skillet. Stir and cook on medium until bubbly.

Slice each bun almost through and spoon beef mixture into the bun. Add cheese on top and seal with plastic wrap. I like to save the bag the rolls came in and place the sealed ones back in there for an extra layer of protection. Place in refrigerator.

When ready to eat, heat individual rolls in microwave for about one minute.

Can be stored in fridge for several days.
Nutrition
Sample dialogue from this weekend :
Kid/Husband : "I'm hungry"
Smiling Woman: "Well, we have pizza rolls in the fridge.."
Kid/Husband: "Oh Cool!"
Smiling Woman goes back to whatever she was doing.