Katy's Petite Cakes are our version of Petit Fours only without all the fuss.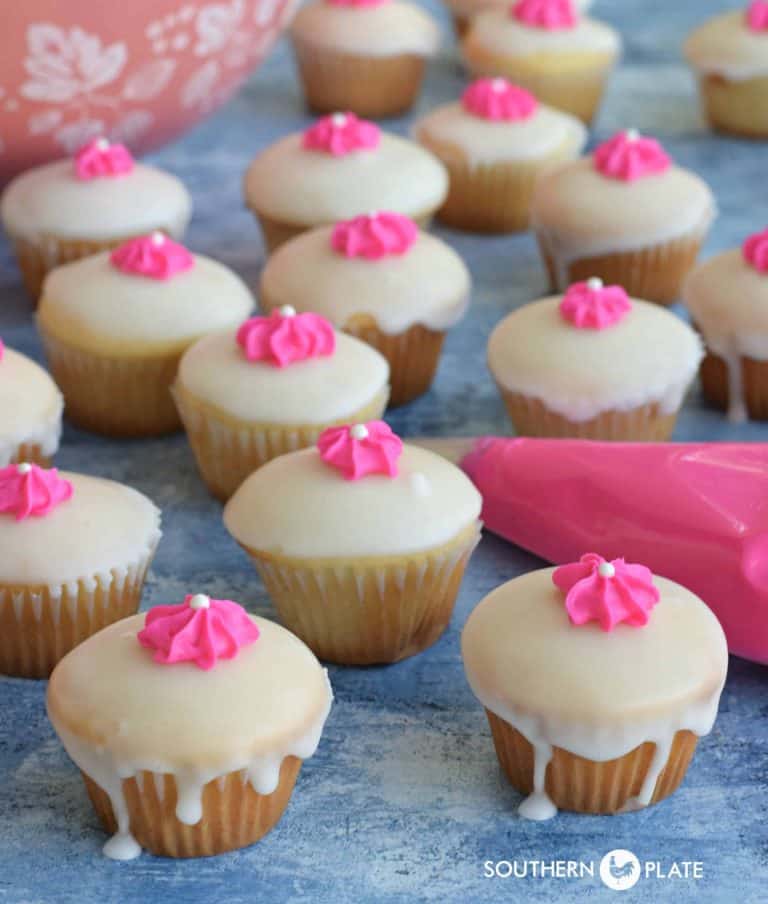 My Katy has been batting a thousand with recipe ideas here lately, and I just love her interest in cooking so we're trying out every one we can as soon as we can. We've had two great successes this week. For starters, we created a recipe for dog cookies – and the dogs wholeheartedly approved so I have nothing left to show for them but we plan on photographing the recipe soon for SouthernPlate. The second recipe would be these precious little "Petite Cakes", our version of Petit Fours only without all the fuss.
You see, Katy and I are devoted to these amazing little petit fours that they make at Peggy Ann Bakery in Huntsville, Alabama. We don't get there but a few times a year but when we do, the occasion is met with photos of our petit fours and little white bakery boxes to bring back home and share with those we love the absolute most. One of these days, when I move a ways off to let my hair grow out and spend the rest of my days living as a hermit in the woods somewhere, I'll make that one trek to "the big city" each year mainly for Peggy Ann Petit Fours.
So Katy asked me "Why don't we make our own petit fours?". I replied "Well, I've always thought about doing that but it's a little complicated and I've just never been in the mood to go to that much trouble when we can go to Peggy Ann from time to time."
She looked at me and said "It's not complicated. We just make mini cupcakes, dip them in the petit four icing, and put roses on top."
I stared at my girl in wonder. Dang, she's good. My favorite thing to do with recipes is simplify the overly complicated – and Katy hit the nail on the head. "I cannot believe I didn't think of that, Katy." She smiled at me in kindness and said "Well, no offense or anything, Ma, but sometimes adults make things more complicated than they need to be."
How many times have I said "Life is really simple, but we insist on making it complicated."? That child, that child. I told her to always remember what she just said because it will become even more true as she gets older.
And then we made Petite Cakes.
In keeping with Katy's wisdom, we kept this recipe simple. For the cakes themselves, we just used a box of white cake mix. We did substitute milk for the water the recipe called for but that is just my personal preference.
Bake them in mini cupcake papers according to package directions. I believe these took about fifteen minutes or so to be done.
Here is a little #protip: Place all of your cake batter into a zipper seal bag and seal well. Snip off a small portion of one corner and squeeze the batter into your muffin papers for mess free ease that saves a lot of time.
The trick is the petit four icing. Now there are all sorts of petit four icing recipes on the internet that call for a laundry list of ingredients but all you really need is a thick confectioner's sugar glaze.
Confectioner's Sugar, Milk, Flavoring. Three ingredients. I use butter flavoring in mine but you can use a bit of vanilla if you like, clear would be best so your icing stays white. It is very important to add a flavoring, though, because confectioner's sugar on it's own is NOT a good taste.
Stir these together until there are no lumps. It may take a minute or two but it will happen. Now you want your icing to be the consistency of school glue. I'm giving you basic measurements at the bottom of this post but you may need to tweak it a little bit by adding a bit more milk if it is too thick or a bit more sugar if it is too thin and stirring well again. Don't panic, honestly, this is no big deal and you've got this. We all have those times in our lives where we feel we can't possibly get something right on our own but here, and in other situations, you'll see that the folks who filled your head with that kind of nonsense were just idiots. T'ain't nothing you can't do if you set your mind to do it. Truth be told, you already knew that but you just need someone to remind you of it from time to time. 
With a good grasp on each cupcake, dip the tops into the icing, let it drip for just a moment when you pull it out, and set aside to dry. Repeat with all of the cupcakes. Katy did all of these herself.
Let them dry a few minutes and then top with roses, if you like. In keeping with the simple nature of this recipe, we just used store bought icing for the roses. I got vanilla and dyed it a deep pink. To make these little flowers I just used a 30 tip. All you have to do is place a tip in the icing bag and fill the bag with icing.
How I hold my icing bag: The end is twisted to hold the icing in and that is pinched between my index and thumb finger, then the fatter part of the bag is held and squeezed as I work with the palm of my hand.
Make a flower: With the bag straight up and down, not tilted, gently squeeze out a little icing, stop squeezing, wait one second, and pull your icing bag up. As long as you stop squeezing before pulling your bag up you'll have a nice little flower. I went back with some kitchen tweezers and added in a little pearlish looking sprinkle to the center of each one, which took me all of three minutes.
Another easy way to decorate them is to just put some colored icing in a gallon zipper seal bag and cut just the tip off of one corner, then do a few zig zag lines across the top of each one.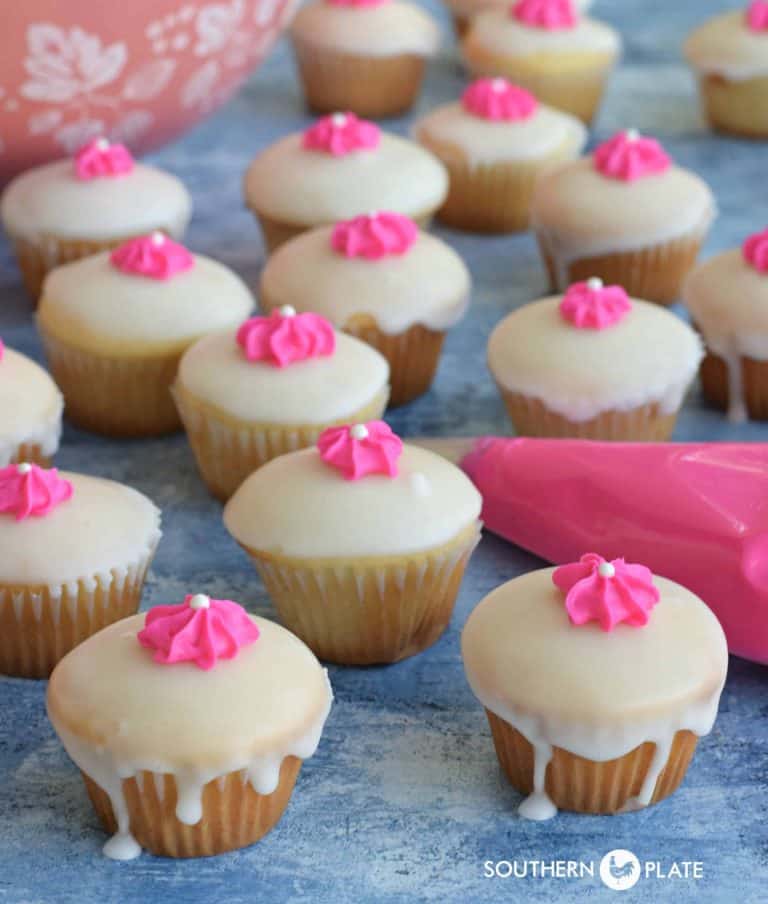 Let these sit out for an hour or so until the icing crusts over a bit and then store in an airtight container – or eat them all. Totally up to you but I wanted to offer up both options ;).
If you have a friend or two around, they can help you with the eating option, too!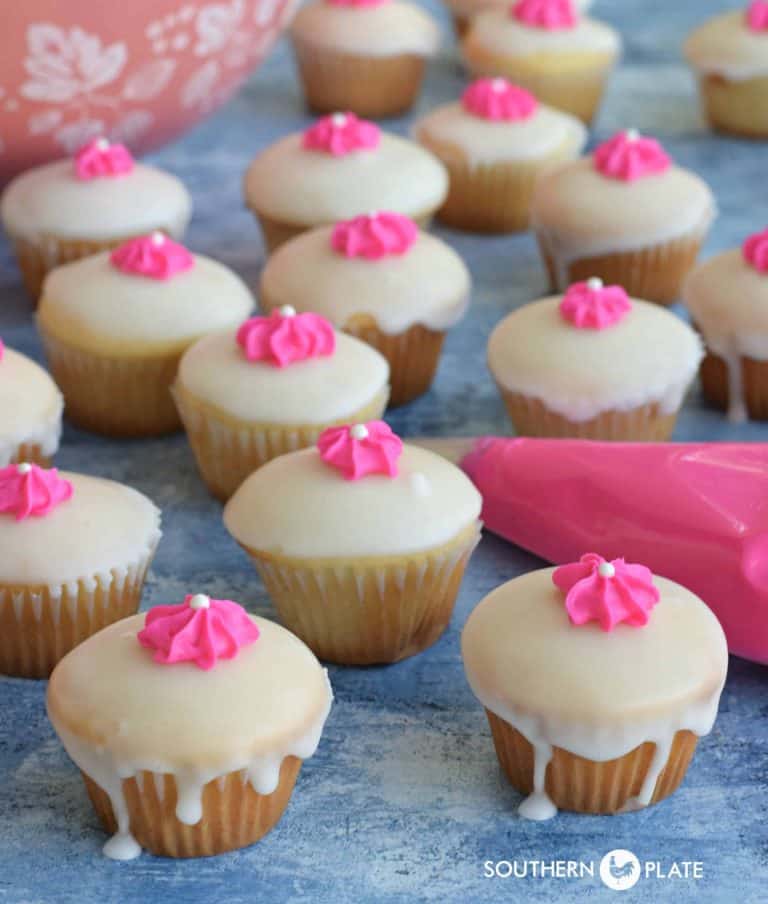 Enjoy! 
Ingredients
1

box white cake mix

prepared according to directions

1

+1/2 cup confectioner's sugar

3

tablespoons

milk

1/2

teaspoon

clear vanilla or butter flavoring

can use other clear flavoring
Following are optional:
1

container vanilla frosting

or icing of your choice (for garnish)

Wilton #30 tip

Disposable Icing Bag or Parchment to make an icing bag
Instructions
Prepare cake mix according to package directions and divide it evenly among 48 mini muffin cups in a muffin tin lined with mini cupcake papers. Bake according to package directions, which will be at 350 for about 15 minutes or so (give or take), or until cupcakes bounce back when lightly pressed in the center. Remove from oven and allow to cool completely.

In medium bowl, stir together confectioner's sugar, milk, and flavoring until well combined and no lumps. Mixture needs to be the consistency of school glue. If it is too thin, stir in more confectioner's sugar (a tablespoon or so at a time). If it is too thick, stir in more milk (a teaspoon at a time), until desired consistency is reached.

With a good hold on each cupcake, dip the tops of them, one at a time, into glaze. Hold it upside down over the bowl for a second or two once you remove them to allow excess glaze to drip off. Flip right side up and place on a platter or waxed paper lined countertop to dry. Repeat with remaining cupcakes.

Once cupcakes have dried some, place a #30 tip in an icing bag and fill with icing. Twist down the top to close and hold bag as pictured in this post.

With the bag straight up and down, not tilted, gently squeeze out a little icing, stop squeezing, wait one second, and pull your icing bag up. As long as you stop squeezing before pulling your bag up you'll have a nice little flower. Optional: Use kitchen tweezers to add a little pearlish looking sprinkle to the center of each one.

Allow to dry for a bit so icing develops a thin crusting on outside. Serve immediately or store in airtight container at room temperature.
Notes
Note: Another simple way to decorate these is to place colored icing in a zipper seal bag, seal well, snip off a small bit of the corner, and zig zag it over the top of each one.
Nutrition
This recipe featured in Meal Plan Monday and Weekend Potluck
"Look for something positive in each day, even if some days you have to look a little harder."
~Unknown
You might also enjoy this recipe! Chantilly Sheet Cake