Creamy Chocolate Frosting
This creamy chocolate frosting is so easy to make and tastes oh-so-good smothered on top of your favorite chocolate cake, cupcake, or brownie slice.
This melt-in-your-mouth creamy chocolate frosting recipe is three of my favorite things: delicious, budget-friendly, and family-approved. Now, we are going to make this delectable buttercream frosting from scratch. But to make the cake… if you are short on time then use whatever chocolate cake or brownie recipe you like and then the icing is a cinch. I highly recommend my big batch brownies though!
Now, let's answer the most important question. Is this better than store-bought frosting? Heck yes! What differentiates this buttercream frosting recipe from the store-bought kind is, of course, that irresistible chocolate flavor. This homemade chocolate frosting is absolutely exploding with chocolate. It's buttery, smooth, and causes everyone who tastes it to do a double-take. This is because by looking at it, you are expecting it to be store-bought canned icing but OH NO, none of that plastic, preservative-filled flavor here. This is the real deal my pretties!
Recipe Ingredients
Milk
Cocoa powder (dutch process, regular or unsweetened cocoa powder, the choice is yours).
Softened butter
Vanilla extract
Powdered sugar
How To Make Homemade Creamy Chocolate Frosting Step by Step
In a large mixing bowl, place the butter and powdered sugar.
Tip: How to make this chocolate buttercream frosting thicker and richer
Now, if you want this to be even richer and more decadent, you can use dutch process cocoa and you'll end up with a dark chocolate frosting rather than a milk chocolate one. Either way, you're pretty much set and don't have to deal with melted chocolate (bonus)!
Add the cocoa and just a bit of milk.
Lost your tablespoon in the abyss of your drawer?
I don't like to search for a tablespoon when I cook most of the time so I just use the cap of the milk jug and eyeball it. Two tablespoons? I figure about three caps full will do the trick. Feel free to use a tablespoon and be more accurate if you like. I'm setting a bad example but sometimes y'all need a bad example!
Mix all of that up using a stand mixer until creamy. Now, this is gonna be really thick. At first, it will be lumpy but stick with it and it'll get all smooth like this, although still very thick.
Add the remainder of your milk and confectioners sugar.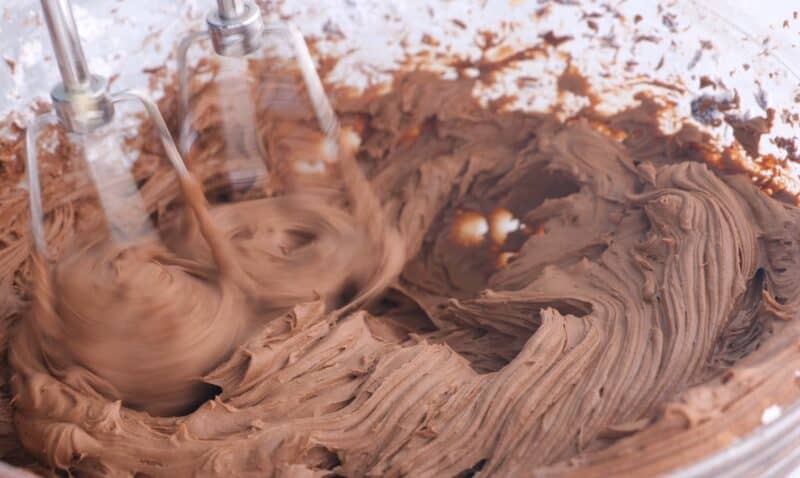 Mix that up well.
Add vanilla and mix again, until it's all smooth, silky, and chocolaty.
Dip a spoon (or a finger, I won't tell) to taste your sweet chocolate buttercream frosting.
Enjoy licking those electric mixer beaters too!
Frost your cake with this silky smooth bit of chocolate buttercream heaven.
Dig in! Can't wait to sink my teeth into that chocolate cake with creamy chocolate frosting! YUM!
Storage
In an airtight container, this chocolate buttercream frosting recipe will last up to one week in the fridge and up to three months in the freezer. When you take it out of the freezer, thaw it in the refrigerator, and then beat it on medium speed for a few seconds to make it nice and fluffy again.
Recipe Notes
Remember to ensure your butter has been softened at room temperature before attempting this recipe because it will make your easy chocolate frosting infinitely better!
This recipe makes enough to frost about 12 chocolate cupcakes, as well as a standard one-layer cake or brownie slice. Just make sure your cake is cooled before adding the buttercream frosting.
You can use either unsalted or salted butter. If you opt for unsalted butter, have a taste, as you might want to add a pinch of salt while the buttercream frosting is mixing to enhance the chocolate flavor.
Recipe FAQs
What is the difference between frosting and icing?
It's all about consistency. Icing is thinner than frosting and is typically used as a glaze. Meanwhile, buttercream frosting uses butter to make it thicker and fluffier. You can top a cake with either icing or frosting, depending on your desired effect.
Why is my frosting not creamy?
If you find your buttercream frosting is too thick, add one to tablespoons of milk at a time until it reaches a smoother consistency. Alternatively, if your frosting is too thin, add a tablespoon of powdered sugar at a time until it becomes thicker and creamier.
You may also like these other frosting recipes:
Red Velvet Cupcakes and Cream Cheese Frosting
Seven Minute Frosting Foolproof recipe
Rolo Cupcakes with Brown Butter Frosting
Peanut Butter Cake (From Scratch!) with PB Cream Cheese Frosting
Yellow Cake with Old-Fashioned Peanut Butter Icing
Ingredients
3

cups

confectioner's sugar

powdered sugar

2/3

cup

cocoa powder

1/2

cup

butter

one stick, softened

6

tbsp

milk

1

tsp

vanilla extract
Instructions
In a large mixing bowl, place butter, 1 cup of sugar, cocoa powder, and two tablespoons of milk.

3 cups confectioner's sugar,

2/3 cup cocoa powder,

1/2 cup butter,

6 tbsp milk

Beat until mixed well and no longer lumpy. It will be thick. Add all remaining ingredients and beat the buttercream mixture until smooth and creamy.
Nutrition
"Finish each day and be done with it. You have done what you could. Some blunders and absurdities no doubt crept in; forget them as soon as you can. Tomorrow is a new day; begin it well and serenely and with too high a spirit to be encumbered with your old nonsense." – Ralph Waldo Emerson
Submitted by Southern Plate reader, Jay. To submit your quote, click here!