Easy Mandarin Orange Cake (a.k.a. Pig Pickin Cake)
Mandarin orange cake is affectionately called pig pickin' cake because it's so good that it makes such pigs out of us! A Southern classic, it includes a tender yellow cake bursting with mandarin orange flavor and topped with a refreshing pineapple whipped frosting.
This is a beloved Southern cake recipe you'll find at family reunions, church picnics, potlucks, and warm weather get-togethers. Surprisingly easy to make, this cool cake has always been a hit wherever it goes!
We start with a tender yellow cake base, which is positively bursting with mandarin orange flavor. All we have to do is beat the cake batter ingredients together and bake our three cake layers. Oh yes, this is a multi-layered cake recipe! Once we cool our cake, we're going to add layers of the most refreshing, light, and fluffy frosting imaginable. It's a combination of whipped topping, vanilla pudding, and diced pineapple.
This mandarin orange cake recipe is truly full of fruity flavor but isn't too rich or dense. Basically, it's the perfect summer cake recipe that you can store in your fridge. It also lives up to its Southern nickname, pig pickin' cake. Just you wait – your guests won't be able to keep their hands off this delicious cake!
Who's ready to give this recipe a go? I promise it's probably the easiest layered cake recipe out there!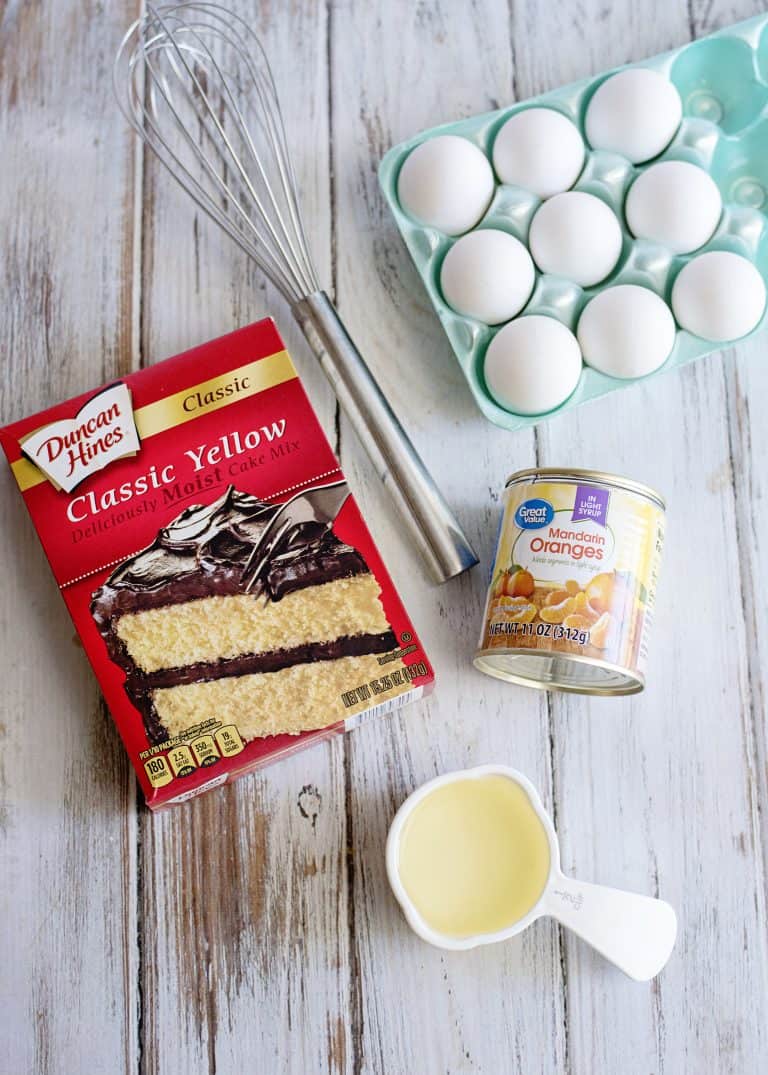 Recipe Ingredients
Cake
Yellow cake mix
Mandarin oranges
Eggs
Oil
Frosting
Frozen whipped topping (like Cool Whip)
Instant vanilla pudding mix
Crushed pineapple
How To Make Mandarin Orange Cake
Combine all cake ingredients in a mixing bowl.
I usually beat the mess out of this with an electric mixer but if you wanna burn a few calories (to help justify eating the cake later), you can do it by hand.
Mix until well incorporated (about 2 minutes with an electric mixer or 4-5 minutes by hand).
Here we go, how easy was that?
Divide the cake batter evenly among well-greased cake pans.
I'm using three round cake pans for these photos but I usually just make it in a single 9×13 for ease.
Y'all are worth the extra trouble, but don't tell that to my family as they enjoy their 9×13 cakes!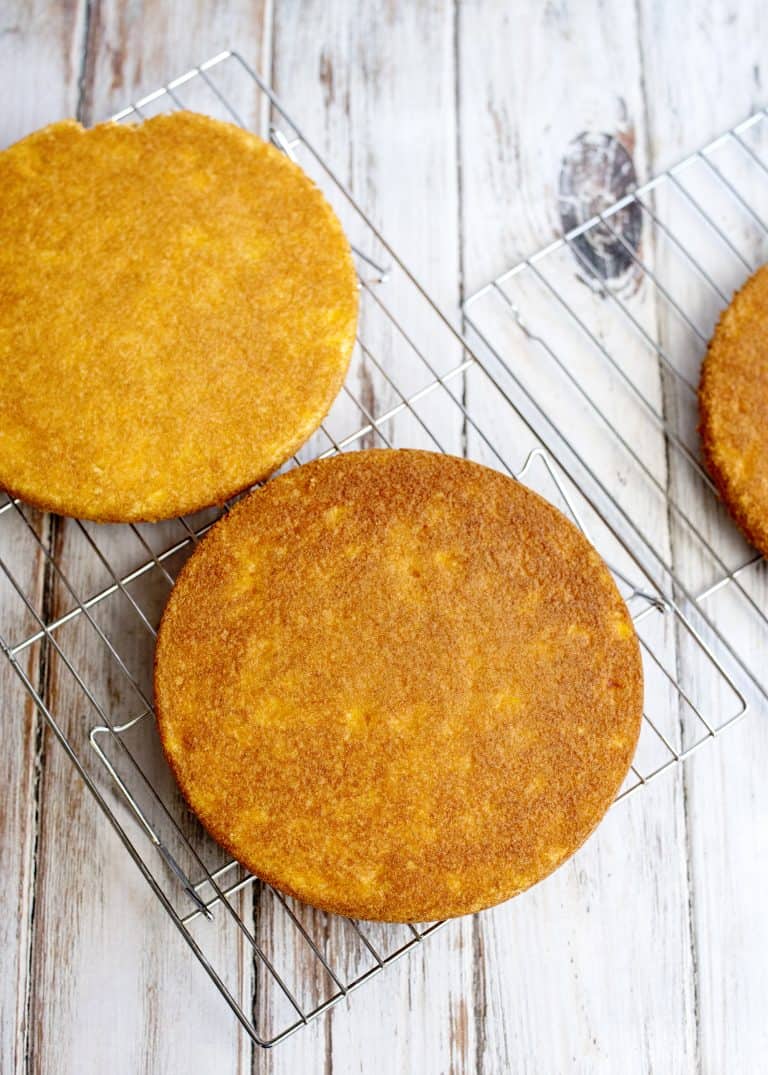 Bake at 350 for 25-30 minutes (depending on how many layers you have, thinner layers cook quicker) and allow the cakes to cool in the cake pan for 10 minutes before turning out to cool completely.
If you are a low fuss, low muss person as I usually am, it will bake for about 30 minutes in a 9×13 pan and is just cooled in the pan.
Regardless of which pan you bake your cake in, it is done when it is golden brown all over the top and a toothpick inserted in the center comes out clean.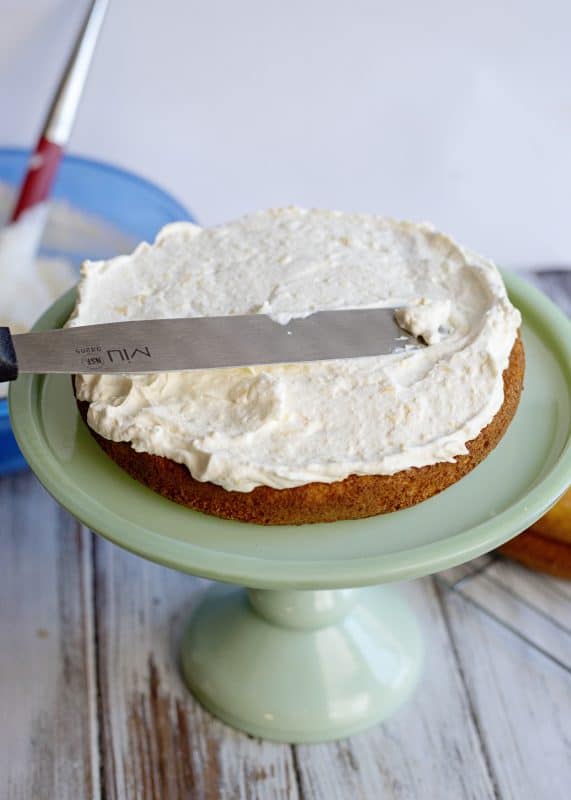 Making the Pineapple Frosting
First, stir together the canned pineapple and juice with the instant pudding mix until well blended.
An electric mixer works best for this.
Then, add in whipped topping and gently beat on low speed until it is all incorporated together (about 1 minute or so).
Ice your cooled cake however you like to ice your cake.
This part is when I am happiest that I've made a 9×13! But again, y'all are worth the extra trouble!
Pretty! Let's keep going…
Now, this mandarin cake needs to sit in the fridge, ideally, for two to three days before serving.
GASP. Yes, I'm serious. Of course, you can eat it now if you want but it will be WAY better after a couple of days.
And then, enjoy!
Storage
This cake needs to be stored in the refrigerator. You will find that if you do not refrigerate it the cake will spoil. The frosting is made with whipped cream so you'll need to cover it well and store it for 3 to 5 days.
Go right ahead and freeze your cake for up to 3-4 months as well. Just place it in the proper container and freeze. When you want a slice, remove it and allow it to quickly thaw on the counter for 30 minutes, or opt to thaw in the fridge overnight.
Recipe FAQs
Can I use a white cake mix?
In this recipe, I use a yellow cake mix, but you are more than welcome to reach for a white cake mix in replacement, or even a golden cake mix or angel food cake mix. It will alter the flavor a bit, but you will find overall it is going to give a similar flavor. In terms of the brand of cake mix, feel free to use any brand of cake mix you like, or buy what is on sale. I personally prefer Duncan Hines.
Can I make the mandarin orange cake in advance?
Yes, this mandarin orange cake actually tastes better when you make it 2 to 3 days ahead of time and let the flavors marry together in the fridge.
You may also like these other sensational cake recipes:
Cappuccino Cake With Cappuccino Buttercream Frosting
Cherry Crumb Cake With Cake Mix
Ingredients
Cake
1

box

yellow cake mix

1

11-ounce can

mandarin oranges, diced and undrained

4

eggs

½

cup

oil
Frosting
1

3.4-ounce box

instant vanilla pudding

16

ounces

whipped topping

1

8-ounce can

crushed pineapple, undrained
Instructions
Preheat the oven to 350. Grease and flour three round cake pans or grease one 9×13 baking dish. 

Place all cake ingredients into a large bowl and beat with an electric mixer until well blended and fully combined (about two minutes). 

1 box yellow cake mix,

1 11-ounce can mandarin oranges, diced and undrained,

4 eggs,

½ cup oil

Pour into prepared pans and bake until a toothpick inserted in the center comes out clean (25-30 minutes, slightly less if you use three pans). If using round pans, allow the cakes to cool for 10 minutes before turning out to cool completely. If using 9×13, allow the cake to cool completely in the pan.

For the frosting, place the canned pineapple (with juice) and the pudding mix in a mixing bowl. Beat until just mixed. Add in whipped topping and beat on low speed for about one minute until blended in. Frost cake.

1 3.4-ounce box instant vanilla pudding,

16 ounces whipped topping,

1 8-ounce can crushed pineapple, undrained

Cover well and refrigerate. Best if made 2 or 3 days ahead and refrigerated before serving.
Nutrition
A lot of what weighs you down isn't yours to carry.
~Unknown