Mandarin Orange Cake, also affectionately called Pig Pickin' Cake because it's so good that it makes such pigs out of us, is a Southern classic! This is a beloved cake of family reunions, church picnics, potlucks, and warm weather get togethers. Surprisingly easy to make, this cool cake has always been a hit wherever it goes!
This has always been my favorite cake…
This has always been my favorite cake, although I don't remember Mama actually making it any time other than our yearly family reunion. She would make it three days before, sit it at eye level in the fridge (not sure if that was intentional or not), and keep it there, untouched, until the reunion day. It was pure torture.
On the day of the reunion, her father (My Papa Reed) would hook a huge flatbed trailer up to his tractor and pull it up alongside their farmhouse. The ladies would then appear with an assortment of tablecloths and sheets to cover the wagon before everyone started placing their dishes upon our makeshift table. I would watch for two things : my mom's Mandarin Orange Cake and whichever little old lady had deviled eggs with red stuff (paprika) sprinkled on top.
It's been quite some time since we had a family reunion. What used to be one of our most looked forward to events each year just slowly fell away. I'm not sure if it was because people moved away or younger folks just didn't feel the same connection as they grew up and started families of their own. You don't hear much about family reunions these days. I'd love to hear if y'all still have them or if you have any special memories of them growing up.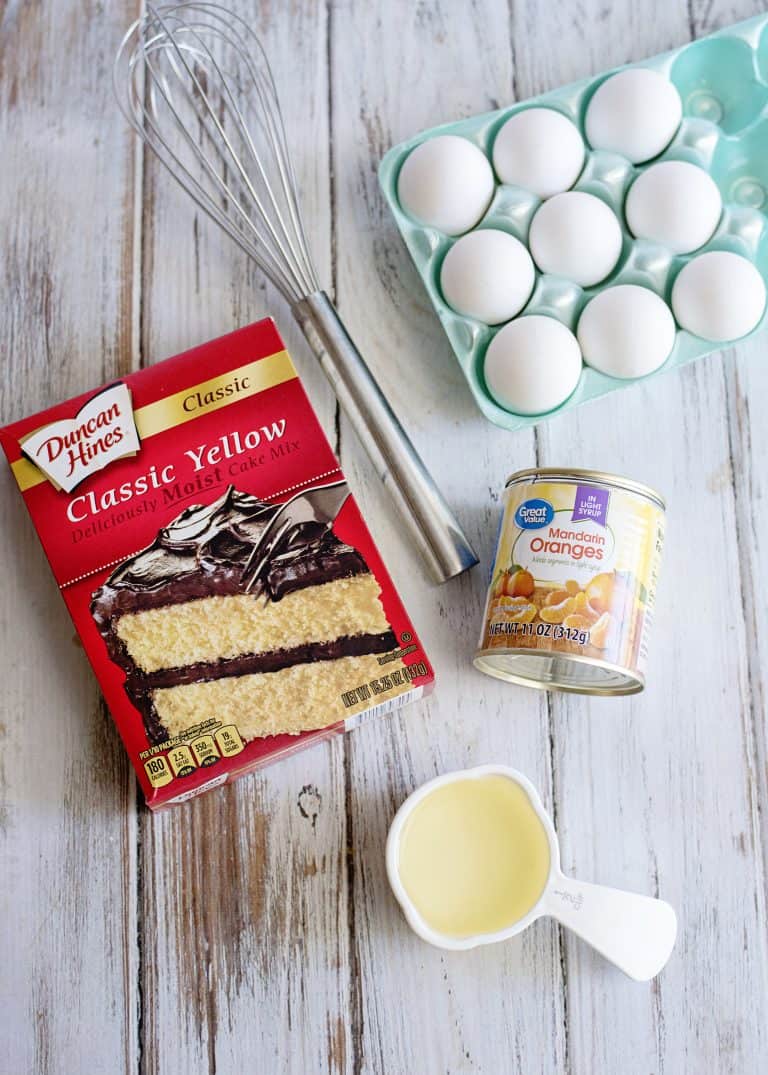 For the Mandarin Orange cake, recipe you'll need:
Yellow cake mix
Mandarin oranges
Eggs
Oil
The printable recipe card is at the bottom of this post, of course.
How To Make This Pig Pickin' Cake Recipe Step By Step
Also known as Mandarin Orange Cake 🙂
Combine all cake ingredients. I usually beat the mess out of this with an electric mixer but if you wanna burn a few calories (to help justify eating the cake later), you can do it by hand. Mix until well incorporated, about 2 minutes with electric, 4-5 by hand.
Here we go!
Divide this among well greased cake pans. I'm using three round cake pans for these photos but I usually just make it in a single 9×13 for ease.
Y'all are worth the extra trouble, but don't tell that to my family as they enjoy their 9×13 cakes!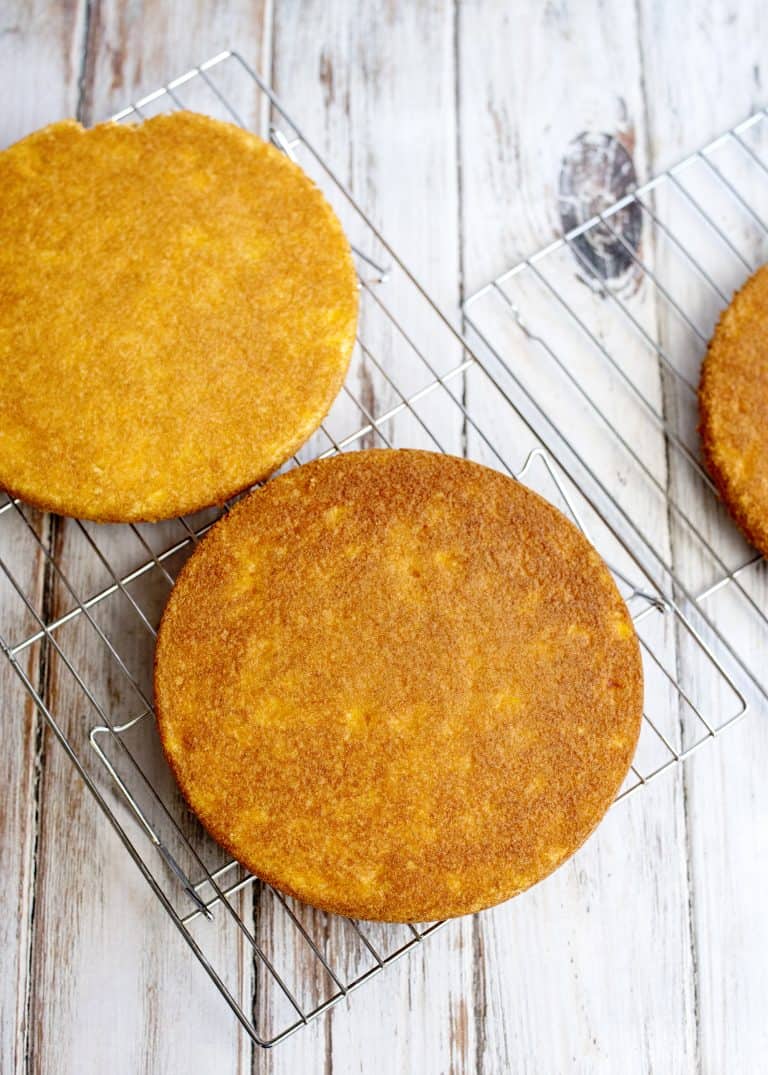 Bake at 350 for 25-30 minutes (depending on how many layers you have, thinner layers cook quicker) and allow cake to cool in pan for ten minutes before turning out to cool completely.
If you are a low fuss, low muss person as I usually am, it will bake for about 30 minutes in a 9×13 pan and is just cooled in the pan.
Regardless of which pan you bake your cake in, it is done when it is browned all over the top and a toothpick inserted in the center comes out clean.
Now, let's make our icing! You'll need whipped topping, instant vanilla pudding, and pineapple.
I like to get light topping and sugar free pudding just to whittle those calories a bit but you do you.
First, stir together pineapple (and juice) with instant pudding mix until well blended. An electric mixer works best for this. Then, add in whipped topping and gently beat it (low speed) until it is all incorporated together, about 1 minute or so.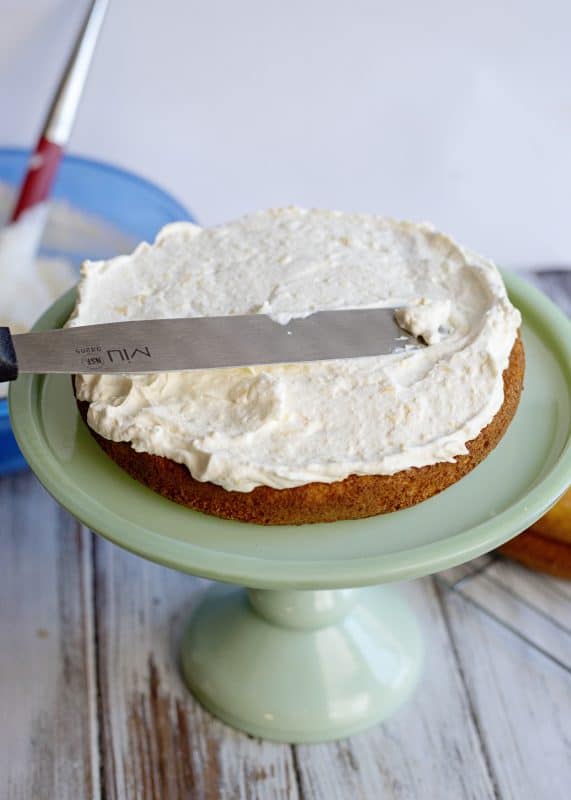 Ice your cake however you like to ice your cake. This part is when I am happiest that I've made a 9×13, lol. But again, y'all are worth the extra trouble!
Pretty! Don't you just love jade glass?
Now this cake needs to sit in the fridge, ideally, for two three days before serving.
GASP. Yes, I'm serious. Of course you can eat it now if you want but it will be WAY better after a couple of days.
and then, enjoy!
And believe me, you will! Printable recipe below
Have a great week and thank you for being here! Be sure and print this recipe off, share this post on Facebook, or pin it on Pinterest!
Ingredients
Cake
1

box Yellow Cake Mix

I prefer Duncan Hines

11

ounce

can Mandarin oranges diced, undrained

4

eggs

½

cup

oil
Frosting
3.4

ounce

Box Instant Vanilla Pudding

16

ounce

whipped topping

1 -8

ounce

Can crushed pineapple

undrained
Instructions
Preheat oven to 350. Grease and flour three round cake pans or grease one 9x13 baking dish.

Place all cake ingredients into a large mixing bowl and beat with an electric mixer until well blended and full combined, about two minutes.

Pour into prepared pans and bake until toothpick inserted in center comes out clean, 25-30 minutes, slightly less if you use three pans. If using round pans, allow to cool for ten minutes before turning out to cool completely. If using 9x13, allow to cool completely in pan.

For frosting, place pineapple (with juice) and pudding mix in a mixing bowl. Beat until just mixed. Add in whipped topping and beat on low speed for about one minute, until blended in. Frost cake.

Cover well and refrigerate. Best if made 2 or 3 days ahead and refrigerated before serving.
Video
Notes
*Note: I usually make mine in a 9x13 pan just to save the trouble of fooling with the layers. 
Nutrition
If you enjoy this cake you might like the pie version!
Here are some other cake recipes for y'all:
A Simple Cake Recipe Easy and Delicious
A lot of what weighs you down isn't yours to carry.
~Unknown