How To Make Vanilla Wafer Cake
Today y'all I'm adding Mama Reed's Vanilla Wafer Cake to the list of recipes I worry what your life will be without!
This cake is the kissing cousin of my Apple Dapple Cake. They come from a different branch of the family but chances are if you have the good sense to like one of them, you'll like the other as well.
My mother got this vanilla wafer cake recipe from her grandmother, Mama Reed. Mama Reed had an expansive array of recipes but this cake was my mother's favorite by far. When she married my father, this was the first recipe she asked for to use in her own kitchen.
Ingredients for Vanilla Wafer Cake
You'll need:
Eggs
Coconut
Milk
Vanilla wafers
Sugar
Nuts (we use pecans -pronounced puh-kahns)
Place vanilla wafers in a large sealable bag and crush them with the rolling pin or any other stress relieving device.
Crush your vanilla wafers like this (see above).
Beat up your eggs well and coarsely chop your pecans…
Then toss all ingredients into a mixing bowl and mix until well blended, about two minutes should be more than enough. Until it looks like this. You can do this with an electric mixer or a spoon.
Now if y'all don't dip a spoon in that and take a bite then something is wrong with you!
Pour into a greased and floured tube/bundt pan.
(I just dip a paper towel into some shortening and smear it all over the insides of my pan, then put a few tablespoons of flour in and turn my pan while patting it a bit until the flour has coated the inside. Then I hold it over the trash can upside down and pat it until the excess falls out)
Bake at 350 for one hour.
Oh my goodness gracious, don't we all just love Mama Reed now?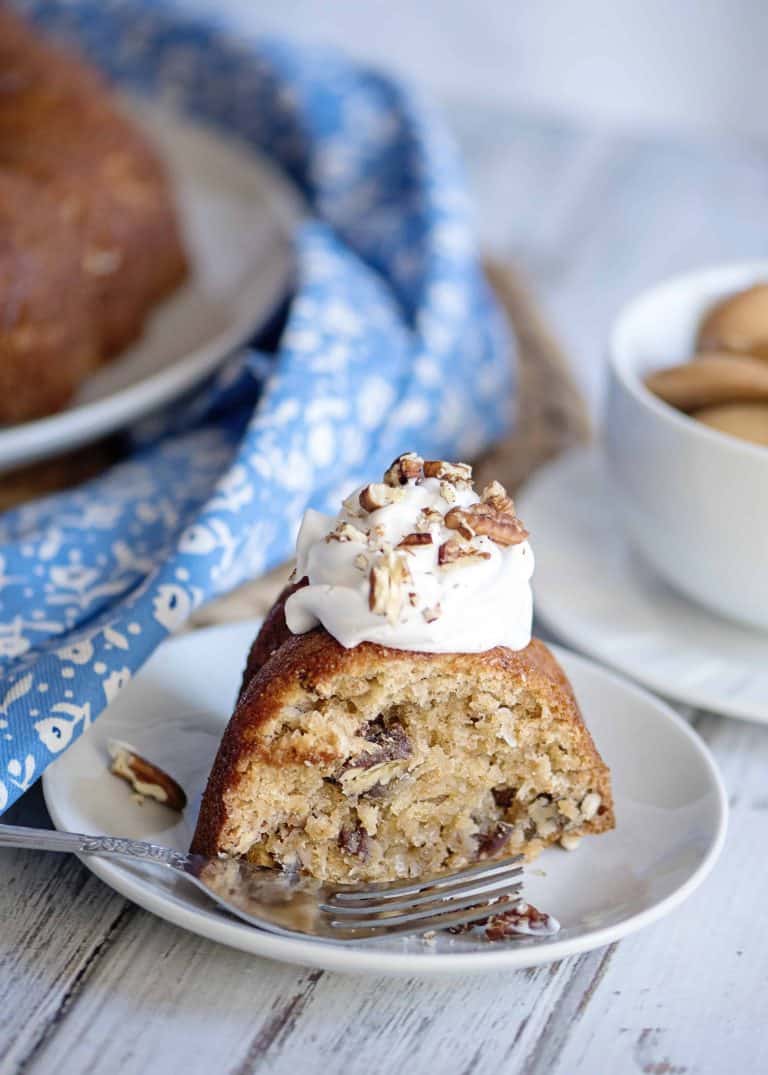 Serve to Vanilla Wafer Cake to happy people! (If they weren't happy before, they will be now!)
Ingredients
6

whole eggs

3.5

oz

can of coconut

if you use bagged sweetened flaked coconut, just use 1 cup - don't use frozen

1/2

cup

milk

12

ounce

box vanilla wafers

Mama says don't use generic ~eyeroll~ I'll do a "no comment" on that one coz y'all know what I do...

2

cups

sugar

1

cup

chopped nuts

we use pecans
Instructions
Beat eggs well. Crush vanilla wafers. Mix wafers and all other ingredients into eggs. Pour into greased and floured tube pan. Bake at 350 for one hour or until toothpick inserted in center comes out clean.
Nutrition
You might also enjoy:
Mama Reed's Tea Cakes
Chocolate Pound Cake with Fudge Glaze
Apple Pound Cake – and Being the Person You Need 🙂
Dear friends,
Thank you so much for taking the time to leave your wonderful comments. Comments are everything to me when it comes to Southern Plate, absolutely everything. When you comment, you give me a chance to "meet" you, to know you're out there. You turn this into a conversation for me rather than just me talking to the wind and I can't tell you how much they mean to me. For each of you who take the time to read Southern Plate, thank you so very much. For each of you who take the time to comment, that thanks goes double!! I just love y'all, I really do!
Gratefully,
Christy 🙂
Click here to follow me on Instagram
This recipe featured on Meal Plan Monday