Densely loaded with soft vanilla wafers, sweetened coconut flakes, and chopped pecans, it's no wonder this old-fashioned vanilla wafer cake has been a popular Southern dessert for decades.
Today y'all I'm adding Mama Reed's vanilla wafer cake recipe to the list of recipes I worry about what your life will be like without! This cake is the kissing cousin of my apple dapple cake. They come from a different branch of the family but chances are if you have the good sense to like one of them, you'll like the other as well.
My mother got this vanilla wafer cake recipe from her grandmother, Mama Reed. Mama Reed had an expansive array of recipes but this cake was my mother's favorite by far. When she married my father, this was the first recipe she asked to use in her own kitchen. It's an old-fashioned classic cake recipe that's been baked in the South for decades. It's great on its own with coffee or with whipped cream and a drizzle of caramel sauce for dessert.
If you like pound cake, this vanilla wafer cake has the same delicious moistness and density. However, we use crushed soft vanilla wafers instead of flour and combine them with milk, shredded coconut, eggs, sugar, and chopped pecans. Can you imagine it? The flavor and texture are just out of this world. Fortunately, it's super easy to make as well, so let's get baking!
Recipe Ingredients
Eggs
Coconut
Milk
Nilla vanilla wafers
Sugar
Nuts (I'm using pecans but walnuts work too)
How to Make Vanilla Wafer Cake
Place vanilla wafer cookies in a large sealable bag and crush them with the rolling pin or any other stress-relieving device (you can also use a food processor).
Once crushed, your Nilla wafers should look a little bit like this.
In a medium bowl, beat up your eggs well and coarsely chop your pecans.
Then toss all remaining ingredients into the mixing bowl and mix until well blended (about two minutes should be more than enough).
It will look like this. You can do this with an electric mixer or a wooden spoon.
Now if y'all don't dip a spoon in that and take a bite then something is wrong with you!
Pour cake batter into a greased and floured tube pan or bundt cake pan.
To grease my bundt pan, I dip a paper towel in shortening and smear it all over the insides of my pan. Then I put a few tablespoons of flour in and turn my pan while patting it a bit until the flour has coated the inside. Then I hold it over the trash can upside down and pat it until the excess falls out.
Bake at 350 for one hour. Cool cake for at least 10 minutes in the pan before inverting it onto a wire rack to cool completely.
Oh my goodness gracious, don't we all just love Mama Reed now?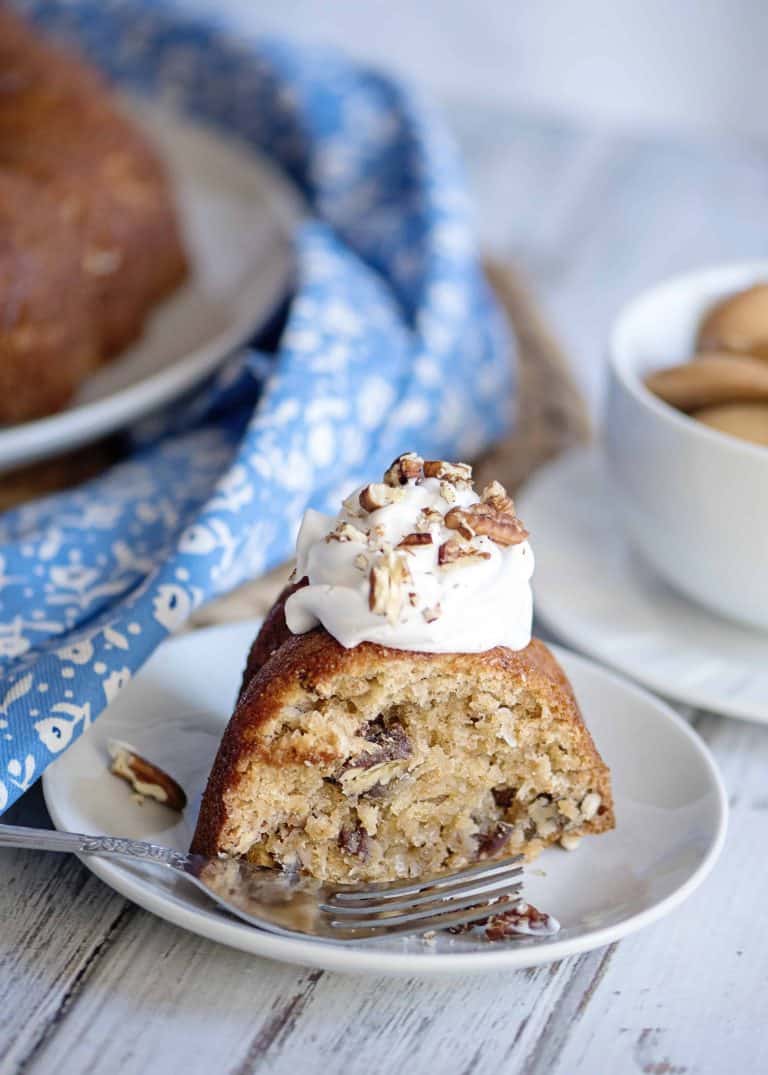 Serve your vanilla wafer cake with a dollop of whipped cream and extra chopped pecans to happy people (if they weren't happy before, they will be now).
Storage
Covered cake leftovers will last at room temperature or in the fridge for up to 5 days. You can also freeze leftovers for up to 3 months. Thaw at room temperature before serving.
Recipe Notes
The old-fashioned recipe often called for frozen coconut. You can use whatever you have on hand or prefer, whether that's canned coconut flakes or bagged coconut.
If you don't like coconut and/or pecans, you can leave them out.
Recipe FAQs
How do you serve vanilla wafer cake?
You can serve your vanilla cake on its own, dusted with powdered sugar, or with whipped cream (here's my homemade whipped cream recipe). For a more decadent dessert, add a drizzle of caramel sauce or a serving of fresh berries. Another option is to butter the cake and toast it quickly in the air fryer. That's a Paula Deen recommendation. YUM.
You might also enjoy these delectable cake recipes:
Caramel Apple Cake from Mama Reed
Old-Fashioned Crispy Tea Cake Cookies
Chocolate Pound Cake with Fudge Glaze
Ingredients
6

whole eggs

1

can

sweetened coconut flakes

equals 1 cup of bagged coconut

1/2

cup

milk

1

box

vanilla wafers

12-ounce

2

cups

sugar

1

cup

chopped nuts

we use pecans
Instructions
Crush vanilla wafers in a large sealable bag with a rolling pin.

Beat eggs well in a medium bowl and add all remaining ingredients. Mix for a couple of minutes with a wooden spoon or electric mixer until blended.

6 whole eggs,

1 can sweetened coconut flakes,

1/2 cup milk,

2 cups sugar,

1 cup chopped nuts

Pour the cake batter into a greased and floured tube or bundt cake pan. Bake at 350 for one hour or until a toothpick inserted in the center comes out clean.
Nutrition
Click here to follow me on Instagram
This recipe featured on Meal Plan Monday