This Mint Oreo ice cream pie recipe is for the mint ice cream and Oreo lover in your house. Creamy, soothing mint taste, refreshing and seriously easy to whip together.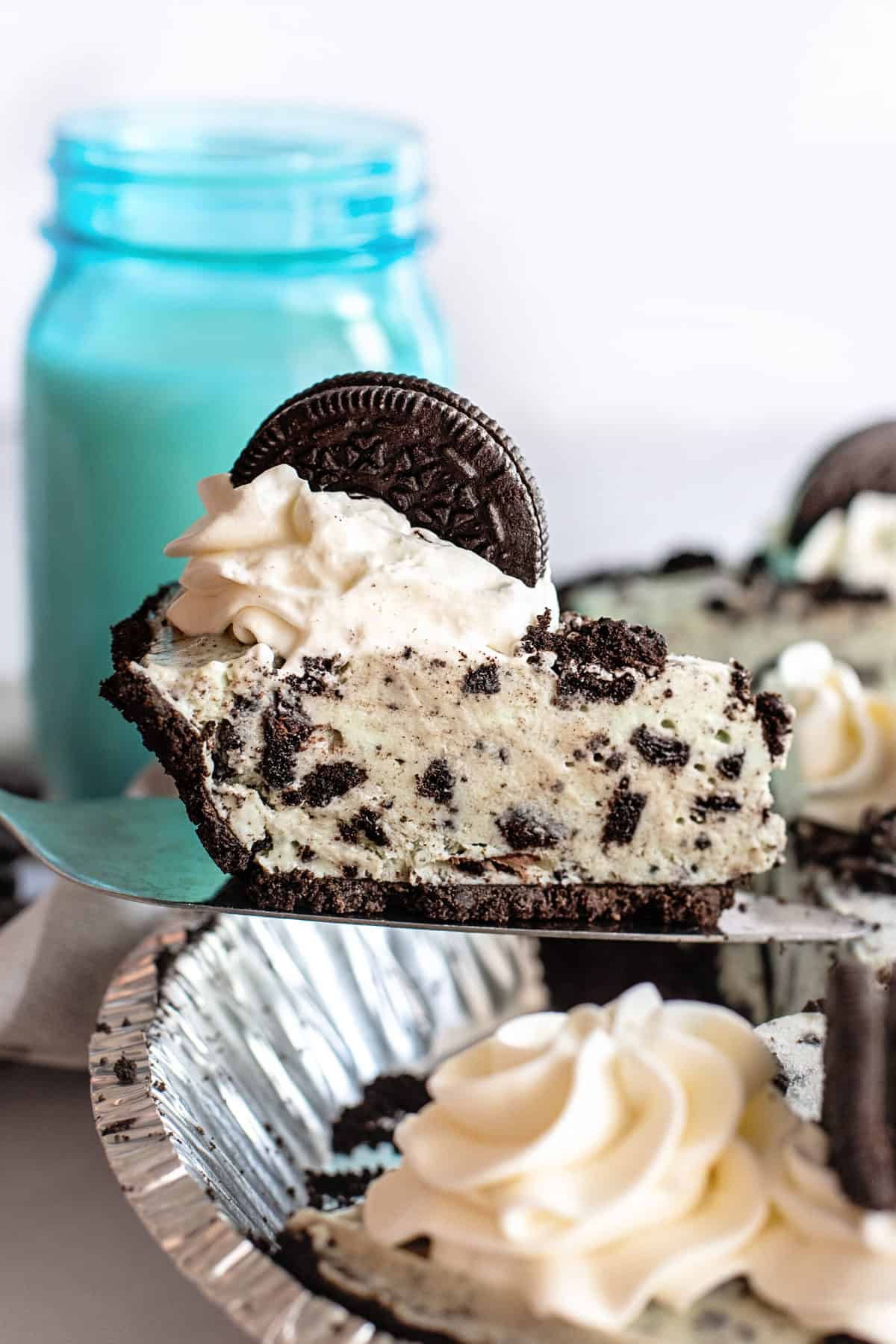 A true ice cream pie loaded with mint chocolate chip ice cream, creamy pudding and Oreos, rounded out with a chocolate crust, this pie will keep you cool and your kids happy.
Recipe Ingredients
Mint Chocolate Chip ice cream
Milk
White chocolate pudding mix (I'm using sugar-free)
Package of Oreos cookies
Whipped cream
Chocolate pie crust
Step 1: Place your milk in a mixing bowl and pour your pudding mix on top.
Mix that up until well blended and scrape down sides as needed.
Note: you can use vanilla pudding instead of white chocolate but if you've never tried white chocolate you are missing out! This stuff is AMAZING!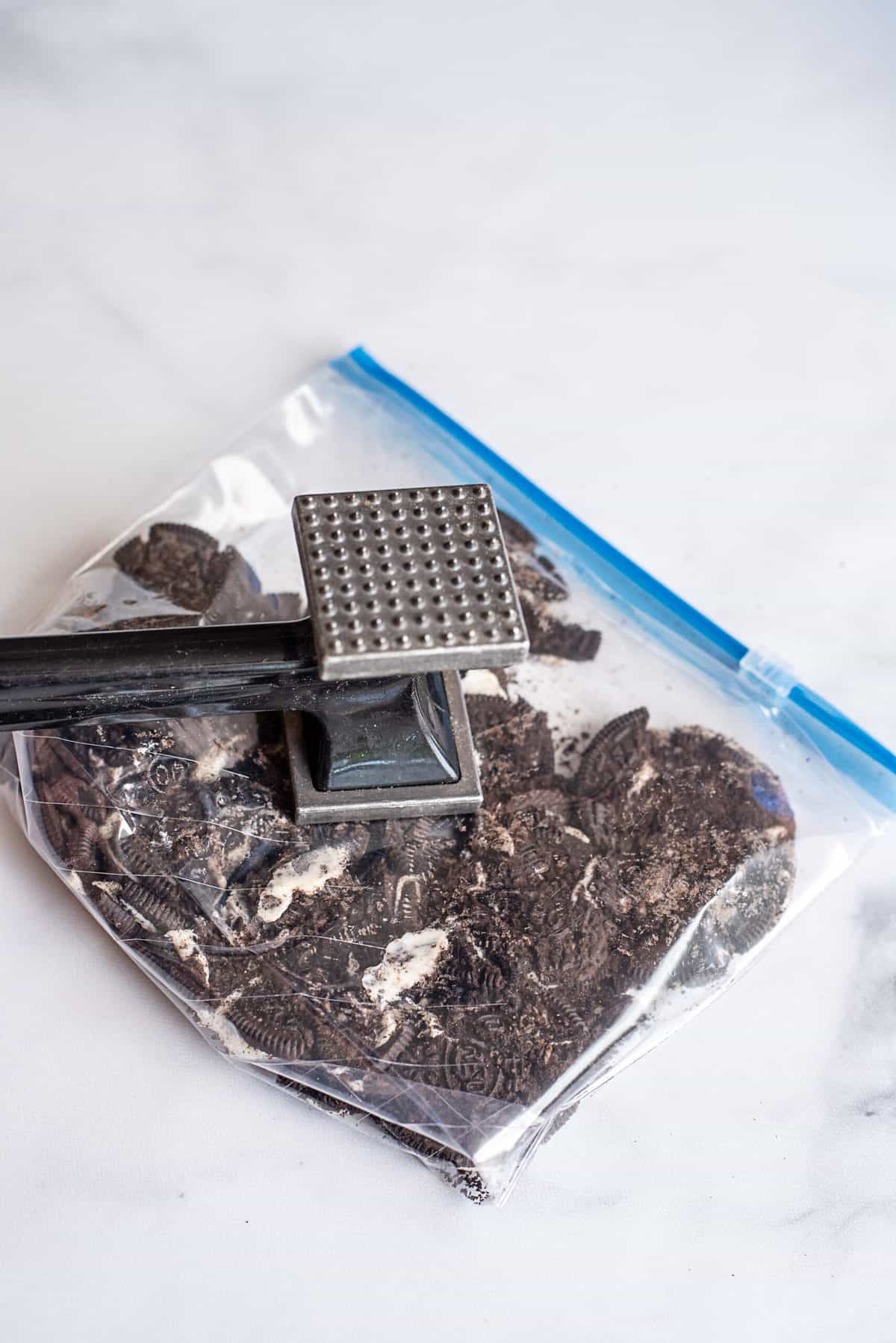 Step 2: Put your Oreos in a zipper seal bag and break them up a bit.
If you don't have a meat tenderizer handy, don't worry. Do what I tend to do and just reach into your drawer and grab the first thing that jumps out!
Step 3: Dump those crushed Oreo cookies into the bowl and add in the mint ice cream.
Mix that up good.
Step 4: Spoon into the pre-made chocolate pie cookie crust.
If you have leftover Oreos, don't be afraid to add even more on top of your ice cream pie now. The more the merrier, I say!
Step 5: Now it's time to cover and freeze your mint Oreo ice cream pie. It's up to you. Let it sit in your freezer until solid, or mostly solid. I usually put it in there over night. Or until you just really want to eat it. There are no rules here.
Now, with this mint Oreo ice cream pie recipe, you can serve it on its own. However, I highly recommend topping it with whipped cream and an extra Oreo or 10. Mmm, Mmm!
Recipe FAQs
Can you use any flavor ice cream in this recipe?
To please all pallets, try simple vanilla or chocolate ice cream. Just make sure you soften the ice cream before using it in the recipe, for best results.
You can also change up this this ice-cream pie by using a graham cracker crust. That's the beauty of this recipe, you can change it up to however you like it.
What other toppings work?
Another option is to top your slice of Oreo ice cream pie with a drizzle of hot fudge, chocolate sauce or use different Oreos like S'mores or Mint Oreos. Here are all the different flavors Oreo's make these days.
Ice Cream Too Hard To Scoop?
Soften it by heating it in the microwave on Low for about 20 seconds or putting the head of the scoop in hot water for 5 -10 seconds.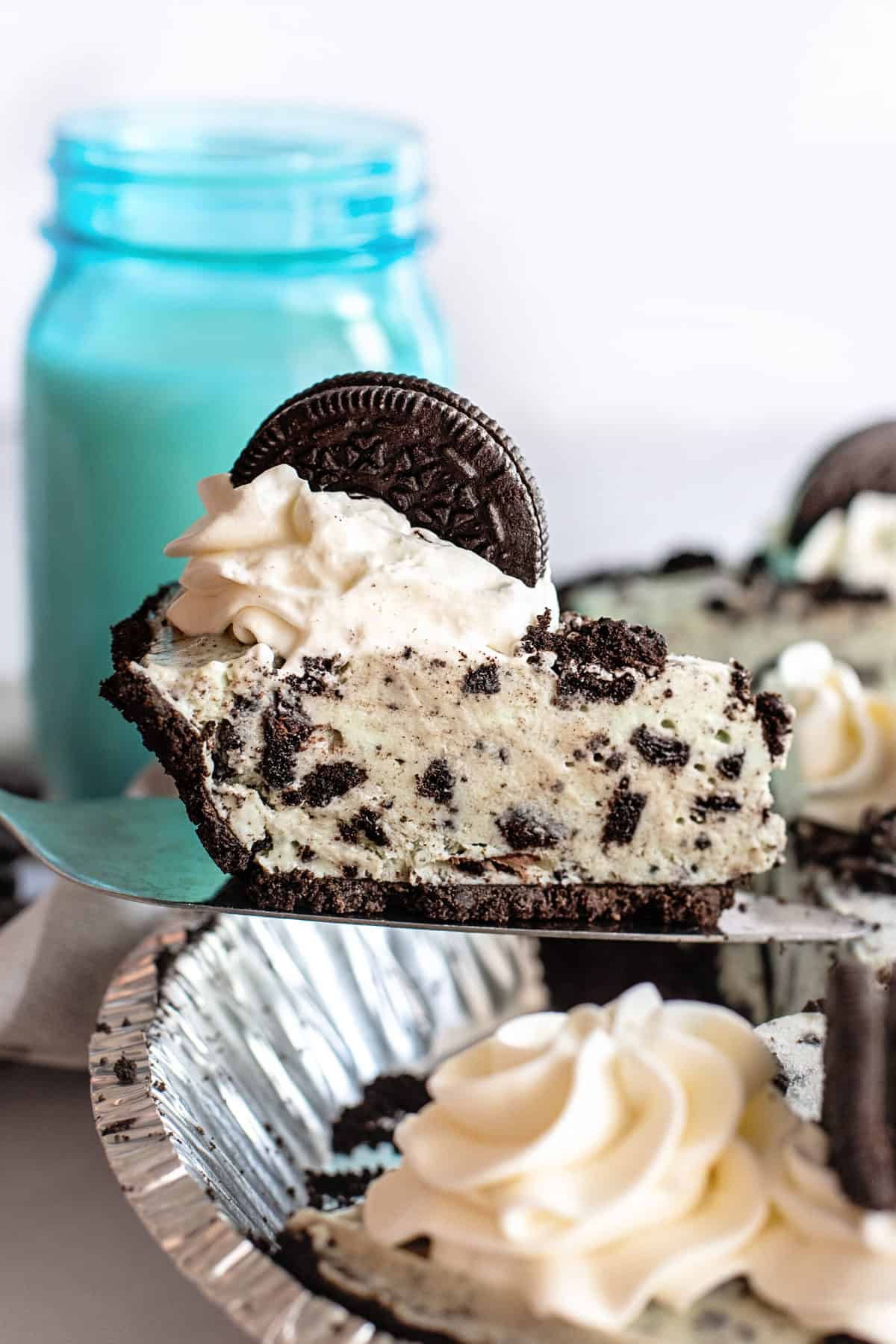 Ingredients
small box sugar-free white chocolate pudding

4 serving size - can use regular

1/2

cup

milk

can use skim

10

oreos

crushed

chocolate cookie crumb crust

6 ounce size

2-3

cups

mint ice cream
Instructions
In a mixing bowl, pour milk and sprinkle pudding mix over. Beat with an electric mixer until well combined, about one minute.

In a plastic bag, crush Oreos and add to pudding mixture. Then add in the softened mint ice cream. Beat again, scraping down sides as needed, until well incorporated, about two minutes.

Spoon into pie crust and freeze for several hours before serving.

To garnish: Add canned whipped topping and top with Oreos, if desired.
Notes
Total time doesn't include the freezing overnight.
Nutrition
You may also enjoy these Ice Cream Pie recipes:
Oreo Ice Cream Cake A Family Favorite
"Charity should begin at home,

but should not stay there."

~Philip Brooks
Submitted by Angela Lewis. Click here to submit your quote.