If you've never had a Butter Roll, you've been missing out on one of the most delicious simple pleasures that life has to offer!
The Southern Plate Family is plum full, brimming over actually, with brilliant people. I'm talking about you, y'all, and all of us collectively. Seriously, y'all have the best ideas! So when I mentioned my Old Fashioned Butter Roll Recipe on Southern Plate Family's facebook page recently, I had a few comments and emails about how some folks make them with crescent roll dough.
Better Than The 'From Scratch' Version
I was intrigued. I was inspired. I was hungry.
So I took my intrigued, inspired, and hungry self into the kitchen and decided to give it a go. My mother called every five minutes to check on the progress. My house began to smell like it was placed two steps from the gates of Heaven. Then I pulled them butter rolls from the oven and had me a taste while they were so hot steam was coming off my fork.
Mama called and I told her "I do not say this lightly, but these are actually better than the from scratch version."
If you would like the from scratch version you can find that here.
If you're not in your kitchen already making these Butter Rolls with a Shortcut, I'm not quite sure what is keeping you.
Unless you need the recipe or something…
The ingredients to make these Butter Rolls are:
Milk
Crescent Roll dough
Cinnamon
Sugar*
Vanilla
Butter
That is all. Notice my choice in getting the generic crescent rolls. Y'all know my motto, right? Nothing but the cheapest for my family! Pretend there is vanilla in this photo just like I sometimes pretend my house is clean. P.S. You can use Swerve as a replacement for sugar in this whole recipe if you like. A lot of folks have been on a Stevia kick lately so I gave it a go but Stevia is definitely not for me. Of course, if you have a favorite sweetener and want to try that, go for it. I've only done it with Swerve so I can't speak for any others from a personal account.
How to Make Butter Rolls Step By Step

What you need to start…
To start, you're gonna need a surface to roll all this out onto. Usually I get some waxed paper and sprinkle a little flour on it but I felt like being even easier today so I just grabbed a baking pan and sprayed it with cooking spray.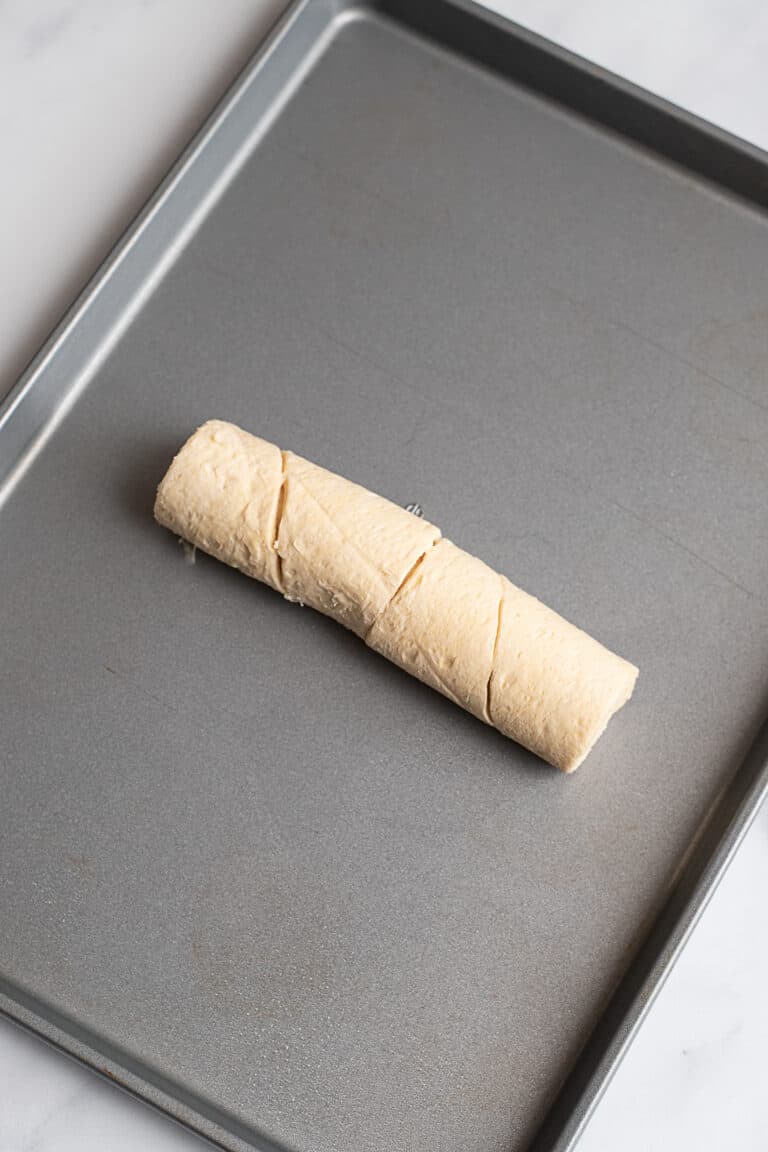 Place your cresenct roll dough on the greased or floured surface.
Roll it out and press the seams together so it is one big old sheet of dough.
Spread that whole thing with softened butter. Don't spread all the way to the edge but leave about 1/2 an inch all around.
Sprinkle that with sugar.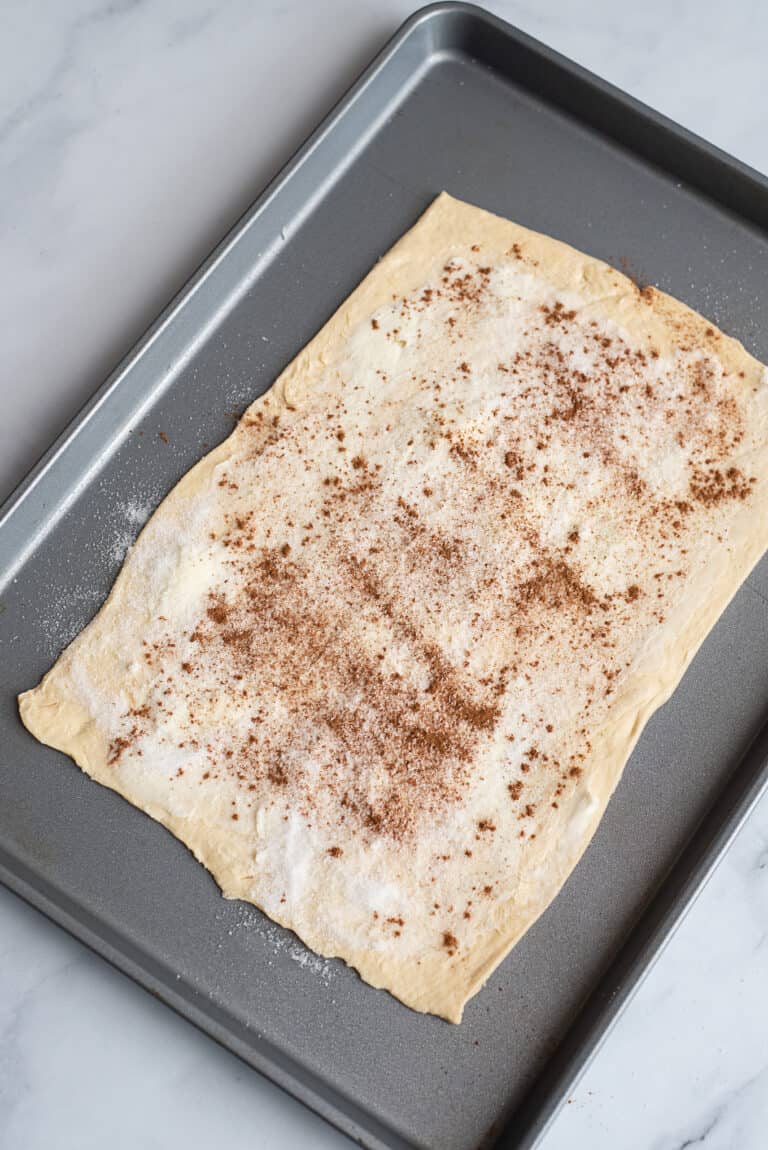 Sprinkle a wee bit of cinnamon over it if you like. You can also leave this off.
Roll that up longways and press it together a little bit with your hands.
Cut that into 10 or 12 pieces. Just see where your knife ends up and cut. It don't make no nevermind if you have 9, 10, or 12 slices.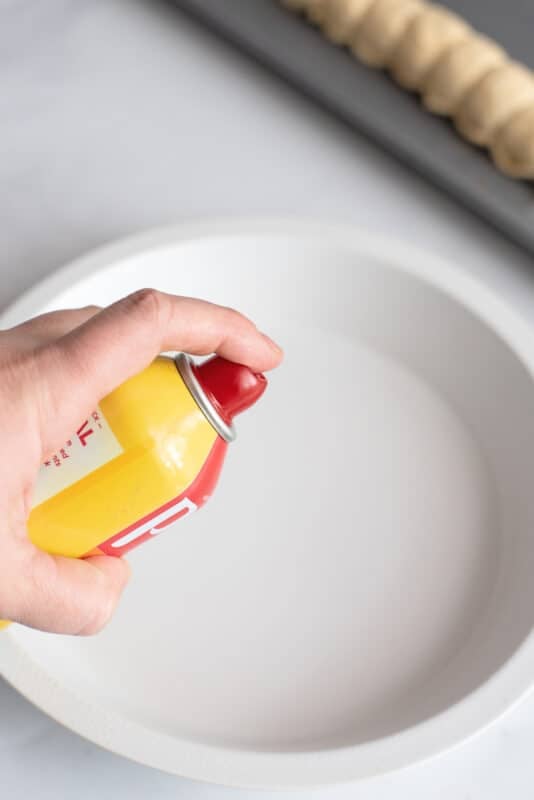 Spray an 8 inch round pan (A cake pan works fine) with cooking spray.
Place milk and vanilla in a microwave proof measuring cup and heat his in the microwave for about a minute, or until it is very warm.
Stir in your sugar to the hot milk and keep stirring until sugar is dissolved.
Pour over rolls.
Place this in a 350 degree oven and bake until rolls are golden brown, about 30-35 minutes.
I like to serve these warm as dessert at the end of a good country meal, but they are also delightful for breakfast or a coffee snack.
Just eat one. And then another. And you should probably have at least a third or fourth, just for quality control purposes, before serving them to your family, if there are any left of the Shortcut Butter Roll Dessert 🙂
Ingredients
1

Can Crescent Roll Dough

8 ounces

1/4

cup

butter or margarine

softened

1/8

cup

sugar

1/2

tsp

cinnamon
Milk Sauce
1

cup

whole milk

1/3

cup

sugar

1

teaspoon

vanilla
Instructions
Preheat oven to 350. Roll out crescent roll dough onto greased or floured surface. Press seams together.

Spread softened butter over dough, leaving 1/2 inch space at edges on all sides. Sprinkle with sugar and cinnamon. Roll up longways and squeeze lightly with hands to seal.

Cut into 10-12 slices.

Placed slices in greased 8 inch round pan.

Place milk and vanilla in measuring cup and heat in microwave until very warm. Stir in sugar until dissolved. Pour over rolls.

Bake for 30-35 minutes, or until golden brown on top. Once removed from oven, let sit for 5-10 minutes before serving.

Serve warm and enjoy!
Note: There will be more sauce than is pictured here because this photo was taken after a few were removed. Butter Rolls will be dumpling like in texture on the bottom and flaky on the top. Spoon additional sauce over rolls before serving.
Nutrition
You may also like these recipes for all sorts of different rolls:
Stuffed Cinnamon Rolls Easy To Make
Pizza Rolls! Who wants the weekend off from cooking??
"Life is short, but there is always time for courtesy."
~Ralph Waldo Emerson
Submitted by Angela Lewis (thanks Angela!). Submit your quote by clicking here.