Loaded with tender beef, vegetables, tomato sauce, oats, and seasoning, these meatloaf burgers are quick and easy to make and every bite is mouth-wateringly moist.
If you ever want folks to get a wistful look in their eyes and set mouths to watering, just mention a good old-fashioned meatloaf sandwich. In fact, I know a lot of folks who make meatloaf just so they can have sandwiches the next day! I'm a fan of both, but when I find myself hankering for a tender hunk of meatloaf on a bun, I just cut out the middle man and make these burgers. With all the flavor and texture of tender meatloaf, they hit the spot every time.
Each meatloaf patty is loaded with the good stuff: oats, eggs, onion, bell pepper, tomato sauce, tender ground beef, and seasonings. Luckily, this meatloaf burger recipe is quick and easy (my favorite kind of recipe). Simply mix the ingredients together, shape them into patties, and cook. You'll have enough meatloaf burgers to serve a hungry family in 20 minutes. How good does that sound?
Pair your mouthwateringly moist meatloaf burger with my burger slaw and a serving of parmesan oven fries and you have the perfect main dish. This burger is tender and moist, just like a slice of your favorite meatloaf. Enjoy!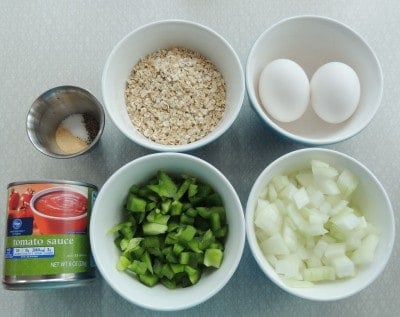 Recipe Ingredients
Ground beef
Quick oats (old-fashioned oats will work, too)
Eggs
Chopped onion
Chopped bell pepper
Tomato sauce (you can substitute for ketchup)
Seasonings: salt, pepper, and garlic powder.
How to Make Meatloaf Burgers
Place all of your ingredients into a large bowl.
Now we need to mix this up. There are several ways of doing this but my favorite is to use my hands. This is by far the most efficient and quickest way to mix a meatloaf. For anyone horrified at the thought of this I want to point out that hands are washable.
Just give 'em a good wash, dig in and mix this up, then wash them again. Voila! Clean hands AND meatloaf!
Whereas before, you had clean hands and NO meatloaf. See the bonus here?
When it's all mixed up it will look like this.
Shape that into four doughnut-shaped patties.
We make them doughnut-shaped because this helps the center to get cooked quicker, so we don't end up having to burn the outer edges while waiting on the center to cook. I do regular hamburgers this way, too.
As it cooks, the meat shrinks and the center hole closes up.
A close-up shot of our gorgeous mouthwatering meatloaf burgers.
Place these in a large skillet over medium-high heat until brown on both sides (about 5-7 minutes on each side).
Then, add 1 cup of water to the skillet and continue cooking until juices run clear, about 5 minutes more.
Note: These will be more tender than traditional hamburger patties. So be a little gentle with turning them and only turn when they get good and brown because then they'll hold together better.
Serve on your favorite bun, topped with ketchup and this wonderfully quick and easy burger slaw.
There aren't a lot of photos of this because as I was holding the burger to take this shot, I looked down at my camera screen to see how it turned out and without even realizing it, took a big old bite out of this mouthwatering meatloaf burger. And boy was it ever good!!!
Storage
Store leftovers in an airtight container in the fridge for up to 4 days. Reheat in the microwave, air fryer, or skillet.
You can also freeze uncooked or cooked patties for up to 4 months. Thaw overnight in the fridge before cooking as instructed or reheat as mentioned above.
Recipe Notes
Substitute the oats for bread crumbs or Saltine cracker crumbs if you like.
Want to add more seasoning? Opt for 1/2 teaspoon of onion powder, 2 teaspoons of Worcestershire sauce, or a dash of cayenne pepper for heat.
You can totally substitute the ground beef for ground turkey if you prefer. If you want to add more meat, add 2/3 cup of chopped cooked bacon.
Recipe FAQs
What do you serve with a meatloaf burger?
You can make a meatloaf sandwich with burger slaw, coleslaw, or your favorite burger toppings, like pickles, fresh tomato slices, and lettuce. Alternatively, serve your meatloaf patties as a main dish with mashed potatoes and fresh green beans.
You may also like these burger recipes:
Juicy Burgers (with a surprise ingredient!)
Ingredients
1 1/2

pounds

ground beef

can use lean or ground chuck

1

can

tomato sauce

8 ounces, can substitute 3/4 cup ketchup

1/2

cup

quick oats or cracker crumbs

2

eggs

1/2

cup

chopped onion

1/3

cup

chopped bell pepper

1

teaspoon

garlic powder

1

teaspoon

salt

1/2

teaspoon

black pepper
Instructions
Place a large skillet over medium heat while you prepare the meatloaf burgers.

Combine all ingredients in a large bowl and mix with hands until well mixed. Form into 4 doughnut-shaped patties.

1 1/2 pounds ground beef,

1 can tomato sauce,

1/2 cup quick oats or cracker crumbs,

2 eggs,

1/2 cup chopped onion,

1/3 cup chopped bell pepper,

1 teaspoon garlic powder,

1 teaspoon salt,

1/2 teaspoon black pepper

Place them in the heated skillet and brown on both sides (about 5-7 minutes per side). Add 1 cup of water to the skillet and continue cooking until juices run clear (about 5 minutes or so).

Serve on your favorite buns, preferably topped with ketchup and slaw. Enjoy!
Nutrition
The only normal people you know are the ones you don't know very well. 😉
~Unknown