Fresh green beans are a classic Southern side dish. Today I'm going to show you how to make deliciously tender and flavorful fresh green beans with only 4 ingredients.
If you are on the hunt for a fresh green bean recipe, look no further. I think you might enjoy this one and here's why:
There are no complicated steps and no fuss. Just pop the butter and green beans in a

pot

, let them boil and get all tender, and then season to taste. It doesn't get any easier than that.
This recipe is so quick and easy. Your green beans will be ready in about 15 minutes.
You only need 4 ingredients: fresh green beans, butter, salt, and pepper. Just simple ingredients that offer a big flavor.
You can easily adapt the recipe to suit you. I've included some options below but you can always add garlic or some crushed red pepper flakes to bring the heat.
Fresh green beans are the perfect Southern side dish to whip up and accompany a plethora of main meals. I've included these serving suggestions below as well. I know I know, I've got all the bases covered. Aren't I nice? 😉
Surely I've convinced you to give this recipe for fresh green beans a go now, right? You can't go wrong and if your family is anything like mine, they actually won't mind you making them week after week. There's just something about the deliciously tender green beans. The butter and seasonings add just enough flavor to keep them coming back for more.
Recipe Ingredients
Fresh beans
Unsalted butter
Salt
Black pepper
Helpful Kitchen Tools
How to Cook Fresh Green Beans
First, we need to prepare our green beans.
Break the ends off of each green bean and then break them into bite-sized pieces.
Discard the ends or feed 'em to your chickens.
Don't have chickens? Go get at least three or four hens before proceeding to the next step. Just kidding.
Place all of these beans in a pot of water along with a stick of butter.
Place this over medium-high heat and cook until the water cooks down almost completely, stirring from time to time.
This is also where you would add some minced garlic if you like. I sometimes add a heaping teaspoon, but I like garlic so you do you!
There will be a little liquid left in the pot but not much at all.
This will take anywhere from 10-15 minutes, depending on how hot your pot gets.
Don't be tempted to call the beans done before the water is cooked down.
They will be tender before that but not nearly as flavorful as they will be once they are tender all the way through and cooked down to a nice thin buttery coated sauce.
Here they are, all tender and glorious, with my meatloaf.
Enjoy!
Storage
Store leftover green beans in an airtight container in the fridge for up to 5 days. Reheat them in the microwave or on the stovetop on low heat until heated through.
I don't recommend freezing them as the texture changes once defrosted. Luckily, they only take 15 minutes to make!
Recipe FAQs
How long does it take to cook green beans?
It takes between 10 to 15 minutes to cook whole or cut green beans.
No, fresh green beans don't need to be soaked before cooking. They tenderize and blanch in the boiled water.
Should you salt the water when boiling green beans?
Please feel free to add some salt to the water when boiling the green beans. However, this isn't totally necessary for this particular fresh green bean recipe as we cook them in a whole lot of butter and salt them at the end.
How do I make my green beans taste better?
Here are some flavoring suggestions:
A teaspoon of minced garlic cloves to make a garlic butter sauce. If you don't have fresh garlic, you can use garlic powder or garlic salt.
A pinch of crushed red pepper flakes (add this when you add the salt and pepper).
Substitute the black pepper for lemon pepper seasoning. If you don't have lemon pepper seasoning, you can easily make your own. Salt and pepper as usual and then season the green beans with one lemon zest and a couple of teaspoons of fresh lemon juice.
If I have some bacon grease handy I like to add a tablespoon or so of that as well (totally optional though).
Up to a tablespoon of fresh herbs: basil, parsley, oregano, or rosemary.
Add slivered almonds (or any toasted and chopped nuts) as a garnish.
Can I use frozen green beans?
You can use frozen green beans in place of fresh ones if you really can't get fresh. But just promise me you'll try it fresh sometime, ok?
Let's not talk about using canned green beans in this recipe. We just don't even want to let that thought enter our minds. If you want to make canned green beans taste good, check out this recipe.
How do you pick green beans?
If you're not sure what to look for when picking green beans, let me help. You want to look for bright-colored beans that don't show a lot of brown spots. You also want the beans to be firm to touch. If you hear a snap when you bend the bean and it breaks, you're good to go. If it just bends, it's too far gone.
Can I cut the ends off the green beans or do I need to snap them off?
You can cut off the ends of your beans. You just want to cut off the stems so you don't get a woody texture when you eat them. If you prefer your beans not as long slice them in half. This will also help speed up the cooking time for smaller beans.
How long do cooked fresh green beans last in the fridge?
You can store cooked fresh green beans in the fridge for up to 5 days. Uncooked fresh green beans will last in the fridge for up to 7 days when stored correctly.
What do you serve with fresh green beans?
These are good with just about anything. We have been eating them as a low-carb side when the kids are having rice or mashed potatoes, so I like to keep a big container of them already cooked in the fridge for us. But here are some other main dish suggestions:
Looking for more tasty green bean recipes?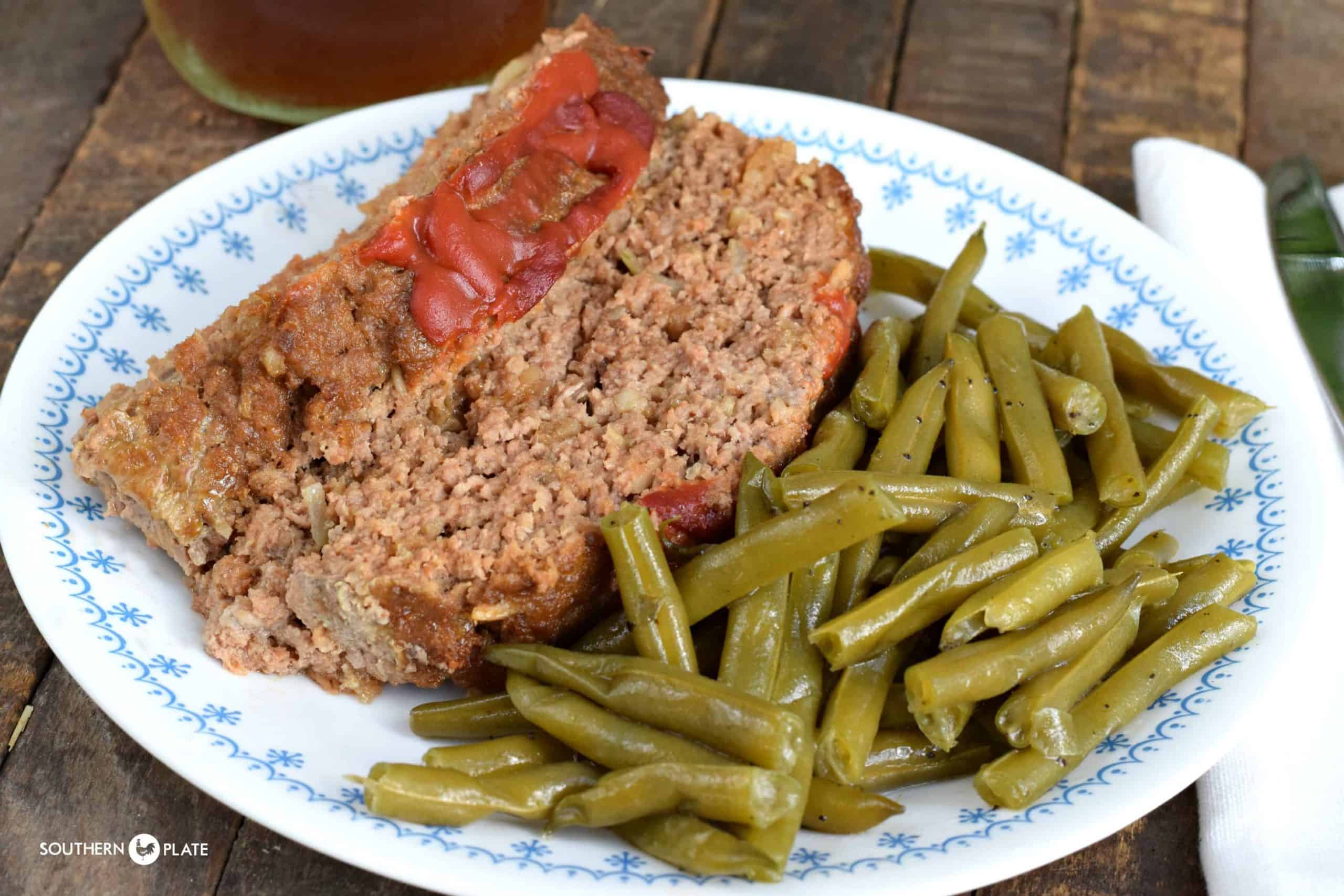 Ingredients
fresh green beans

1

stick

unsalted butter

salt and pepper to taste
Instructions
Break the ends of the green beans off and discard. Then break each green bean into bite-sized pieces.

Place the green beans and butter in a large pot. Cover with water.

1 stick unsalted butter,

fresh green beans

Bring to a boil over medium-high heat and continue cooking, stirring often, until the water is almost completely cooked out and the beans are very tender.

Salt and pepper to taste.
Video
Nutrition