I love cooking fresh green beans! And this tutorial will show you how to cook those fresh green beens so they taste divine!
My mother in law insisted that I post how I made these beans the last time all the Jordan's got together so I am being a good daughter in law today. It's just a simple recipe, barely a recipe really because it just uses what you have on hand like our Granny did, but in a world where churning out complicating recipes is becoming more and more popular simple things are often the most appreciated.
This is just one of the ways that I make fresh green beans, which are pretty affordable this time of year. In fact, I bought two big bags of them at the grocery store this past weekend and cooked them ahead for supper this week.
Hey! Y'all ready to eat? Food ain't gonna cook itself so let's get in the kitchen!
Recipe Ingredients:
Fresh beans, butter, salt, and pepper.
What Can I Add To My Green Beans for More Flavor?
I like to add garlic and some red pepper flakes too, depending on my mood.
If I have some bacon grease handy I like to add a tablespoon or so of that as well, totally optional.
Can I Use Frozen Beans?
You can use frozen green beans in place of fresh if you really can't get fresh, just promise me you'll try it with fresh sometime, ok?
Let's not talk about using canned green beans in this recipe, we just don't even want to let that thought enter into our minds. 🙂 If you want to make canned green beans taste good, check out this recipe (click here).
Break the ends off of each bean and then break them into bite sized pieces.
Discard the ends or feed 'em to your chickens.
Don't have chickens? Go get at least three or four hens before proceeding to the next step.
Just kidding.
Place all of these beans in a pot of water along with a stick of butter. Place this over medium high heat and cook until the water cooks down almost completely, stirring from time to time. This is also where you would add some minced garlic if you like. I sometimes add a heaping teaspoon, but I like garlic so you do you! There will be a little liquid left in the pot but not much at all. This will take anywhere from 30 to 45 minutes or more depending on how hot your pot gets.
Don't be tempted to call the beans done before the water is cooked down.
They will be tender before that but not nearly as flavorful as they will be once they are tender all the way through and cooked down to a nice thin buttery coated sauce.
These are good with just about anything. We have been eating them as our low carb side when the kids are having rice or mashed potatoes so I like to keep a big container of them already cooked in the fridge for us.
Get the recipe for To Die For Meatloaf by clicking here.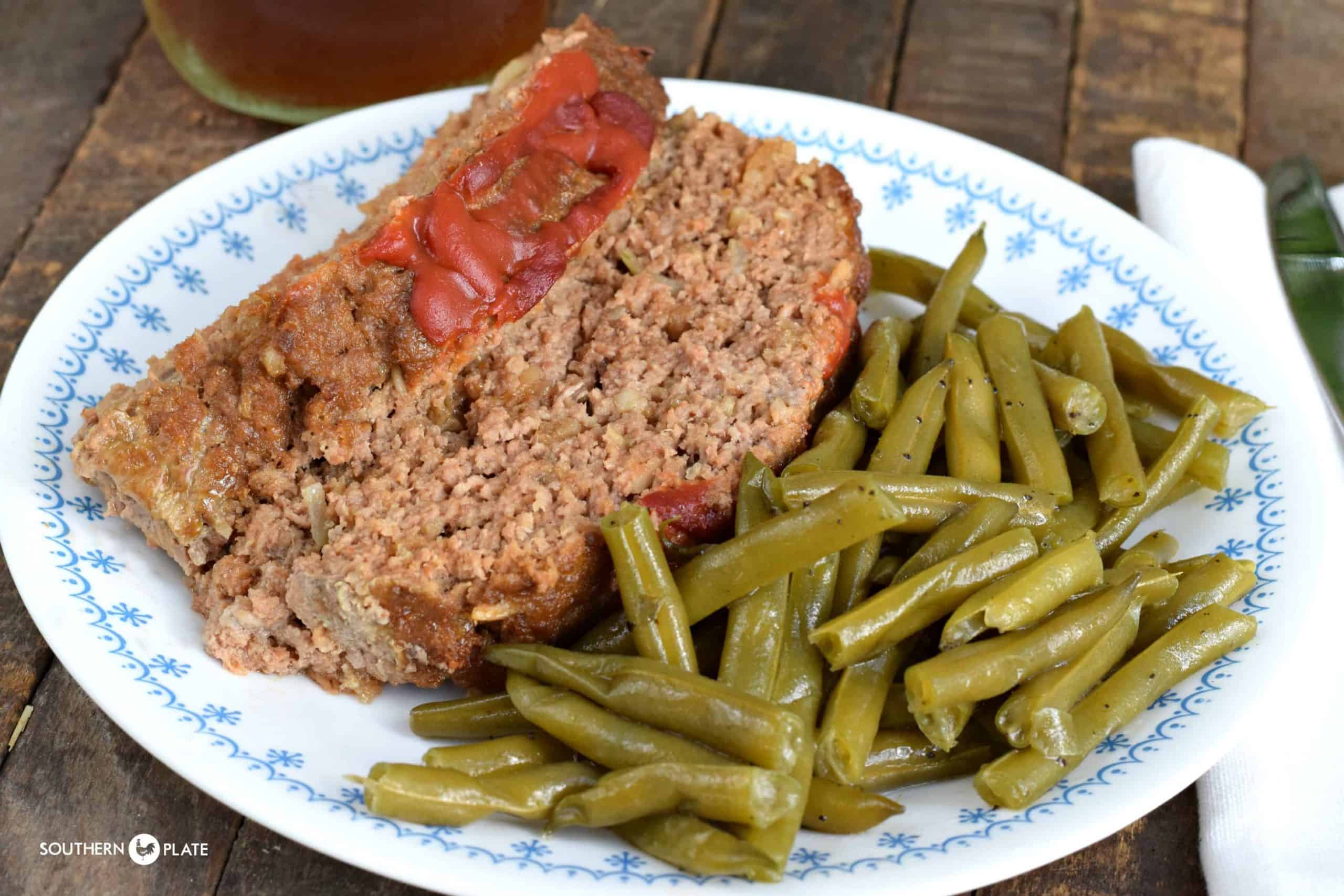 Ingredients
Fresh Green Beans

1

stick of butter

salt and pepper

minced garlic, red pepper flakes

optional
Instructions
Break ends of green beans off and discard. Break each bean into bite sized pieces.

Place green beans and butter in a large pot. Cover with water.

Bring to a boil over medium high heat (add minced garlic now if you like and a pinch of salt) and continue cooking, stirring often, until water is almost completely cooked out and beans are very tender.

Salt and pepper to taste. And if you like red pepper flakes add them here and enjoy!
Notes
*A spoonful or two of bacon grease is a great addition if you have it!
Nutrition
Here are some other recipes for green beans that you may enjoy:
Last Minute Green Beans & and Pretending to Let Go
Green Bean Casserole Rich, Creamy With The Perfect Crunch
"Either you run the day or the day runs you."
~Jim Rohn