Don't waste your leftover meatloaf! Turn it into this quick and easy meatloaf casserole recipe instead, with delicious layers of pasta, ricotta and mozzarella cheese, and meatloaf sauce.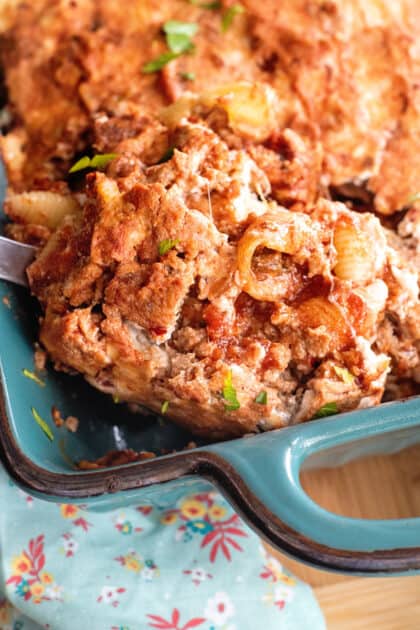 Today's meatloaf casserole recipe is a delicious use for leftover meatloaf. Most folks I know just recycle it into meatloaf sandwiches but I'm a casserole person myself. This is a casserole my husband and I really enjoy with leftover sloppy joe meat, so I decided to give it a go with meatloaf and meatloaf sauce instead. It was every bit as good as we hoped it would be and then some.
Very much like a meatloaf lasagna, ingredients include pasta, a delicious blend of ricotta cheese and mozzarella cheese (because you can never have too much cheese), crumbled meatloaf, and sauce. An interesting and delicious twist that is sure to please.
Together with those simple ingredients, there are only a few simple steps to follow to make your meatloaf casserole. Once we cook our pasta, all that's left to do is layer our casserole. We do layers of cheese, meatloaf sauce, and leftover meatloaf. Then it's time to bake and in 30 minutes your meatloaf casserole is ready. This quick and easy recipe is great for a weeknight supper when you're craving some good ol' comfort food.
Recipe Ingredients
Small shell pasta
Mozzarella cheese
Ricotta cheese
Meatloaf sauce
Crumbled leftover meatloaf
How to Make Meatloaf Casserole
Cook and drain your pasta according to the package directions.
Place in the bottom of a 9×13 baking dish.
Combine both types of cheese in a large bowl and stir until they're combined.
Spread half of your cheese mixture over your pasta in the casserole dish.
Top that with half the can of meatloaf sauce.
Spread it a little to make it go over the whole top.
Top that with all of your crumbled meatloaf mixture. Yum!
(My meatloaf was straight from the fridge, in case anyone is wondering).
Top that with the rest of your cheese mixture.
Spread the remaining tomato sauce over it.
Bake, uncovered, at 350 for 30 minutes or until bubbly.
There you have it. Your meatloaf casserole is ready in no time at all (told ya it was easy peasy).
Hand a good serving of this out and watch your husband's eyes bug out of his head!
Storage
Store leftovers in an airtight container in the fridge for up to 3 days and reheat in the microwave. You can also freeze leftovers for up to 3 months. Thaw overnight in the fridge before reheating in the microwave.
Recipe Notes
You can make your own meatloaf sauce or use my favorite

seasoned

Hunt's. You'll need about two cups or so either way you go. To make homemade meatloaf sauce, you'll need ketchup, brown sugar, garlic powder, onion powder, and salt and pepper.
You may also like these recipes:
Ingredients
2-4

cups

crumbled leftover meatloaf

1

can

meatloaf sauce

or 2 cups homemade meatloaf sauce

2

cups

uncooked small shell pasta

2

cups

ricotta cheese

2

cups

mozzarella cheese
Instructions
Cook pasta according to package directions and drain. Place in the bottom of a 9x13 baking dish.

2 cups uncooked small shell pasta

In a medium bowl, stir together both types of cheese until well combined.

2 cups ricotta cheese,

2 cups mozzarella cheese

Top pasta in the casserole dish with half of the cheese mixture. Spread half the meatloaf sauce over the top. Top with the crumbled meatloaf mixture. Add remaining cheese and top with remaining sauce, spreading to cover the top.

1 can meatloaf sauce,

2-4 cups crumbled leftover meatloaf

Bake, uncovered, at 350 for 30 minutes or until bubbly.
Call it a clan, call it a network, call it a tribe, call it a family:
Whatever you call it, whoever you are, you need one.
~ Jane Howard. Submit your quote here.