No Bake Chocolate Cookies
These no bake chocolate cookies might be low sugar and low carb, but they're high on decadent chocolate flavor!
We are still watching our sugar at our house and it's working out beautifully, especially when I make myself something sweet and don't have to feel guilty about it. I had a hankering for classic no bake chocolate cookies and decided to try out a low-sugar version. This simple recipe has become a favorite of ours now, and I'm going to show you how to make them, along with tips and tricks for adjusting them to your own taste. My no bake chocolate cookies are a little different to others though (but just as delicious, trust me), as I opt for no oats and peanut butter.
I have kept a bag of these little gems in the fridge for the past few months now and have a few a week, just to keep the sweet monster from rising up and attacking. They taste close enough to the good old days but substituting pecans for the oats definitely takes it up a notch for me.
Recipe Ingredients
Heavy cream
Butter
Shredded coconut (unsweetened)
Chopped pecans
Cocoa powder
Vanilla
Sweetener of your choice. I am choosing Swerve.
Place butter, cream, and sweetener in a saucepot.
Bring it just to a boil over medium-high heat, while stirring constantly. Once it comes to a boil, allow it to boil for two minutes and then immediately remove it from the heat.
Stir in the vanilla.
Add the cocoa, coconut and…
nuts.
Stir until well blended.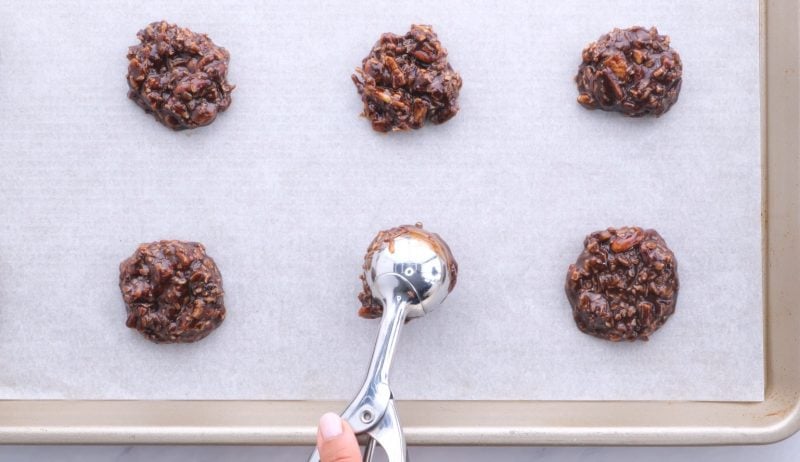 Plop out by spoonfuls onto parchment paper and allow to cool completely so that they harden. You can put them in the refrigerator or even the freezer to speed up the process.
Then, enjoy your little treat! This no bake chocolate cookies recipe makes about a dozen. I keep these in a zipper sealed bag in my fridge (hidden towards the back so the kids don't find them).
Storage
As I said, I keep mine in the refrigerator for a month. However, if you'd prefer to freeze them, ensure they're completely set and then place them in a sealed container in the freezer for up to three months. Thaw them overnight in the fridge before serving/devouring.
Recipe Notes
I use Swerve because it has zero net carbs and we go by net. However, you can also use Stevia, but make sure you adjust the amount added to taste, as it may require less. If you love Stevia, just be happy that I'm leaving my share on the grocery store shelves for ya! Not all taste buds are the same and we actually taste things differently. I'm one of those people that just can't handle the taste of Stevia, no matter what brand.
These are not going to taste identical to the ones made with sugar, but the amount of sweetener you use is going to make or break this recipe. I only use 1/2 a cup of Swerve, but I could probably even cut that back to a little over 1/4 a cup. Hint: I have and they are even better. I suggest starting on the lower end and going up. Also, know that the type of sweetener is going to affect how much you need to use, as some are sweeter than others. I think the greater chance is that the cookies will be too sweet, rather than not sweet enough, so keep that in mind. My measurements are using Swerve, which can be purchased on Amazon by clicking here.
While I love pecans, you can use your preferred nut. It also tastes great with walnuts and almonds.
Here are some more chocolaty cookie recipes:
Chocolate Cookies with Marshmallow
Chocolate Chip Meringue Cookies
Ingredients
1/4-1/2

cup

Swerve*

Monk Fruit or sweetener of your choice

1/4

cup

heavy cream

1/4

cup

butter

1/2

cup

coconut shredded

1/2

cup

chopped pecans

1

teaspoon

vanilla

2

tablespoons

cocoa powder
Instructions
Mix Swerve (sweetener), cream, and butter in a saucepot. Bring it to a boil and once boiling, cook for two minutes.

1/4-1/2 cup Swerve*,

1/4 cup heavy cream,

1/4 cup butter

Remove from heat and stir in vanilla, cocoa powder, coconut, and pecans. Stir well.

1/2 cup coconut shredded,

1 teaspoon vanilla,

2 tablespoons cocoa powder,

1/2 cup chopped pecans

Drop tablespoonfuls onto parchment or waxed paper and allow to harden. If the mixture appears runny or greasy, let them set in the fridge for about five to 10 mins before serving. Enjoy!
Video
Notes
*Please read post for important notes about this recipe.
The Sweetener used will impact the nutritional facts.
Nutrition
Serving:
2
oz
|
Calories:
73
kcal
|
Carbohydrates:
5.5
g
|
Protein:
1
g
|
Fat:
7
g
|
Saturated Fat:
3
g
|
Cholesterol:
7
mg
|
Fiber:
1
g
|
Sugar:
2
g
|
Iron:
1
mg