Make this low carb (ketogenic) by substituting Shirataki noodles for the rice. 
Click here to see my post on Shirataki noodles.
Today I'm sharing a family favorite recipe which appeared in my last book, Come Home To Supper. This is another case where we had takeout, loved it, and I said "Hey, I can make that cheaper at home!".
My one warning about this dish is that it is incredibly filling and slightly addictive. So while you won't be able to eat all you think you will eat, you will wake up the next morning wanting some more so it all works out.
To make this, you'll need: fresh broccoli, soy sauce (low sodium is fine), corn starch, black pepper, minced garlic, and about a pound of top sirloin.
To begin with, cut your sirloin into thin strips.
A few weeks back a blogger buddy of mine had someone get irate with her for talking in terms of "your sirloin" and "your crock pot" when she gave instructions for recipes. I realized that I tend to talk like that back when I filmed cooking videos for Southern Living and the director had to correct me a few times. But I got to thinking about it when I was writing this post and really, if it isn't "your" sirloin then I don't think you have a right to be cutting it. So unless folks go stealing ingredients to make their recipes with, I reckon calling it "yours" is a pretty good specification. 🙂
Y'all, people is jes looking' for a way to be crazy sometimes.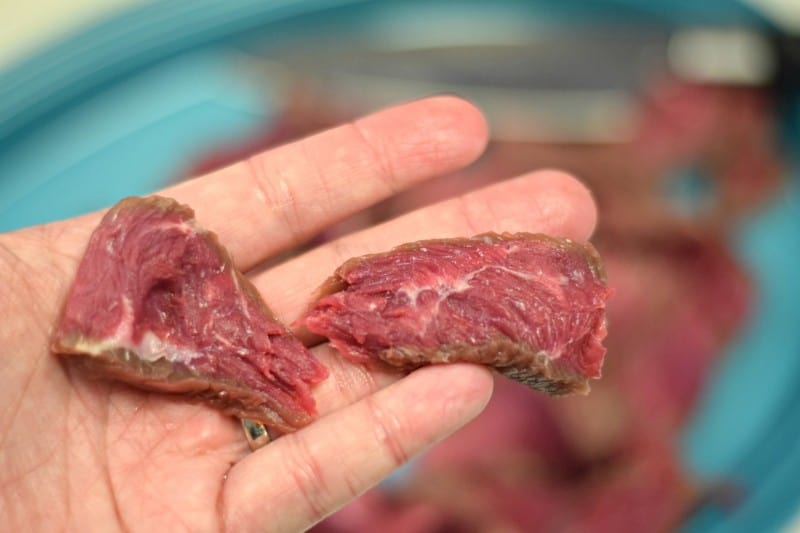 You want to cut your sirloin against the grain, so that it is tender and easy to eat. A good way of knowing if you are cutting it right is to take a cut piece and gently pull it apart. This pulled apart pretty easily so I know I've got my dogs on the right trail here. Note: That is how easy it will come apart when you eat it, too!
Mix up your cornstarch and pepper in a bowl. Just stir them kindly good like this.
Put all of you sirloin pieces in it and stir them up really good until they are coated. I tend to pick up the strays and press them down in the cornstarch to coat them.
Take a big old skillet and pour about two tablespoons of vegetable oil into it. Place this on medium high heat for a few minutes. Add beef and cook, stirring often, until browned and no longer pink in the center.
Like this.
Now remove that cooked beef to a clean bowl and set aside.
After you have removed the cooked beef, add the remaining tablespoon of oil, broccoli, and minced garlic to the skillet.
If you're like me, you'll need to add extra broccoli to replace the broccoli that you ate while getting to this point in the cooking process.  Putting raw broccoli (or carrots) within arms reach of me and expecting me not to eat them is an unrealistic expectation which everyone on the planet should just go ahead and cast to the wind.
While you're at it, might also want to get rid of any notions that I'll ever go out in public without full makeup (hon, that ain't me), or that gluten and I will ever be on bad terms. Ironically, this is a gluten free recipe. These things happen.
Meanwhile, back at the Duke place…
Reduce heat to medium and cook the broccoli, stirring often, until tender, about 3-4 minutes.
Add beef back to the pan.
Combine soy sauce with 1/3 cup of water and add this to the skillet.
Continue cooking this, stirring often, until sauce is thickened, about 3-4 minutes or so.
Serve over hot cooked rice and enjoy!
Yum yum yum, Delicioso! For some reason, my inner Dora the Explorer came out there and I had to offer up a Spanish exclamation over and Asian dish. My life is just interesting that way.
Y'all have a good 'un and click here to subscribe and get your recipe cards!
Ingredients
3

tablespoons

vegetable oil

2

tablespoons

cornstarch

1/4

teaspoon

black pepper

1

pound

top sirloin

cut into thin strips

1

pound

fresh broccoli

cut into small florets (about 4 cups)

2

teaspoons

minced garlic

1/4

cup

soy sauce

hot cooked rice

for serving
Instructions
Heat 2 tablespoons of vegetable oil in a large skillet over medium high heat. Place the cornstarch and pepper in a medium sized bowl and stir to combine. Add beef strips to the bowl and stir until strips are coated.

Transfer beef strips to hot skillet and cook, stirring often to prevent sticking, until the meat is lightly browned and no longer pink in the enter, about 4-5 minutes. Remove beef from skillet and set aside.

Reduce heat to medium and add the remaining tablespoon of oil. To this, add broccoli and garlic. Cook, stirring often, until the broccoli is tender, about 3-4 minutes.

Return beef to skillet along with soy sauce and 1/3 cup water. Cook, stirring often, until sauce thickens, about 3-4 minutes. Serve over hot cooked rice.

Enjoy!
P.S. I uploaded two videos recently. Links are below:
A walk through of my Traveler's Notebook showing setup and how I am currently using it
Weekly SouthernPlate Chat #1 – Recorded just before I wrote this Beef & Broccoli post
Teach us to realize the brevity of life, so that we may grow in wisdom.
~Psalm 90:12
Yum