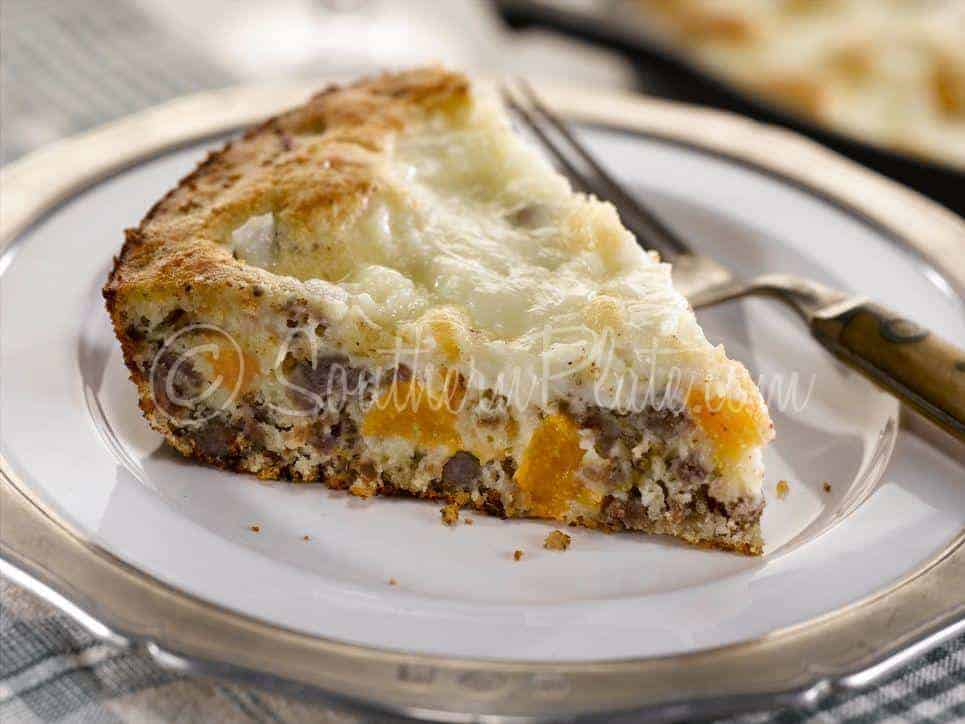 Martha White has graciously given me permission to share with you some of my favorite recipes from the competition. So I'll be doing that the rest of the week and then sending out an exclusive recipe in my email newsletter on Friday. If you don't subscribe by email and would like to, just click here.
When I tasted today's recipe, it was so good my eyes rolled back in my head.
This sounded like an odd combination to me at first, but this amazing cornbread dish ended up being another one of my dear favorites in the cornbread cook off. Think of it as a country danish, with a heavenly combination of peaches, cream cheese (here's how to easily make homemade cream cheese), and maple sausage. I had to stop myself from asking for seconds!
The flavors blended perfectly and it's one of those dishes that will impress and surprise your guests, I've never had anything like it but I'll sure be having it from now on! If you have a brunch coming up, here is your showstopper dish.
Peaches and Cream Cornbread with Maple Sausage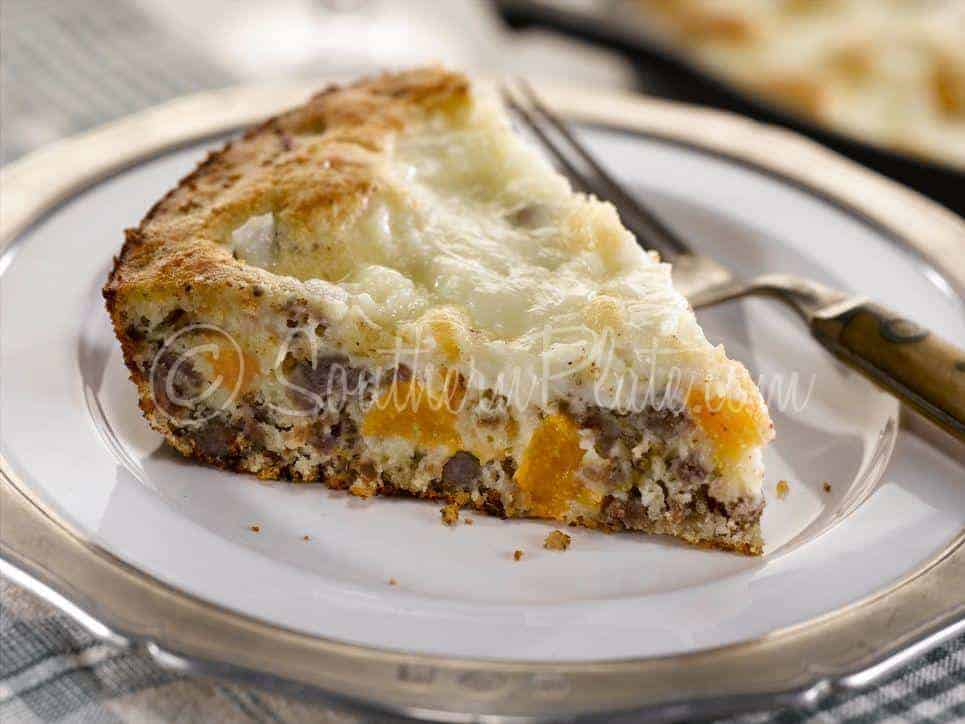 Ingredients
1 (8 oz.) container cream cheese spread
⅓ cup sugar
1 tablespoon Crisco® Pure Vegetable Oil
1 pound maple pork sausage
Crisco Original No-Stick Cooking Spray
⅔ cup milk
1 large egg
1 (6 oz.) package Martha White® Buttermilk Cornbread and Muffin Mix
2 tablespoons firmly packed light brown sugar
1 (15 oz.) can sliced or diced peaches, drained
Instructions
HEAT oven to 400°F. Stir together cream cheese and sugar in small bowl.
HEAT oil in 10-inch Lodge® cast iron skillet over medium heat. Add sausage and cook, breaking up meat with wooden spoon, until no longer pink. Drain. Wipe out skillet with paper towel. Spray skillet with no-stick cooking spray.
WHISK together milk and egg in large bowl. Stir in cornbread mix and brown sugar until smooth. Stir in peaches and cooked sausage. Pour into prepared skillet
DROP small spoonfuls of cream cheese mixture evenly over cornbread mixture. Bake 20 to 25 minutes until lightly browned. Cool 5 minutes.
Makes 6 servings
Images and recipe courtesy of Martha White
Check out yesterday's recipe, Cornbread Stuffed Pepper Rings, another delicious favorite of mine from the Cornbread Festival!
"The best part of life is not just surviving,
but thriving with passion and compassion
and humor and style and generosity and kindness."
 ~Maya Angelou