Peanut Butter Brownies with Peanut Butter Fudge Icing
This peanut butter brownies recipe is guaranteed to knock the socks off all peanut butter fans. The moist peanut butter brownies are topped with the most decadent peanut butter fudge icing.

My Starbucks friends have been waiting on this fudgy peanut butter brownies recipe. After a weekend of doing pretty much nothing but baking brownies, I left a message on Facebook for some folks to meet me there to share in the bounteous offerings and was able to unload these puppies with no problem at all. If you're looking at that photo up there, I bet you can see why!
A lot of people have never had a peanut butter brownie. We've had fudge (of course!) and blondies but never the peanut butter ones. When I came across this recipe, I knew I'd have to make them this week! Of course, my grandmother's peanut butter fudge icing had to be in on the baking as well and the combination of the two turned out an absolutely drop-dead peanut butter brownie recipe!
Peanut butter lovers are going to enjoy every bite of this sweet, moist, rich, and fudgy brownie. I can't wait for you to dig in!
Recipe Ingredients
Peanut butter brownies
All-purpose flour
Baking powder
Salt
Creamy peanut butter
Unsalted butter, softened (I use margarine)
Sugar
Brown sugar
Eggs
Vanilla extract
Peanut butter fudge icing
Sugar
Vegetable shortening (I usually use coconut oil these days. If you buy refined coconut oil there is no coconut taste).
Peanut butter
Milk
Butter
Vanilla
In a large bowl, add the peanut butter and butter.
Next, add your sugars to the peanut butter mixture.
Whip all that up.
It will look like this.
The instructions say to add eggs one at a time. Sometimes I add them all at once.
Welcome to life on the edge!
In a separate bowl, place the flour and baking powder and combine it with the brownie batter.
Now we need to add our flour in. Once again the recipe states to gradually do this. I absolutely agree that you should gradually add your flour in when the recipe says to do it.
Just don't expect me to do it. Here at Southern Plate, we're busy folks. We wanna eat our food, not build a shrine to it. Just dump it all in and it'll be fine.
Add the vanilla to the brownie batter and mix well.
Spray a pan with cooking spray. Spread your batter into the prepared pan.
You should have a good bit of brownie mix unless you ate some of it back there!
Bake at 350 for 30-35 minutes.
Then let your peanut butter brownies cool while you make the peanut butter frosting.
How to Make Peanut Butter Fudge Icing
In a heavy saucepot, add the sugar, shortening, butter, milk, and a wee bit of salt.
Stir that up while bringing it to a boil. Continue stirring this so your sugar doesn't scorch.
There, now that we have it at a full rolling boil. Stop stirring and set your timer for two minutes.
After two minutes, take it off the eye (or stovetop for our friends up north) and stir in your peanut butter and vanilla extract.
Mix that well. Be quick about it because it will start setting up rather soon.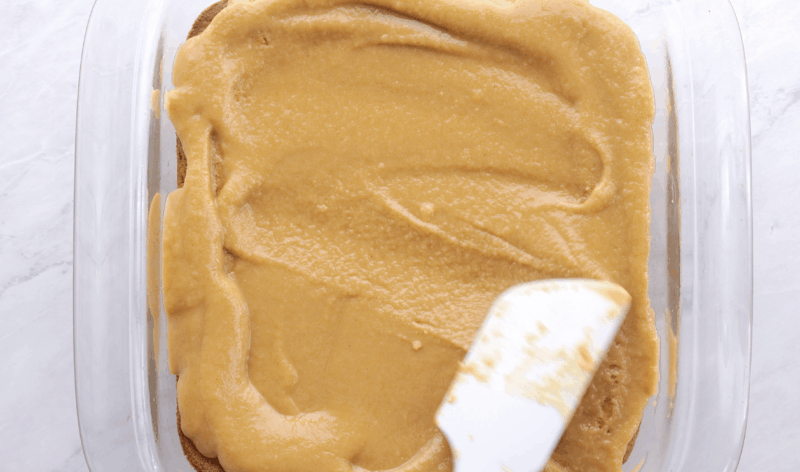 Pour over brownies.
I sprinkled the top of my peanut butter brownies with salted, roasted peanuts and the salty flavor was just wonderful with the sweetness of the brownies and the icing!
Slice them brownies now!
Please be careful not to drool on your keyboard. If you short it out I won't be buying you a new one.
Storage
Store your brownies in an airtight container at room temperature or in the fridge for up to 4 days.
You can also freeze your peanut butter brownies for up to 3 months. Tightly wrap individual portions and then thaw overnight before indulging.
Recipe Notes
While the generic grocery store creamy peanut butter works best in this recipe, if you want to use natural peanut butter, make sure it's very well stirred before you add it in. I don't recommend crunchy peanut butter or substituting for a different nut butter like almond butter.
You may also like these recipes:
3 Ingredient Peanut Butter Cookies
Peanut Butter Cheesecake Cookie Bars
Peanut Butter Pie Made the Old-Fashioned Way
Ingredients
1

cup

all-purpose flour

1

tsp

baking powder

1/4

tsp

salt

1/2

cup

creamy peanut butter

6

tablespoons

unsalted butter

softened (I used margarine)

2/3

cup

granulated sugar

1/2

cup

firmly packed brown sugar

2

eggs

1

tsp

vanilla extract
Instructions
Preheat oven to 350. Spray an 8x2 or 9x2-inch pan with vegetable cooking spray.

In a small bowl, combine the flour, baking powder, and salt. In a large bowl, beat together the peanut butter, butter, and sugars with an electric mixer until light and fluffy.

1 cup all-purpose flour,

1 tsp baking powder,

1/4 tsp salt,

1/2 cup creamy peanut butter,

6 tablespoons unsalted butter,

2/3 cup granulated sugar,

1/2 cup firmly packed brown sugar

Add eggs, one at a time, then add vanilla and mix well. Add the flour mixture to the wet ingredients and mix until well combined.

2 eggs,

1 tsp vanilla extract

Spread the brownie batter into the prepared pan. Bake for 30 to 35 minutes or until a toothpick inserted in the center comes out clean. Cool completely before cutting.
Ingredients
1 1/2

cups

sugar

7

tablespoons

milk

2

tablespoons

vegetable shortening

2

tablespoons

margarine

1/4

teaspoon

salt

1

teaspoon

vanilla extract

1/2

cup

creamy peanut butter
Instructions
In a heavy saucepot, combine the sugar, milk, shortening, butter, and salt. Bring to a rolling boil while stirring constantly.

1 1/2 cups sugar,

7 tablespoons milk,

2 tablespoons vegetable shortening,

2 tablespoons margarine,

1/4 teaspoon salt

Once it reaches a rolling boil, stop stirring and let it boil for two minutes or until it reaches the soft ball stage (I don't use a thermometer, I just let it boil for two minutes).

Remove from the heat and quickly stir in the vanilla extract and peanut butter. Beat until smooth and quickly spread over the brownies. I let mine set a bit in the fridge before cutting and serving.

1 teaspoon vanilla extract,

1/2 cup creamy peanut butter
*To read the story behind this icing, click here.