This glorious recipe is a cookie bar that combines soft peanut butter cookies with a cheesecake filling studded with peanut butter morsels. If you're a peanut butter and cheesecake lover, get ready to sing "Glory!". This is an easy recipe to throw together, even at the end of a long day, and the bars travel and pack well, too!
Recipe Ingredients
For these delectable peanut butter cheesecake cookie bars, you'll need:
Cream Cheese (check out our easy recipe for homemade cream cheese here).
Vanilla
Sweetened Condensed Milk
Peanut Butter Cookie Dough
Peanut Butter Chips
One egg
Follow this easy step-by-step guide to make these peanut butter cheesecake cookies bars:
Place softened cream cheese, sweetened condensed milk, egg, and vanilla in a mixing bowl.
Most recipes would tell you to beat it until it is fluffy, but here I want you to beat it until it blends together in submission to your supreme cooking will.
You can be the ruler of the universe, it's just a teeny tiny universe and it only resides in your kitchen.
With the Sweetened Condensed Milk, you'll have some leftover from this. I've heard it is absolutely decadent in your coffee!
Add in peanut butter chips.
Stir those in until well mixed.
The next step is to divide your peanut butter cookie dough in half (I do this quite literally).
Pat half of the cookie dough into the bottom of an 8×8 pan that you have sprayed with baking spray. If you wet your hand, it will pat this out really easily and the dough won't stick.
Pour your yummy cream cheese mixture over the top of the dough.
Take the other half of your dough and break off little pieces of it to put on top until you don't have any dough left.
Now, bake your peanut butter cheesecake cookie bars at 350 for 35-40 minutes, or until it is lightly browned on top.
Cool (if you want), cut, serve and ENJOY!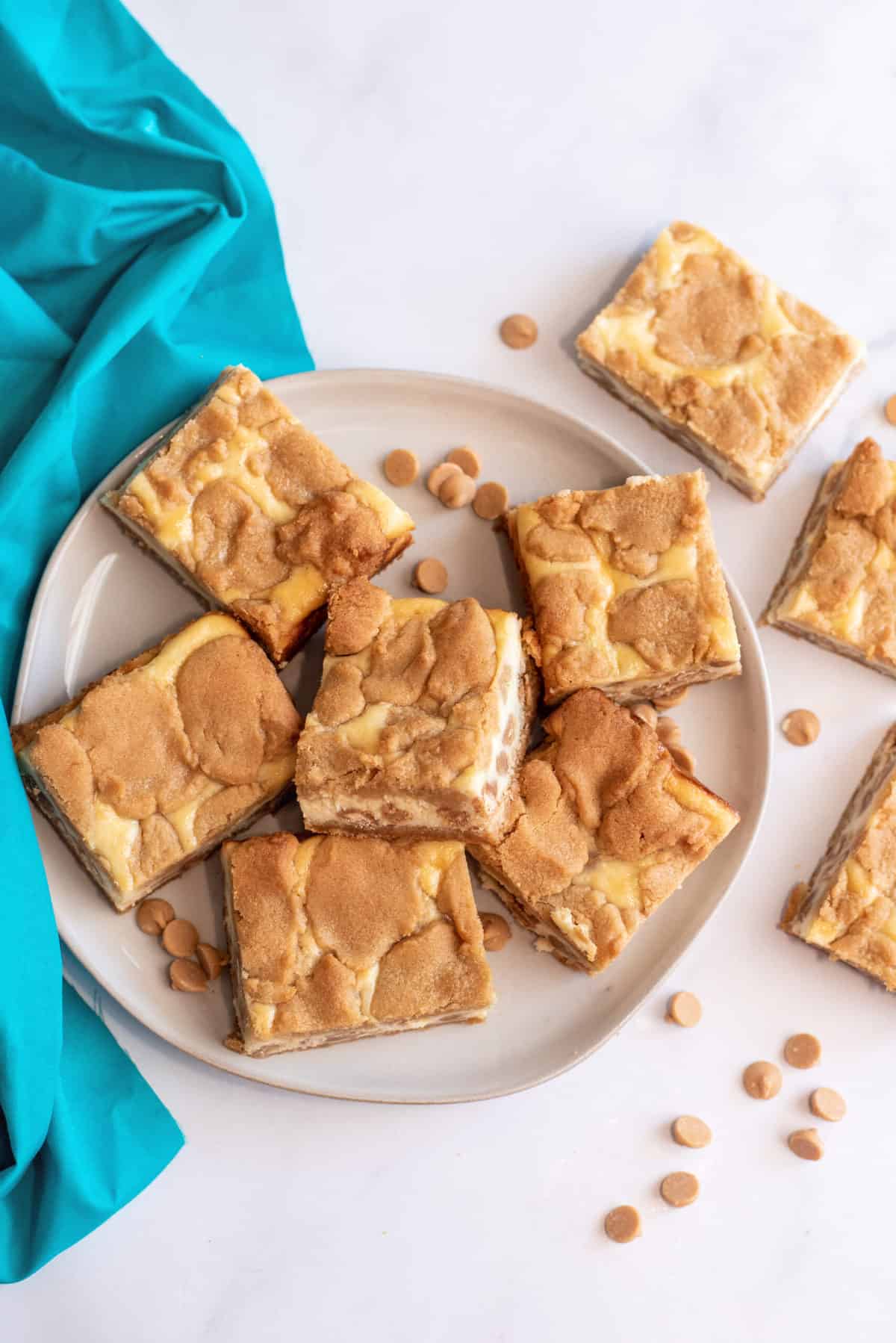 Ingredients
16

ounce

roll peanut butter cookie dough

8

ounce

cream cheese

softened

1/3

cup

sweetened condensed milk

1

egg

1

teaspoon

vanilla

1

cup

peanut butter chips
Instructions
Grease an 8x8 pan and set aside.

In a mixing bowl, place softened cream cheese, egg, vanilla, and sweetened condensed milk. Beat cream cheese mixture until smooth and creamy. Stir in peanut butter chips.

Pat half of cookie dough into bottom of greased 8x8 pan (Wet your hands and it will be easier). Pour cheesecake layer on top.

Break up remaining cookie dough and scatter on top of the cream cheese layer in pan.

Bake at 350 for 35-40 minutes, or until lightly browned on top.
Let cool before cutting (or eat warm, free country!).
Nutrition
You may also like these cookie bar recipes:
Butter Bars From Scratch: Gooey Goodness Awaits!
Chocolate Chip Pecan Cookie Bars by Delish.com
Optimist: Someone who figures that taking a step backward after taking a step forward is not a disaster. It's more like a cha-cha.
Submitted by Jackie. Click here to submit your own!