Caramel Banana Pie (a.k.a Easy Banoffee Pie)
This caramel banana pie is a Southern take on the classic banoffee pie, but instead, I'm pairing fresh banana with dulce de leche for a deliciously decadent and creamy caramel-flavored pie.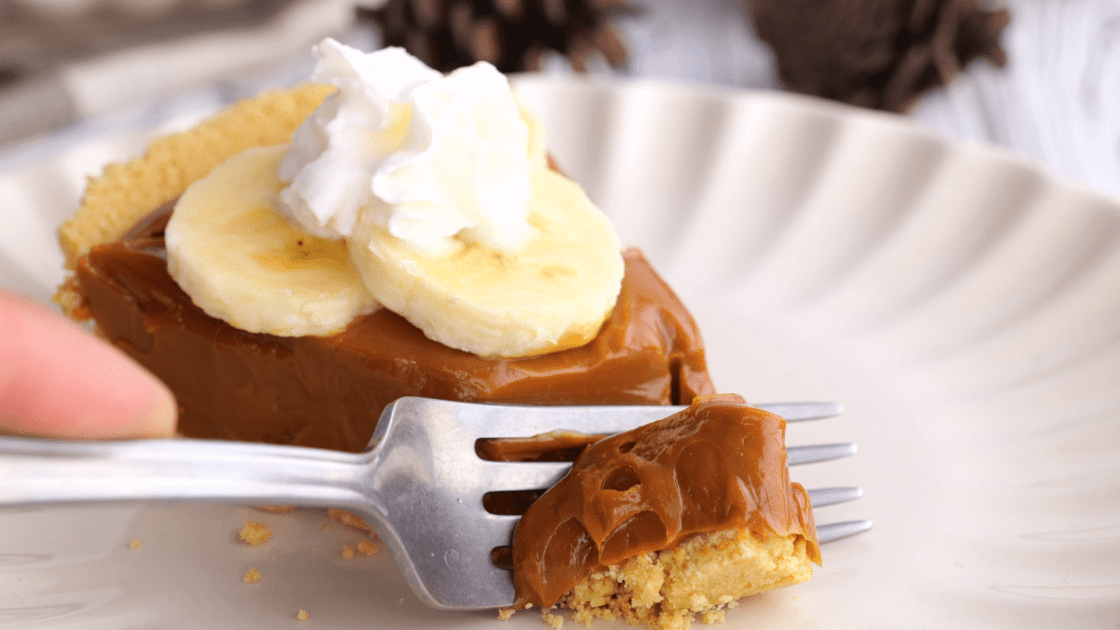 This caramel banana pie recipe is my Southern version of a traditional banoffee pie. There is just one ingredient different, but the decadence and texture are very much the same.
So, what's the difference between caramel banana pie and banoffee pie? Well, firstly, banoffee pie came from England and is a traditional British dessert that is prepared with bananas, cream, and toffee. However, in our Southern version, we are using caramel. I could honestly write sonnets about the quality and richness of dulce de leche, but moving on…
There's another big difference between these two pies. Caramel banana pie is SUPER easy to make compared to traditional versions but every bit as decadent and rich. What's even better is that this recipe takes less than five minutes to put together, rather than the hour+ of prep time most recipes call for.
I bet you're interested in giving this recipe a go now, right? Well, lucky for you, you just need 4 ingredients to get going: ripe bananas, dulce de leche (homemade or canned), a store-bought graham cracker pie crust, and some whipped cream. Combined, these ingredients make the most delicious caramel banana pie.
Recipe Ingredients
Bananas
A graham cracker crust
Whipped cream
Dulce de leche
How to Make Caramel Banana Pie
First, grab your pie crust.
Then open the caramel sauce and spread it into the pie crust.
It should look like this.
Ain't that purty?
Cover and refrigerate for at least an hour or until it is somewhat firm.
Note: Most banoffee pie recipes call for topping your pie with a sliced banana and whipped cream at this point. But unless you have enough people to eat that pie in one sitting, I suggest cutting the bananas and topping each individual slice just before serving to keep the pie fresh longer.
When ready to serve, slice bananas and add a few slices to each pie slice.
This is a great job for little helpers.
Then add a dollop of whipped cream on top of the sliced banana.
Now grab a slice of caramel banana pie…
And step away from life for a moment to take a bite of decadence.
Caramel banana cream pie or Southern Plate's version of a banoffee pie recipe. Call it what you want, I call it delicious!
Storage
Store leftovers, covered, in the fridge for up to 3 days. Simply top with the banana slices and whipping cream when you're ready to serve.
Recipe Notes
Ripe bananas are best for the topping.
Instead of using canned whipped topping, check out my recipe for homemade whipped cream.
Recipe FAQs
What is dulce de leche?
Dulce de leche is caramel made from sweetened condensed milk. It gives this recipe a caramelly toffee-like taste.
Can I make homemade dulce de leche for this caramel banana pie?
Yes. Most people start with sweetened condensed milk and make it into homemade caramel themselves by putting it in a water bath. Follow these directions or here's my recipe.
Preheat the oven to 425.
Place sweetened condensed milk in an oven-safe deep-dish pie plate or the equivalent.
Cover with tin foil.
Place in a larger pan where you add water to create a water bath around the deep dish pie pan of sweetened condensed milk.
Bake in the oven for 1-2 hours. The longer you bake the darker the caramel-like dulce de leche will be.
For a salted caramel sauce, simply stir in a pinch of sea salt before baking.
Where can I find dulce de leche?
To find this lovely caramel sauce concoction for the caramel banana pie you may have to look at a grocery store or two. Most stores have it with their Mexican foods, right next to the sweetened condensed milk that cost as much as $1 less than the same stuff on the baking aisle. Some stores (like my local Kroger) actually have it right next to the sweetened condensed milk on the baking aisle. Either way, be on the lookout for this because it is well worth the trouble.
How do you serve banoffee/caramel banana pie?
To put the banana in caramel banana pie, you want to serve your pie with fresh banana slices. Then I add whipped cream for a banana cream pie, but you can just as easily swap it for a scoop of vanilla ice cream.
Add some chocolate shavings to the top of each banana caramel pie slice for a little extra decadence. Other topping options include shredded coconut and chopped pecans.
You may also like these delectable pie recipes:
Ingredients
2

12-ounce cans

dulce de leche

1

regular-sized graham cracker crust

fresh bananas

whipped topping
Instructions
Open dulce de leche cans and spread caramel into the bottom of the pie crust in a pie dish. Cover and refrigerate for at least an hour.

2 12-ounce cans dulce de leche,

1 regular-sized graham cracker crust

Cut into slices and top each slice with sliced banana and whipped cream just before serving. Store leftovers in the refrigerator.

fresh bananas,

whipped topping
Video
Nutrition
"There is NOTHING that I face today that GOD and I can't handle TOGETHER."
~Unknown. Submitted by CJ. Click here to read more or submit your own.