With its rich buttery taste and irresistible nutty filling, it's no wonder sawdust pie is a family favorite.
If you've never had sawdust pie before, I really do feel it could become a fast family favorite. The taste is rich and buttery, and the addition of whipped cream and sliced bananas make it sheer perfection. I just use store-bought pie shells for mine (ain't no shame in my game!) but you can make homemade pie crust from scratch if you prefer.
This sawdust pie recipe is easy peasy to whip up with only a mixing bowl and a spoon and bakes up in about half an hour. Put it in the oven as you sit down to dinner and then let it bake for about half an hour before serving warm with the bananas and whipped cream. Mmmmm.
This pie is one of my mother's all-time favorites and a must-have whenever we visit Paducah, Kentucky. There is a restaurant in Paducah called Patti's that is one of Mama's favorite places in the world to eat. They have the thickest pork chops you've ever seen and serve huge helpings of sawdust pie topped with whipped cream and bananas for dessert. Mama couldn't wait to start making her own version of sawdust pie and now we all get to be benefitting from that.
Where did sawdust pie get its name?
Sawdust pie was actually first baked at Patti's sometime after 1975 and became famous after the recipe was published in Bon Appétit in May 1983. When all the ingredients are thrown together it is supposed to look like sawdust but honestly, it has so many wonderful flavors.
Egg whites galore; it's a sign
What's even better is that the day you make this pie is the perfect day to make another one of my very favorite things to eat: Grandmama's Fruit Salad. You see, this sawdust pie recipe calls for seven egg whites whereas Grandmama's Fruit Salad calls for six egg yolks. Now if that ain't a sign that they oughta be made at the same time I don't know what is!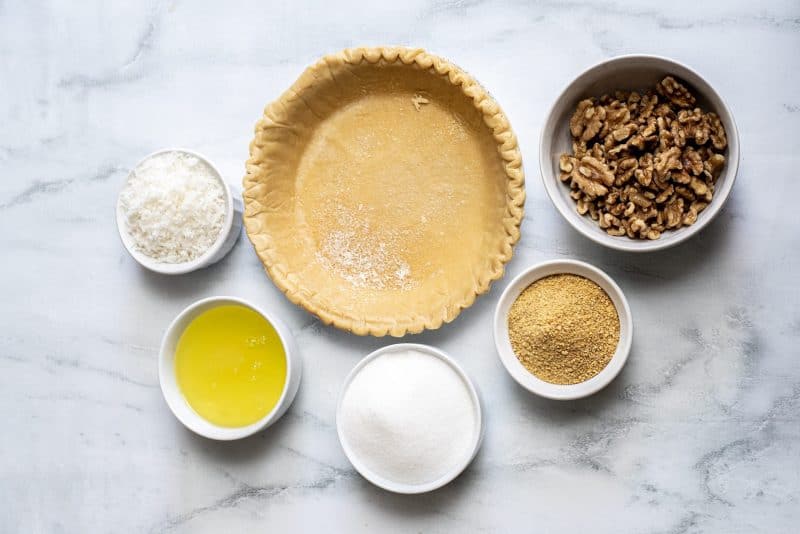 Recipe Ingredients
Eggs
Walnuts or pecans
Coconut
Sugar
Graham cracker crumbs
Pie crust
Whipped cream (Here is a recipe to make homemade whipped cream).
Bananas
I separated my eggs and placed just the egg whites in a large bowl; saving the yolks to use in the sauce for my fruit salad.
Add walnuts or pecans. As I said, the recipe called for chopped pecans but cheapie me went for walnuts instead.
Add in coconut.
Mama usually gets her coconut in a can on the baking aisle and I usually get mine in a bag on the same aisle. Either works. Get the sweetened kind, it's yummy!
Add sugar.
Add in graham cracker crumbs.
Mix all of that up well with a spoon.
Spoon it into an unbaked pie shell. I used deep dish but Mama says she always uses a regular pie crust.
Bake the sawdust pie at 325 for about 30 minutes, or until it looks done all over the top.
It will look kind of like a pecan pie with a thick coating of streusel on it.
Cut slices while warm and add a dollop of whipped cream and some banana slices.
Trust me, this pie is delicious but the bananas and whipped cream just MAKE it!
Storage
Store pie leftovers in an airtight container in the fridge. They'll last for up to 3 days.
Recipe Notes
I used store-bought whipped topping but if you'd like my recipe and instructions on how to make it from scratch (which is even better), just click here.
Don't worry over graham cracker crumbs if you have graham crackers on hand, just put some in a plastic bag and crush them yourself and they'll be fine. Likewise with the pecans or walnuts. Sometimes pecans can be a wee bit expensive so chopped walnuts are a good substitute if you like.
If you don't have whipped cream on hand, I also recommend serving your pie with a big scoop of vanilla ice cream and a drizzle of caramel sauce. Yes, please!
Feel free to add a cup of chocolate chips to your pie ingredients.
You may also like these other decadent pie recipes:
Easy Pumpkin Pie Recipe From Scratch
Ingredients
7

egg whites

1 1/2

C

Sugar

1 1/2

C

Graham cracker crumbs

1 1/2

C

Pecans

or walnuts - can omit nuts if needed

1 1/2

C

Sweetened Flaked Coconut

9

" unbaked pie shell
Instructions
Mix all ingredients together and stir by hand. Pour into unbaked pie shell. Bake in preheated 325 degree oven until set, about 25-30 minutes. Do not over bake. Serve warm with sliced bananas and whipped cream.
Video
Nutrition
You may also like these kit recipes that I give away to family and friends during the holidays.
To keep posted on more links to Christmas candies and baked goods, join our Facebook Family!