How To Make Southern Cubed Steak
and Milk Gravy
Southern cubed steak and milk gravy is one of my absolute favorite meals that my mother made growing up. Tender steak smothered in flavorful milk gravy, this dish is yet another bit of proof that simple food is often times the best!
It wasn't this easy to make back in the old days…
My mother says the first time she remembered having cubed steak and milk gravy was when she was just a little girl. She was at her grandparent's house and her grandfather asked her grandmother if he went and got some steak, would she make steak and gravy? Money was very scarce in those days and it was big news that her grandfather was going to get a special cut of meat for their meal!
She gave that steak a beatin'
He left and came back with a paper wrapped package of round steak. Back in the day they didn't have cubed steak. My great grandmother opened the package and got a saucer out of the cabinet. My mother watched intently as Lela turned the saucer on its side and proceeded to give the meat a good and thorough beating to tenderize it. She then dipped both sides in flour and put it back on the counter where she beat it with the edge of the saucer again before finally cooking it just as I am going to do in this tutorial.
My mother said it was the most delicious thing she had ever tasted and from then on she knew exactly how to make steak and gravy.
Ingredients you'll need for cubed southern steak and Milk Gravy:
Milk
Salt
Pepper
Flour
Cube steak.
Pour just enough oil to coat the bottom of your skillet and heat over medium heat.
You always want to have your oil good and hot before you add anything to it, this keeps your food from getting "greasy" by actually searing it on contact.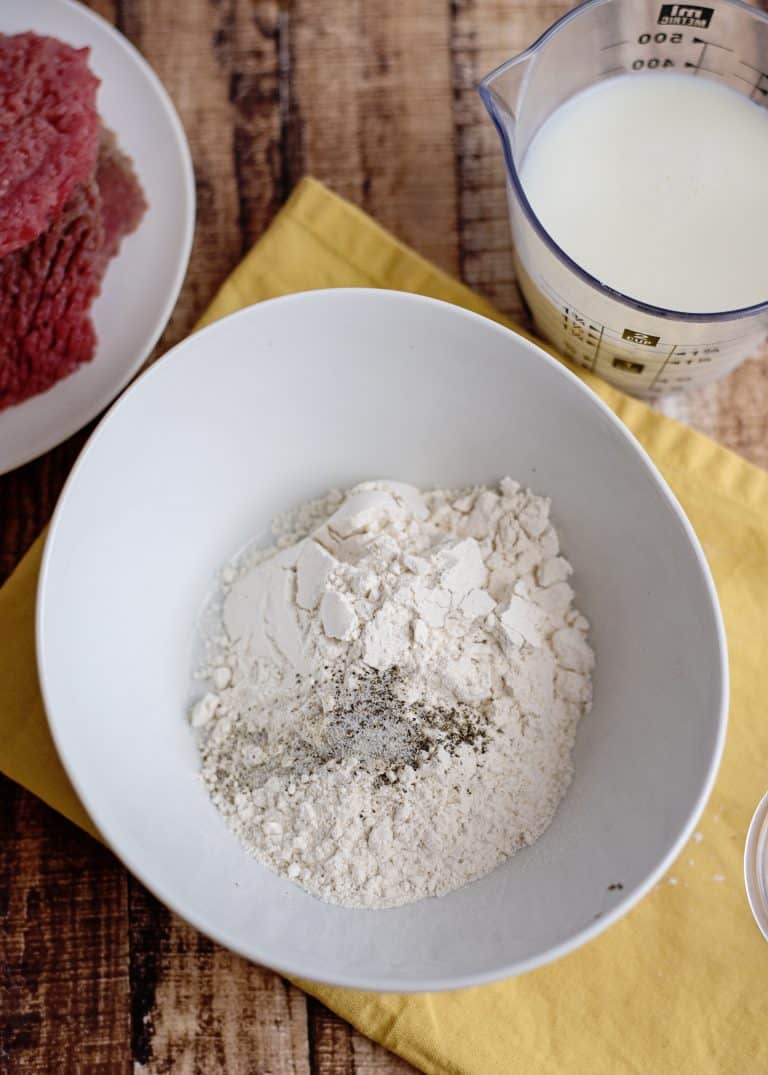 Put about a cup of flour in a bowl. Add some salt and pepper and stir that up.
Place a piece of cube steak in the flour and press down a bit to get it good and coated.
Turn it over and coat the other side…
Repeat with all of the pieces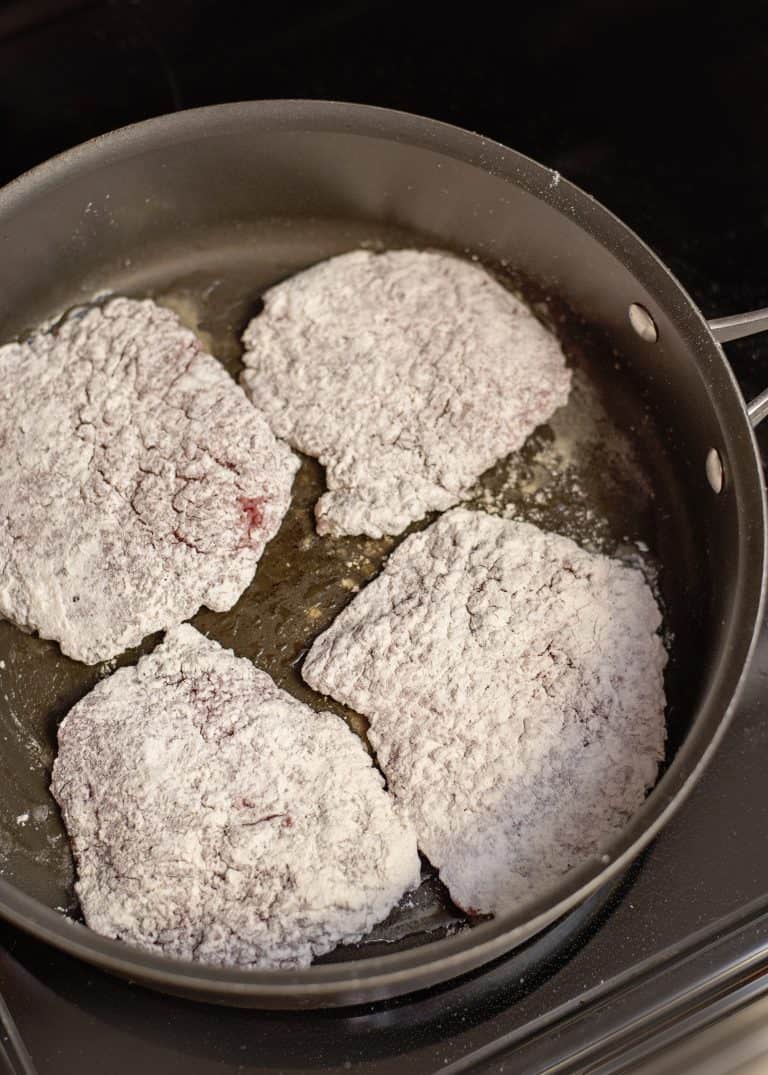 Brown on each side. Once done, remove steak to paper towel lined plate.
Oooh, see all that dark stuff in your pan? That is going to make the BEST gravy!!
Add about 1/4 cup of flour to this and salt and pepper to taste.
Stir that up and continue cooking it on medium heat until the flour gets browned a bit, stirring the whole time.
I usually do this for about two minutes or so. If you've never made milk gravy the thought of browning flour may sound weird but trust me, it will happen and that is what gives this such a wonderful flavor.
.
Turn your heat down to the lowest setting.
Pour milk into skillet. I start out with about a cup and a half and then add more if I want it thinner.
Use a wire whisk to stir this because it really helps break up the lumps of flour and get it all good and mixed up.
Cook on lowest heat until it thickens, stirring constantly. If it gets too thick, you can add more milk. This will just take a few minutes so stir the entire time and be ready to remove it from the heat when it gets thick.
Put your steak back into the milk gravy…
Turn them over to coat and you're done!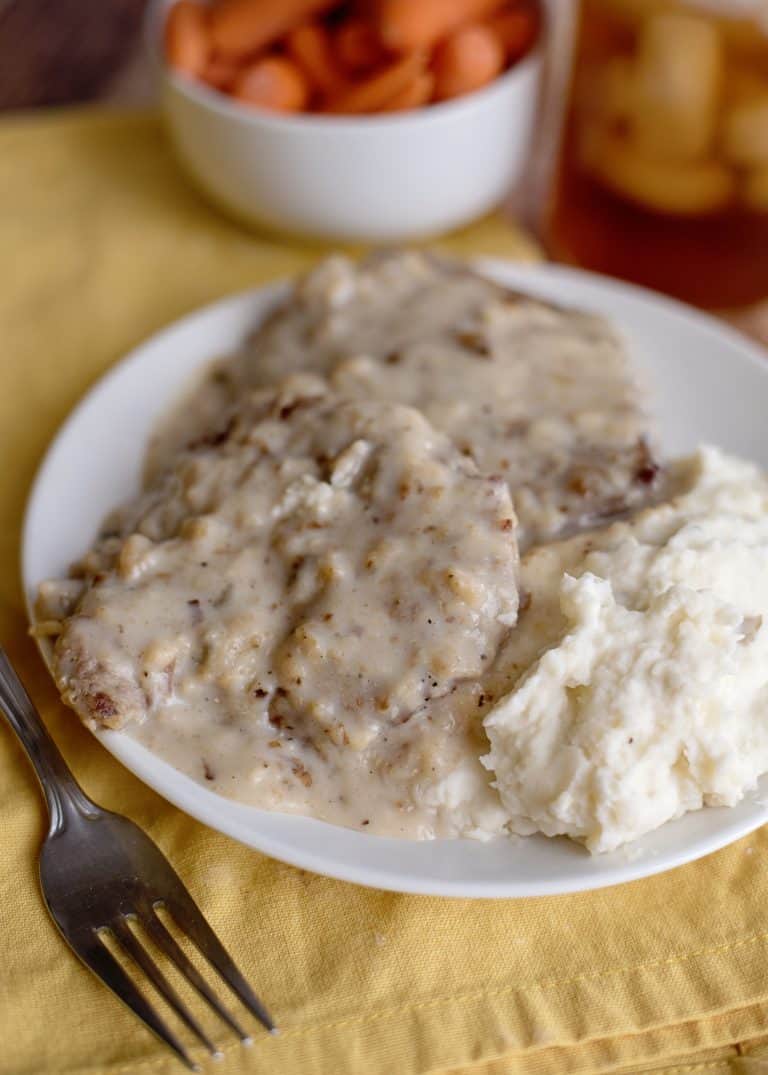 Steak and milk gravy is delicious served with mashed potatoes or rice!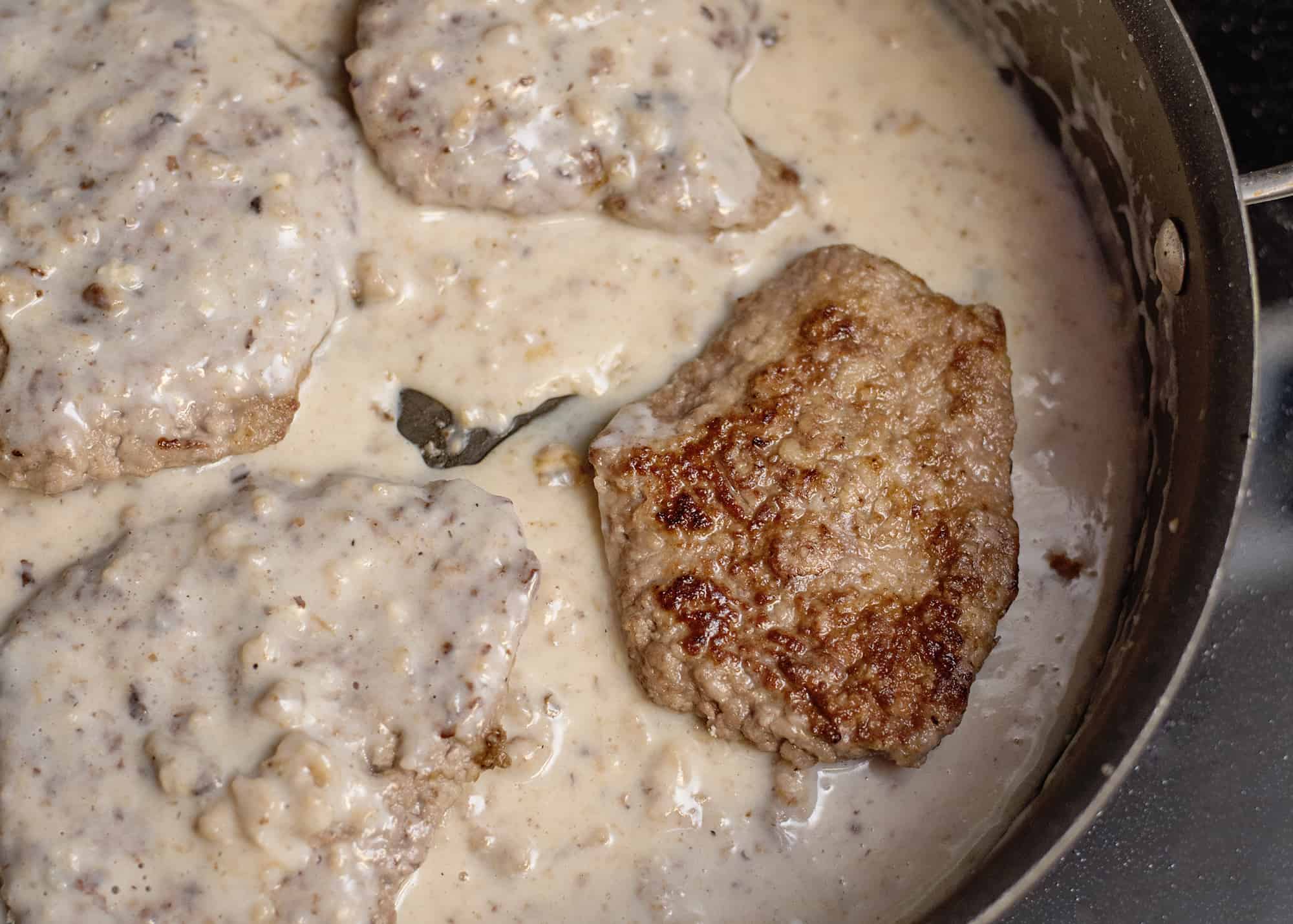 Ingredients
4

Pieces

Cubed Steak

1

cup

All Purpose Flour

plus about 1/4 cup more to thicken gravy

Salt

to taste

Pepper

to taste

1 1/2

cups

Milk

approximately
Instructions
Place enough oil in a pan to just coat the bottom, put that over medium heat while you prepare your steak.

In a bowl, place 1 cup flour, add 1/4 teaspoon salt and 1/ 4 teaspoon pepper (more if you prefer). Stir that up. Dip each piece of steak into flour on both sides to get it coated well.

Place each piece of steak in heated pan and cook until good and browned on both sides. Remove steak to a plate while you make your gravy.

Place about 1/4 cup flour into skillet with meat drippings. Add a little more salt and pepper and stir this over medium heat until the flour is slightly browned (just a few minutes). Slowly pour in 1+1/2 Cups of milk, stirring constantly. Continue stirring, with a wire whisk to help with lumps, over the lowest heat setting until thickened and there are no lumps. This will happen rather quickly. Add a little more milk if you prefer thinner gravy. Return steak to the pan and turn to coat with gravy on both sides.

Serve steak and gravy together in a bowl or serve gravy on the side to go with Mashed potatoes.
Nutrition
You may also like these recipes:
Oven Steak Kabobs – A special meal on a budget
"One of the best things you can do when things go bad is not make them worse." ~unknown