Cube steak and gravy is a simple but delicious Southern-style dinner, involving tender steak smothered in creamy and flavorful milk gravy.
There's nothing quite as comforting as this Southern cube steak and gravy dish. Fortunately, it's an easy dinner to make on a busy weeknight. All you need is cube steak, milk, and flour and you will have dinner ready in about 35 minutes. The end result is tender steak swimming in creamy and flavorful milk gravy. How good does that sound? You can choose to serve your steak with a variety of side dishes too, like mashed potatoes, vegetables, rice or salad.
Recipe Ingredients
Milk
Salt
Pepper
Flour
Cube steak
How to Make Cube Steaks and Gravy
Pour just enough oil to coat the bottom of your cast iron skillet and heat oil over medium heat.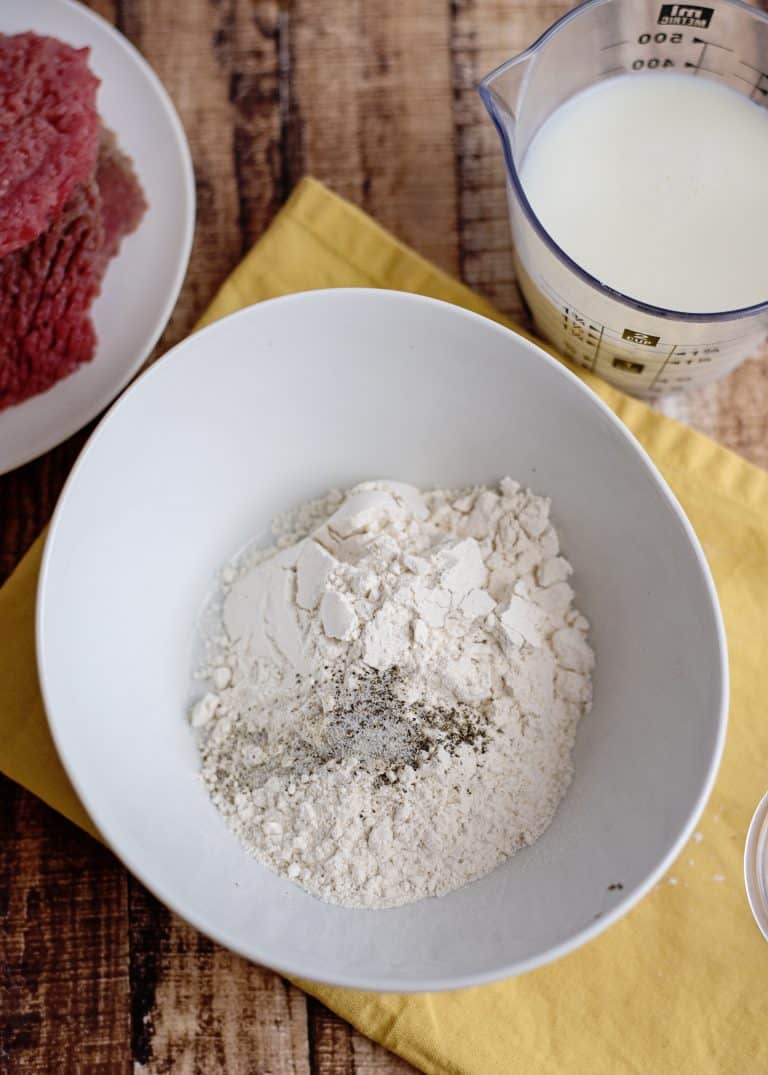 Put about a cup of flour in a bowl. Add some salt and pepper and stir that up.
Place a piece of cube steak in the flour mixture and press down a bit to ensure it is dredged in flour.
Turn it over and coat the other side…
Repeat with all of the pieces.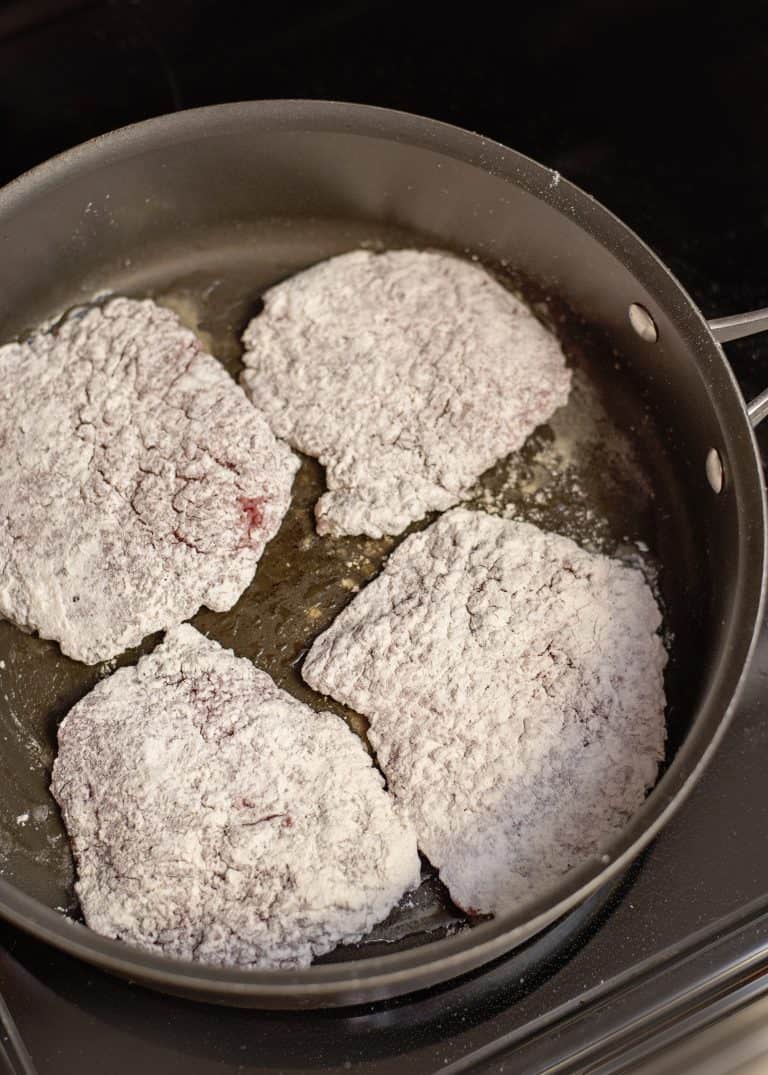 Place in hot oil.
Fry steaks and flip to ensure they're nice and brown on each side. Once done, remove steak and place on a paper towel-lined plate.
Oooh, see all that dark stuff in your pan? Those browned bits are going to make the BEST gravy!
Add about 1/4 cup of flour to this and seasoned salt and black pepper to taste.
Stir that up and continue cooking it on medium heat until the flour gets browned a bit, stirring the whole time.
I usually do this for about two minutes or so. If you've never made milk gravy the thought of browning flour may sound weird but trust me, it will happen and that is what gives this such a wonderful flavor.
Next, turn your heat down to the lowest setting and pour the milk into the skillet. I start out with about a cup and a half and then add more if I want it thinner.
Use a wire whisk to stir this because it really helps break up the lumps of flour and get it all good and mixed up.
Cook on the lowest heat until it thickens, stirring constantly. If it gets too thick, you can add more milk. This will just take a few minutes, so stir the entire time and be ready to remove it from the heat when it gets thick.
Put your steak back into the milk gravy, turn them over to coat both sides and you're done!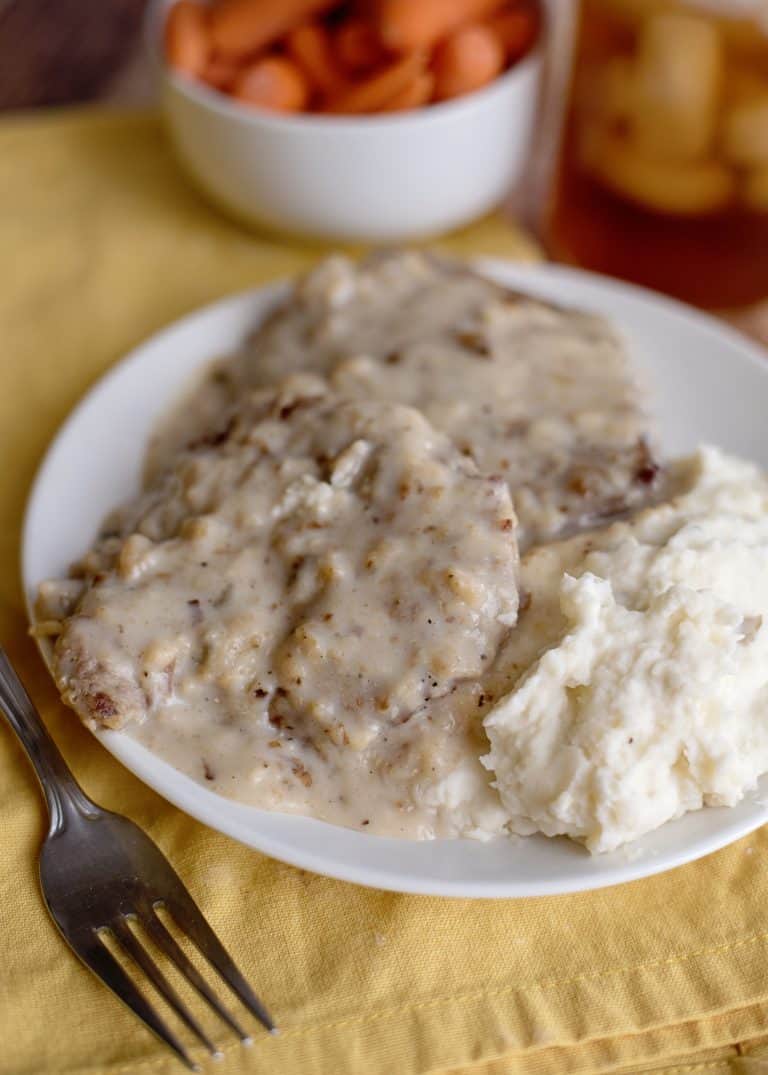 I love serving cube steak and gravy with mashed potatoes.
Storage
Store the steaks and gravy in an airtight container in the fridge for up to three days.
Recipe Notes
You always want to have your oil good and hot before you add anything to it, as this keeps your food from getting greasy by actually searing it on contact.
If you're unsure what cube steak is, it's either sirloin or a top-round cut of beef that's been tenderized and pounded with either a meat mallet or machine. This process is called cubing and leaves indentations in the meat, which is where it gets its name. So if you like, you can buy your beef and tenderize it at home. Just make sure it's about a 1/4-inch thick.
To make this steak and gravy dish gluten-free, simply swap the flour for a gluten-free version. It's that easy. All of the side dishes mentioned below are gluten-free too.
Recipe FAQs
What do you serve with cube steak and gravy?
I like to serve Southern cube steak with milk gravy, mashed potatoes or rice. But another option is to serve it with roasted vegetables, a side of potatoes and peas, or alongside a side salad and bread, to soak up every drop of the flavorful gravy. Yum!
Here are some more easy steak recipes:
Oven Steak Kabobs – A special meal on a budget