Chicken Fried Steak Recipe With Gravy
This easy chicken fried steak recipe is a time-honored Southern staple that involves tender steak covered in a crispy coating and served with a deliciously creamy gravy.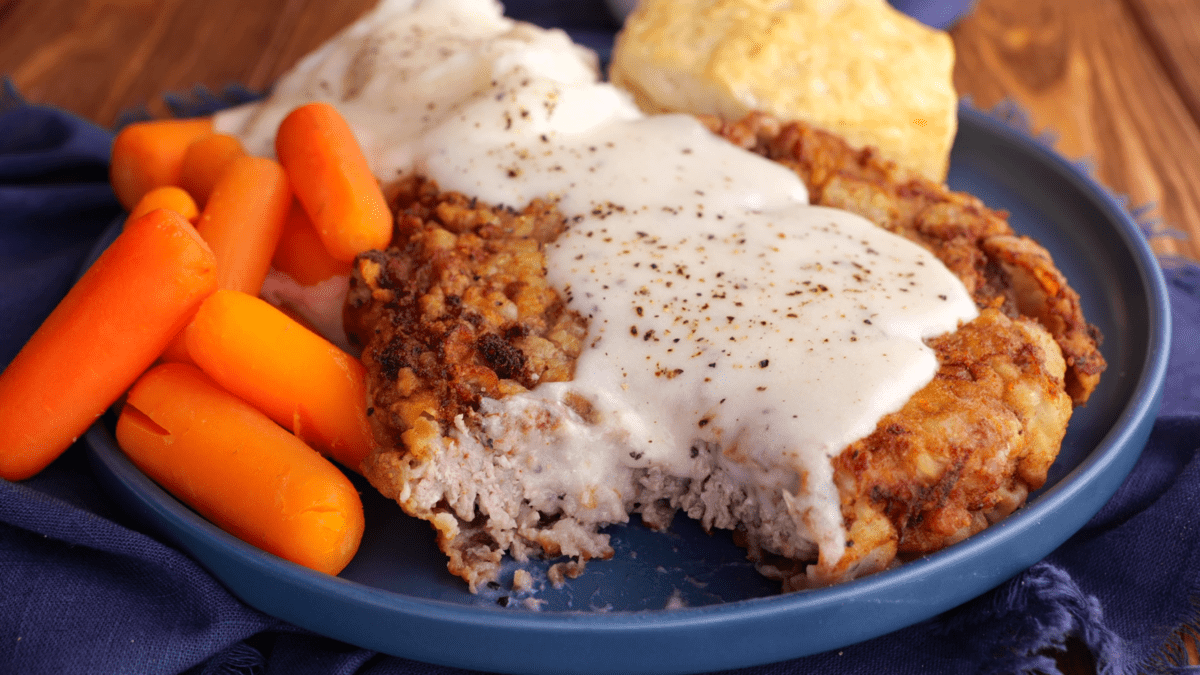 Chicken fried steak is one of my favorite meals. But it wasn't always that way. While it is a Southern staple in most homes and restaurants, I didn't try it for years. But when I first tried it in Texas, it didn't take long for me to realize that the chicken fried steak meat was anything but chicken. And I sure wasn't disappointed because instead I was served the most tender cubed steak infused with some of the most beautiful flavors that I had ever had.
From my first bite of that chicken fried steak sandwich, I was hooked. Thankfully, this chicken fried steak recipe comes together so fast that I regularly serve it for supper on the busiest of days. In this post, I'm gonna show you a little trick that will help you to have a nice crunchy breading on your fried steak every time. I serve mine with a creamy gravy that also's quick and easy to make, but I've included more serving suggestions below.
Now let's get a head start on supper!
Recipe Ingredients
Milk
Flour (whatever you have on hand: all-purpose flour, self-raising flour, or almond flour for gluten-free friends).
Salt
Pepper
Cubed steak
How To Make Chicken Fried Steak
Before ya start, pour a little oil into a large skillet and set it over medium to medium-high heat.
Now place your flour in a shallow dish. Season it with salt and pepper and then stir this flour mixture up well.
Now pour a little milk into another shallow dish and you've got a breading station set up.
Take one piece of cube steak and dip it into the milk on both sides.
Hold it up to drip excess milk off a few seconds and then…
Dip both sides into the flour mixture.
Dip it BACK into the milk…
See, the trick to getting a nice thick breading is to double-dip. That first dip is basically creating a "glue" for the second coating to stick to.
Dip it back into the flour mixture.
Repeat with the rest of your cube steak.
Carefully place the breaded steak into the hot skillet and cook until golden brown.
Flip, and cook until browned on the other side as well. This will probably take anywhere from 5 to 7 minutes per side.
Once it's brown, remove it to a paper towel-lined plate.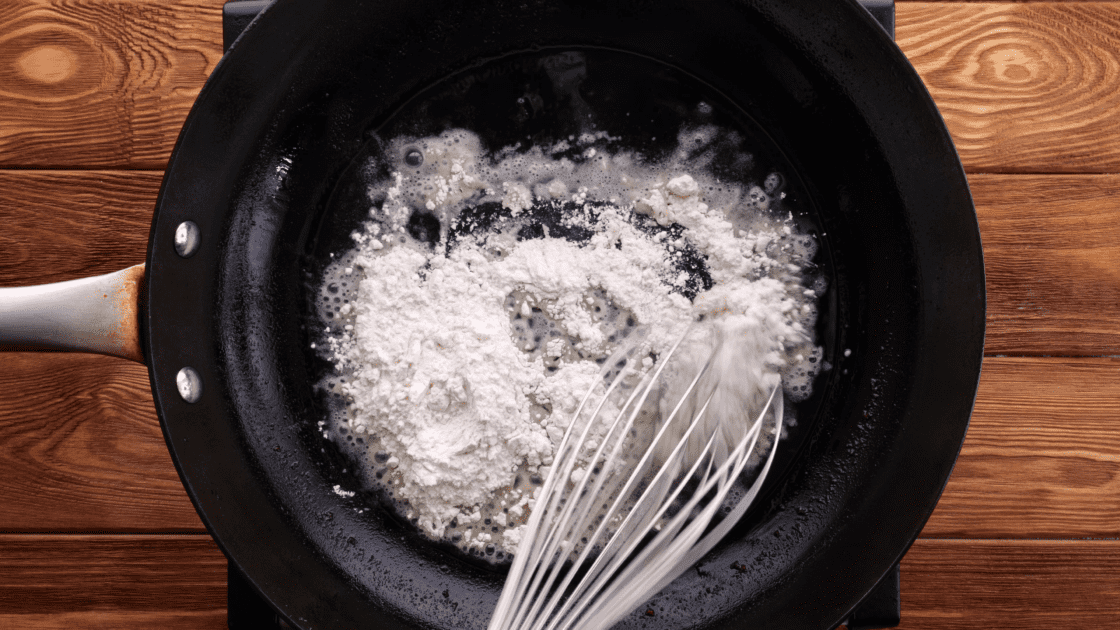 Pour off most of the oil in your skillet, but keep about 3-4 tablespoons.
Add your flour to the hot skillet.
Stir constantly until flour is brown, just a minute or two. Then reduce heat to low, pour in the milk, and stir.
Season with salt and pepper to taste.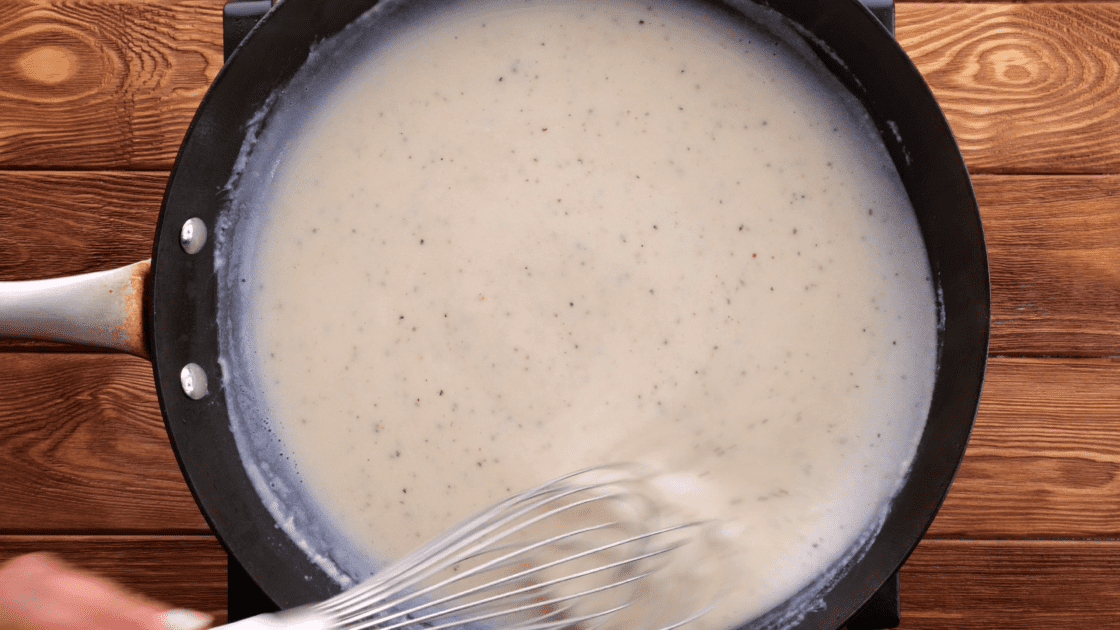 Continue cooking until gravy is as thick as you like (2 to 4 minutes).
If it gets too thick, stir in more milk.
Place your chicken fried steak on a plate with some friends, like mashed potato, carrots, and a biscuit.
Dive into some old-fashioned goodness that money just can't buy!
Storage
Store leftovers in an airtight container in the fridge for up to 4 days. I recommend reheating either in the oven or air fryer to get it crispy once more.
Recipe Notes
Whatever flour you have on hand will work just fine, whether it is all-purpose or self-rising. These days I even use almond or coconut flour. If using self-rising flour, you can just leave the salt out since it already has salt in it.
If you want to add some heat to this chicken fried steak recipe, add a tablespoon of hot pepper sauce (like Tabasco) to the milk before you dredge the steaks. Otherwise, add 3/4 teaspoon of paprika and 1/4 teaspoon of cayenne pepper to the flour mixture.
You can use any kind of oil or fat for frying: c

anola oil

, peanut oil, vegetable oil, olive oil, or shortening.
For an even creamier country gravy, use 1/4 cup of heavy cream and 1.5 cups of milk.
Don't overcrowd the pan. I cooked them one at a time and they were perfect!
Instead of milk, you can dip your chicken fried steak in buttermilk.
Recipe FAQs
What do you serve with chicken fried steak and gravy?
Mashed potato is the most popular side dish to serve with chicken fried steak. But you might want to serve it with mashed sweet potato or even cheesy garlic mashed potatoes for something different. Then I love to serve it with some kind of bread to soak up that creamy gravy. Take your pick between Southern cornbread, hoecake, buttermilk biscuits, or homemade dinner rolls.
My final serving suggestion is the vegetables of your choice. Simply add some roasted vegetables, zucchini and squash, collard greens, or even grilled asparagus. The choice is all yours!
What is the best cut of meat for chicken fried steak?
You want to use cube steak that's already been tenderized or a cheap cut like round steak, which you'll need to pound into a thin cut with a meat mallet.
What's the difference between chicken fried steak and country fried steak?
People often use the terms interchangeably. However, some Southern folk differentiates the two on the basis of gravy. Some people will say chicken fried steak is served with a milk-based gravy, but country fried steak is served with a beef-based gravy. In saying that though, you'll find the country fried steak at Cracker Barrel is served with a milk-based gravy.
Can I cook my chicken fried steak in the air fryer?
Yes, you can air fry this chicken fried steak recipe. Preheat the air fryer to 400 degrees, bread the steaks and then add them to the air fryer basket in a single layer. Spray them with lots of cooking spray for extra crunch! Air fry for about 5 minutes, turn them over, spray the other side, and then cook for another 5 minutes. You can also follow these directions to cook your chicken fried steaks in the oven, but they won't get as crispy.
You may also like these easy steak supper recipes:
Fork Tender Crockpot Swiss Steak
Delicious Hamburger Steak Recipe with Fried Onions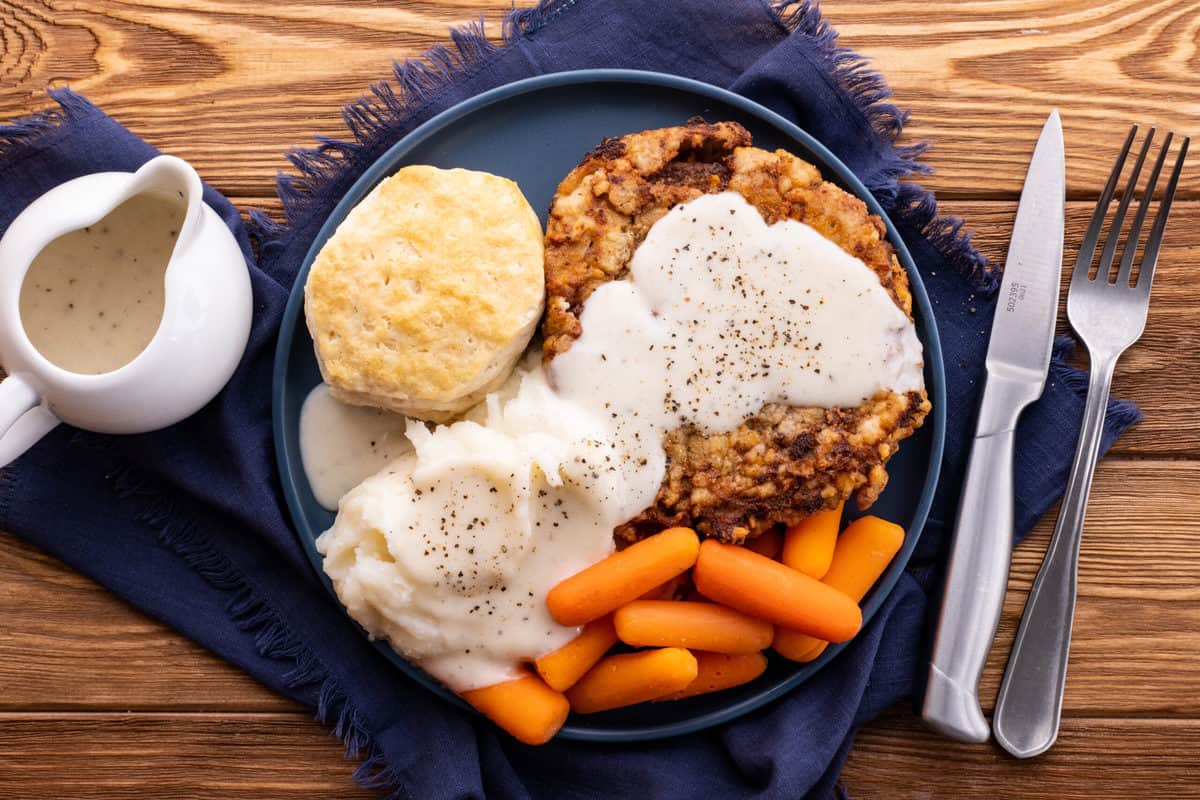 Ingredients
2

pieces

cubed steak

1

cup

all-purpose flour

self-rising flour is fine, just omit salt

1/2

tsp

salt

more if you like

1/2

tsp

black pepper

more if you like

vegetable oil for frying
For Gravy
3

tbsp

reserved oil from frying steaks

1/4

cup

all-purpose flour

1/2

tsp

salt

1/4

tsp

pepper

or to taste

1 1/2 - 2

cups

milk
Instructions
Pour oil to a depth of 1/4-inch in a large skillet. Place over medium heat while you prepare the cubed steaks.

In a shallow bowl or pie plate, stir together the flour, salt, and pepper. In another shallow bowl, pour the milk.

1 cup all-purpose flour,

1/2 tsp salt,

1/2 tsp black pepper

Dip each piece of meat into the milk on both sides, then the flour mixture on both sides. Then dip them back into the milk on both sides, and back into the flour mixture on both sides. Repeat until both pieces of meat are breaded.

Carefully place steaks in the hot oil and cook until golden brown on both sides (about 8-10 minutes). Remove to a paper towel-lined plate while you prepare the gravy.
For the Gravy
Drain off all grease except for 3-4 tablespoons. Add flour to grease and stir over medium heat until flour is brown (just 1-2 minutes).

3 tbsp reserved oil from frying steaks,

1/4 cup all-purpose flour

Reduce heat to low and pour in the milk while stirring constantly. Add salt and pepper to taste. Stir over low heat until gravy is of desired thickness. Add more milk if it becomes too thick.

1/2 tsp salt,

1 1/2 - 2 cups milk,

1/4 tsp pepper

Pour gravy over the fried steak and serve with mashed potatoes and biscuits if you like.
Nutrition
What you get out of life is measured by what you're willing to put into it.
~ Thomas Edison, Submitted by Johnny Lansdell