Simple Zucchini and Squash Recipe
Quick and easy, this simple but sensational zucchini and squash recipe makes the perfect healthy summer side dish for any meal.
Now, this zucchini and squash recipe is the definition of simple: simple to prepare (in under 15 minutes) with simple ingredients and simple instructions. However, so many of the best dishes are that way. They don't need to be complicated or overthought in order to be delicious. I've been convinced that most of life is meant to be that way as well – simple.
And this sautéed zucchini and squash combine to make a perfectly caramelized and delicious tasting side dish. This recipe is also low carb, keto, and can easily be adapted to suit your needs.
Want to add parmesan cheese? Go for it. Need more vegetables in your life? You can totally throw some more into the skillet. Missing that spice? Add a sprinkle of red pepper flakes to take it to the next level. I love simple recipes that you can make your own and this zucchini and squash recipe definitely ticks that box.
Serve your zucchini and squash side dish alongside all types of main meals, including beef brisket, pork chops, grilled chicken, and pork burgers.
Recipe Ingredients
Yellow squash
Zucchini
Butter (You can use 1/2 cup water in place of butter if you like. The butter does add a nice flavor hint but the veggies also taste wonderful on their own).
Salt
Pepper
Helpful Kitchen Tools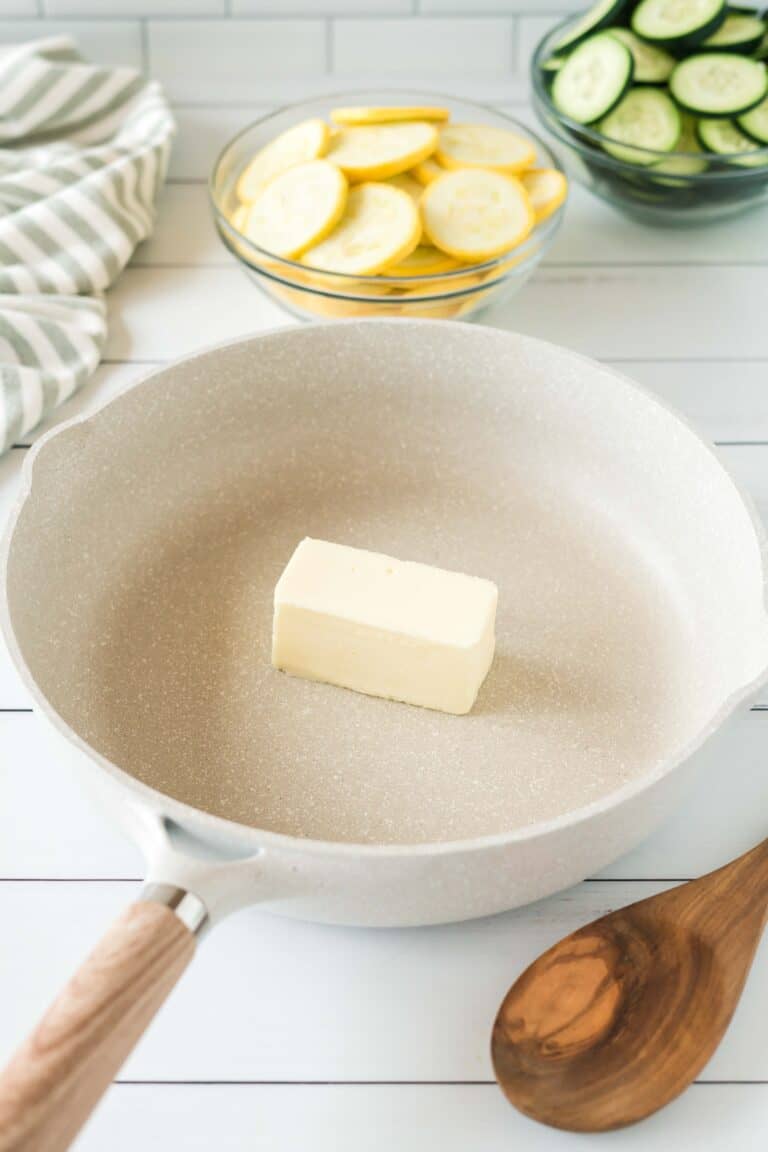 Place butter or water in a large skillet over medium-high heat.
Slice the zucchini into reasonably thin and even slices to ensure they cook equally.
Then slice the yellow summer squash the same size.
I always eat a few slices of summer squash raw because, you know, cooking is hard work and you've got to keep your strength up!
Add the zucchini and squash slices to the melted butter in the skillet and cook over medium heat, stirring every few minutes.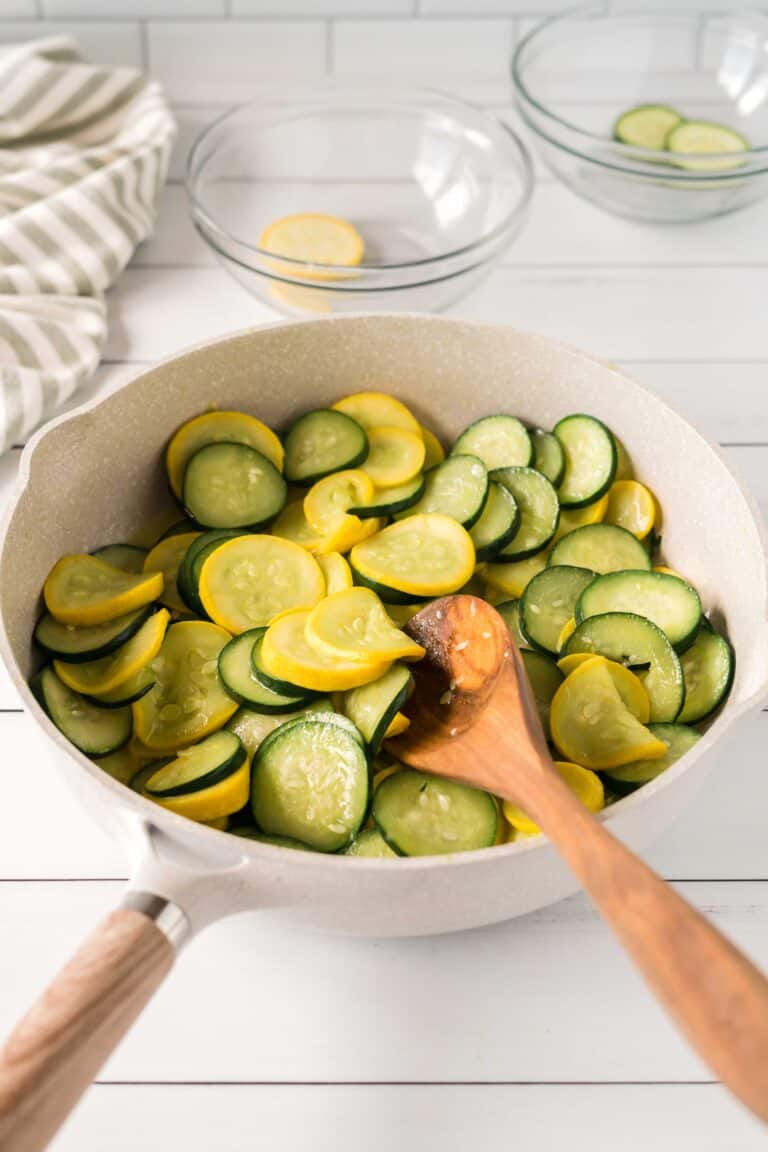 Continue cooking until veggies become translucent, or about 8 to 10 minutes.
You don't want them so cooked that they cry uncle, but just enough to make them tender.
Remove to bowl or platter.
Sprinkle with salt and pepper according to your taste, and serve.
This simple summer squash and zucchini side dish is simple and clean tasting and goes really well with pretty much anything.
You can serve this as is or add in other vegetables while it cooks, too! Try adding onions, tomato slices, thinly sliced carrots, or anything else you have on hand!
Storage
Store leftovers in an airtight container in the fridge for up to three days. To reheat, I recommend warming the dish in a skillet again to ensure the zucchini and squash is crispy once more.
It's not recommended to freeze sautéed squash, as it can become mushy once thawed.
Recipe Notes
If you'd like more flavor, sprinkle your zucchini and squash with one or more of the following: Italian seasoning, garlic powder, red pepper flakes, smoked paprika, chili powder, and cumin. You can also add some

dried or

to the vegetables while cooking, like oregano,

,

parsley, and thyme.
Two vegetables not enough? You can also throw some other vegetables into the skillet, like eggplant, thinly sliced red onion, , fennel, broccoli, cauliflower, potatoes, and other types of squash.
Another option is to sprinkle your zucchini and squash with freshly grated parmesan cheese before cooking.
If you prefer

and

rather than sautéed, spread the vegetables in a single layer on a baking tray and roast in a 400-degree oven for approximately 20 minutes. Flip the vegetables halfway through.
Recipe FAQs
Can this zucchini and yellow squash recipe be made vegan?
Yes, simply use water or olive oil instead of butter and this recipe is instantly vegan.
Do you peel the squash before cooking?
There's no need to peel the yellow squash or zucchini before cooking. The skin adds a nice texture (and fiber) to the dish.
What do you serve with zucchini and squash?
This squash and zucchini recipe is a delicious side dish to accompany any main meal. Enjoy it alongside your favorite protein, whether that's fried chicken, pulled pork, or beef ribs.
You can also serve it with other popular Southern side dishes, like cornbread, hush puppies, fried okra, fresh green beans, and buttermilk biscuits.
Another option is to add the vegetables to your salad or wrap for lunch.
Here are more delicious zucchini and squash recipes to enjoy:
Stuffed Zucchini Boats, Tex-Mex Style
Baked Zucchini Fries (Low Carb and YUM!)
Ingredients
1-2

yellow squash

1-2

zucchini

1/2

cup

butter or 1/2 cup water

salt and pepper to taste*
Instructions
Place butter or water in a large skillet over medium-high heat. Slice vegetables and add to pan once butter is melted.

1-2 zucchini,

1/2 cup butter or 1/2 cup water,

1-2 yellow squash

Cook over medium-high heat, stirring every few minutes, until veggies become translucent - about 8-10 minutes.

Remove to bowl or platter. Sprinkle with salt and pepper to taste. Serve warm.

salt and pepper to taste*
I prefer kosher salt for this but table salt will work just fine.
Nutrition