Steak Tips Over Rice In The Crock Pot
My "steak tips" over Rice is a delicious slow cooker recipe cooked all day in the crock pot to create tender juicy meat for a flavorful dinner.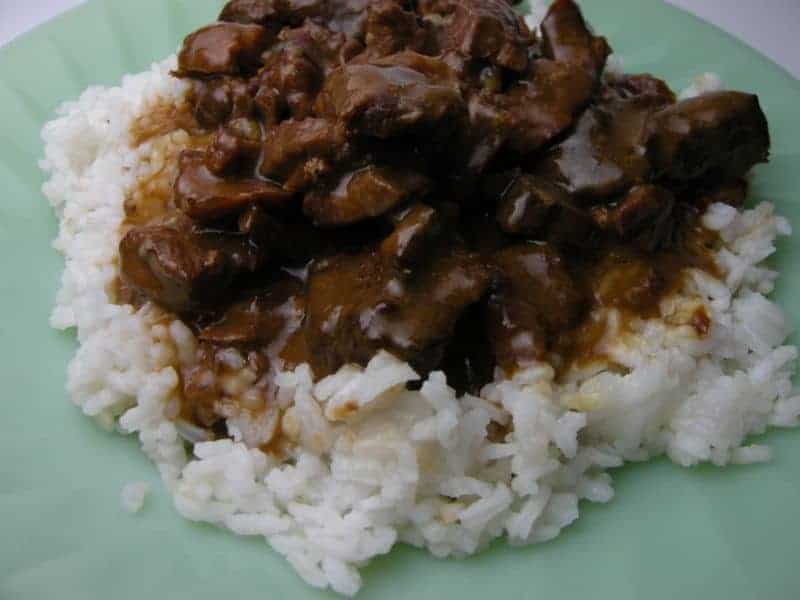 This is one of my husband's favorite meals and it is shamefully easy and incredibly cheap. You see, my "steak tips" over gravy is nothing more than stew meat slow cooked all day in the crock pot. Stew meat is easy to find on clearance. I usually pick up a few trays of it every few weeks and freeze it that day for this meal. Normally I use a tray half this size but I made a little extra today. Sometimes I do this with a roast as well, cutting it up into smaller pieces similar to how stew meat is cut.
Alright, lets get to cooking.
A slow cooker is invaluable when it comes to cooking inexpensive cuts of meat. Meat that normally would yield tough results becomes fall apart tender through this method of cooking. The important thing to note is that tough meat needs fat in order to become tender. This is why roasts cooked in water are tougher than those cooked in gravy. You only need one can, even if you are making an entire roast, as it melds with the meat juices as they cook out as well and produce plenty of liquid.
Place "steak tips" in crock pot and cover with one can of beef gravy. I often pop these suckers in frozen and just break them up a bit as they thaw and begin to cook. You don't have to use beef gravy, you can use a packet of brown gravy mix, prepared according to package directions, and that will be fine, too. If you would like a recipe for steak with homemade gravy there is one right here.
Cook that on low all day for seven to eight hours or on high for three to four. That is the general cooking time for all crock pot meals in case you wanted to know :).
Prepare rice according to package directions and spoon out steak tips and gravy to serve!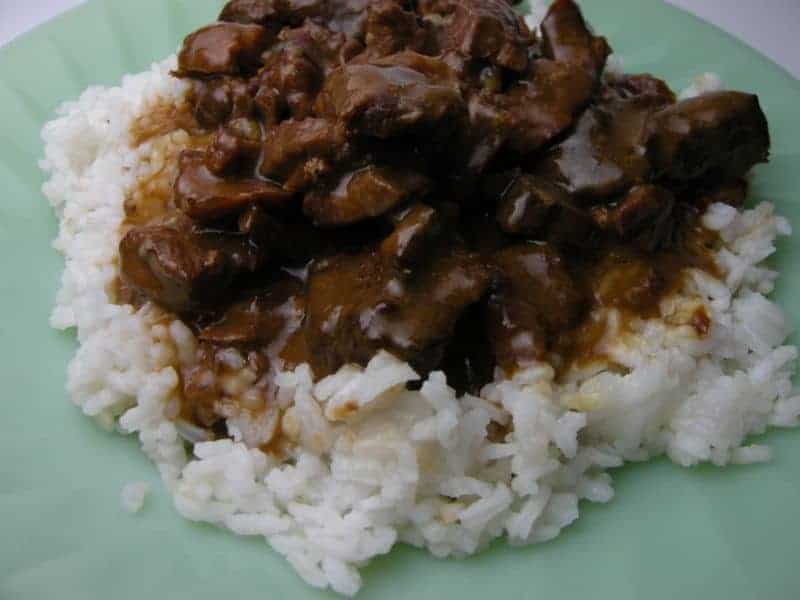 Ingredients
1

Package Stew Meat

1

Can Beef Gravy

Rice

prepared according to package directions
Instructions
Place stew meat in slow cooker, cover with beef gravy. Cook on low, 7-8 hours or on high 3-4 hours. Serve over hot rice.
"When the grass looks greener on the other side, its time to fertilize your own lawn"

Special thanks to my reader and facebook friend, Ticha for this quote!