Creamy Ranch Chicken Skillet
My creamy chicken skillet recipe is one of my favorite meals in one! With the help of ranch dressing mix and cream of chicken soup, it's seasoned perfectly and bursting with flavor.
Today I'm introducing you to one of my favorite weeknight suppers: creamy chicken skillet. It's simple, quick, and easy, but oh-so-delicious.
What do you need to make it? Chicken breasts, milk, dry ranch dressing, cream of chicken soup, frozen vegetables, and egg noodles for serving. That's it! But let me tell you, the ranch dressing mix gives it a fantastic, well-seasoned flavor. And the creamed chicken soup and milk join in to make a delicious gravy. Add in the tender chicken breast and vegetables, which are just perfect served over the cooked egg noodles.
This creamy ranch chicken skillet recipe takes just over 30 minutes to make. We start off by browning our chicken and then adding in the seasonings: milk, creamed soup, and dry ranch dressing. We let that simmer for about 10 minutes so the chicken breast absorbs all that delicious flavor. Then we just add our veggies and continue simmering until those are tender. The final step is to serve your creamy chicken on the bed of noodles. Doesn't get much simpler than that!
I told ya, you'll be sitting down to a family-pleasing supper in no time flat. I've convinced you now, right? Let's get makin' my creamy chicken skillet recipe.
Recipe Ingredients
How to Cook Creamy Ranch Chicken Skillet
Place a little bit of oil in the bottom of your skillet and heat over medium heat.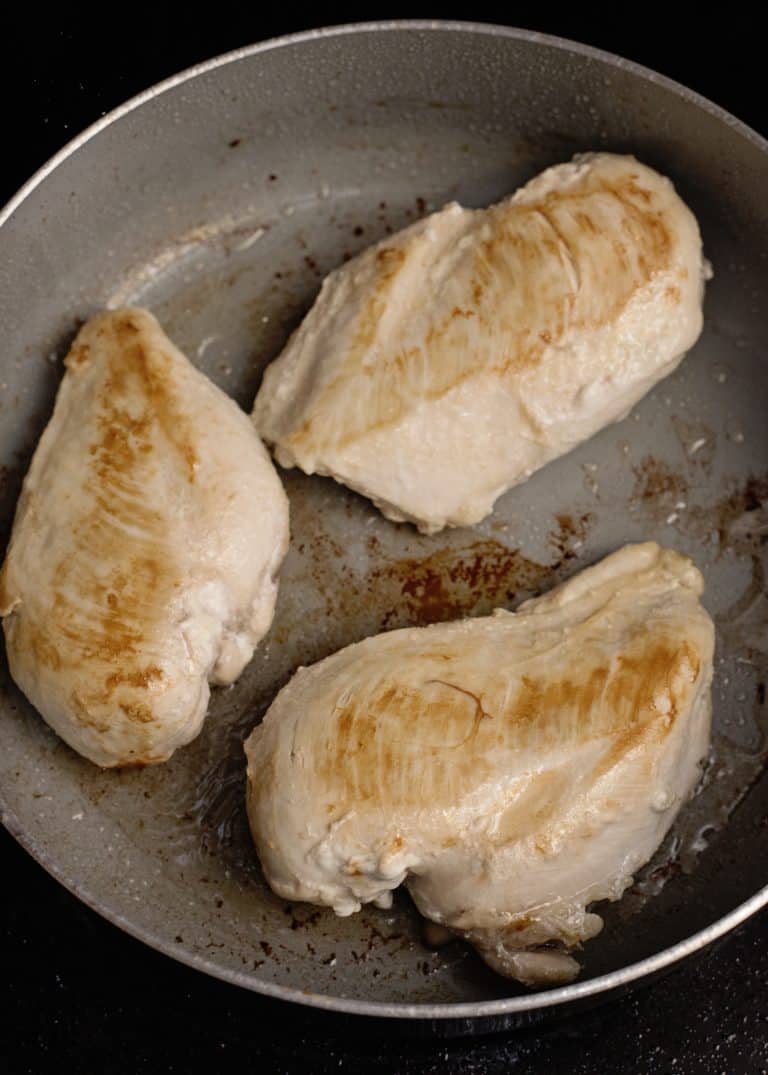 Add your chicken breasts and cook over medium heat, turning as needed, until lightly brown on both sides.
Once your chicken breasts are brown on both sides, add in the cream of chicken soup, the dry ranch dressing mix…
And the milk.
Stir that up as best you can.
Note: Your chicken breasts won't be done at this point, just brown on the outside. That is okay because we're fixin' to finish cooking them.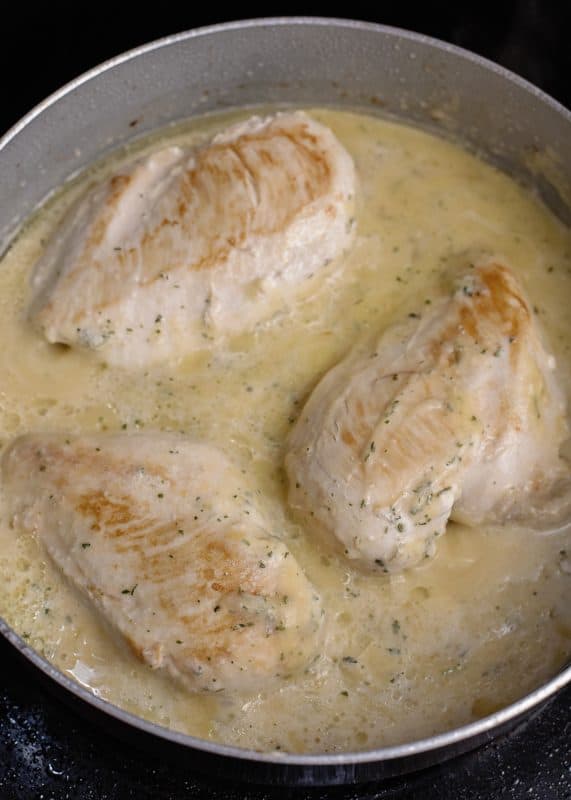 This is our chicken in our little sauce we stirred up.
Now cover and reduce the heat to simmer for about 10 minutes or until the chicken is cooked through and no longer pink in the center.
After about 10 minutes of simmering, this is what you'll have.
That creamy ranch sauce is absolutely delicious and we're about to toss some veggies into it to make it even better.
Pour your frozen vegetables into the skillet and stir them up a bit to coat them.
Continue cooking this whole shebang until the veggies are tender.
I like the California blend of veggies that has carrots, cauliflower, and broccoli in it but you can go with whatever you like here.
Salt and pepper to taste if you like, but I like it just as it is.
Voila! Your creamy chicken skillet is done.
Serve the cooked chicken on a bed of cooked egg noodles.
Enjoy!
Storage
Store leftovers in an airtight container in the fridge for up to 4 days. Reheat them in the microwave or on the stovetop.
I don't recommend freezing the creamy ranch sauce as it changes the texture.
Recipe Notes
Any vegetables work in this recipe. Even fresh or frozen vegetables. Some of my suggestions are broccoli, bell pepper, green beans, cherry tomatoes, sun-dried tomatoes, zucchini, mushrooms, spinach, peas, corn, carrots, or asparagus.
Instead of ranch dressing, you can totally swap it for Italian seasoning. YUM.
Instead of cream of chicken soup, you can use a different flavored creamed soup, like cream of mushroom soup or cream of celery soup.
Recipe FAQs
The dry ranch dressing mix is a combination of onion powder, onion flakes, dill, parsley, garlic powder, salt, pepper, and dried chives. If you want to make your own with a combination of these flavors, you need about 1/3 cup in total.
What do you serve with a creamy chicken skillet?
Besides egg noodles, here are some other suggestions:
You may also like these recipes:
Chicken Broccoli Skillet with Pimento Cheese Sauce
BBQ Chicken Breast in the Oven
Creamed Chicken With Fresh Basil & Tomatoes
Ingredients
1

tablespoon

oil

1

packet

ranch dressing mix

1

bag

frozen vegetable blend

1

can

cream of chicken soup

1/2

cup

milk

2-4

chicken breasts

cooked egg noodles
Instructions
Heat oil in a large skillet. Add chicken breasts and cook over medium, turning as needed, until browned on both sides.

1 tablespoon oil,

2-4 chicken breasts

Add in the soup, ranch dressing mix, and milk. Stir well and turn chicken to coat.

1 packet ranch dressing mix,

1 can cream of chicken soup,

1/2 cup milk

Bring to a boil, then reduce the heat to simmer.

Cover and continue cooking until chicken is cooked through (about 10 minutes).

Uncover and stir in vegetables.

1 bag frozen vegetable blend

Continue cooking until vegetables are tender (about 10 more minutes).

Serve over a bed of cooked egg noodles.
Nutrition
This recipe is featured as part of Meal Plan Monday