Easy Vegetable Soup (A Dieter's Best Friend)
Overflowing with the vegetables of your choice in a delicious ranch and tomato-flavored broth, this easy vegetable soup recipe is certainly a dieter's best friend.
This homemade vegetable soup recipe is one my mother and I have used for over 30 years and we still love it. Many diets have "free" vegetables, which are basically vegetables that are allowed without restriction. What this soup does is combine those vegetables with a richly flavored broth. A bowl of this vegetable soup is the perfect anytime dish to fight off the munchies, a quick and easy lunch, or a filling side dish with your evening main meal.
Back in the day, cabbage, okra, green beans, carrots, tomatoes, onions, and celery were all considered "free" or vegetables that could be eaten without limitation. I liked to walk on the wild side and toss in some corn too. I live dangerously that way. I'm not sure if these vegetables are considered evil today, I guess you'd have to check outside and see which way the wind is blowing. But common sense refuses to allow me to consider this soup anything but healthy and delicious! The great thing though is that you can omit, substitute, and exchange the veggies in this easy vegetable soup to fit whatever eating plan you are following so it's a win/win across the board.
Most often, when I am dieting my problem is not so much hunger as a desire to munch. Reaching for this soup rather than pretzels, chips, or any number of higher carb and calorie snacks is definitely a step in the right direction to a healthier you! I make a huge pot and keep it in the fridge, heating it up whenever I need it for up to five days. I always look forward to a delicious bowl of this flavorful and filling soup. Did I mention it's also ridiculously easy to make? Just pop all the ingredients in a pot and let them simmer until the vegetables are your desired tenderness. That's all there is to it. Alright, let's make some homemade vegetable soup.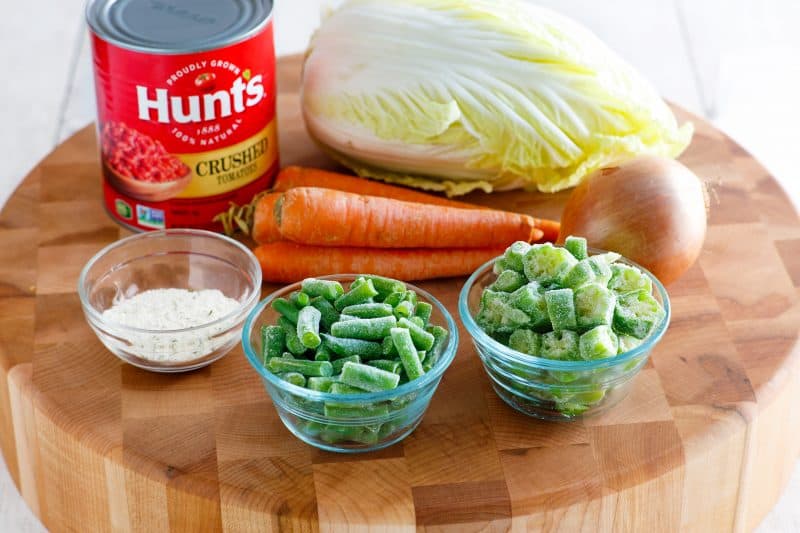 Recipe Ingredients
The ingredients aren't exact. You mainly need to go with the veggies that you personally enjoy. I'm using:
Okra
Green beans
Carrots
Cabbage
Onion
Crushed tomatoes (I prefer crushed over diced tomatoes for a thicker, more filling broth).
Ranch dressing mix
How to Make Easy Vegetable Soup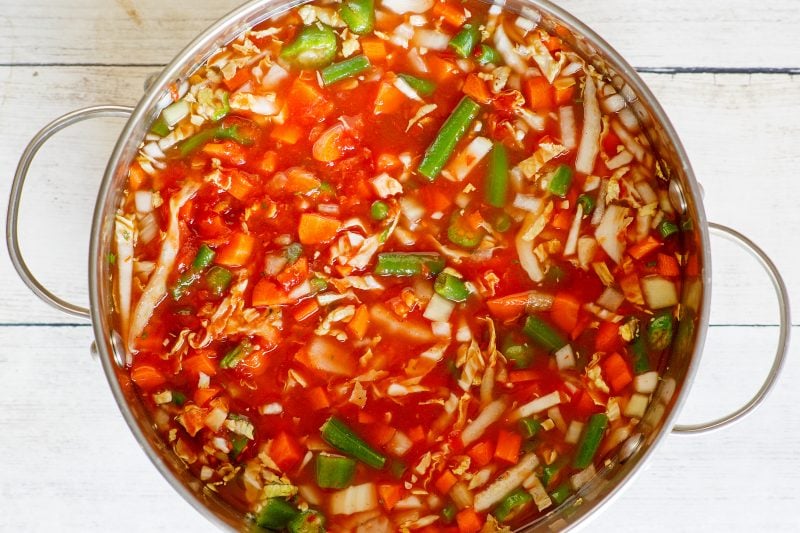 Wash, peel, and chop any of your veggies that need it, and put all ingredients into a large pot.
I add about 6 cups of water to this but you may prefer more or less, depending on how much liquid you like.
Stir that up and place it over medium-high heat.
Bring just to a boil and then reduce heat to simmer for about 30 minutes or so, until the veggies are to your desired tenderness.
It will be rather thick but as the vegetables cook up, they'll create a lot more liquid.
This is how it will look about half an hour after it starts simmering.
You only need to cook it until the vegetables are as tender as you like. I like mine to be tender but not mushy.
Voila!
I love having this vegetable soup on hand to eat anytime cravings or munchies strike.
This lets me indulge my taste buds while giving my body lots of great veggies.
Storage
Store leftovers in an airtight container in the fridge for up to 5 days. This is a great meal prep option as you can simply reheat leftovers in the microwave.
You can also freeze leftovers for up to 3 months. Thaw overnight in the fridge before reheating in the microwave.
Recipe Notes
I prefer to use frozen vegetables over canned vegetables. Of course, nothing beats fresh vegetables anytime but when those aren't available to me, frozen wins out.
Please know I am referring ONLY to dry ranch dressing mix here, not bottled ranch dressing.
Want to give this vegetable soup a boost? Keep it veggie-friendly and add canned beans. White beans like cannellini beans always work, as well as chickpeas, kidney beans, or black beans.
You can also easily turn this into vegetable pasta soup by adding cooked pasta about 10 minutes before the soup finishes cooking. You can use any type of pasta, but tortellini soup is always a winner.
Does it need a little kick? Add a pinch of crushed red pepper flakes.
For more tomato flavor, add a tablespoon or two of tomato paste.
Speaking of… if you want to add more flavor in the form of dried herbs and spices, go right ahead! Some complimentary flavors include Italian seasoning, a bay leaf or two while simmering, and a teaspoon of garlic powder and/or onion powder.
Recipe FAQs
How do you serve homemade vegetable soup?
There are lots of ways to serve this vegetable soup:
What other vegetables are good in vegetable soup?
The options are basically endless, but here are some other veggie suggestions. Remember, you can use frozen or fresh vegetables:
Zucchini
Celery
Butternut squash
Frozen peas
Broccoli
Summer squash
Green beans
Corn
Potato
Sweet potato
Bell pepper
Mushrooms
Leafy vegetables like kale or spinach (stir in towards the end).
Can I make vegetable soup in the slow cooker?
Absolutely! For crockpot vegetable soup, add all ingredients to the slow cooker and cook on low for 6 hours or on high for 3 hours (or until the veggies are as tender as you'd like).
Can I make easy vegetable soup in the Instant Pot?
You can also make this veggie soup in the Instant Pot. You'll want to place all ingredients in the Instant Pot and cook for 7 minutes, then let the pressure release manually for 10 minutes.
I think you'd also like these easy soup recipes:
Creamy Vegetable Soup (Low-Carb Version)
French Onion Soup, Restaurant-Style
Senate Bean Soup (With a Shortcut)
Cauliflower Soup Recipe With Cheese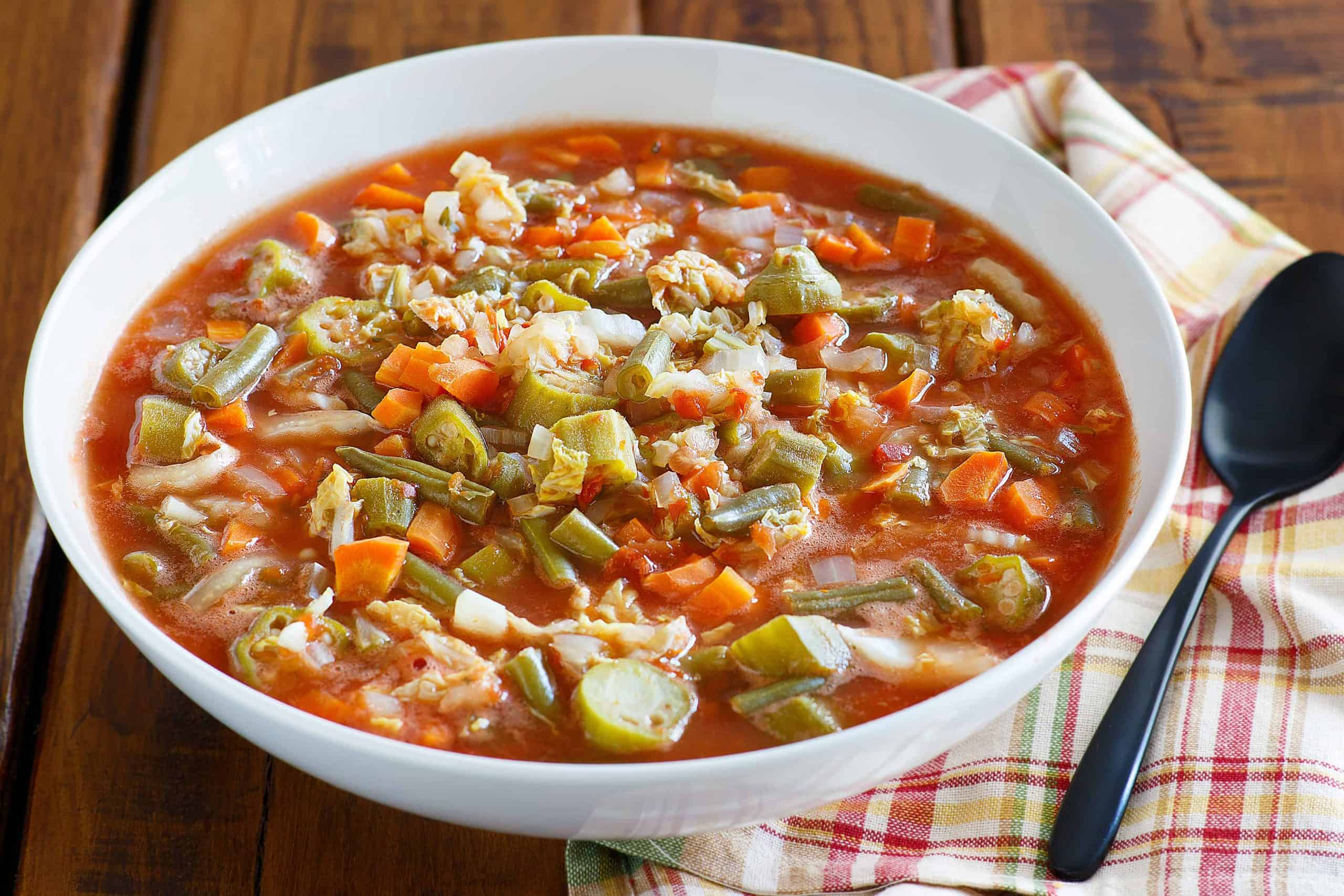 Ingredients
16

ounces

frozen green beans

1/2

head

cabbage, chopped

4-6

large carrots, peeled and chopped

16

ounces

frozen okra

1

cup

chopped onion

1

28-ounce can

crushed tomatoes

1

packet

dry ranch dressing mix

6

cups

water
Instructions
Combine all ingredients in a pot and bring to a boil.

16 ounces frozen green beans,

1/2 head cabbage, chopped,

4-6 large carrots, peeled and chopped,

16 ounces frozen okra,

1 cup chopped onion,

1 28-ounce can crushed tomatoes,

1 packet dry ranch dressing mix,

6 cups water

Reduce heat and simmer until vegetables are desired tenderness.
Nutrition
This recipe was featured on Meal Plan Monday and Weekend Potluck.
A heart is not judged by how much you love, but by how much you are loved by others.
~Frank Morgan