I originally posted this family favorite recipe in my first year of blogging and I recently updated the photos. I hope you enjoy it!
This recipe is one my mother and I have used for over thirty years, and we still love it. Many diets have "free" vegetables, which are basically vegetables that are allowed without restriction. What this soup does is combine those vegetables in with a richly flavored broth and serves them up as the perfect anytime dish to fight off the munchies, serve as a quick and easy lunch, or a filling side dish with your evening meal.
Back in the day, cabbage, okra, green beans, carrots, tomatoes, onions, and celery were all considered "free" or vegetables that could be eaten without limitation. I liked to walk on the wild side and toss in some corn too. I live dangerously that way. I'm not sure if these vegetables are considered evil today, I guess you'd have to check outside and see which way the wind is blowing, but common sense refuses to allow me to consider this soup anything but healthy and delicious! The great thing though, is that you can omit, substitute, and exchange the veggies in this soup to fit whatever eating plan you are following so it's a win/win across the board.
Most often, when I am dieting my problem is not so much hunger as a desire to munch. Reaching for this soup rather than pretzels, chips, or any number of higher carb and calorie snacks is definitely a step in the right direction to a healthier you! I make a huge pot and keep it in the fridge, heating it up whenever I need it for up to five days. I always look forward to a delicious bowl of this flavorful and filling soup!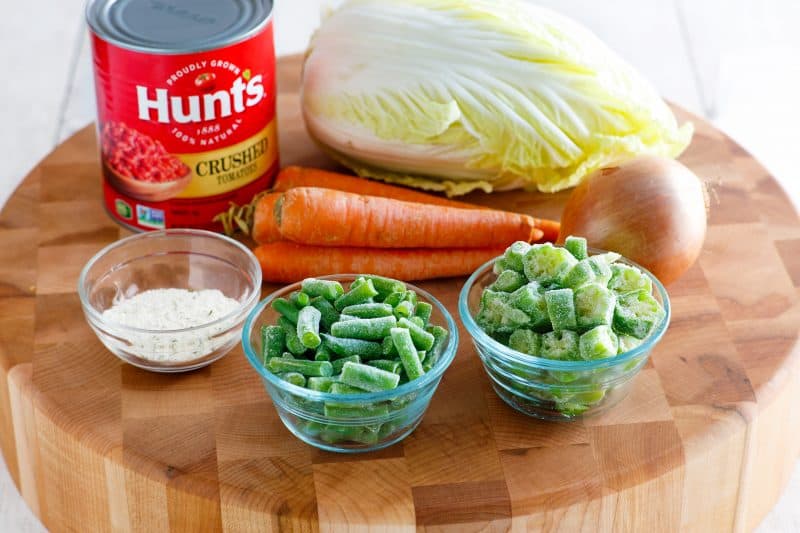 Ingredients aren't exact, you mainly need to go with the veggies that you personally enjoy. I am using okra, green beans, carrots, and cabbage. I like to add a chopped onion as well but this is totally customizable to your tastes.
The two things you must have to make this soup so delicious are Ranch dressing mix and a large (28 oz) can of crushed tomatoes. Of course you can use diced but I prefer crushed for a thicker, more filling broth.
I also prefer to use frozen vegetables over canned. Of course, nothing beats fresh vegetables anytime but when those aren't available to me, frozen wins out.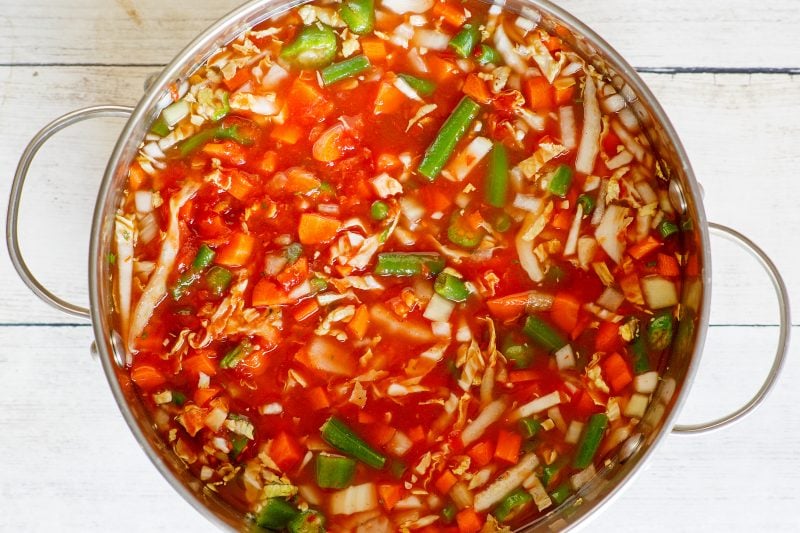 Wash and peel/chop any of your veggies that need it and put all ingredients into a large pot. I add about six cups of water to this but you may prefer more or less, depending on how much liquid you like, and that's fine. Amounts and ingredients I use can be found in the printable recipe card at the bottom of this post.
Note about the Ranch dressing mix: I am referring ONLY to dry ranch dressing mix here, not bottled ranch dressing. I usually buy a large container of the mix because it is cheaper but for reference here I'm using a packet since that is what most people have.
Stir that up and place it over medium high heat. Bring just to a boil and then reduce heat to simmer for about thirty minutes or so, until the veggies are to your desired tenderness. It will be rather thick but as the vegetables cook up, a lot more liquid will be created.
This is how it will look after about half an hour after it starts simmering.
You only need to cook it until the vegetables are as tender as you like. I like mine to be cooked but not mooshy. I think "mooshy" is my word for the week on Southern Plate. I'll have to see if I can work it into the rest of this week's posts as I am certain I have worked it into every one so far!
Voila! The dieter's anytime meal! I love having this on hand to eat anytime cravings or munchies strike. This lets me indulge my taste buds while giving my body lots of great veggies.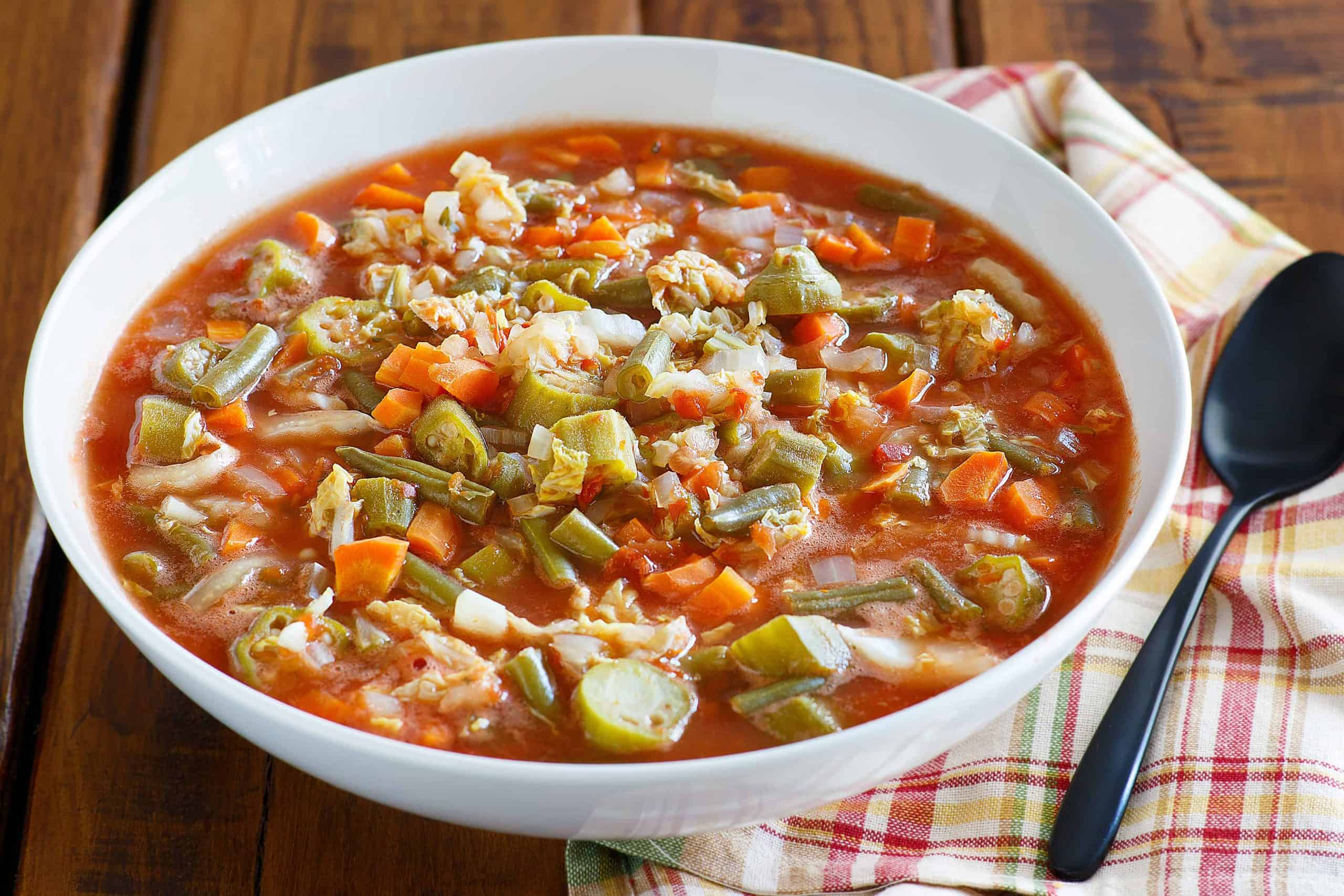 Ingredients
These ingredients are entirely customizable to your tastes. Feel free to substitute or omit as you choose.
16

ounces

frozen green beans

1/2

head cabbage

chopped

4-6

large carrots

peeled and chopped

16

ounces

frozen okra

1

cup

chopped onion

28

ounce

can crushed tomatoes

1

packet Ranch dressing mix

dry

6

cups

water
Instructions
Combine all ingredients in a pot and bring to a boil. Reduce heat and simmer until vegetables are desired tenderness. Refrigerate leftovers.
Nutrition
This recipe featured on Meal Plan Monday and Weekend Potluck
A heart is not judged by how much you love, but by how much you are loved by others.
~Frank Morgan