Hamburger Bun French Toast (Freezer-Friendly)
All you need is 4 ingredients to make my quick and easy hamburger bun french toast from leftover buns. The best part is, this french toast recipe is also freezer-friendly, for when you need a little breakfast pick-me-up!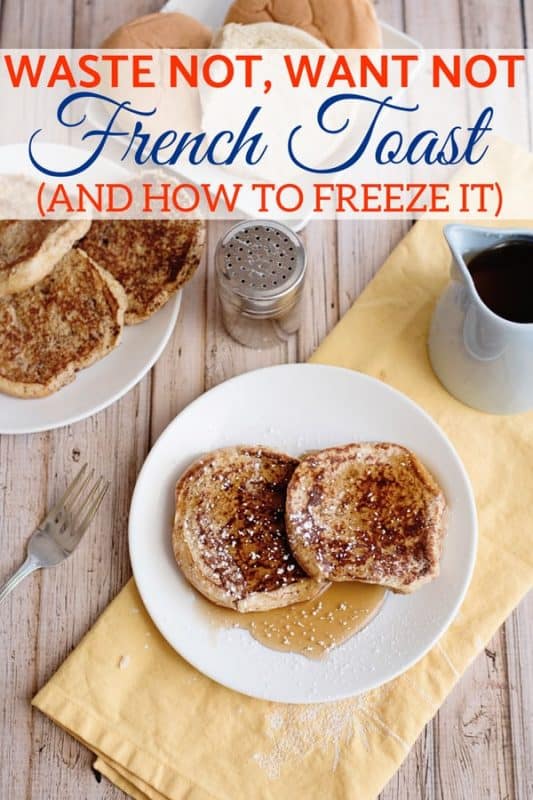 I hate to waste food. Now, for those of you who have been reading Southern Plate for a while, I am likely sounding like a broken record on this point. But I can't help it, wasting food bothers me. Besides being delicious, that is why I love this hamburger bun french toast recipe.
With all of the holidays and cookouts this summer, we're all liable to have leftover buns. Rather than let them sit on the counter until they finally get thrown away, we're going to turn them into a WOW dish. I'm not kidding on the wow part, either. This waste not, want not french toast is TO DIE FOR. It's so good, in fact, that I sometimes go and buy buns just to make it.
Best french toast
ever
Now the ingredients are surprising but not nearly as surprising as the fact that this will likely make the best french toast you've ever had. The texture and flavor are absolutely perfect. And all you need is ground cinnamon, egg, and milk. Yep, simple as that!
This is a recipe I love to make, not only because it's quick and easy and takes less than 15 minutes from start to finish. I take whatever hamburger or hot dog buns are going bad and whip up french toast out of all of them. All we gotta do is mix together the ingredients, soak our buns, and then cook them in a skillet for about 5 minutes. What we don't eat that day, I freezer for when I need a little breakfast pick-me-up. For freezer french toast instructions, you're gonna want to keep scrolling.
Make your own toaster french toast out of leftovers at a fraction of the price, with flavor that blows the rest out of the water. If you'd like to read how I got started (and got my family firmly addicted) with making this, check out my old post on easy bread pudding, another recipe using leftover buns.
Your favorite french toast batter can work here but I'm gonna show you mine as a starting point.
I like to keep things simple. Life is complicated enough.
Recipe Ingredients
Milk
Eggs
Ground cinnamon
Hamburger bun or hot dog buns
How to Make Hamburger Bun French Toast
Place eggs, milk, and cinnamon in a mixing bowl.
Beat it 'til it cries uncle.
Dip each side of your buns into the french toast batter.
Like so.
Make sure you just dip the slices and then take them out. If you leave them sitting in there it'll get all soggy.
Spray a large skillet with cooking spray and heat it to medium heat.
You can also just toss some butter in it if you'd rather do that instead of the cooking spray.
It depends on my level of laziness on any given day. Today, I went with the spray.
Cook over medium heat until golden brown on both sides.
This will just take a few minutes on each side.
This is awful. It tastes bad, it's horrible.
Tell everyone in your house that as they salivate so you can keep it all to yourself!
~grins with a mischievous twinkle in her eye~
Oh, this is so bad!
You don't wanna eat it!
~whimpers~
Oh… alright.
~slides the plate over to you as her face softens~
Keep scrolling for more serving suggestions, but you can't go wrong with syrup and a dusting of powdered sugar.
Storage
Store leftover french toast in an airtight container in the fridge for up to 3 days. When ready to serve, put each slice in the toaster/oven/air fryer until heated through and crispy again.
Freezer french toast
Place freshly cooked french toast on waxed paper-lined baking sheets and slide these into the freezer. When frozen, remove the toast from the sheets and place them in gallon-sized zipper bags. Store in the freezer for up to 3 months. Reheat leftovers as above.
Recipe Notes
You can use any type of milk in this recipe.
Room-temperature eggs will mix easier with the other ingredients.
If you want to add a touch of sweetness to the batter, whisk in a tablespoon of granulated sugar or a teaspoon of vanilla extract.
You can also get creative and use other extracts instead, like almond, rum, or coconut.
If you want to add more spice, add a pinch of ground nutmeg.
If you're using hot dog buns instead, the instructions are exactly the same.
Recipe FAQs
How do you keep french toast from getting soggy?
The key is to not let the toast soak in the batter for an extended amount of time. You just want to dip in each side quickly.
Can you freeze french toast?
You can definitely freeze this french toast recipe. See the instructions above.
How do you flash-freeze french toast?
See the instructions above to flash-freeze this toast.
Can you make french toast ahead of time and reheat it?
Absolutely! You can store leftover french toast in the fridge for up to 3 days or in the freezer for up to 3 months.
How do you make french toast crispy again?
You want to reheat it either in the toaster oven, oven, air fryer, or even a panini press. Any of these kitchen appliances will make your french toast crispy again.
What do you serve with french toast?
Here are some serving suggestions:
Crispy bacon or breakfast sausage
Syrup: whether that's maple syrup, honey, pancake syrup, or chocolate syrup.
Scrambled eggs
Fresh berries and a dusting of confectioner's sugar or a dollop of whipping cream.
Caramelized bananas
A scoop of vanilla ice cream… or whipped cream.
Peanut butter or Nutella
Cinnamon sugar
Chopped nuts
Can we tempt you with these tasty breakfast recipes too?
Banana French Toast With Pecans
Cinnamon Roll French Toast Bake
Overnight Stuffed French Toast
French Breakfast Puffs with Fresh Strawberries
Ingredients
2

hamburger buns or hot dog buns

2

eggs

1/4

cup

milk

1

teaspoon

ground cinnamon
Instructions
Beat together all ingredients (except buns) with a fork until well blended.

2 eggs,

1/4 cup milk,

1 teaspoon ground cinnamon

Dip each side of each bun into the batter.

2 hamburger buns or hot dog buns

Place the buns in a skillet, which has been greased with cooking spray and heated over medium heat.

Cook for a few minutes on each side until golden brown.

Serve warm with syrup.
Nutrition
"May you be the kind of person your dog thinks you are."
Submitted by Southern Plate reader, Don