Similar to apple dumplings, sweet potato dumplings are simply heaven on a plate! With each bite, you get a mouthwatering taste of flaky biscuit, spiced sweet potato, and irresistible sugar syrup.
Today my Mama is sharing her sweet potato dumpling recipe with you and I want to strongly encourage you to make them A.S.A.P. because they are on my top 10 list of best things I've ever eaten. Seriously! Take it away, Mama!
I first had these sweet potato dumplings when my husband and I went to a gathering in Birmingham, Alabama. They had hired a caterer to cook steaks and chicken for everyone but had left the sides and desserts up to the ladies in the group.
I didn't know anyone at the party except for one lady and her husband who had ridden there with us. As we looked the dessert table over, we spied a dish of what we thought were apple dumplings. Now there were only 10 dumplings in the dish. Yes, we counted them. We both said we had to get one before they were all gone. I took the first bite. My mouth told me that was not an apple dumpling but I couldn't quite place the flavor. I just knew I had fallen in love with whatever it was. My friend and I discussed it and after savoring the dish decided it was a sweet potato and they melted in your mouth.
Recipe Ingredients
Canned flaky biscuits
Sugar
Light corn syrup
Water
Butter
Yam (sweet potato) patties
Cinnamon or spices of your choice
How To Make Sweet Potato Dumplings
Melt a stick of butter in a 9×13 ovenproof dish. I place the dish into my preheated oven and let the butter melt. Just watch it so that the butter doesn't brown.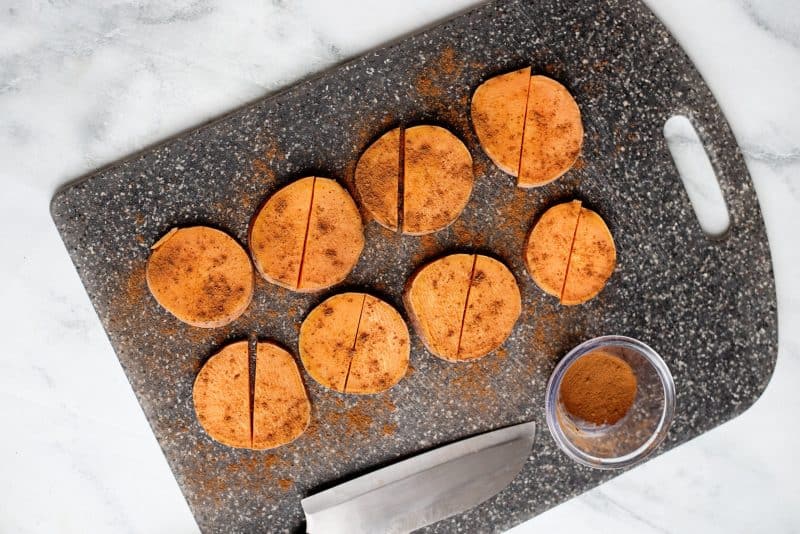 Cut sweet potato (or yam) patties in half to the size of your liking. 1/4-inch, 1/2-inch… whatever you like will work. Sprinkle with spices of your choice.
Peel biscuits into two pieces. You will end up with 16 biscuit pieces.
Press biscuit pieces to flatten and place one sweet potato piece to the side.
Fold biscuit over and press edges to seal. See there, a cute little dumpling right before your eyes!
Line your cute little dumplings all up in two rows. Sprinkle with additional spices.
Stir water, sugar, and corn syrup together in a saucepan and bring to a boil, stirring occasionally.
Reduce heat and allow to simmer until sugar is completely dissolved, still stirring occasionally.
Pour the hot syrup mixture over your cute little sweet potato dumplings.
Bake at 350 degrees for 25 to 35 minutes or until dumplings are golden brown.
The syrup will thicken some as the dumplings cool.
Can't wait to bite into these!
Storage
I strongly recommend gobbling these up while they're freshly hot and straight out of the oven. However, if you do have leftovers, store them in an airtight container in the fridge for up to 3 days. Reheat them in a low oven so they crisp up once more.
Recipe Notes
When I say whatever spices I like, I mean you can use one or a combination. My recommendations: cinnamon, nutmeg, ginger, allspice, and a hint of cloves.
For additional flavor, add a teaspoon of vanilla extract to the sugar syrup once you remove it from the heat.
For a more caramelized sauce, use 1 cup of sugar and 1 cup of brown sugar.
Recipe FAQs
Do I need yam patties or sweet potatoes?
Umm… yes :). These are called yam patties but they are really sweet potatoes. They are sold in the freezer section at the grocery store. You can also use canned sweet potatoes (also called yams on the can most of the time) or peel raw fresh sweet potatoes, slice them in slices, and boil for a few minutes just until tender. That's what I did today.
How do you serve sweet potato dumplings?
For breakfast, I love to serve them as a side with bacon and eggs. For dessert, they taste simply magnificent with some whipped cream or a scoop of vanilla ice cream.
Check out these other sweet potato recipes:
Vegan Sweet Potato Cake With Maple Cashew Icing
Loaded Sweet Potatoes With Marshmallows
Sweet Potato Bread With Cinnamon Swirl
Sweet Potato Pie, Southern Plate Style
Ingredients
1

can

Grands Flaky Biscuits

8

slices

frozen sweet potato rounds

thawed

1

stick

butter

2 1/2

cups

water

2

cups

sugar

2

tablespoons

light corn syrup

cinnamon,nutmeg, or ginger

whichever you like best
Instructions
Melt the butter in a 9x13-inch baking pan in a 350-degree oven.

Divide each biscuit in half by pulling layers apart and pat each side out flat.

1 can Grands Flaky Biscuits

Slice the sweet potato rounds in half and sprinkle with the spices of your choice. I use cinnamon since that is my favorite spice with sweet potatoes.

8 slices frozen sweet potato rounds,

cinnamon,nutmeg, or ginger

Place half of 1 sweet potato round (thawed) on the biscuit half.

Fold the biscuit over and seal the edge like a fried pie or turnover.

Place biscuits in the melted butter in the pan.

Stir the water, sugar, and corn syrup together in a saucepan and bring to a boil over medium-high heat, stirring occasionally. Reduce heat and allow to simmer until sugar is completely dissolved, still stirring occasionally.

2 cups sugar,

2 tablespoons light corn syrup,

2 1/2 cups water

Pour the hot syrup around the biscuits.

Bake at 350 degrees for 25-35 minutes or until golden brown. The sauce with thicken as the dumplings cool.
Notes
The sweet potato rounds that I bought this time were labeled yam patties. Either one is fine (yams or sweet potatoes) as the taste is the same. If you are not able to find frozen sweet potato patties, you can substitute canned sweet potatoes that you slice into approximately 1/2-inch slices.
Nutrition
"You don't drown by falling in water; You drown by staying there."
~Edwin Cole