This southern candied sweet potatoes recipe is quick, easy, and melt-in-your-mouth good.
These southern candied sweet potatoes are so easy and so good. Basically, grab a couple of cans of sweet potatoes, cook them in the oven and you have this recipe of syrupy goodness. That's how easy it is! The end result is tender sweet potatoes with a buttery sweet caramel toffee flavor that will definitely melt in your mouth.
Now, if you're wondering when to serve this dish, I say whenever! Have it as a meal or as a Thanksgiving dessert, the choice is yours. I personally think that because sweet potatoes are a vegetable (no matter how you prepare them), you can serve them with any meal and it automatically decreases any guilt you might have because these are so good. For the main meal, I love pairing this dish with classic southern comfort food like fried chicken and mac and cheese. What a combo!

Now I want you to try this candied yams recipe during the holidays and leave your comments below and let me know what you thought of them. If you don't want to tell everyone how easy they are to make, just smile and say it's an old-fashioned family recipe handed down through the generations. It's the truth! You are a part of the Southern Plate family. It was handed down through at least four generations! Happy holidays!
Recipe Ingredients
Butter
Sugar
Canned sweet potatoes or not canned (about 16-18 oz when cut up)
Cinnamon
Drain the sweet potatoes and pour them into an ovenproof casserole dish.
While this is a round casserole dish, it holds the equivalent of an 8×8 baking dish.
Next, sprinkle the sugar over the sweet potatoes.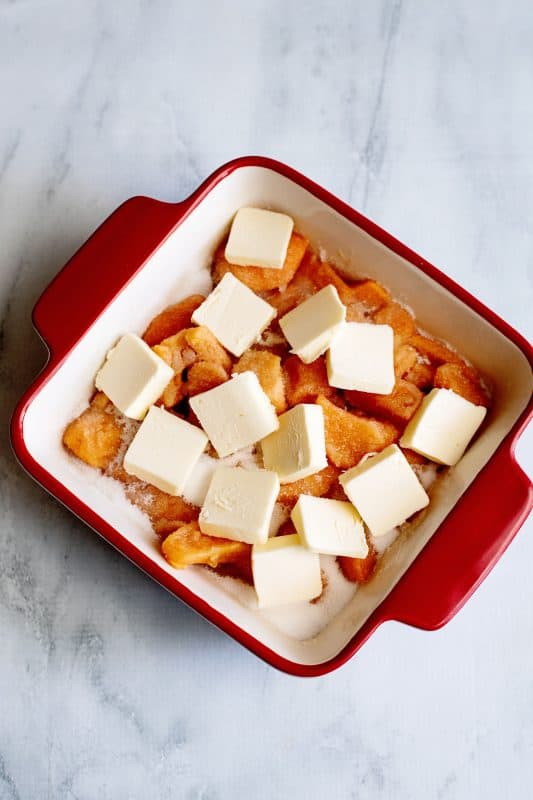 Cut up butter and put it on top.
Sprinkle with cinnamon.
Place the baking dish in the oven for 35 to 40 minutes or until syrupy.
Enjoy!
Storage
This recipe can be made up to four days in advance. The flavors will be even better if you can believe it! Just wrap the dish or store it in an airtight container in the fridge and when it's time, reheat it in the oven.
Alternatively, if you don't make it in advance but have leftovers, they'll last in the fridge for up to four days.
I don't recommend freezing this recipe as the sweet potatoes will turn mushy once reheated.
Recipe Notes
If the syrup is too thick, you can easily thin it out with some water.
If preparing this dish for dessert, you can go one step further and sprinkle the top with marshmallows, southern-style. Your tastebuds will explode!
Recipe FAQs
Should I buy sweet potatoes or yams?
Now, most canned sweet potatoes are labeled yams, so just buy those. This is one of those things that drives me slightly crazy, because they're not yams, they're sweet potatoes. Seriously, if you look at the ingredients of canned yams, it actually says sweet potatoes! But if you're buying the root vegetable, choose sweet potatoes. Yams actually contain more starch (and more calories) so need more butter when cooking.
Ingredients
29

oz.

can sweet potatoes

1

cup

sugar

1

stick butter

1/2

teaspoon

cinnamon
Instructions
Preheat oven to 350 degrees.

Drain sweet potatoes and pour them into an ovenproof casserole dish.

29 oz. can sweet potatoes

Sprinkle sugar over sweet potatoes.

Cut up butter, put on top and then sprinkle with cinnamon.

1 stick butter

,

1/2 teaspoon cinnamon

Place in oven for 35 to 40 minutes or until syrupy.
Video
Nutrition
You may also enjoy these sweet potato recipes:
Sweet Potato Bread With Cinnamon Swirl
Sweet Potato Pie Southern Plate Style
If you're looking for Grandmama's Sweet Potato Casserole, please click here.
Thank God for dirty dishes.
They have a tale to tell.
While others may go hungry,
Thank you, God,
We're eating well.

~Unknown