This recipe for Tea Cakes by Mama Reed was originally published in October of 2008. I updated the photos in May of 2019.

If you've never had a southern tea cake it is nothing like a cookie. This tender little cake is soft and pillowy, with just a touch of sweetness. A very simple and comforting flavor. You can eat them with or without they icing. They are equally satisfying. If you are looking for the crispy variety, click here for my old fashioned crispy tea cake recipe.
Fluffy and Pillowy Texture
Tea cakes by Mama Reed are something I dearly love to bake. One of the main reasons (despite the flavor and texture) is that I like a lower sugar snack. These tea cakes are perfect because they are not loaded down with sugar and super sweet taste as most cookies are. They are the perfect treat with an afternoon cup of coffee or as a snack. If you are expecting something really sweet, you'll want to add the icing.
Mama Reed (Adle Reed was her given name) made these on a regular basis and the day she made them all ten of her kids were allowed to eat as many as they wanted as they were coming warm out of the oven.
How to Make A Tea Cakes Recipe: Step By Step
The teacake ingredients are simple: Butter, Sugar, Eggs, Vanilla, and Self Rising Flour.
Begin by placing room temp butter in a large mixing bowl with sugar. Beat this with an electric mixer until well creamed together and fluffy.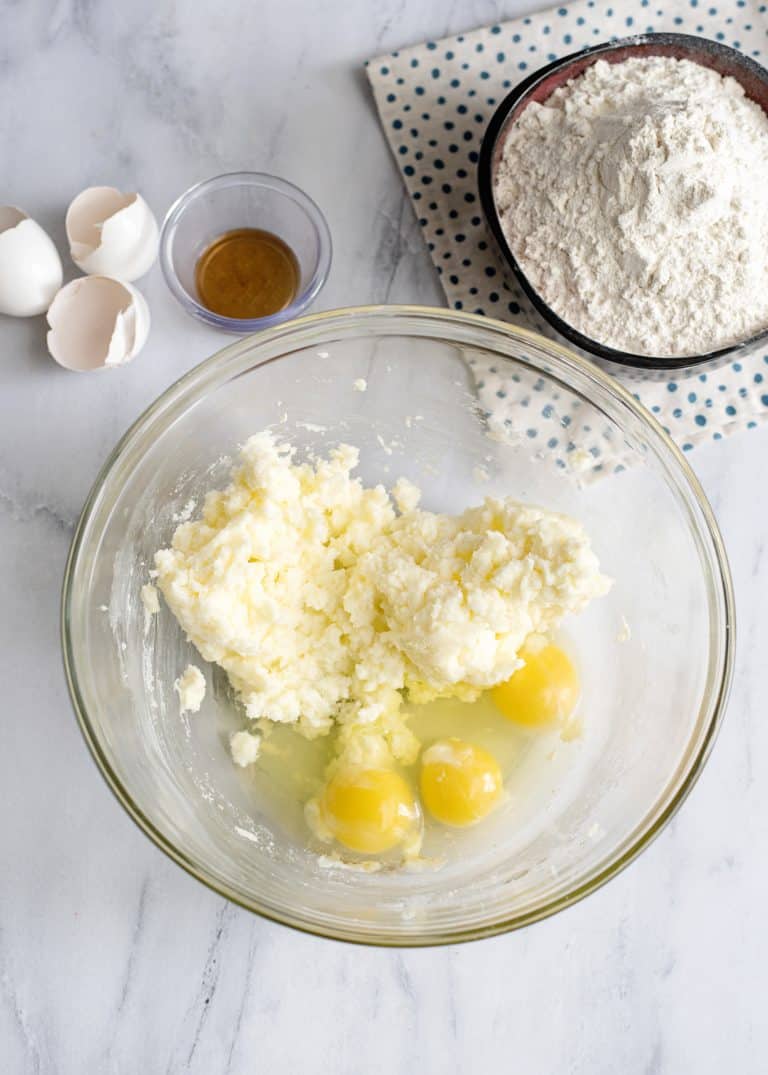 Now add eggs and beat again until well incorporated.
Dump in all of your flour and vanilla. Mix again.
Until a nice dough like this is formed.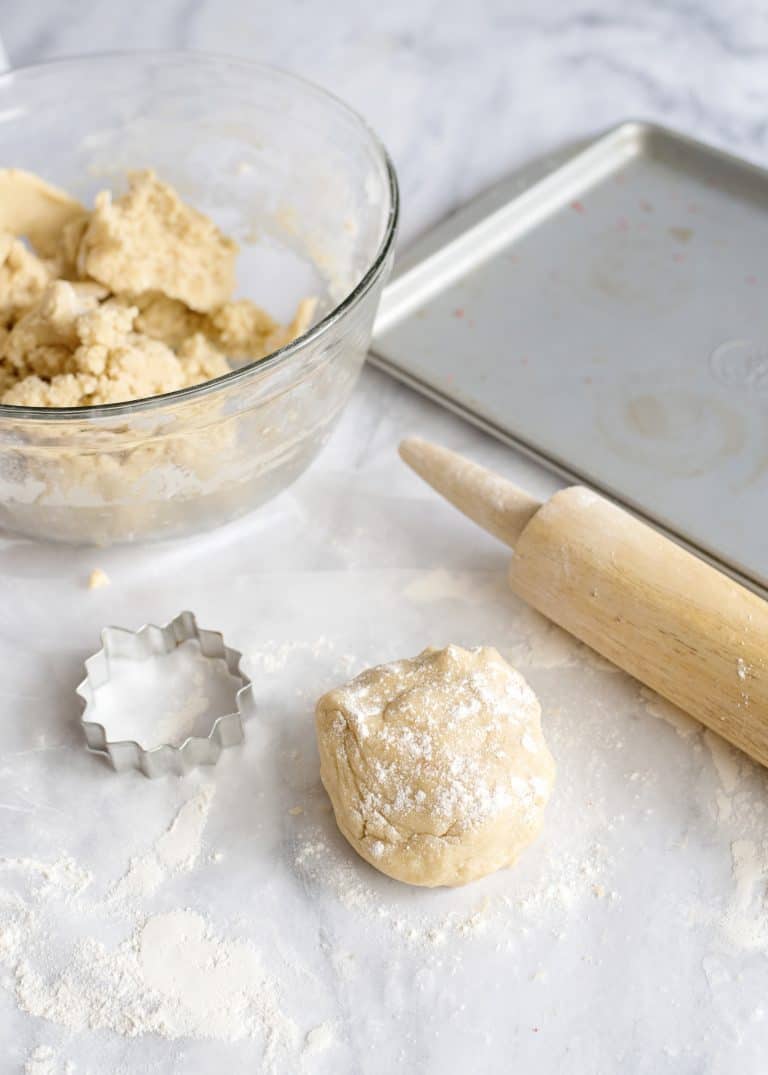 Turn your dough out onto a floured surface. I like to line my countertop with waxed paper and flour that so all I have to do is fold up the waxed paper and there is no mess left behind.
Roll them out to about 1/4 inch thickness or so. You can make them a little thicker if you like. Cut out your cookies.
Tea Cakes Can Be Used for Any Holiday
I like to use a round cookie cutter with a bit of a frill when there isn't a holiday coming up and I have a cravinig for tea cakes. But you can use cut outs for hearts for Valentine's Day, trees for Christmas, stars for the 4th of July. The possibilities are endless for these little beauties.
Spray your baking sheet with nonstick cooking spray. Bake them at 350 until done, about ten minutes or so.
Here are the finished tea cakes.
TIP:
As soon as you take them out of the oven you can sprinkle a little colored sugar on them if you like, but do it while they are warm so it will stick.
Or you may want to mix up some icing for these tea cakes so here is your Tea Cake Icing Recipe
Let cool before icing.
When using icing and not sprinkles, remove the tea cakes from the pan and let them cool somewhere. They do need to be completely cooled before you ice them.
This is just a simple cookie icing.
Ingredients you'll need for tea cake icing are:
Confectioner's sugar
Vanilla
Butter
Food coloring bottle
Place two tablespoons of well softened margarine or butter in a bowl, top with 1/2 C confectioner's sugar. Cut in your butter with a fork and then add two tablespoons of milk and a little vanilla.
Stir that until smooth and creamy. Add in food coloring if you like. If it becomes too runny, just add another tablespoon or two of confectioner's sugar.
Spoon the icing on the center of your tea cake (this icing is excellent on sugar cookies).Spread it around with your spoon, and top with colorful sprinkles.
See how pretty these are? I feel like it's my birthday or something! (it's not)
They are equally pretty with white uncolored icing as well.
NOTE About the Icing
This icing is going to be very wet when you first make it and ice your cookies, but it will dry after an hour or so. Just leave your cookies spread out to dry and once it does you can stack them in a cookie jar or on a plate.
Ingredients
1

Cup

butter

softened

1

Cup

sugar

3

eggs

3 1/2

Cup

self rising flour

1

teaspoon

vanilla
Simple Icing (optional)
2

tablespoons

butter, room temp

1/2

cup

confectioner's sugar

2

tablespoons

milk

1

teaspoon

vanilla

few

drops

food coloring, optional
Instructions
Cream butter and sugar. Add eggs and mix again. Add vanilla and flour and mix well. Roll thin on floured board, cut with cookie or biscuit cutter. Bake at 350 for ten minutes. Sprinkle with colored sugar while warm or ice with simple icing.
to make simple icing
Cut butter into confectioner's sugar in a small bowl. Add milk and vanilla and stir until smooth and creamy. If desired, add a few drops of food coloring and stir until blended.

Spoon a small amount of icing into center of each cookie and spread with the back of the spoon. Sprinkle rainbow sprinkles over top while still wet and allow to dry, about an hour, before stacking cookies.
Nutrition
You may also like these cookie and cakes recipes:
Katie's Petite Cakes
Chocolate Chip Meringue Cookies AKA Cloud Cookies