If any of you shop at Sam's Club on a regular basis and think this cake looks familiar, it should because I dearly love that strawberry cake – so this is my homemade version.
A few years back, when I first took notice of these beautiful fresh strawberry cakes at Sam's, I bought one and fell in love. The cake is a simple one, nothing fancy, but the magic happens in the icing and topping. Rather than a super sweet buttercream, they use a whipped icing, similar to a stabilized whipped cream, for just a touch of creamy sweetness, top it with fresh ripe strawberries and a delectable glaze and this cake embodies all that is right and good in the world. Okay, maybe that is stretching things a bit far but you get my point. And who are we kidding? At a time when there is so very much not right in our world, sometimes all it takes is a little light and fresh cake to add a 1000 lumen shine to our day.
I've been wanting to recreate my favorite spring/summer cake at home for a while and this past weekend I finally took the time to do so. The results were even better than the store bought version and pretty fast and simple, too. I may still pick up one from time to time, but I really like knowing that I can make a slightly better version at home on my own, too. Or, as I used to say as a determined two year old whenever my mother was trying to help me, "I do it by self!".
To start with you'll need: a small cake mix*, beautiful fresh strawberries, heavy whipping cream, strawberry glaze, and confectioner's sugar. Vanilla isn't pictured here. It's from Mexico and felt a bit shy in the strange new place that is my kitchen, so I didn't press. You don't have to use vanilla but I add a tat of it.
*Cake Mix Note: You only need enough for an 8 inch square cake. If you want to just make a 9×13 cake with a regular size cake mix, double the whipping cream and confectioner's sugar amounts and you'll be fine. You also need the ingredients called for to prepare the cake. Yes, you can make a cake from scratch but just don't leave any snooty comments condemning the rest of us to the back room of mommy-hood for choosing a mix, because we all know you didn't grow and gather the wheat for that cake. Everyone has shortcuts and yours just started a little earlier than ours. (Y'all know I'm not talking to 99% of you but these here are "the internets" and there are always a few…)
*Strawberry Glaze Note : I tried to cut calories by getting sugar free glaze once. I won't make that mistake again. The flavor of that was best described as "freshly washed hair".
*Heavy Whipping Cream : Sometimes this is just called heavy cream. Sometimes it is called whipping cream. I'm sure there exists, in our country, an entire group of people who are offended by this.
Start by preparing cake according to package directions. Make sure you have a plate or platter big enough to turn your cake out onto or bake it in a pan you want to decorate it in and just serve from that.
Your cream needs to be very cold. I'm not saying you have to freeze it or anything but leave it in the fridge until you need it.
Place cream in a large mixing bowl and prepare to beat it. It's a Tuesday and already this feels like a long week, this cream doesn't stand a chance…..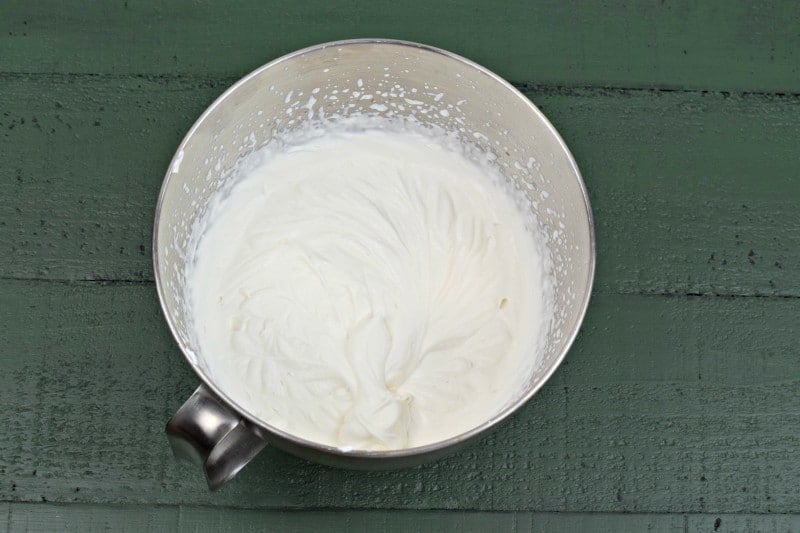 You want to beat it until soft peaks form, a minute or two(ish). A soft peak is when you can see lines in it from your beaters but when you pull the beaters out, it forms a little peak and then the peak falls back down, kinda like the loop on the end of a dairy queen ice cream cone.
Anyone remember those? Butterscotch dipped were my favorite.
Once you are at this point, add in your confectioner's sugar and vanilla (if using) and beat again until stiff peaks form, that means you pull your beater out and there is a point where the beaters were that stands up straight and doesn't fall back…or it just looks like this.
This is almost too much, I stopped just in time. If you go much further than this you'll end up with butter – not a bad thing, but it doesn't make very good icing for this particular cake. 🙂
Ice your cake.
Now I made a little frilly border but you don't have to do that. You can just ice the cake liberally and then kinda of smooth the icing down a bit in the middle to create a bumper around the sides. You could also put your border icing in a gallon ziplock bag and cut the tip off and pipe a line around the sides. I mean, it doesn't have to be fancy here. It also doesn't have to look store bought. Homemade cakes are always more beautiful than store bought cakes, no matter how they are decorated.
Wash your strawberries and cut the tops off. I also blot each one with a paper towel and press it lightly against the cut side just a bit. Line these up in the center of your cake like happy little strawberry gnomes.
Now I just spoon my glaze over the strawberries. You won't need an entire container so if you decide to make this a 9×13 there should still be plenty. Once I have it spooned over I use a butter knife to spread it to cover each one.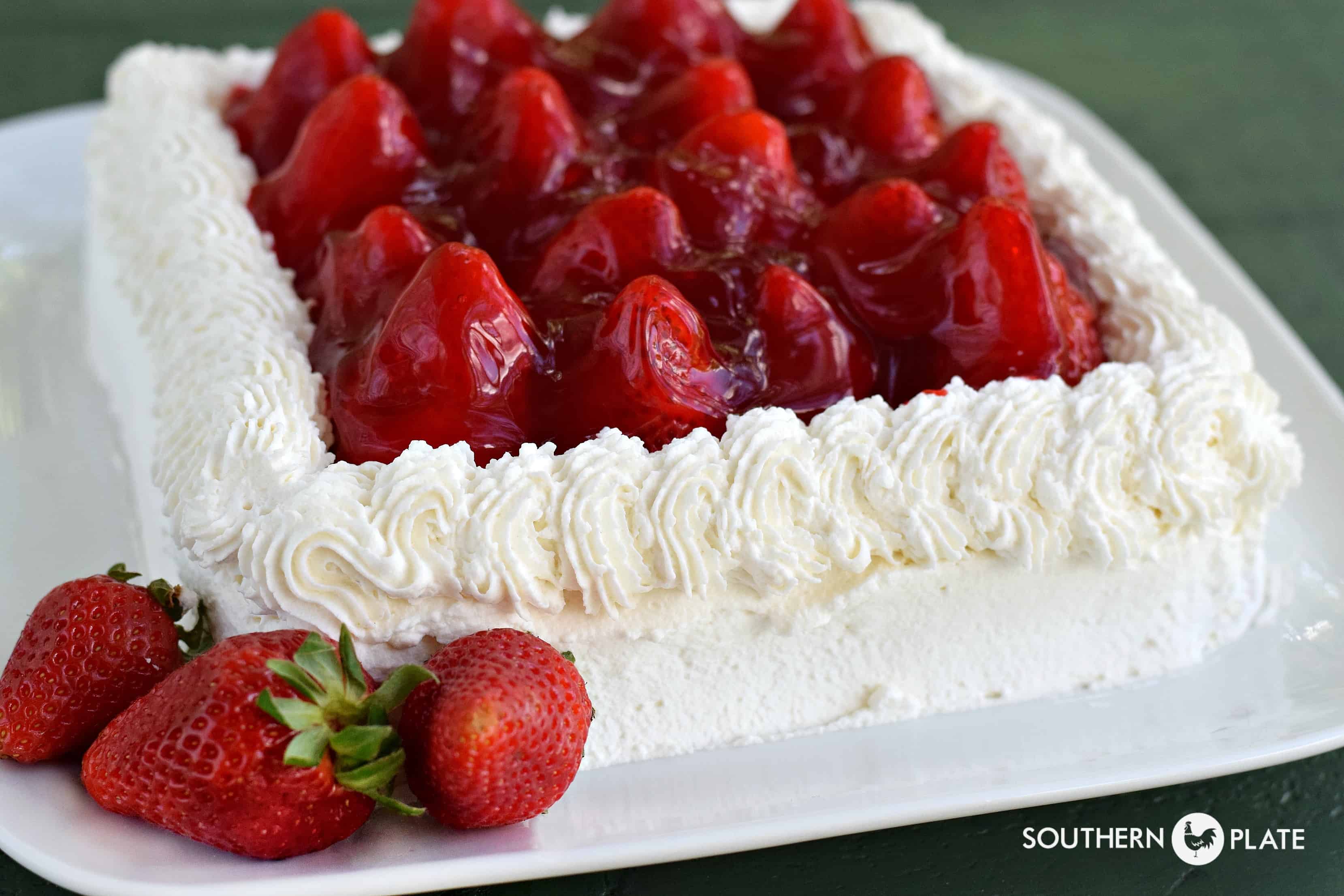 And that's it! Your strawberry cake is finished! This cake must be stored in the refrigerator. You can have it out on the counter for a bit but I definitely wouldn't leave it outside on a hot day. However, the 8×8 size makes it the perfect cake to disappear in the blink of an eye and you'll love the lighter than usual flavors and textures, with a burst of strawberry at the end – or beginning depending on how you eat it!
This is SUCH A beautiful cake to take to a party or get together, when they find out you made it yourself, instead of buying it, get ready for even more oohs and ahhs!
Because, in case you didn't know, you're awesome and you bring wonderful things into this world :).
Ingredients
Jiffy Cake Mix

or other of your choice prepared according to package directions*

2

cups

heavy whipping cream

1/2

cup

confectioner's sugar

1

teaspoon

vanilla

Fresh Strawberries

13.5

ounce

container Strawberry Glaze
Instructions
Allow baked cake to cool for ten minutes in the pan before turning it out onto a platter or large plate. You can also decorate it in the pan and serve from the pan if you like.

Once cake has cooled completely, place cream in large mixing bowl and beat with electric mixer until soft peaks form, about two minutes or so.

Add in vanilla and confectioner's sugar and beat again until stiff peaks form. Ice cake. Add a decorative border or spooned up border (by icing the top really thick and using a spoon to form a recess in the center) around the sides to hold glaze in for the next step.

Wash cut the tops off of strawberries. Blot them dry with a paper towel. Arrange on top of cake.

Spoon glaze over strawberries and use a butter knife to spread to coat each one.

Serve immediately or refrigerate until ready to serve.
Notes
*I use the size cake mix that makes an 8x8 cake. If you prefer to use a full size cake mix to make a 9x13, simply double the whipped cream, confectioner's sugar, and make sure you have enough strawberries. The same size glaze container will still be enough.
"Let everything you say be good and helpful, so that your words may be an encouragement to those who hear them." ~Eph 4:29
You might also enjoy this recipe! M & M Oatmeal Bars
This recipe is featured on Meal Plan Monday and The Weekend Potluck!
Yum