Bursting with flavorful fresh strawberries and pecans, this strawberry bread is perfectly fluffy and moist. Enjoy a slice for breakfast, a snack, or dessert.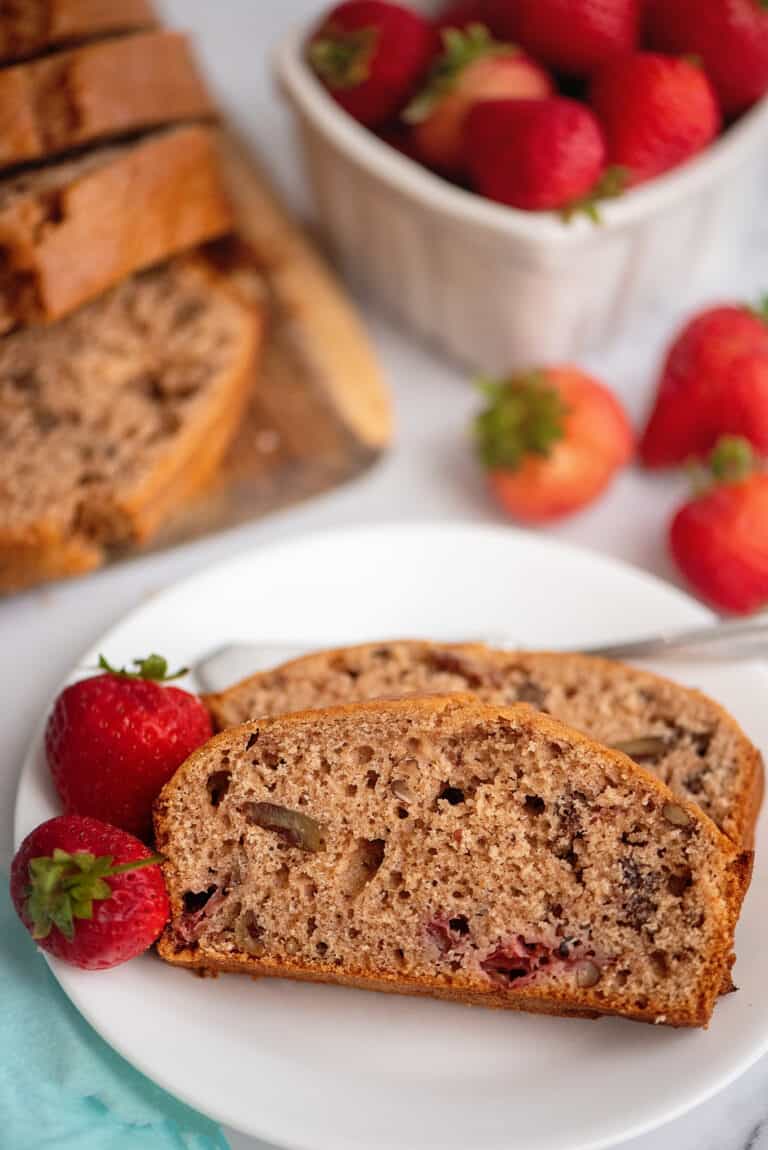 I am a big fan of this strawberry bread with pecans for multiple reasons. First, it's so easy to make. You basically mix the ingredients together, place them in a loaf pan, and in under an hour you have fresh strawberry bread that's ready to be eaten! Second, besides the strawberries and pecans, the rest of the ingredients are all basic pantry or fridge staples.
I also love that you can eat this quick bread recipe for breakfast, a snack, or even as dessert. For breakfast, I recommend toasting a slice for a few minutes (either in the oven or air fryer) and then slathering on some butter or cream cheese. It's also best served with a nice hot cup of tea or coffee. For dessert, why not serve a slice of fresh strawberry bread with some whipped cream or a scoop of vanilla ice cream? The choice is yours.
Now, while this quick bread recipe is definitely worthy of freshly picked strawberries, it's also a great way to use strawberries that might be a little bit past their prime. Like how you'd use overripe bananas in banana bread!
Speaking of banana bread, here are some more great savory and sweet bread recipes to try: snickerdoodle zucchini bread, homestyle broccoli cheese cornbread, cinnamon apple bread, and cream cheese-filled banana bread.
Recipe Ingredients
Vegetable oil
Self-rising flour
Fresh strawberries
Chopped pecans (or walnuts, can omit if you like)
Cinnamon
Eggs
Sugar
Wash and slice strawberries and place them in a bowl.
Pour about two tablespoons of powdered sugar over the diced strawberries and stir. Let them sit while you do the next step.
Place remaining wet and dry ingredients (flour, eggs, sugar, oil, and cinnamon) in a bowl.
Mix well.
Until it looks something like this.
Add in the sliced strawberries and nuts.
Mix again until well blended.
It will be all pretty and pink like this.
Now grease and flour a loaf pan.
Pour your batter into the loaf pan.
Did I mention this is gonna make one loaf of bread? Oh, I didn't? Well, this is gonna make one loaf of bread.
Bake that at 350 for 45-50 minutes or until a toothpick inserted in the center comes out clean.
Let cool for about 10 minutes before turning out onto a wire rack to cool completely.
In most cases with loaves of bread or cakes, 10 minutes is the magic number to wait before turning them out of the pan.
I love to serve my fresh strawberry bread toasted with melted butter on top. Enjoy!
Storage
Store nut leftovers in an airtight container at room temperature or in the fridge for up to 4 days.
You can also freeze the entire loaf or slices for up to 2 months. Ensure they're tightly wrapped to avoid freezer burn. Thaw overnight before toasting.
Recipe Notes
To make your own self-rising flour, visit my FAQ page.
Instead of fresh strawberries, you can use blueberries or raspberries in this quick bread recipe.
If you like, once the bread has cooled you can top it with a glaze. Simply combine 2 tablespoons of powdered sugar and 1 teaspoon of milk in a bowl and pour that over your strawberry bread. Then refrigerate until set.
I don't recommend using frozen strawberries in this bread recipe.
Want to add even more flavor to your strawberry bread? You could definitely add 1/2 cup of dark chocolate chips, some orange or lemon zest, or a teaspoon of your favorite spice (like nutmeg or ginger).
Using room-temperature eggs will allow the bread to rise more easily.

Using vegetable oil instead of

is what makes this

so moist, so I don't recommend substituting those two ingredients. However, you could use instead.
Remember, you can omit the pecans or substitute them for walnuts or other nut varieties.

Other serving suggestions: lean into the

flavor and slather your slice of

with

or

.
Recipe FAQs
Can this strawberry be made gluten-free?
Yes, just simply swap the flour for a gluten-free alternative like almond flour or coconut flour.
Looking for a different yet just as sensational
? Check these out:
Cornetha's Strawberry Candy Recipe
Fresh Strawberry Muffin Recipe
Strawberry Cake with Cream Cheese Frosting
Mama's Classic Strawberry Cobbler Recipe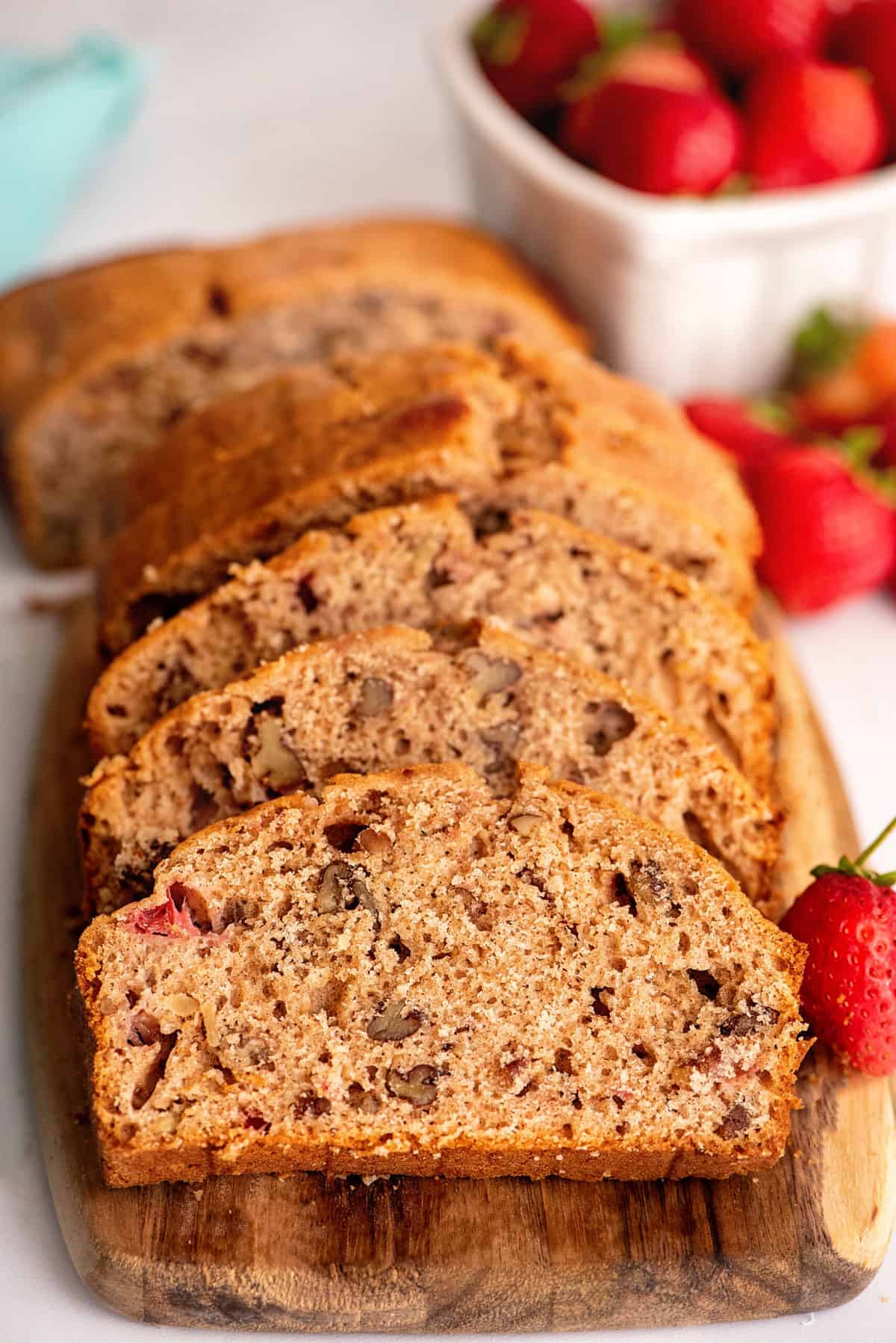 Ingredients
1

cup

fresh strawberries

washed and sliced

1 1/2

cups

self-rising flour

1

cup

white sugar

plus two tablespoons

1

tablespoon

ground cinnamon

Some readers felt a tablespoon is too much, if you prefer less, use a teaspoon.

1/2

cup

vegetable oil

2

eggs

beaten

1

cup

chopped pecans
Instructions
Place strawberries in a small bowl and pour two tablespoons of sugar over them. Stir and set aside.

1 cup fresh strawberries,

1 cup white sugar

In a mixing bowl, place the flour, remaining sugar, oil, eggs, and cinnamon. Mix until well combined.

1 1/2 cups self-rising flour,

1 cup white sugar,

1/2 cup vegetable oil,

2 eggs,

1 tablespoon ground cinnamon

Add pecans and strawberries and mix again until well combined and a pretty shade of pink.

Pour into a greased and floured loaf pan.

Bake at 350 for 45 to 50 minutes or until a toothpick inserted in the center comes out clean. Allow to cool in the pan for 10 minutes before turning out of the pan onto a wire rack to cool completely.

For an extra special treat, butter and toast a slice before serving.
If you can talk you can sing.

If you can walk you can dance.

Submitted by Megan Hache. Submit your quote or read others by clicking here.