Featuring layers of moist angel food cake, whipped cream, and strawberries, this Southern strawberry punch bowl cake (or strawberry trifle) is a perfectly fresh and sweet dessert to enjoy this summertime.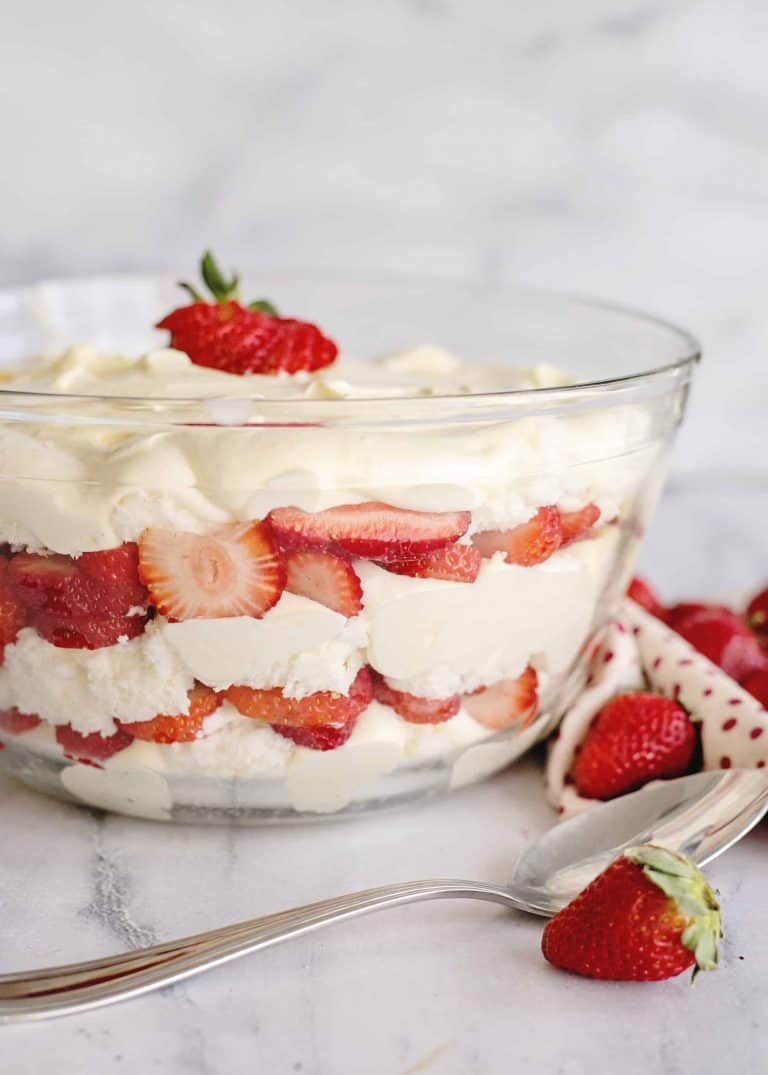 You may recognize this as a strawberry trifle but in my neck of the woods, we call it a strawberry punch bowl cake. And most folks I personally know keep a pretty glass bowl on standby just to be able to show off one of these delicious creations.
This Southern strawberry punch bowl cake is my husband's absolute favorite. He wants this every year on his birthday, which is no small feat considering he was born in February. Easily made into a low-fat or lite dessert, it can actually be very diet-friendly when compared to your typical dessert. I love to make it in the summertime, but it can easily be made in the winter provided strawberries are available in your grocery store, to help stave off your cold-weather blues.
With layers of moist angel cake pieces, whipped cream, vanilla pudding, and fresh strawberries, I know this sweet dessert is going to be a hit when you make it for friends and family. If you're looking for similar recipes to make this summer, check out my creamy dreamy trifle and my patriotic punch bowl cake.
Recipe Ingredients
Angel food cake mix
Whipped topping
Milk
Instant vanilla pudding
Strawberries
How To Make A Strawberry Punch Bowl Cake aka Strawberry Trifle
Prepare and bake cake according to package directions.
Cut all of the brown off of your cake. This is purely for cosmetic purposes.
The brown part is perfect to give to antsy children as they watch you.
Or to feed the cook. You know we gotta keep our strength up…
Tear your angel food cake into small bite-sized pieces.
Like this.
Wash your strawberries. I just rinse them in a bowl of water.
Slice them all up.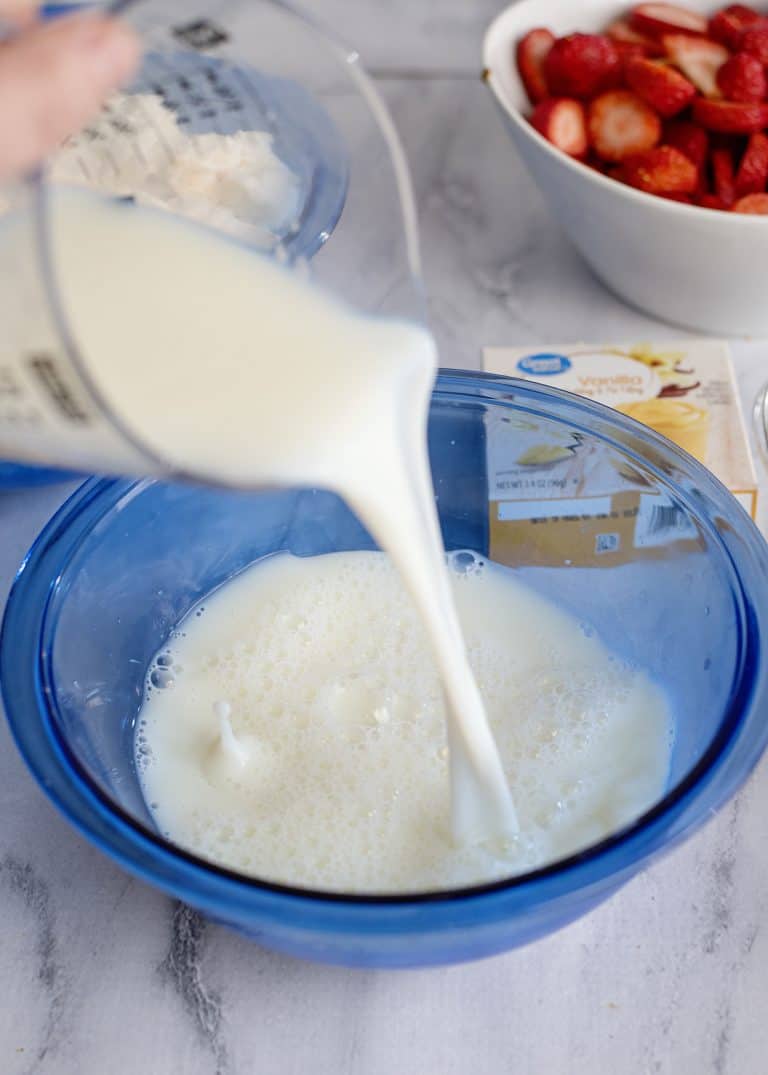 In your mixing bowl, pour your milk.
Then add the dry instant pudding.
Mix until well blended and starting to thicken.
You can use a whisk or electric mixer for this. Go with your mood.
Add whipped cream.
Mix again until well blended and looking like this.
Dip your finger in it and taste it and make a note to make double next time so you can have a bowl of just this stuff.
By the way, this makes a great lite topping for cakes if you ever need one. You can use light whipped topping and sugar-free pudding and 2 percent milk – MUCH less guilt than icing!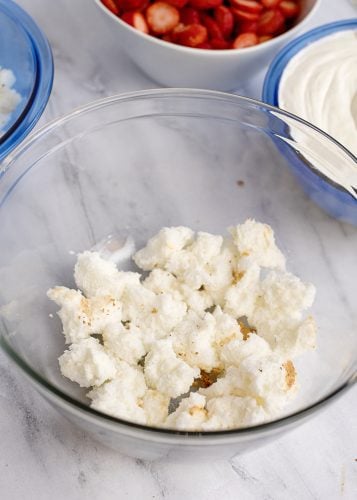 Place a third of your cake bites in a simple glass bowl or a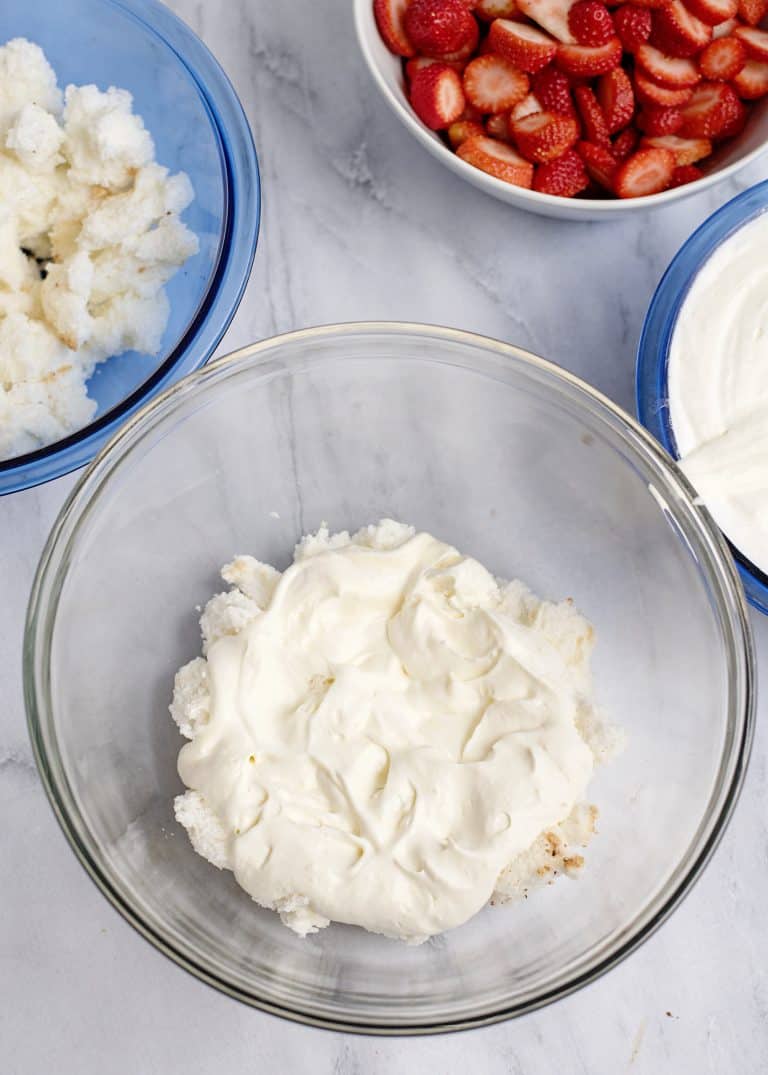 Top with a third of your whipped topping mixture.
Then add 1/2 of your sliced strawberries.
Repeat with a layer of cake, a layer of topping, a layer of strawberries, a layer of cake, a layer of topping, and a finishing strawberry to go on top!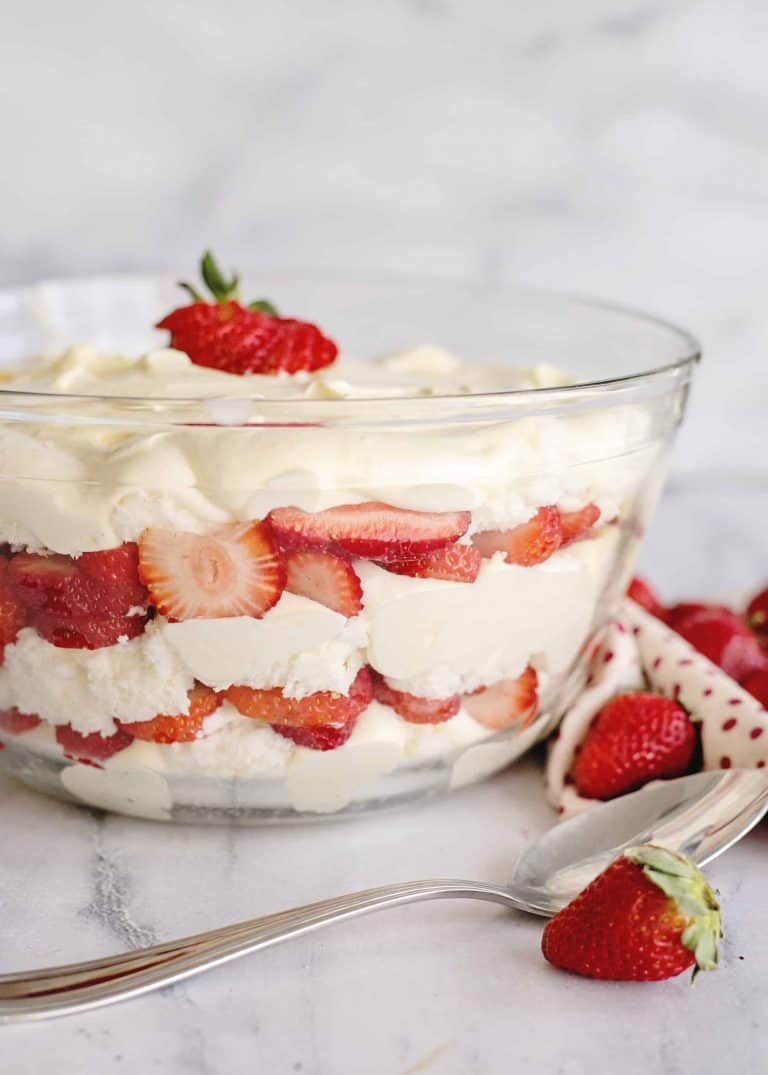 Voila!
Isn't that beautiful?
Yum yum YUM!
Storage
Store punch bowl cake leftovers tightly covered in the fridge for up to 3 days.
Recipe Notes
Decorate the top of your strawberry punch bowl cake with 3/4 cup of shredded coconut and 1/4 cup chopped pecans.
Instead of the angel food cake mix, you can use your favorite pound cake recipe or yellow cake mix.
If you want to add more fruit to your punch bowl cake, add one sliced banana and half a can of crushed pineapple on top of every layer of your fresh strawberries.
Recipe FAQs
Can I make this strawberry trifle ahead of time?
Absolutely! This strawberry punch bowl cake actually tastes even better when it's been refrigerated overnight, as the pudding/Cool Whip mixture has time to really soak into the angel food cake pieces. So yes, you can assemble your trifle up to 24 hours in advance and refrigerate, covered, until you're ready to serve.
How do I make my strawberry punch bowl cake diet-friendly?
To make this punch bowl cake recipe diet-friendly, use sugar-free pudding, fat-free or light Cool Whip, and skim milk. The cake is already low in fat and well, fresh strawberries are good for you!
You might also enjoy these sensational strawberry recipes:
Mama's Classic Strawberry Cobbler Recipe
Cream Cheese Strawberry Cobbler
Ingredients
1

angel food cake

3.5-ounce

package

instant vanilla pudding mix

this is the small box and I always use sugar-free

2

cups

milk

can use skim

8-ounce

carton

whipped topping

can use light or fat-free

1

pint

fresh strawberries

washed and hulled
Instructions
Using a knife, trim the brown from the baked cake, then tear the cake into small bite-sized pieces.

Prepare the pudding as directed, using an electric mixer. Add in Cool Whip and mix until well blended and smooth.

3.5-ounce package instant vanilla pudding mix,

2 cups milk,

8-ounce carton whipped topping

Place 1/3 cake pieces in a large bowl. Top with 1/3 pudding mixture and 1/2 strawberries. Repeat and top with the remaining pudding mixture. Garnish with a fresh strawberry. Refrigerate until ready to enjoy!

1 pint fresh strawberries
Nutrition
I used to think I was indecisive but now I'm not so sure.
~anon