Low Carb Note: Make this low carb by subbing low carb veggies for the carrots and potatoes. Suggestions are: cauliflower, broccoli, asparagus, cabbage, brussels sprouts, etc.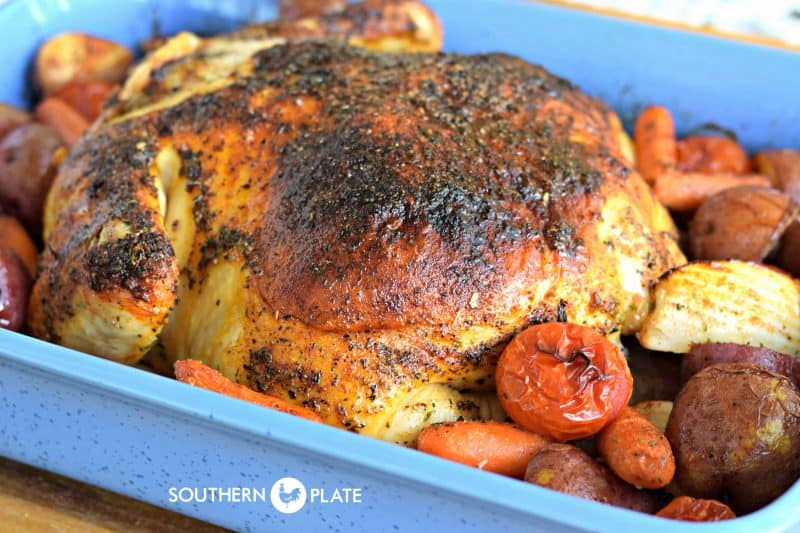 This Butter Roasted Chicken  is a simple but wonderful meal whose preparation requires nothing more than putting it in a pan, sprinkling it with some seasonings, and popping it in the oven! You can use what veggies you have on hand or your family's favorites, too, so it's easy to make this dish a family favorite.
Before I show you the recipe, I want to share some photographs with you from a trip we took the weekend before last! We just got back from a wonderful getaway to Gulf Shores, Alabama, where families go for relaxation, white sand beaches, and memories to last a lifetime.
Do I sound overly poetic? Well, this beach (and this trip) deserves it. Check out some of my favorite photographs.
Clockwise: Family on the balcony of our condo at Turquoise Place, Katy sifting through sand, Katy and Daddy walking on a sandbar (one of my favorite photos from this trip!), and me and Brady relaxing on the beach.
Another favorite photo is this one, which I captioned "Brother too tall? Gulf Shores has a solution for that…"
Looking at these photos, you'd think we were on an exotic tropical island somewhere. But nope, we didn't even have to leave our state of good old Alabama.
These were all taken this past weekend, proving that October is still a great time to head to the beach!
For more information about @StayALBeaches, visit the Gulf Shores/ Orange Beach Tourism website, where you can find information about places to stay, where to eat, things to do, and more. Click here.
Now, lets roast a chicken!
To start with, place a stick of butter in a baking dish and put that in the oven to melt.
Then, stir your seasonings together in a small bowl. I list the exact ones I'm using at the bottom of this post in the little recipe box but this is so simple to customize and just use your favorites. Two of my "must use" items are kosher salt and paprika.
Once your butter is melted, place your chicken in it and brush melted butter all over the skin, then sprinkle with seasonings. This is going to give you a deliciously seasoned crispy skin.
But Christy, your chicken is upside down! Yes, it is. I'm kinda getting the best of both worlds here. Crispy, seasoned skin on one side, and all of that tender white meat cooking, marinating, and languishing in melted butter. You can cook yours breast side up or down, totally up to you. We currently live in a moderately free country, so I take advantage of that.
Add all of the veggies you are using around your chicken. I'm using some tomatoes, red potatoes, carrots, and onions.
Another rabbit trail…
The funny thing about my family is that I am the only one who will eat everything that is pictured here. Brady will eat mostly carrots and potatoes and I will have to berate him a little bit to get him to eat some chicken. Katy will eat only chicken, no skin, no veggies – because she likes most of her veggies raw so I save her a few uncooked carrots to go with hers. Ricky will pick at everything and eat a good bit of chicken and maybe a potato or two, but he will not like them as much because they all cooked touching one another. ~sighs~ Seriously, this is what I live with. Y'all think that my family is all "OH Mama cooked us a wonderful supper!" and in reality they are all sifting through it trying to find what they deem edible. God love 'em.
So that leaves every blessed one of the tomatoes and onions for me to eat, which is fine by me. I am like the scavenger bird in this house – I eat all the things no one else does. If only I could tell you how many pounds of zucchini, squash, brussels sprouts, and asparagus I've eaten this summer alone! I have been part of a farm share where we get a box of fresh veggies every week – only I'm the only one who loves most of them. Determined not to let all of that wonderful food go to waist, I began picking out vegetables each morning and roasting them for breakfast. So pretty much all summer long my breakfast plate has looked something like this:
This breakfast was pretty well rounded because it featured squash, zucchini, and tomatoes. I have had breakfasts of nothing but asparagus. Just yesterday, while Katy and her friends had pancakes (two girls spent the night), I joined them and had an entire bowl of roasted cauliflower.
Because, dagnabit, this is good locally grown food and it will not go to waste! This morning I had a bell pepper, tomato, and a zucchini. 🙂 I just roast it following these directions (click here) because it is simple and always turns out delicious results. I'm not gonna whip up an involved recipe only for myself first thing in the morning.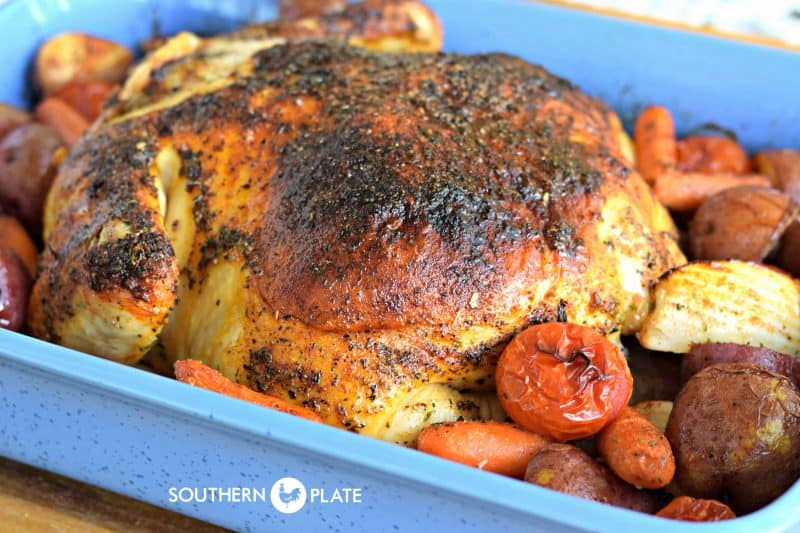 Now put this in a 425 oven, about center rack, uncovered, for about an hour to an hour and a half, or until nicely browned on top and juices run clear, basting it a few times by dipping a brush into the butter in that pan and brushing over the veggies and chicken. If the top starts getting overly browned, "tent" it with foil by folding it like a triangle and sitting it over the top so it doesn't touch the chicken. It can touch the chicken, though, I mean  it won't affect the state of the world or anything…I just don't, but again, I digress.
Either way, larger chickens will need more time, smaller chickens will need less. These are good guidelines for a 3-5 pound chicken. Now you need to check for doneness to make sure it is fully cooked in the center before removing it from the oven. You can stick a thermometer in it to do that, but I don't own one of those thermometers and don't ever care to because I have eyes that work perfectly well. I just take me a knife and slice down in there real good, then use a fork to spread the cut open and see if it is done. You want all cooked meat, no pink juices, and you're good to go. But make sure you get your cut deep because near the bone will be the best determination of whether or not your chicken is fully cooked. this baby is a little over 5 pounds and took about an hour and a half, with it being tented with foil the last thirty minutes.
And now, I'll just leave you to eat this chicken while I continue cooking and prepping for my first cooking class tonight!
Ingredients
1

whole chicken

fryer, 3-5 pounds

Assorted vegetables of your choice

cut into bite size pieces if large

1/2

cup

butter

1 stick

1

+1/2 teaspoon kosher salt

1

teaspoon

paprika

1

teaspoon

basil

1

teaspoon

parsley

1/2

teaspoon

black pepper

1/2

teaspoon

garlic powder
Instructions
Preheat oven to 425. Place butter in 9x13 baking dish and put in oven to melt while it preheats.

In small bowl, stir together all seasonings.

Once butter is melted, place chicken in center of pan. Brush melted butter all over and sprinkle liberally with seasonings, reserving about a teaspoon for veggies.

Arrange vegetables around chicken in pan. Sprinkle remaining seasonings over them.

Place this, uncovered, in oven for one to one and a half hours, basting vegetables and chicken with butter in pan from time to time and covering loosely with foil if necessary to prevent overbrowning, until chicken is fully cooked and juices run clear.

Enjoy!
Notes
The seasonings you use are absolutely customizable. You can do exactly as I do or just use mine as a very general guideline. I am using all dried herbs.
Low Carb Note: Make this low carb by subbing low carb veggies for the carrots and potatoes. Suggestions are: cauliflower, broccoli, asparagus, cabbage, brussels sprouts, etc.
Choose my instruction instead of silver, knowledge rather than choice gold, for wisdom is more precious than rubies, and nothing you desire can compare with her.
~Proverbs 8:10-11
Yum