Happy Monday! I hope you all had a wonderful weekend and an amazing Easter filled with family, friends, and FOOD! Hey, you know I was thinking it! I was on the Darla Shine show this past Saturday and I have never been so nervous in my life! Okay, the time I won first place in the essay contest at Monrovia Elementary was probably a bit worse – but they sprung that on me at the last minute and I was only in fourth grade and had to get up and read it in front of the entire school – which even had EIGHTH graders ! Y'all know what a tough crowd that is!
I remember stepping up to the podium and placing my paper down, then gripping it tightly as I smiled and spoke as if I had done that all of my life. The funny thing was, my knees really wanted to be sitting down and they shook so badly I was actually hanging from my arms on the podium. Being on the Darla show was much the same way, but without the dreaded eighth grade audience AND I got to sit down. I sent my husband and the kids to Chic-fil-A for lunch and playground time just to make sure  Darla (bless her heart for putting up with me) didn't have to hear "Mama, my nose is running! I'm hungry…when are we dyeing eggs?" fifty thousand times in the background.
Let me tell you, her show is filled with the absolute nicest people! Even the guy who got my info while I was on hold for Darla was exceptionally nice! He gave me a much needed chuckle to loosen me up a bit, too! He came on and said "Christy, I just need to get a little information from you real quick before you go on with Darla. Are you married?"
"Yes, ten years.."
"Okay, great! Do you have kids?"
"Yes, I have two"
"What kind?"
~laughs~ I would have given anything to have had the quick wit to say "Oh one is a puppy and one is a chicken….". He immediately laughed at his own wording though and I was busy chuckling as well.
When I got on with Darla (bless her heart for putting up with me), she was just the sweetest thing! Its difficult talking on the radio because you don't know when the other person is going to be talking and so you hate to say something and risk interrupting – that is my only regret, that I didn't have more time to gush and thank her for her kindness! It was all I could do not to get on the show and spend the entire time squealing in amazement and glee!
The caliber of guests she had was just stunning. I am in complete awe of them. It is best that I don't think about that now because I am still worried about how I did! Thank you so much to everyone who listened in and sent me encouragement both before and after!
If you have never heard the Darla Shine Show, be sure to check out her website www.happyhousewivesclub.com. It is a wonderful one-stop-shop for encouragement, affirmation, and homemaking tips GALORE! You can also listen to past episodes of the Darla show in her archives and I'll be sure and let you know when the one from this past weekend is up (after I listen to it and chew my nails off a bit…)
~takes a deep breath and composes herself~
In the meantime, who wants Mama's Macaroni and Cheese?
My sainted mother made her special homemade mac and cheese for Easter and I called her first thing Sunday morning to ask her to take photos. I have had so many readers asking for Mama's recipe!
This is one of two ways I make macaroni and cheese and its the favorite recipe with my kids. All of the grandkids love this! This is a creamy mac and cheese whereas my other recipe is more of a stringy, cheesy mac and cheese. You can visit that tutorial by clicking here and then go with whichever one cranks your tractor. There is no such thing as a bad mac and cheese, anyway!

You'll need:
Macaroni pasta
Milk
Flour
Margarine
Velveeta or other easy to melt, gooey and good cheese product type umm…product 🙂
and a wee bit of salt and pepper
If possible, don't tell your family you are making this. Whenever I do they tromp in and out of the kitchen over and over and over wanting to know when its done. I prefer to SPRING it on 'em!
SURPRISE! I made Grandmama's Mac and Cheese!!!!!
While you are assembling your cheese sauce, boil your pasta according to package directions and cooking until almost done.
Cube your Velveeta and fill a cereal bowl with it. Mama's original recipe calls for a Corelle bowl filled with Velveeta. Of course, we measured it for this post and that is about two cups. You'll find a lot of "two's" in this recipe so it should be easy to remember once you make it  a time or two! ~giggles and wonders if you caught that..~
Honestly, life is so much nicer when you are easily amused!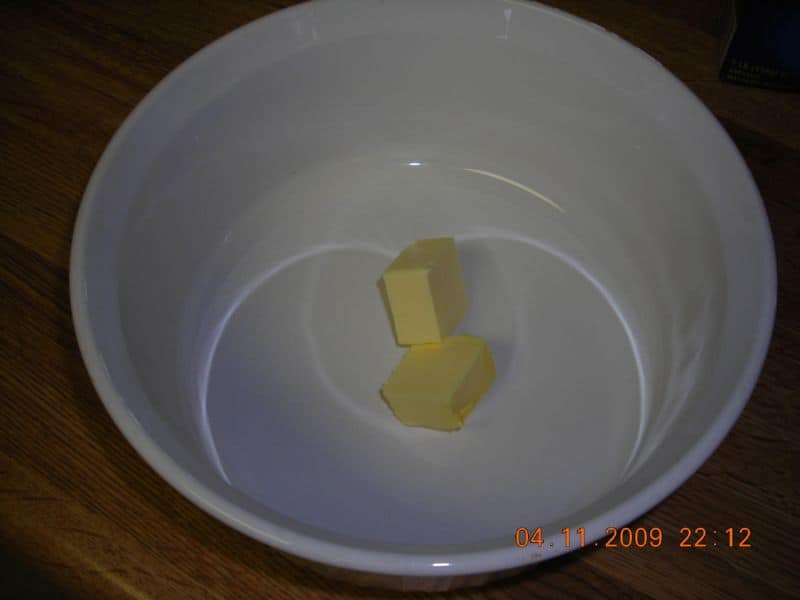 In the dish you are going to bake your Mac and Cheese in, place two tablespoons of margarine and melt that in the microwave
Add two tablespoons of flour and stir
Isn't it neat that Mama has the date on her camera? I turned mine off because I was never organized to keep the thing on the right date…
Salt and pepper to taste. If you want a starting point, I'd go for a teaspoon of salt and 1/4 of a teaspoon of pepper.
Stir in two cups milk.
Pour in cheese cubes. Place this in the microwave and heat for thirty to forty five seconds, then stir.
Repeat this until you have a smooth and creamy sauce.
Pour in drained macaroni and stir.
Bake at 350 for about twenty minutes (another two there).
Call out that it's ready and prepare for  the stampede!
Creamy Macaroni & Cheese

Ingredients

2 C Velveeta, cubed
2 C Whole Milk
2 T Flour
2 T Margarine
2 C Dry Macaroni

Instructions

Cover Macaroni with water and cook until almost done, drain well. In bowl, melt margarine in microwave. Stir in flour. Stir in milk. Salt and Pepper to taste. Pour cubed cheese into milk mixture and microwave at 30 second intervals until melted, stirring often. Stir in cooked macaroni. Place in oven safe dish and bake, uncovered, at 350 for twenty minutes.
"Let no one ever come to you without leaving better and happier."
~Mother Teresa (Submitted by Southern Plate Reader, Mary)
To submit your positive or motivational quote, visit  Give A Penny, Get A Penny.
~~~~~~~~~~~~~~~~~~~~~~~~~~~~~~~~~
Welcome to all of my new subscribers! If you have any questions such as how to print out recipes without all of the photos, what to do if you can't get self rising flour in your area, or if I happen to know anyone who can sing Row, Row, Row, Your Boat backwards, please visit my FAQ page by clicking here and put your worries to rest!

I do send out each of  my newly posted recipes in printer friendly format about once or twice a month to my email subscribers so if you see something that has been up lately, hang on because its coming as soon as I get the laundry caught up!

To join my cause of making the world a better place by feeding folks homemade banana pudding,
Remember, today is a GREAT day just waiting to happen!
Gratefully,
Christy 🙂