This is one of two ways I make macaroni and cheese and its the favorite recipe with my kids. All of the grandkids love this!
My sainted mother made her special homemade mac and cheese for Easter and I called her first thing Sunday morning to ask her to take photos. I have had so many readers asking for Mama's recipe!
This is a creamy mac and cheese whereas my other recipe is more of a stringy, cheesy mac and cheese. You can visit that tutorial by clicking here and then go with whichever one cranks your tractor. There is no such thing as a bad mac and cheese, anyway!
Who wants Mama's Macaroni and Cheese?
Recipe Ingredients:
Macaroni pasta
Milk
Flour
Butter
Velveeta or other easy to melt, gooey and good cheese product type umm…product 🙂
and a wee bit of salt and pepper
If possible, don't tell your family you are making this. Whenever I do they tromp in and out of the kitchen over and over and over wanting to know when its done. I prefer to SPRING it on 'em!
SURPRISE! I made Grandmama's Mac and Cheese!!!!!
While you are assembling your cheese sauce, boil your pasta according to package directions and cooking until almost done.
Cube your Velveeta and fill a cereal bowl with it. Mama's original recipe calls for a Corelle bowl filled with Velveeta. Of course, we measured it for this post and that is about two cups. You'll find a lot of "two's" in this recipe so it should be easy to remember once you make it a time or two! ~giggles and wonders if you caught that..~
Honestly, life is so much nicer when you are easily amused!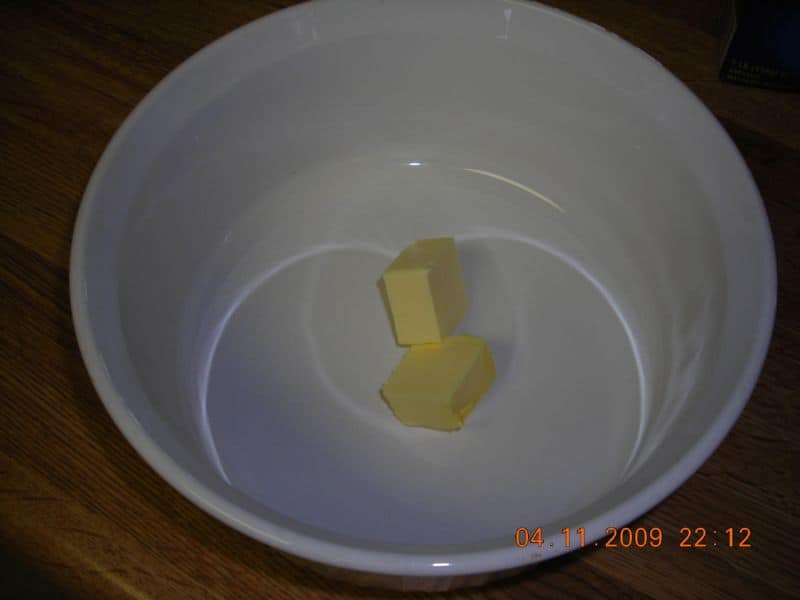 In the dish you are going to bake your Mac and Cheese in, place two tablespoons of butter and melt that in the microwave
Add two tablespoons of flour and stir
Isn't it neat that Mama has the date on her camera? I turned mine off because I was never organized to keep the thing on the right date…
Salt and pepper to taste. If you want a starting point, I'd go for a teaspoon of salt and 1/4 of a teaspoon of pepper.
Stir in two cups milk.
Pour in cheese cubes. Place this in the microwave and heat for thirty to forty five seconds, then stir.
Repeat this until you have a smooth and creamy sauce.
Pour in drained macaroni and stir.
Bake at 350 for about twenty minutes (another two there).
Call out that it's ready and prepare for the stampede!
Ingredients
2

C

Velveeta

cubed

2

C

Whole Milk

2

T

Flour

2

T

Butter

2

C

Dry Macaroni
Instructions
Cover Macaroni with water and cook until almost done, drain well. In bowl, melt margarine in microwave. Stir in flour. Stir in milk. Salt and Pepper to taste. Pour cubed cheese into milk mixture and microwave at 30 second intervals until melted, stirring often. Stir in cooked macaroni. Place in oven safe dish and bake, uncovered, at 350 for twenty minutes.
"Let no one ever come to you without leaving better and happier."
~Mother Teresa (Submitted by Southern Plate Reader, Mary)
To submit your positive or motivational quote, visit Give A Penny, Get A Penny.
~~~~~~~~~~~~~~~~~~~~~~~~~~~~~~~~~