Baked Velveeta Mac and Cheese
Velveeta cheese is the star of the show when it comes to this creamy baked Velveeta mac and cheese recipe. The kids' favorite, it's the easiest, tastiest, and creamiest homemade mac and cheese you'll ever eat.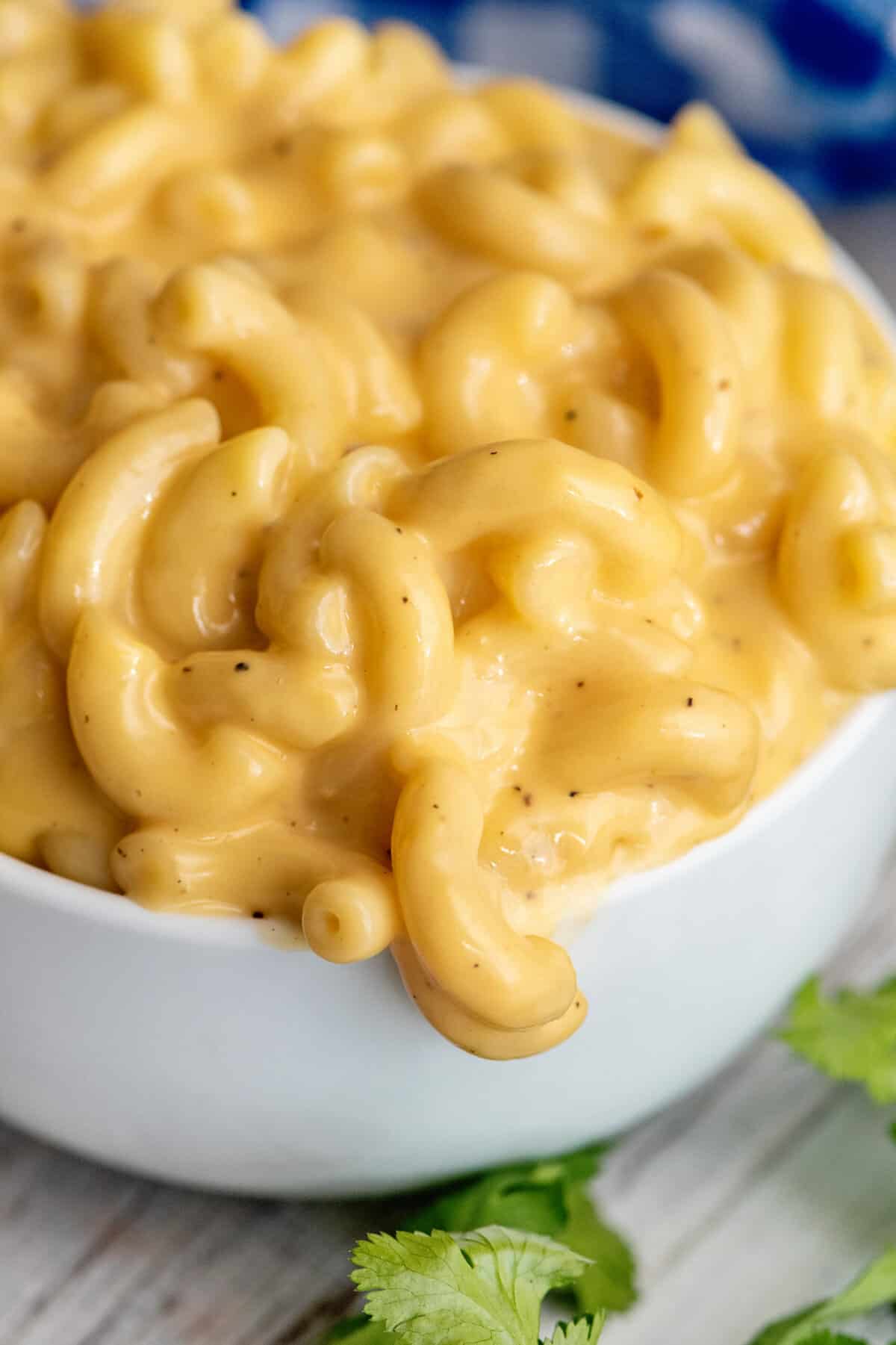 My sainted mother made her special homemade mac and cheese for Easter and I called her first thing Sunday morning to ask her to take photos. I have had so many readers asking for Mama's recipe! But it's easy to see why, as this ultra-creamy recipe is a favorite with the kids in our household.
This is a creamy baked macaroni and cheese whereas my other recipe is more of a stringy, cheesy mac and cheese. You can visit that tutorial by clicking here and then go with whichever one cranks your tractor. There is no such thing as bad mac and cheese, anyway! We've also got recipes for baked cauliflower mac and cheese, stovetop mac and cheese, and crockpot mac and cheese. All macaroni and cheese bases are covered on Southern Plate.
Now, back to our homemade creamy mac and cheese recipe. All you need is 5 ingredients: Velveeta, milk, butter, flour, and elbow noodles. It takes 10 minutes to prep and 20 minutes to bake, so this main course or side dish is ready to serve in 30 minutes. The prep is as easy as cooking the noodles and then microwaving the remaining ingredients to make a deliciously rich, cheesy, and creamy roux or cheese sauce. Then you combine the two, pop it in a baking dish in the oven, and you're baked Velveeta mac and cheese is done!
I've included some serving suggestions below, but one thing I love about Southern baked mac and cheese is that it makes an easy main dish or a quick side dish. Ready to give this recipe a go?
Recipe Ingredients
Dry elbow noodles
Whole milk
Flour
Butter
Velveeta cheese
Salt and pepper to taste
How to Make Baked Velveeta Mac and Cheese
While you are assembling your cheese sauce, boil your pasta according to package directions and cooking until almost done.
Cube your Velveeta and fill a cereal bowl with it.
Of course, we measured it for this post and that is about two cups. You'll find a lot of "two's" in this recipe so it should be easy to remember once you make it a time or two! See what I did there?
In the casserole dish you're going to bake your mac and cheese in, place two tablespoons of butter and melt that in the microwave.
This is how we make our roux: the cheese sauce that's milk-based and flour-thickened.
Add two tablespoons of flour to the melted butter and stir.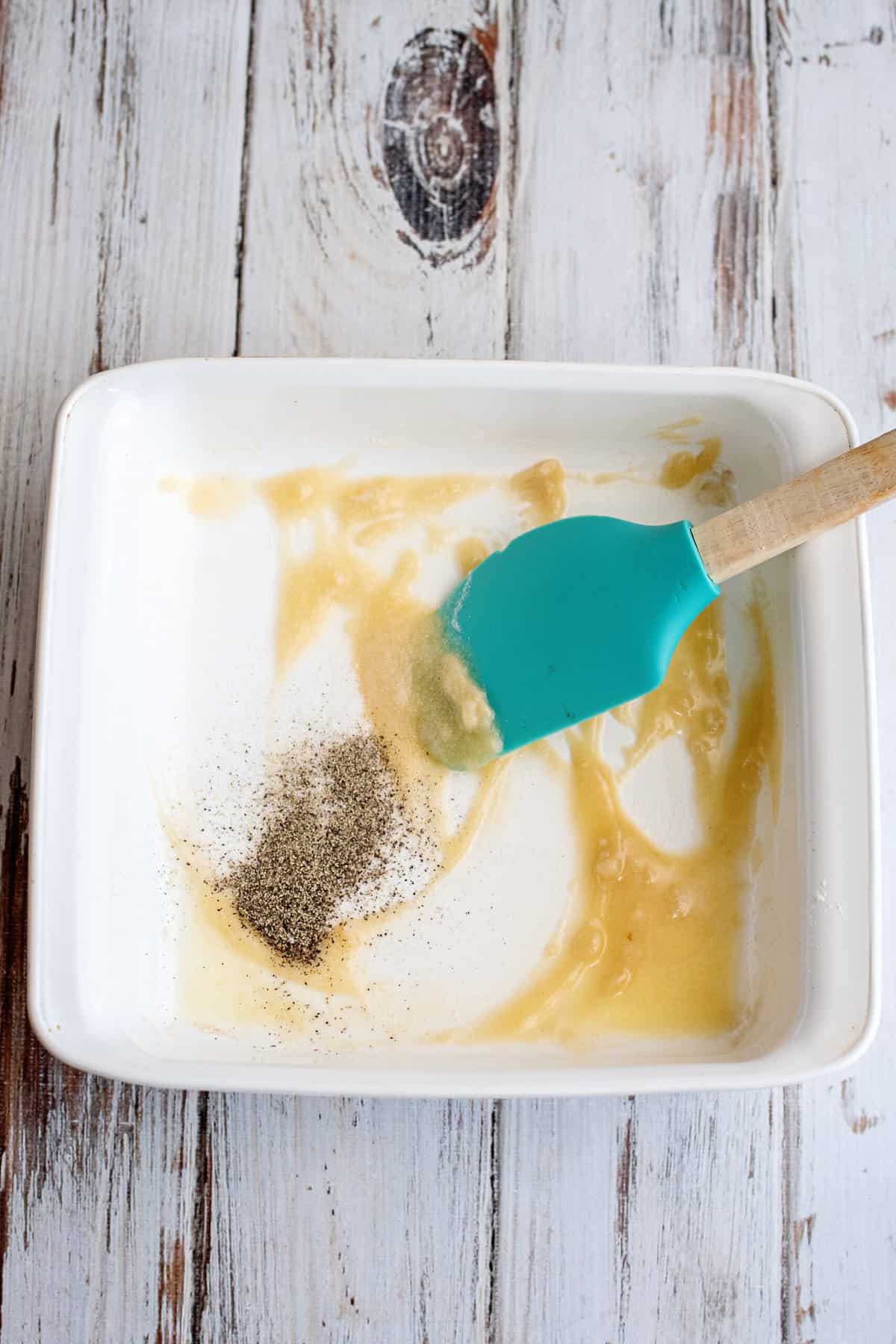 Salt and pepper to taste.
If you want a starting point, I'd go for a teaspoon of salt and 1/4 of a teaspoon of pepper.
Stir in two cups of milk.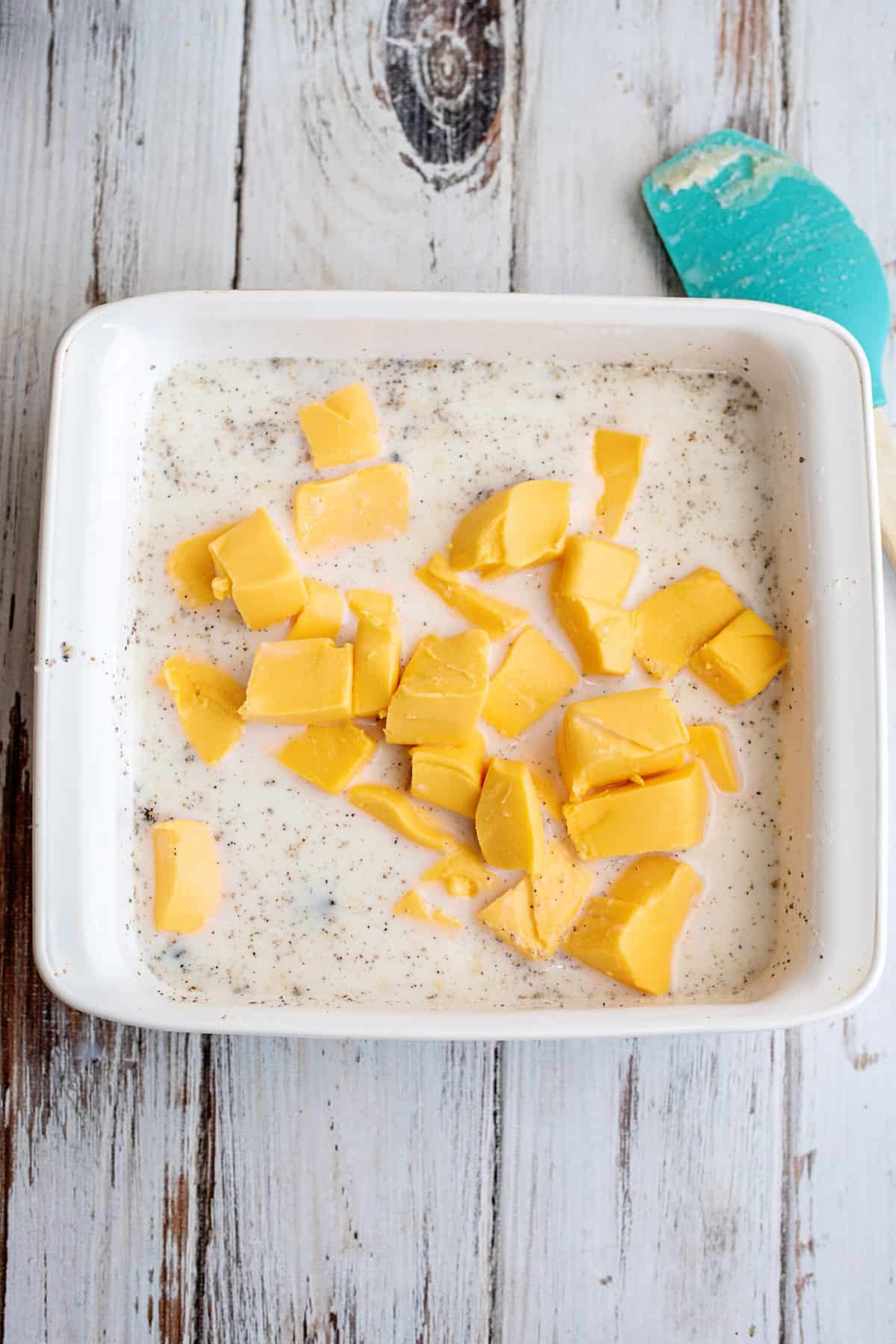 Pour in cheese cubes.
Place this in the microwave and heat for 30 to 45 seconds, then stir.
Repeat this until you have a smooth and creamy cheese sauce.
Pour in drained cooked pasta and stir.
Bake at 350 for about 20 minutes (another two there).
Call out that it's ready and prepare for the stampede!
Storage
Store leftover mac and cheese in an airtight container in the fridge for up to 4 days. To reheat your mac and cheese, you'll want to add a dash of milk or cream before reheating in the microwave or on the stovetop.
Recipe FAQs
How do you serve mac and cheese?
Like Kraft mac and cheese, this baked Velveeta mac and cheese makes a great family-friendly main meal when you need something quick, tasty, and filling. However, in the South, we love to serve mac and cheese as a side dish and it works great with these dishes:
What are the best toppings for mac and cheese?
There are so many toppings you can add to this easy baked mac and cheese recipe:
More cheese. Add shredded cheddar cheese, parmesan cheese, Pepperjack cheese, American cheese, or sharp cheddar cheese on top before baking.
Panko breadcrumbs before baking.
Crumbly crispy bacon bits or leftover baked ham.
Crispy french fried onions
Crushed potato chips or Ritz cracker crumbs.
Should you use milk or cream in mac and cheese?
You can use any type of milk (but whole milk or 2% milk is best), as well as half-and-half or heavy cream in mac and cheese. The latter will make the cheese sauce richer in flavor.
The key to creamy baked mac and cheese is using plenty of milk and not too much flour. The ratios in this recipe, plus the addition of Velveeta, ensure creamy baked mac and cheese every single time.
What seasoning is best for mac and cheese?
Here are some mac and cheese seasoning suggestions:
Italian seasoning and dried herbs like oregano, basil, and marjoram pair perfectly with cheese and pasta.
A teaspoon each of onion powder and garlic powder when you add the salt and pepper.
1/4 teaspoon of ground nutmeg and 1/2 teaspoon of paprika (sounds weird, but this combo just works for some reason).
1/2 teaspoon of ground or dry mustard powder.
A dash of cayenne pepper for heat.
There's no need to cover your mac and cheese when baking. This is particularly important if you add extra cheese on top, as you want it to get deliciously melted, crispy, and golden brown.
In case you missed them…
Oven-Baked Mac and Cheese (Southern Plate Favorite)
Baked Cauliflower Mac and Cheese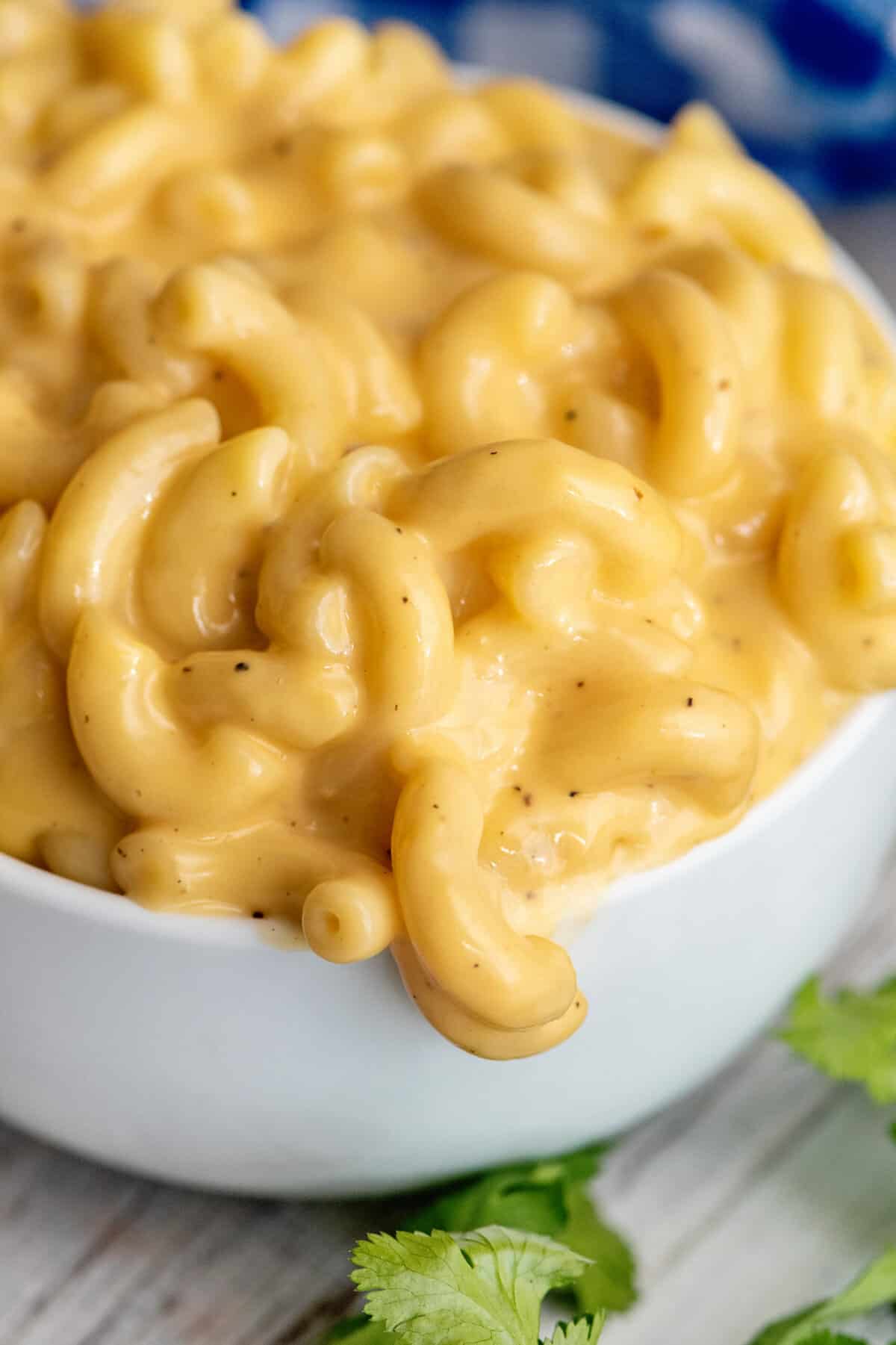 Ingredients
2

cups

Velveeta, cubed

2

cups

whole milk

2

tbsp

flour

2

tbsp

butter

2

cups

dry macaroni (elbow noodles)
Instructions
Cover macaroni with water and cook until almost done, then drain well.

2 cups dry macaroni (elbow noodles)

In a microwave-safe bowl, melt margarine in the microwave, then stir in the flour and milk. Salt and pepper to taste.

2 cups whole milk,

2 tbsp butter,

2 tbsp flour

Pour cubed cheese into milk mixture and microwave at 30-second intervals until melted, stirring often. Stir in cooked macaroni.

Place in an oven-safe baking dish and bake, uncovered, at 350 for 20 minutes.
"Let no one ever come to you without leaving better and happier."
~Mother Teresa (Submitted by Southern Plate Reader, Mary)