Mexican Cornbread Casserole
This Mexican cornbread casserole recipe takes a tasty taco-flavored ground beef casserole and adds a fluffy cornbread topping.
I don't know what y'all had for supper last night but this easy-to-make Mexican cornbread casserole (known around these parts as canyon casserole) is what we had. I barely had to wash the dish when we were done because my brood scraped it clean! Usually, an 8×8 casserole is enough for the four of us. But I'm going to have to double this casserole recipe next time because while my husband and son ate their fill at supper, they both asked me later in the evening if any was left.
I love suppers like that, don't you? The beauty of this recipe is that it is pretty economical, a meal in one, and packed with a wonderful southwestern flavor. Our casserole includes ground beef, taco seasoning, chopped tomatoes, and corn. We cook those ingredients together before adding them to the casserole dish. Then we mix our cornbread batter with cheese and add that on top. The only thing left to do is bake the casserole for 30 minutes.
Easy casserole recipes like this taco cornbread casserole are the best weeknight supper ideas. I just can't get enough of the combination of taco-flavored ground beef with the fluffy and flavorful cornbread topping. As you can see, neither can my family! But this casserole is so quick and easy to make that I'm happy to prepare it every week!
Alright, let's get cookin' our casserole!
Recipe Ingredients
Milk
Taco seasoning
Vegetable oil (just a little bit)
Egg
Self-rising cornmeal mix
Diced tomatoes
Whole kernel corn
Ground beef
Shredded cheddar cheese
Helpful Kitchen Tools
How to Make Mexican Cornbread Casserole
Place ground beef in skillet.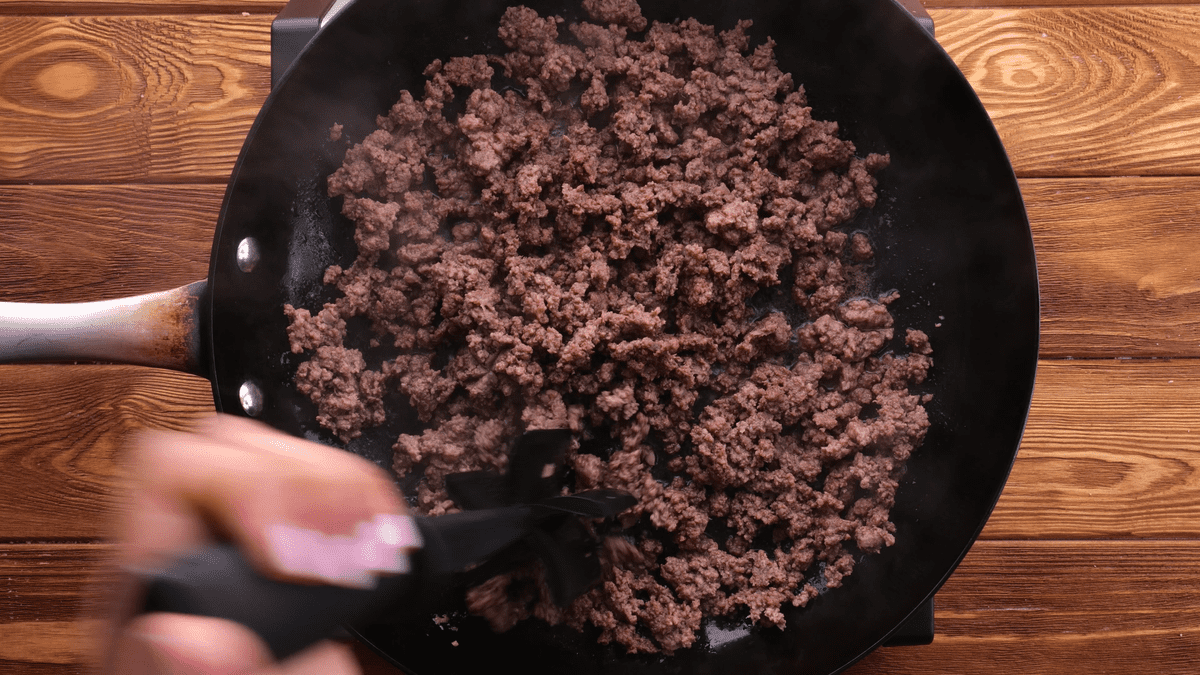 Cook ground beef until well done then drain.
Stir in taco seasoning…
And water.
Add tomatoes and juice…
And drained corn into the skillet.
Stir up really well and cook it over medium-high heat just until nice and bubbly.
Grease an 8×8 baking dish and pour in the meat filling.
Add self-rising cornmeal, egg, milk, oil, and cheese to a mixing bowl.
Stir until well blended.
Drop by spoonfuls over the top of the meat mixture.
Evenly spread it out so it covers the entire casserole.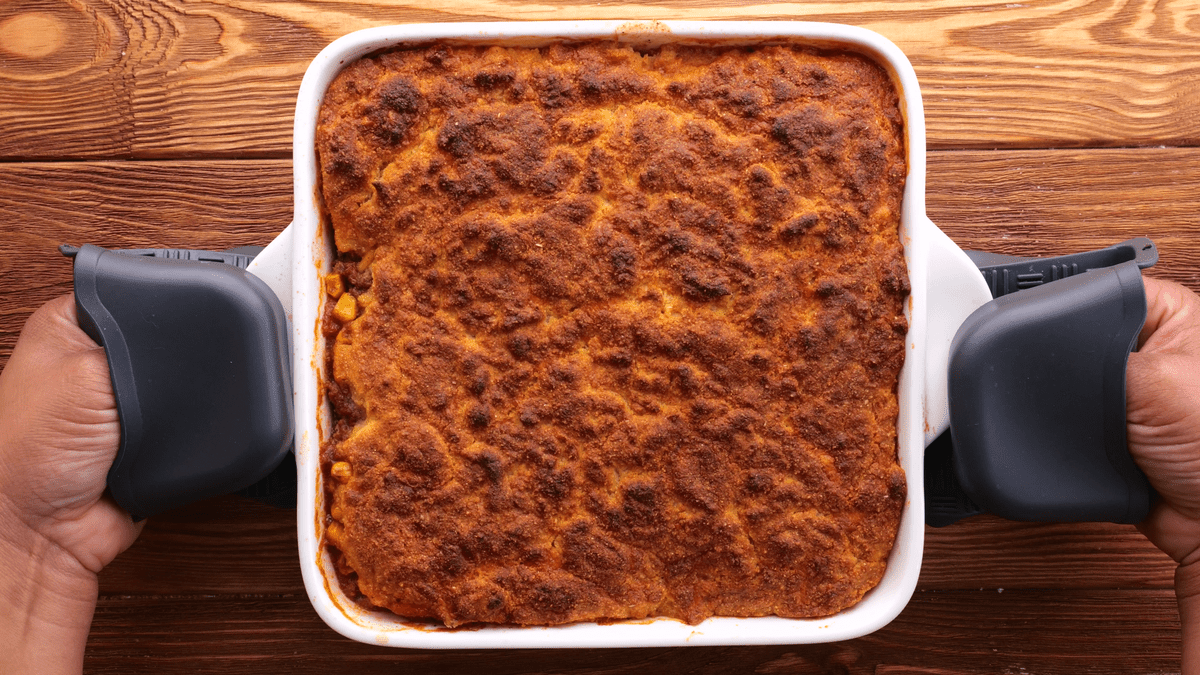 Bake at 400 for 30 to 35 minutes until golden brown.
While this was in the oven, my teenage son came into the kitchen twice to declare:
"Something smells good, when is that going to be done?"
"Is it done yet?"
Yep, it's done now!
Dig in and enjoy your canyon casserole!
Storage
Store leftover casserole in an airtight container in the fridge for up to 3 days. You can quickly reheat leftovers in the microwave, oven, or air fryer.
Alternatively, freeze leftovers for up to 3 months. Thaw overnight in the fridge before reheating as above.
Recipe Variations
Here are some variations to make this Mexican cornbread casserole recipe work for you:
Use any type of cornbread, including a Jiffy cornbread mix or a yellow self-rising cornmeal mix.
Substitute the diced tomatoes for Rotel tomatoes with green chiles for added spice and flavor.
Another way to add spice is to add a dash of cayenne pepper, paprika, chili powder, or crushed red pepper flakes.
Use a Mexican cheese blend instead of shredded cheddar cheese.
You can also stir some extra shredded cheese into the beef mixture.
Substitute the ground beef for sausage, shredded chicken, ground turkey, ground chicken, or ground pork.
Add 1 can of cream-style corn to enhance the corn flavor.
Add 1 can of beans, whether that's black beans, pinto beans, or kidney beans.
Toss in some chopped red bell pepper.
Use fresh corn, frozen corn, or canned corn.
Recipe FAQs
How do you serve Mexican cornbread casserole?
You can easily serve this taco cornbread casserole as is. But another option is to serve it with your favorite taco toppings, like salsa, guacamole, freshly chopped tomatoes, jalapenos, shredded lettuce, sour cream, sliced green onion, and sliced black olives.
Check out these other easy casserole recipes:
Taco Tater Tot Casserole Recipe
Stuffed Pepper Casserole Recipe (Easy and Delicious)
Cheesy Chicken and Corn Casserole
Cornbread Casserole With Ham and Cheese
Ingredients
1

pound

ground beef

1

1-ounce packet

taco seasoning

1

14.5-ounce can

diced tomatoes, undrained

1

14.5-ounce can

whole kernel corn, drained

1/2

cup

water

1

large egg

1

cup

Martha White self-rising white buttermilk cornmeal mix

1/2

cup

milk

2

tablespoons

vegetable oil

1

cup

shredded cheddar cheese
Instructions
Preheat the oven to 400. Spray an 8-inch casserole dish with cooking spray and set aside.

Brown ground beef in a large skillet until fully cooked. Drain off any grease. Add in taco seasoning, water, tomatoes, and corn. Stir and bring just to a boil. Pour into baking dish.

1 pound ground beef,

1 1-ounce packet taco seasoning,

1 14.5-ounce can diced tomatoes, undrained,

1 14.5-ounce can whole kernel corn, drained,

1/2 cup water

In a small bowl, stir together cornmeal mix, milk, egg, oil, and cheese until well blended. Drop by spoonfuls onto the top of the meat mixture in the baking dish.

1 large egg,

1 cup Martha White self-rising white buttermilk cornmeal mix,

1/2 cup milk,

2 tablespoons vegetable oil,

1 cup shredded cheddar cheese

Bake for 30-35 minutes or until golden brown on top. Enjoy!
Video
Nutrition
"The invariable mark of wisdom is to see the miraculous in the common."
~ Ralph Waldo Emerson