Chocolate Cobbler Recipe (With Food Allergy Options)
Chocolate lovers, you're going to melt when you try this rich, fudgy, and indulgent old-fashioned Southern chocolate cobbler recipe. Fortunately, it's simple, quick, and easy to make.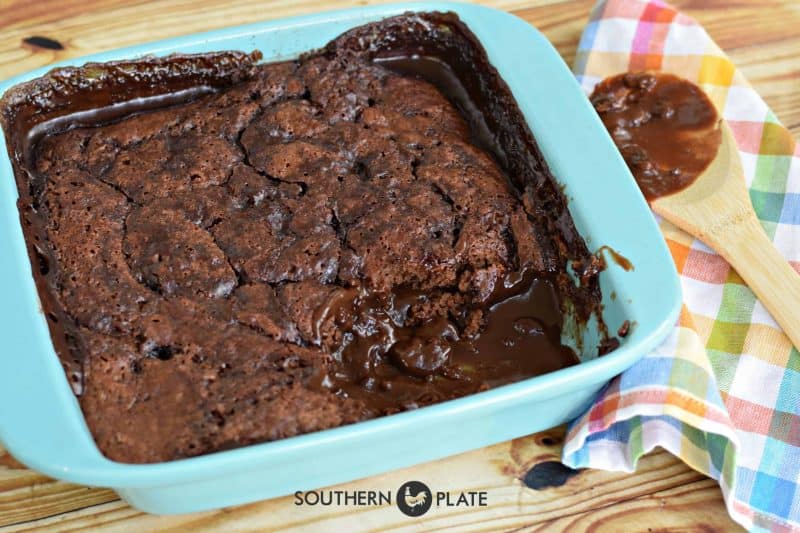 Learn how to make this delicious Southern chocolate cobbler recipe using things I bet you already have on hand. We're talking cocoa powder, milk, sugar, flour, and vegetable oil. Yep, this delicious recipe comes together so easily with shelf-stable ingredients and fridge essentials.
All it takes is a little mixing and your chocolate cobbler will be ready for the oven in no time at all. The end result is a decadent dessert that combines a brownie-like topping with a rich fudgy chocolate sauce underneath. Similar to a molten lava cake and also known as a chocolate pudding cake, if I was a chocolate lover I would dream about this chocolate cake.
This old-fashioned Southern chocolate dessert is great for potlucks or get-togethers. You can serve it like I do on its own or add a big dollop of vanilla ice cream or whipped cream.
This recipe is an adaptation of my original chocolate cobbler post because I wanted to feature how incredibly versatile the recipe itself is, especially if cooking for folks who have food allergies. Throughout the years, I have altered this recipe to accommodate just about every allergy there is with no discernible change in taste or quality and everyone being able to indulge.
A recipe that can accommodate kids with serious food allergies and make them feel like they are getting the best dessert rather than a runner-up? That's a win! So whether you're dairy-free, nut-free, or gluten-free, I've included options that suit you below.
Recipe Ingredients
Cocoa powder (could use carob as a substitute if sensitive to cocoa)
Brown sugar
Milk (can use any type so you can adjust it for those with food allergies)
Sugar
Flour (gluten-free self-rising flour recipe here)
Vanilla extract
Vegetable oil
How to Make Chocolate Cobbler
In a medium-sized bowl, stir together sugar and cocoa powder.
Add in the type of milk you desire, oil, and vanilla extract. Stir that up until it looks like brownie batter.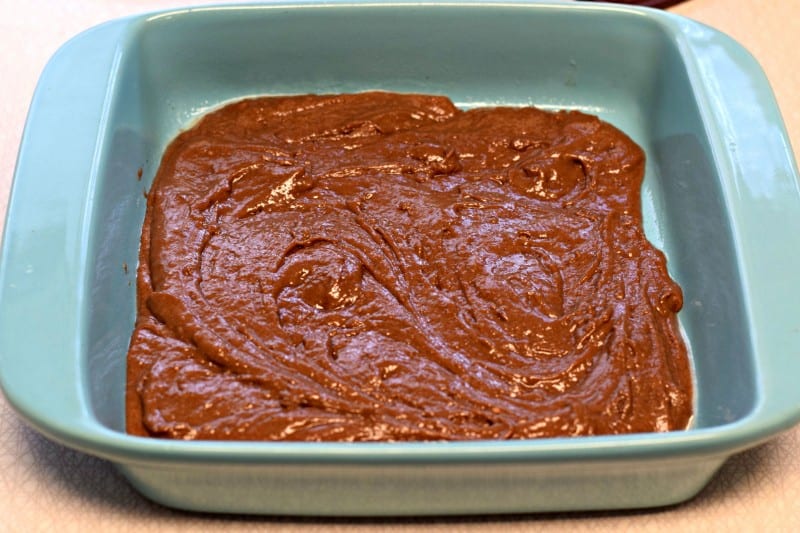 Spread this into the bottom of a greased 8×8 baking dish.
In a separate bowl, stir together your topping ingredients of cocoa powder and brown sugar. Sprinkle every last bit of that over the top of the batter.
Sidenote: If anyone reading this has never had a chocolate cobbler before, I sure do hope you fix that soon. As in, tonight, or a few minutes after reading this post.
Now slowly pour your hot water over the top of your dish.
Tip for this recipe
You want to do this as slowly as you can to avoid mixing up the batter into the topping. I usually place my cup close to the edge and pour very gently, moving it around to different corners from time to time as I do so.
It will look like a chocolate swamp when you're done :).
Place this in a 350-degree oven for 45 minutes. Let cool for up to 20 minutes and then get a spoon ready… and maybe some good quality vanilla ice cream if you have the hankering. I usually have it on its own though.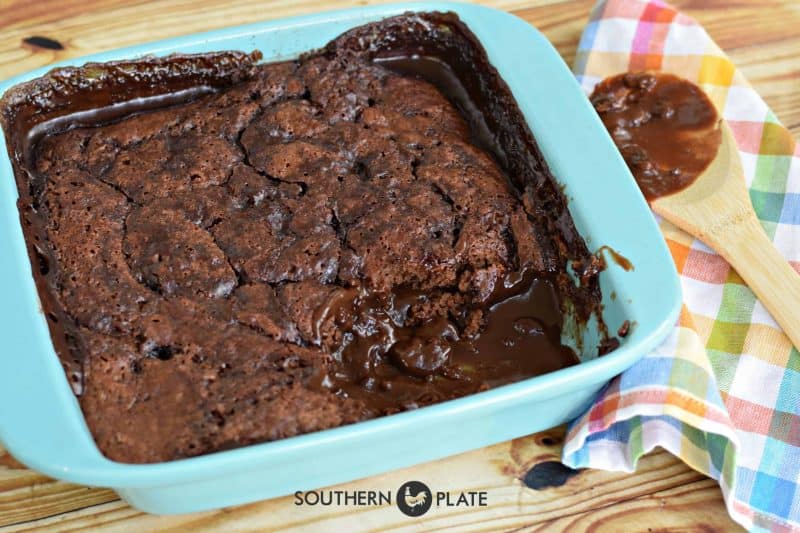 Enjoy!
Storage
Store leftovers in an airtight container in the fridge for up to 3 days. Reheat in the microwave.
Recipe Notes
Double the recipe easily and bake it in a 9×13-inch baking dish instead.
Instead of vanilla ice cream, serve your chocolate cobbler with whipped cream

and your favorite fresh berries, like

.

For added chocolate flavor, I won't tell anyone if you fold 1/2 cup of semi-sweet chocolate chips into the cobbler batter.
To enhance the chocolate flavor, add

1

teaspoon of

espresso powder.
Recipe Substitutions for Food Allergies
Egg allergies: there are no eggs in this easy chocolate cobbler recipe.
Nut allergy: while my mother's recipe calls for adding pecans, I've never added nuts to my chocolate cobbler so these are easily avoided as well.
Dairy allergy: I use Silk soy milk, the vanilla flavor, and no one has ever been able to tell a difference. You can use any kind of milk you like, including regular milk, almond milk, coconut milk (avoid these two for nut allergies), soy milk, or oat milk.
If you need a gluten-free self-rising flour you can find a recipe here.
For those who are allergic to cocoa, investigate if carob is a good alternative.
Please make sure you thoroughly investigate all ingredients if you, your child, or someone you know with food allergies is wanting to have this dish. Check with your physician to ensure there are no issues with any ingredients.
You may also like these cobbler recipes:
Cream Cheese Strawberry Cobbler
Cinnamon Cobbler Warm and Wonderful
Old Fashioned Peach Cobbler – nothing like it!
Ingredients
Batter ingredients:
1

cup

self-rising flour

substitute for gluten-free flour

3/4

cup

sugar

2

tablespoons

cocoa

can use carob

1/2

cup

milk

any type of milk

1

teaspoon

vanilla extract

2

tablespoons

vegetable oil
Topping Ingredients
3/4

cup

brown sugar

1/4

cup

cocoa

can use carob

1 3/4

cups

hot water
Instructions
In a medium-sized bowl, stir together flour, sugar, and cocoa from the batter ingredients. Add milk, vanilla, and oil. Mix well until it becomes a thick brownie-like batter.

1 cup self-rising flour,

3/4 cup sugar,

2 tablespoons cocoa,

1/2 cup milk,

1 teaspoon vanilla extract,

2 tablespoons vegetable oil

Pour batter into greased 8x8-inch pan.

In a separate bowl, stir together topping ingredients (brown sugar and cocoa). Sprinkle over the batter.

3/4 cup brown sugar,

1/4 cup cocoa

Very slowly, pour the hot water over the dry mixture and batter.

Bake in a 350-degree oven for 40 to 45 minutes.
Notes
For those with allergies please always check with your physician re: ingredients.
If you need a gluten-free self-rising flour you can find a recipe here.
For those who are allergic to cocoa, investigate if carob is a good alternative.
Nutrition
"I love those who can smile in trouble, who can gather strength from distress, and grow brave by reflection. 'Tis the business of little minds to shrink, but they whose heart is firm, and whose conscience approves their conduct, will pursue their principles unto death."
~Leonardo da Vinci