Looking for a sensational summer dessert? Check out my pineapple cobbler recipe. Every bite is bursting with pineapple sweetness with a deliciously crumbly cobbler crust.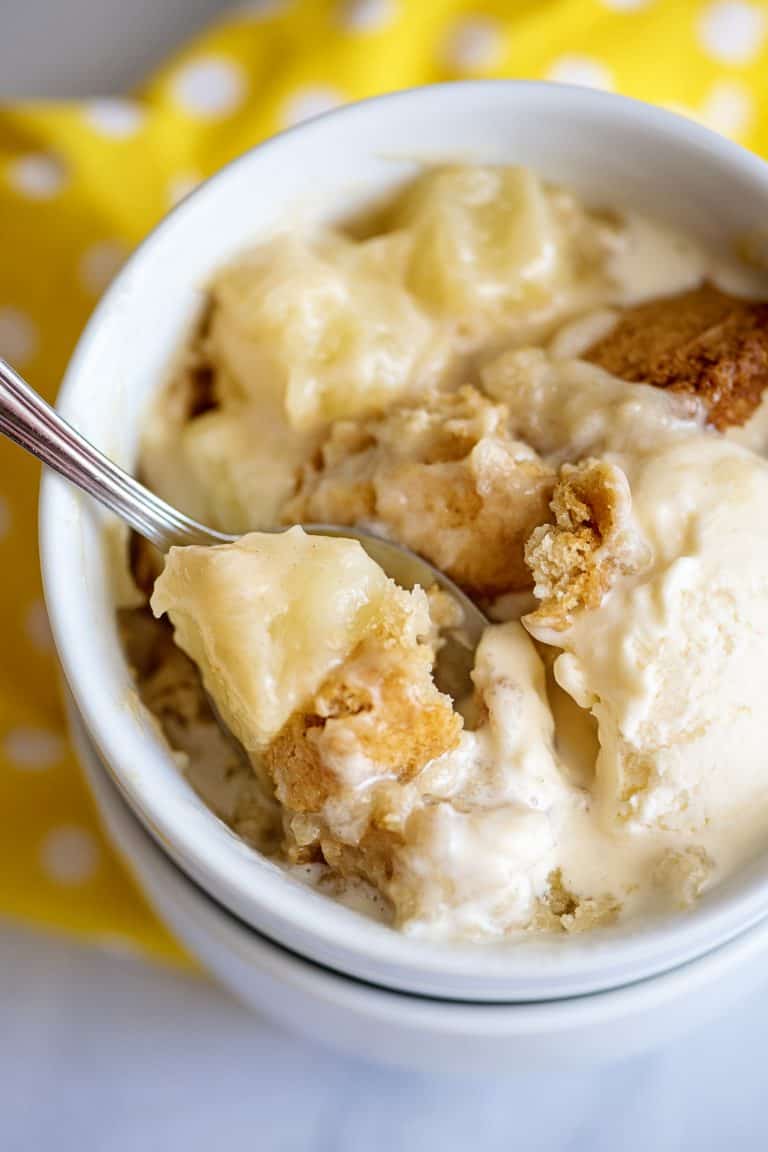 Do you love cobblers, whether it's a strawberry, cherry, or peach cobbler? How about pineapple upside-down cake? Well, this pineapple cobbler takes the best of both desserts to make a scrumptious summer treat.
All you need is 6 ingredients to make this super easy pineapple cobbler recipe: baking mix, canned pineapple, brown sugar, flour, butter, and milk. Then it will be ready to eat in just a few simple steps. First, we have to make the pineapple filling and then the topping. In about 30 minutes it will be ready to eat.
There's just something about the sweet pineapple combined with the deliciously buttery crust that sends my taste buds into overdrive! Fortunately, I'm not the only one who loves this recipe, so I regularly make pineapple cobbler every summer. To take it to the next level, serve it with a scoop of vanilla ice cream or whipped cream.
Now let's go ahead and make this beauty!
Recipe Ingredients
Baking mix (such as Pioneer or Bisquick)
Pineapple chunks (important that you have chunks here)
Milk
Brown sugar
Flour
Butter
How to Make Pineapple Cobbler
In a medium saucepot, place your butter and add in the juice from the cans of pineapple.
Also, add in your brown sugar and flour.
Stir that up well and bring just to a boil over medium heat while stirring constantly.
Stir that until it is all completely blended and thickened, with no lumps.
Then stir in your pineapple chunks.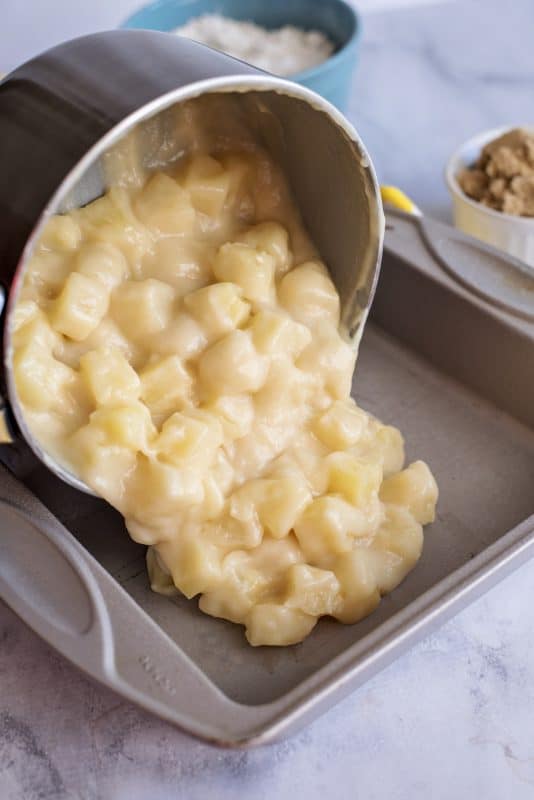 Pour this into a baking dish. This will make enough for a 9×13 but I'm using a 9×9 baking dish and it will just be a little deeper.
In a medium bowl, stir together the brown sugar and baking mix.
Stir in milk.
Stir until the cobbler batter is smooth and creamy.
Pour batter evenly over the pineapple mixture.
Bake at 400 degrees for 30 to 35 minutes or until golden brown on top and a toothpick inserted in the very center comes out clean (don't stick the toothpick too far down, just about 1/2 an inch).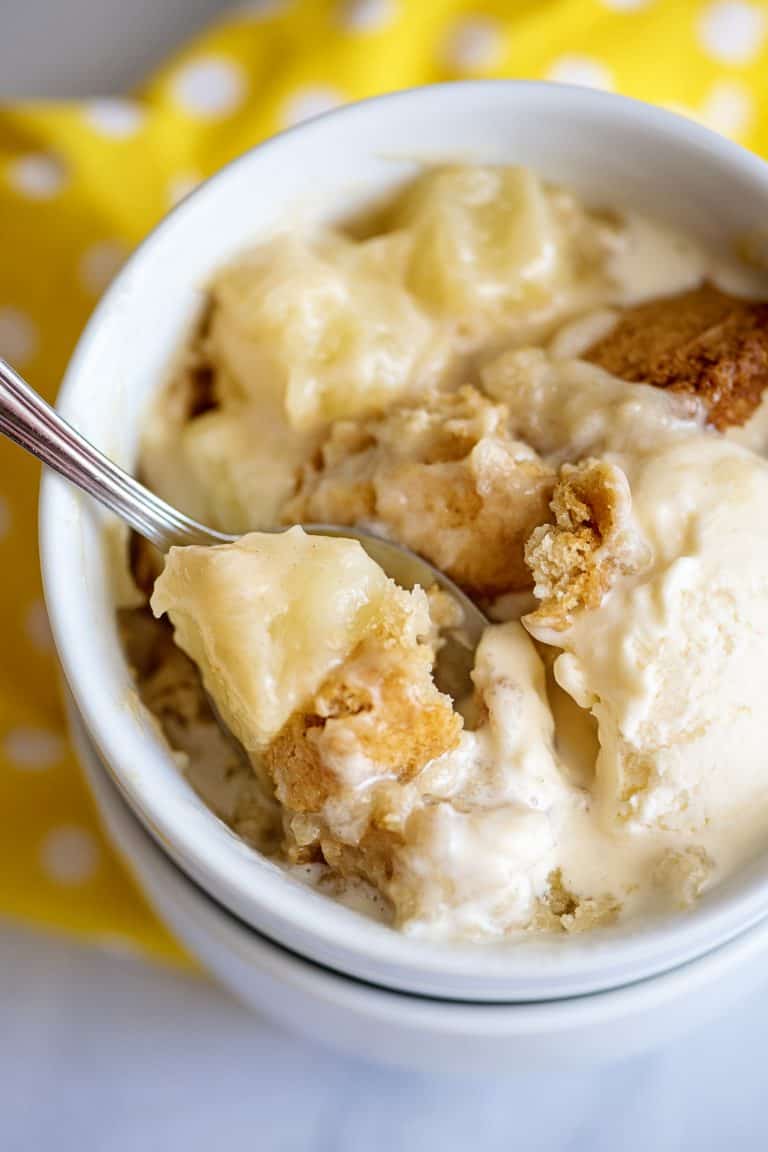 Please make this soon! Serve warm.
Storage
Store leftover cobbler in an airtight container in the fridge for up to 3 days and simply reheat in the microwave before serving.
Recipe Notes
To really emulate that pineapple upside-down cake flavor, you can totally fold 1 small jar of maraschino cherries into your filling.
Recipe FAQs
What do you serve with pineapple cobbler?
Serve your pineapple cobbler with a scoop of vanilla ice cream or a dollop of whipped cream. Bonus points for adding a drizzle of caramel sauce. YUM!
Can I use fresh pineapple in my pineapple cobbler?
Yes, you can use fresh pineapple chunks in your cobbler. However, the pineapple juice from the cans really enhances the filling's delicious pineapple flavor, which is why I recommend using canned pineapple.
You may also like these delicious desserts:
Vanilla Wafer Pudding Recipe With Pineapple
Easy Pineapple Upside-Down Cake
Recipes for Pineapple Cake, Cobbler, and Puddin'
Ingredients
Filling
2

cans

pineapple chunks, undrained

20-ounce each

1

stick

butter

1/2

cup

all-purpose flour

1/4

cup

dark or light brown sugar
Topping
2

cups

Pioneer baking mix or Bisquick

1

cup

dark or light brown sugar

1

cup

milk
Instructions
To make the filling
Place butter in a medium saucepot. Add juice from canned pineapple, brown sugar, and flour.

2 cans pineapple chunks, undrained,

1 stick butter,

1/2 cup all-purpose flour,

1/4 cup dark or light brown sugar

Place over medium-high heat while stirring constantly with a whisk until butter is melted and the mixture is smooth and creamy.

Bring ingredients just to a boil, stirring constantly, and then remove from heat. Stir in the pineapple chunks.

Spray a 9x13 or 9x9 baking dish with cooking spray and pour in the filling.
To make the cobbler topping
In a medium bowl, stir together the baking mix and brown sugar.

2 cups Pioneer baking mix or Bisquick,

1 cup dark or light brown sugar

Add milk and stir until smooth and well combined.

Pour over the filling in the baking dish. Bake at 400 for 25-30 minutes or until golden brown on top. Serve warm.
Nutrition