This post was originally published in 2012. I updated the photos in 2020.
Fair warning: this post is very chatty. You can skip to the recipe by scrolling until you see a printable recipe card at the bottom.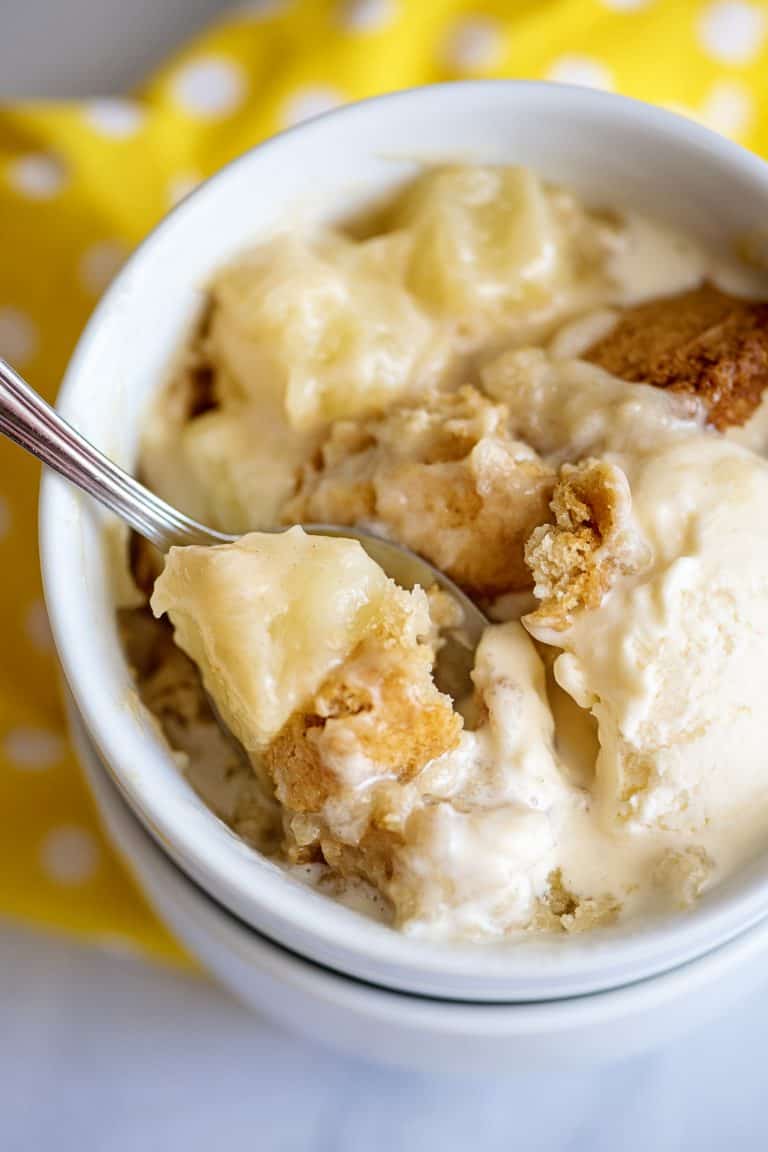 If you love pineapple upside down cake, pineapple cobbler will be your new passion.
Sometimes you need to get away. Sometimes you really don't have the time or budget for a big get away but that doesn't change the fact that you and your family need some time away from the rat race to connect with each other, just the four of you – or twenty of you – or however many there are of you.
I was up against a tight deadline for one of my books and it seemed like my husband and I had a million things reigning down on us that had to be done right then. One problem – it was summer and, although I know logically that it wasn't, I felt like the entire summer was passing me by and everyone was enjoying it but me and the "us" of our family. So I told him one Friday afternoon "If we don't get out and go somewhere this weekend I think I'm going to lose my ever loving mind".
"Where do you think we could go on such short notice?" I made a phone call to one of the most beautiful places on the planet as far as I'm concerned, the Alabama State Lodge on Guntersville lake. Talesa answered and I asked if they had any rooms left. She said all they had left was one king sized suite. Eek, that sounded expensive but I was feeling quite desperate and as I looked up it seemed like the walls of my house had closed in a good 24-36 inches more since before I'd picked up the phone. "Well how much is that?" I bravely asked, as if I called every day and reserved king suites.
The price they quoted me was about what we'd expect to pay for a normal hotel room at one of those chains I insist on staying in because of that really odd experience when I did a cooking show in Memphis directly following this lady who had come to talk about bedbugs. I still remember sitting by her, a sweet little thing holding a tote bag. "What are you here to talk about?" I had asked innocently. She grinned and reached into her bag. I smiled and peered in to see what she was getting, expecting it to be a beloved family photo album or a casserole by the look of pride on her face. I was confused when she pulled out a bowl with a lid but I managed to maintain my smile and even throw in a look of curiosity just for kindness sake as she proceeded to show me live bed bugs and go into detail about how the female is forcibly attacked by hundreds of males in order to reproduce….She made quite a show when she went into even greater graphic detail on air with the host. I followed right behind her and made banana pudding as if it was part of my normal routine. I can see the billing now "COME ONE, COME ALL! SEE AND HEAR ABOUT HOW LIVE BEDBUGS REPRODUCE! THEN HAVE CHRISTY JORDAN SHOW YOU HOW TO MAKE HOMEMADE BANANA PUDDING!". That was an interesting book tour.
But Talesa was waiting on the line at the nicest lodge in the state of Alabama and she'd quoted me a rate I could afford. "I'll take it." The next morning we were off.
This was a very important trip for several reasons but I'll list the three main ones here. 1. Katy learned the art of panning for shells 🙂
Seeing as I'm not a big ocean person, this is a relatively new thing to my kids. And Brady learned…
Okay so Brady probably didn't learn anything other than how supremely cool his parents are, but goodness knows he's well aware of that by now, right? On this trip though, Brady taught us how supremely cool he is. I mean, look at him? Oh my goodness. He may be even slightly cooler than us!
Okay so we're not really "cool" but it's always so much fun to pretend you think you really are when you're around your kids. Nothing is more embarrassing to them than parents who think they're hip and cool enough to impress their child and his/her friends. And honestly, if we don't embarrass now, when??
That's why I keep threatening to show up at my son's school and rap on the PA system. I've got the school secretary and nurse in on it as well, they've offered to be my backup singers. I tell Brady it's so "All of your friends can see how cool your Mom is and you'll be the most popular kid in school then!" He gets nervous every time I play Lecrae now because he knows I have the words memorized and can perform at a moment's notice…
I feel sorry for kids with normal parents 🙂
The third reason why this trip was important was that it kept me from losing my mind AND I got my very first taste of Pineapple Cobbler. Okay so that's four reasons but I'm not here to talk about math, I'm here to talk about cobbler and how I embarrass my kids – and maybe that bed bug/banana pudding experience that will always haunt me. Y'all are so much cheaper than therapy…
What does this cobbler have to do with us going away for a quick trip to Guntersville? Wellllll one of the great things about the state lodge, other than the fact that it is one of the nicest and most beautiful state park lodges you'll ever see, is that they have a huge dining room there and great chefs so you never have to leave the property. We ate all of our meals in the dining room.
At supper that Friday night,Ricky said "You have GOT to try this" as he shoved his plate over to me. "Try what?" He looked down and seemed to think for a minute. He wanted me to try his pineapple cobbler but he is an engineer. This means, for those of you familiar with the species, that he can calculate the velocity of a ten ton satellite carrying a five ounce package of matches as it soars across the sky amid 100 mph winds and possibly alien attack- but he doesn't know the difference between a cobbler and a cookie. "That stuff." He poked it with his fork. "Why do I have to try it?" I was skeptical because he and I have actually stayed at a hotel once that had the absolute worst coffee we'd ever tasted in our entire lives, and then dared each other to drink it for three mornings straight. The following year, we stayed at the same hotel just to see if the coffee was still as bad – and went through another two mornings of excited grins and "Did you drink it? The whole cup? Ok, watch, I'm gonna try now…" This is why we don't watch much tv. Our lives keep us so well entertained.
So I tried it – and I immediately got some for myself. This stuff was amazing. If you love pineapple upside down cake, pineapple cobbler will be your new passion. Being the nonchalant passive person that I am, I went right to the front desk to find Talesa, because, you know, she was the one who made our reservation so that had immediately made her my point person. I asked in a sweet and demure way "WHO MADE THAT PINEAPPLE COBBLER STUFF IN PINECREST DINING ROOM?" Turns out, her husband works in the dining room so my sweet and soft-spoken follow up was "AWESOME! Can you get me the recipe? And here is my card, oh and I want to put it on my website, see if they'll give me permission." What if they hadn't of given me permission? Then I wouldn't have posted it, of course! It's an honor thing.
Turns out Chef Kim Steger had created that recipe that very night and was trying it out on the menu. I sure do hope it's become a regular now! Kim was so sweet y'all, she had made it in a very large batch so she went home that night and re-made it in a smaller proportion in order to be able to share the recipe in a way that would allow folks to make it at home – when we're not feeding 100 people.
To make this delicious Pineapple Cobbler you'll need: Baking Mix (such as Pioneer or Bisquick), Pineapple Chunks (important that you have chunks here), milk, brown sugar, flour, and butter.
In a medium sauce pot, place your butter and add in the juice from the cans of pineapple. Also add in your brown sugar and flour. Stir that up well and bring just to a boil over medium heat while stirring constantly.
Messes happen. I'm sorry you had to see this, kids.
Stir that until it is all complete blended and thickened, with no lumps.
Stir in your pineapple chunks.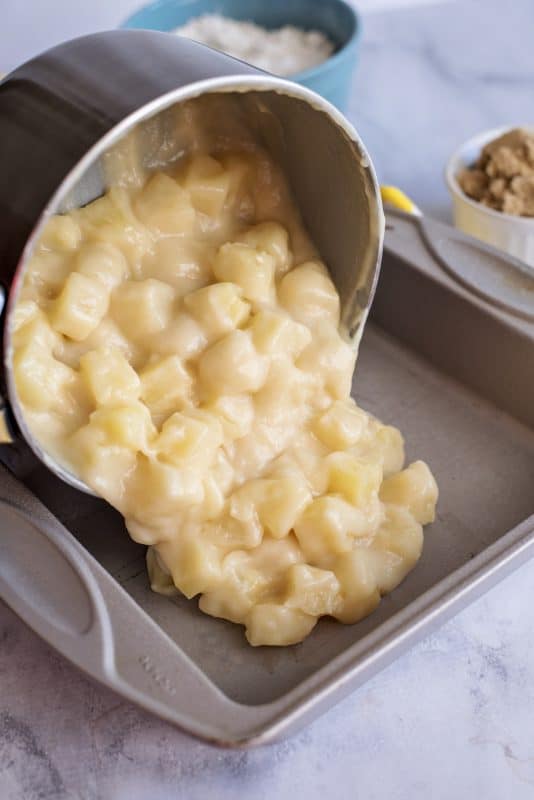 Pour this into a baking dish. This will make enough for a 9×13 but I'm using a 9×9 baking dish and it will just be a little deeper.
In a batter bowl or medium mixing bowl, stir together brown sugar and baking mix. Stir in milk.
Stir until batter is smooth and creamy.
Don't forget to have a nice family picture taken while you're on your trip so you can show folks…
Pour batter evenly over filling.
Bake 400 30-35 minutes or until golden on top and toothpick inserted in very center comes out clean. (don't stick the toothpick too far down, just about 1/2 an inch)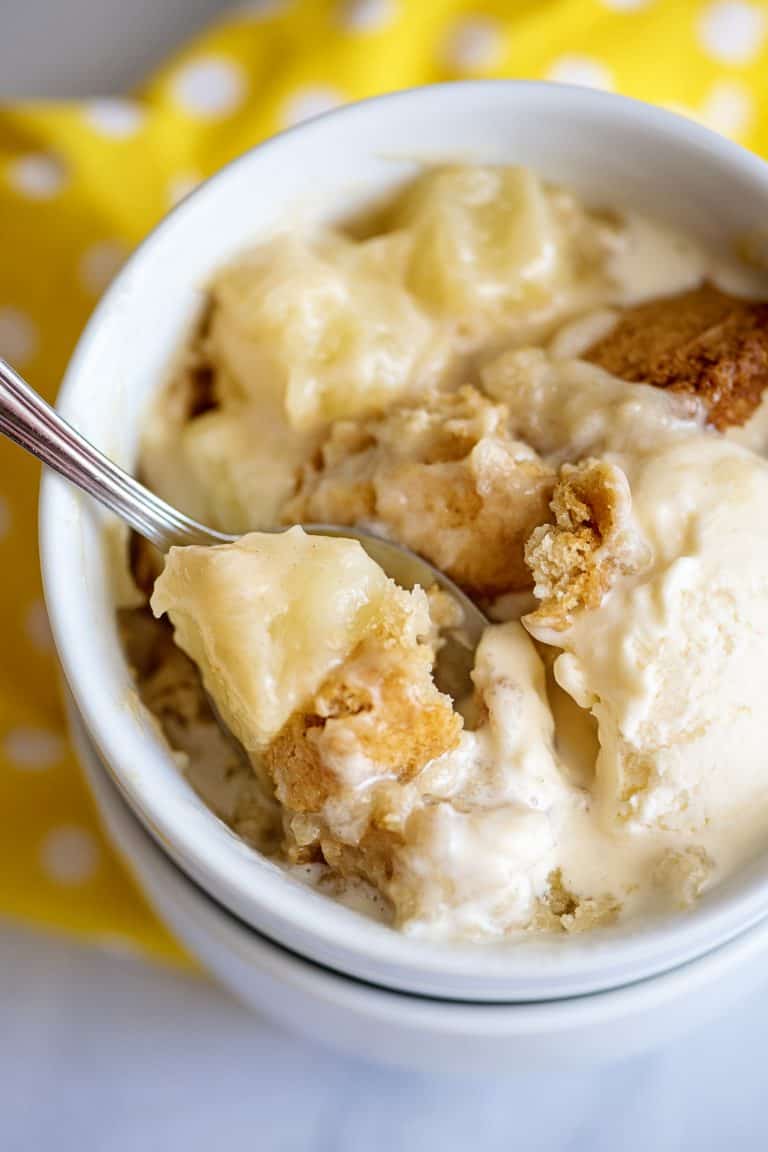 Please make this soon! Serve warm 🙂
Ingredients
Filling:
2-20

ounce

cans chunk pineapple

undrained

1

stick butter

1/2

cup

all purpose flour

1/4

cup

brown sugar

dark or light
Topping
2

cups

Pioneer Brand Baking Mix or Bisquick

1

cup

brown sugar

dark or light

1

cup

milk
Instructions
To Make Filling: Place butter in medium sauce pot. Add juice from canned pineapple, brown sugar, and flour.

Place over medium high heat while stirring constantly with a whisk until butter is melted and mixture is smooth and creamy.

Bring ingredients just to a boil, stirring constantly, and then remove from heat. Stir in pineapple chunks.

Spray a 9x13 or 9x9 baking dish with cooking spray and pour in filling.

To make cobbler topping: In medium mixing bowl, stir together baking mix and brown sugar.

Add milk and stir until smooth and well combined.

Pour over filling in pan. Bake at 400 for 25-30 minutes, or until golden brown on top. Serve warm. !Visit Guntersville State Lodge and tell Kim and Talesa I said Hi 🙂

This post featured in Meal Plan Monday and Weekend Potluck!

Yum