Coconut Macaroons Recipe (3 Ingredients Only)
It's so simple to make this easy coconut macaroons recipe with just 3 ingredients: coconut, condensed milk, and vanilla extract. The bite-sized balls are the perfect chewy, tender, and sweet treat for a fellow coconut lover.
This coconut macaroons recipe makes a wonderful treat. But coconut is a polarizing ingredient: folks either love it or hate it. It's nice, though, in this day and age to find yourself at odds over a simple thing like coconut. This is something we can laugh about, a difference we can grin and roll our eyes at – and all of the coconut lovers can be grateful for the haters because that means there is more for us.
These delightful coconut macaroons are chewy, just sweet enough, and the coconut flavor really shines. Like most recipes, there are complicated versions and there are simple versions. If you've been reading me for any length of time at all, you know which version I'm gonna go for. Yup, here is the simple one! I originally published this recipe in my third cookbook, Sweetness, but I'm happy to share it with you here today.
To make this coconut macaroons recipe you need just 3 ingredients: coconut, condensed milk, and vanilla extract. Yep, no egg whites and stiff peaks in sight! The instructions are as simple as the ingredients too. Just combine them all together, shape them into balls, and bake. In a few short minutes, you'll have a delicious batch of sweet, chewy, and tender coconut macaroons to share with friends and family.
Recipe Ingredients
Sweetened condensed milk
Unsweetened coconut flakes
Vanilla
How To Make Coconut Macaroons Recipe
Place all ingredients in a medium bowl.
Stir that up really well with a large spoon. No need for a mixer or anything.
You'll have to stir for a minute or two to get it to come together like this but be patient and it will happen.
Press the dough into one-inch balls. I use a cookie dough scoop and just push it against the sides of my bowl to press it into shape.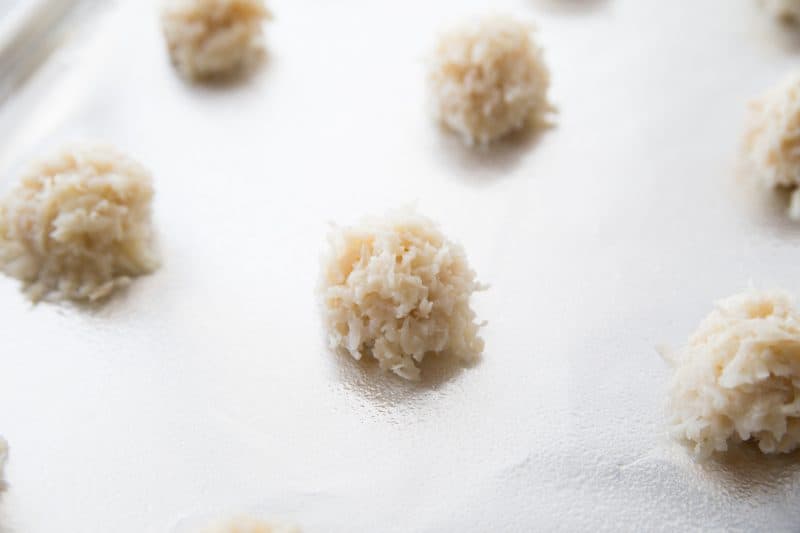 Cover a baking sheet with a piece of foil and then lightly spray that foil with cooking spray. Place macaroons about an inch apart on the cookie sheet and bake at 350 for 12-14 minutes, or until lightly brown.
Allow macaroons to cool completely before gently peeling them off of the foil.
Chewy, tender, moist, homemade coconut macaroon goodness!
These are simple enough that I don't feel guilty making a macaroon cookie batch for me, myself, and I.
Storage
Store coconut macaroons in an airtight container at room temperature until they're all devoured. They'll last about a week.
They freeze well, too, for up to 3 months. Let them come to room temperature before serving.
Recipe Notes
I seriously think sweetened condensed milk is just about one of the most delicious culinary inventions of our time. I have heard of people sweetening their coffee with it. Doesn't that sound delicious? I don't drink my coffee very sweet so that one doesn't work for me but I will happily confess to having a small spoon of this whenever I happen to crack open a can!
If you'd prefer chocolate coconut macaroons, what you can do is dip

each baked and

in

. Melt about 4 ounces of semi-sweet chocolate, chocolate chips, or dark chocolate in the microwave or on the stovetop, and then dip the bottoms of the macaroons in the chocolate before returning them to the foil to dry.

Substitute the

for

in this

if you like.
Recipe FAQs
Where the heck did macaroons come from?
According to the Food Network, "Macaroons can trace their story back to Italy, where the flourless and unleavened cookies were originally made with almond paste (in Italian, these cookies are called amaretti)."
You may also enjoy these coconut recipes:
Coconut Cake and No Fail Seven Minute Frosting
Mama's Amazingly Easy Coconut Pie
Ingredients
1

bag

unsweetened shredded coconut

14-ounce

1

can

sweetened condensed milk

14-ounce

2

teaspoons

vanilla extract
Instructions
Preheat oven to 350. Line a baking sheet with aluminum foil and spray the foil with cooking spray.

In a medium bowl, place all ingredients. Stir together by hand until well combined. Form the coconut mixture into one-inch balls and place them on the prepared baking sheet.

1 bag unsweetened shredded coconut,

1 can sweetened condensed milk,

2 teaspoons vanilla extract

Bake for 12-14 minutes until lightly brown. Allow to cool completely on baking sheets and then gently peel the coconut cookies off of the foil.
Store in an airtight container at room temp or freeze for longer-term storage.
Nutrition