With a sweet coconut and vanilla filling topped with fluffy meringue and toasted coconut flakes, it's no wonder this coconut meringue pie recipe is an all-time favorite pie.
Today I'm bringing you a coconut meringue pie recipe. It is one of my all-time favorite pie recipes. Sure, they have coconut pies for sale in the freezer section but the only resemblance they bear to a true old-fashioned coconut pie is their name. This is one of those pies that, if you find yourself craving it, you're just gonna have to make it yourself.
But don't worry, it's easy to do and you probably have everything you need on hand already except for the coconut. The other ingredients are kitchen essentials: sugar, vanilla, flour, milk, butter, and eggs. But when combined, let me tell ya, this pie will blow your mind!
There's a deliciously thick and velvety sweet coconut custard filling inside a perfectly flaky crust. Then on top, you have fluffy meringue and toasted coconut flakes. It's a decadent dessert that tastes like a tropical summer vacation. I bet you're ready to make it now aren't ya?
Well, without further ado, here is my recipe. I hope you enjoy it!
Recipe Ingredients
Sugar
Vanilla
Flour
Milk
Butter
Eggs
Sweetened flaked coconut
Homemade Pie Crust
You'll also need a pie crust, whether that's a store-bought pie crust (totally fine) or my homemade pie crust. This made-from-scratch pie crust is so easy to make, as you simply mix all the ingredients in the pie dish before baking and there is no need for pie weights. Now, this pie plate is a bit larger than usual so I'm doubling the recipe and will end up with a nice thick crust. Your pie is still gonna be just as good so don't you dare feel bad if you don't make the crust from scratch!
How To Make Coconut Meringue Pie
Place your margarine and sugar in a saucepot.
Add flour…
Salt…
And milk.
Now, separate your egg yolks from the egg whites.
Meringue Making Tips
Make sure you don't get any yolks into your whites because we're going to whip those up into a meringue later and if there are yolks in there the whites won't whip up as we need them to.
There are lots of ways to separate your eggs. I think a lot of folks use an egg separator. Some folks use their hands by dumping the egg in and letting the white slip out through slightly spread fingers. I just crack my egg and gently tilt the shell until the egg white all falls out.
However you prefer, do it that way.
Pour your yolks into the saucepot too.
With a wire whisk, beat up your eggs a bit and break up the butter.
Stir stir stir stir, cook, cook, cook, cook.
Don't stop stirring because you don't want it to scorch.

When it coats the back of the spoon we are going to cook it a little bit more, about two minutes after that. Now go ahead and turn your heat off.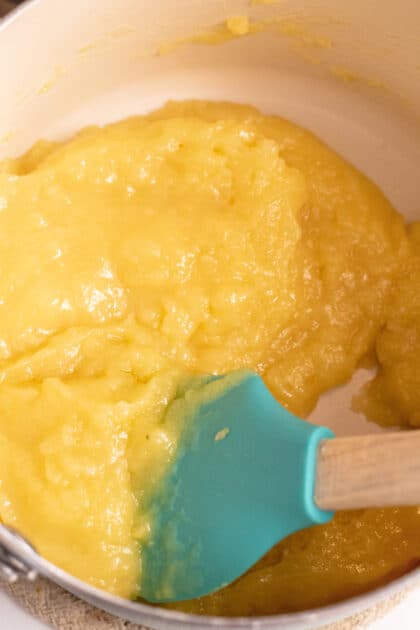 Now see, this is how thick I like my coconut pie filling.
If you cook it until you can swipe at the bottom of the pot real fast and see a trail, it will be thick enough that your pie will set up a little firmer and you can cut prettier pieces.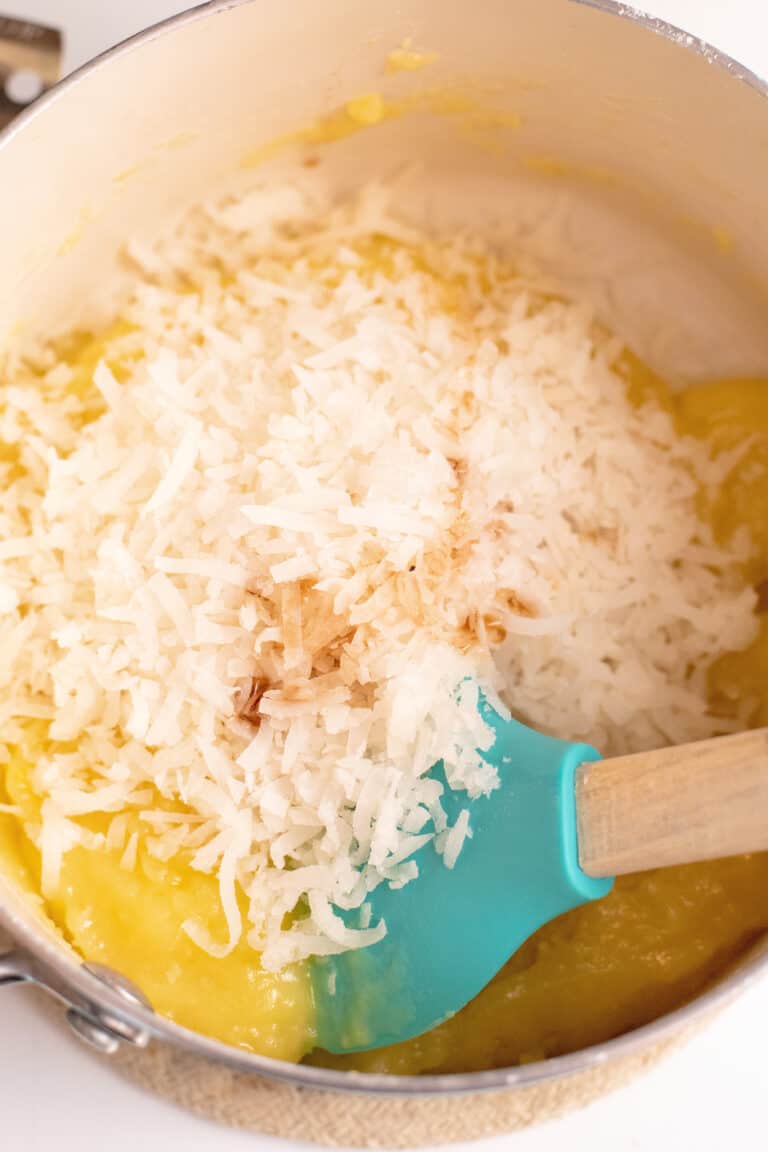 Now stir in your coconut and vanilla.
PLEASE NOTE HOW THICK THIS FILLING IS IN THE PHOTOGRAPH.
Spread coconut pie filling into your pie shell.
How to Make the Meringue
Place your egg whites in a mixing bowl.
It's imperative you make sure your bowl is super clean. If your bowl or your beaters have any oily residue on them that will interfere with your meringue as well so it never hurts to wash them again before this step. I wash mine in the dishwasher at ahigh temp so we
're good.
Beat egg whites until they're nice and frothy and light.
You can whip it to the soft peak stage but I like to stop here and add my sugar so it has plenty of time to dissolve.
Pour in sugar…
Dump in a little vanilla extract…
And then beat the living mess out of the egg whites until they are at the stiff peak stage.
I know this isn't stiff peaks, but it's soooooooooooo much easier to spread if you don't beat it too much.
Besides, look at this whisk when I turn it upside down…
See? that's a stiff peak!
Spread that over your pie, being careful to make it touch on all sides.
If you don't spread it and make it touch on all of the sides it will pull back and shrink up a bit as it bakes.
Sprinkle some coconut flakes on top of the meringue.
Here is our pie all ready for the oven.
Bake this at 325 for about 10 minutes or until golden brown.
I usually cook my meringues for about 15 minutes but you have to go a little shorter with this one so the coconut on top doesn't burn.
Oh, now that is a thing of beauty!
Unfortunately, now we have to pop it in the fridge and cool it down before serving (for at least three hours).
Enjoy your slice of coconut meringue pie!
Storage
Store leftover pie in an airtight container or loosely covered in plastic wrap in the fridge for up to 3 days. Because of the thick coconut custard filling and meringue topping, I don't recommend freezing coconut meringue pie.
Recipe Notes
Yes, the filling is thick. Yes, there is a lot of filling in this pie. If you want a thinner filling, you can add more milk if you like. Some folks in the comments have mentioned adding 1/2 cup more and some even 2 cups more! That is totally up to you. Many folks have commented that the pie turned out perfectly using the 1/2 cup called for in the recipe.
To make a dairy-free coconut pie, substitute the butter for vegan butter and whole milk for coconut milk.
To make a gluten-free coconut pie, you'll need to use a gluten-free pie shell and a gluten-free flour alternative.
For more coconut flavor, swap the vanilla extract for coconut extract. You can also swap the granulated sugar for coconut sugar.
Recipe FAQs
What is the difference between coconut meringue pie and coconut cream pie?
The main difference between these two coconut pie recipes is the topping. As the names suggest, coconut meringue pie has a meringue topping and coconut cream pie has a whipped cream topping.
You may also like these pie recipes:
Caramel Banana Pie (a.k.a Easy Banoffee Pie)
Lemon Meringue Pie With Cookie Crumb Crust
Cherry Cream Cheese Pie From Grandmama's Kitchen
Sawdust Pie (A Family Favorite)
Ingredients
1/2

cup

sugar

1/3

cup

flour

1/2

cup

milk

1

stick

melted butter

1/2

teaspoon

salt

1/2

teaspoon

vanilla extract

3

eggs

separated

1

cup

sweetened flaked coconut

1

9-inch baked pie shell
Meringue
3

egg whites

1/4

cup

sugar
Instructions
Pie
Mix together the flour, sugar, salt, butter, milk, and egg yolks in a large saucepan. Cook over medium heat, stirring constantly with a wire whisk until thick. Remove from heat. Stir in vanilla and coconut. Pour into the baked pie shell. Top with meringue.

1/2 cup sugar,

1/3 cup flour,

1/2 cup milk,

1 stick melted butter,

1/2 teaspoon salt,

1/2 teaspoon vanilla extract,

3 eggs,

1 cup sweetened flaked coconut,

1 9-inch baked pie shell
Meringue
Beat egg whites until foamy and then add sugar. Continue beating on high speed until soft peaks form. Pour onto the top of the pie and spread it to the edges to seal well. Sprinkle additional coconut on top. Bake at 325 for 10 minutes or until golden brown. Refrigerate until completely cold before serving.

3 egg whites,

1/4 cup sugar
Video
Nutrition
Enthusiasm is contagious. Be a carrier.
~Susan Rabin. Submit your quote by clicking here.