I have a special treat for y'all. I've asked my friend, Cris, if she would be a guest on Southern Plate. She agreed to share her Slow Cooker One Pot Chicken Dinner! Y'all, this is one of the sweetest, cutest, ladies you could ever hope to meet. On top of that, she inspires me with her kindness and wisdom and it is a joy to be able to call her friend. I know you'll enjoy getting to visit with her as much as I do! Gratefully, Christy
I am just so delighted to be visiting with ya'll today! I was so honored when Christy asked me to stop by and share one of my favorite recipes with you. As a blogger it is so much fun to get to work with other bloggers like Christy, she is what we call back home– Good People ;).
So now the hard decision of what to share… what to share?
How about a recipe we make all the time at our house: Slow Cooker One Pot Chicken Dinner. As you might imagine, we make all kinds of slow cooker recipes at our house for our site Recipes That Crock! So, I tell my readers if I am sharing a recipe that we make over and over again, you know it is serious good. And, this my friends is SERIOUS good and so easy to throw together.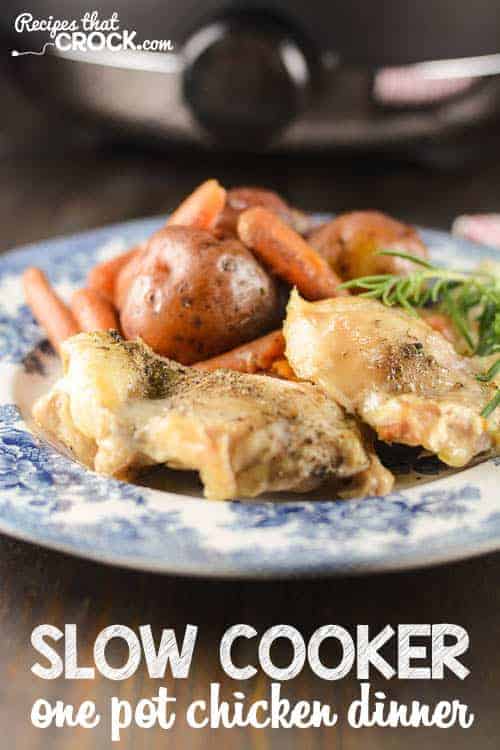 We have made this a million different ways… with chicken legs, a whole chicken, different kinds of veggies, herbs, etc. But today I am going to share my VERY favorite way with you– boneless skinless chicken thighs and fresh rosemary. Those thighs have just enough fat in them to crock up nice and juicy without drying out and I love me some rosemary!
This is one of those dishes that is purely dump and go and perfect every time. You simply layer your veggies, seasoning as you go and top with your chicken and herbs. As the chicken cooks up, the drippings make for a delicious broth that the veggies cook up in all day.
Ingredients
6-10

Red Potatoes

halved if large

1

Small Bag Baby Carrots

2

Sweet Onions- quartered

½

Cup

Sherry

or broth

Salt

Pepper and Poultry Seasoning to Taste

3½

lbs

Boneless Chicken Thighs

4

sprigs Rosemary or Thyme
Instructions
Layer veggies in the bottom of your slow cooker.

Season with salt and pepper.

Pour in sherry or broth.

Layer chicken on top and season with poultry seasoning and salt and pepper.

Top with sprigs of rosemary or thyme

Cook on low for 5-8 hours.
Notes
NOTE: If you choose to make it with a whole chicken or chicken legs or thighs that still have skin on them, I like to broil them for a few minutes after they get done slow cooking to crisp up the skin a bit. I just lay them out on a cookie sheet and pop them under the broiler, watching them very closely so they don't burn. You can also pull them out and rotate them if you like.
Nutrition
Big thanks again to Christy for letting me stop by! I sure hope you guys enjoy this dish as much as we do!
~ Cris
Other Slow Cooker or Crock Pot recipes that you may enjoy are:
Cheesy Chicken And Rice Crock Pot Version
Slow Cooker Angel Chicken Gluten Free and Low Carb Pasta Options
Slow Cooker Chicken and Dumplings