This is a recipe that is always considered a treat at my house, met with the same zeal as a dessert even though it is just a bread. A variation on my Mama's hoe cake, she often mixed up the same batter and made drop biscuits instead. When I first served hoe cake to my in laws, hot from the oven with generous helpings of homemade apple butter, they declared it a hit. They loved the crispy outer layer and soft as clouds biscuit inside. But the next day when I made them drop biscuits (the same recipe, prepared so that there is more of the crispy part), they assured me that the drop biscuits with apple butter were their new favorite.
Hoe cake recipes vary widely.  A lot of people make it with corn meal or use more traditional methods of preparation (actually cooking it on a hoe). Every now and then a reader will respond to a recipe telling me it just isn't like their mother's. Sometimes they will go so far as to tell me I am doing something flat out wrong because the recipe varies in some way from how their Mama did it. It's these comments that stand out the most to me because my heart just aches for the folks that say them. I understand there is a lot more to what they are saying than ingredients and preparation methods.
"It's not like Mama's" is not so much about missing the food as it is missing the person.
I feel the same way even though I am fortunate enough to still have my mother with me. She was the one who taught me how to cook and as a result, I cook just exactly like she does. Anyone could taste a dish made by Mama next to one of mine and not be able to tell a bit of difference. Still, my cooking to me just isn't Mama's.
I want to make one thing as clear as possible : How your Mama made it is the right way. No one will ever cook for you like your Mama did and I'm surely not here to try. But on the same token, Southern Plate is a singular website run by a singular person and as a result, when I bring you a recipe I'm going to bring it to you how My Mama made it, which is the only right way for me.
I know how much a Mama can mean to a person and I hope I can help bring back some of those memories from time to time, maybe by telling you a little of my childhood or my mother's childhood that reminds you of your own in some way. I hope when this happens that it brings a smile to your face and most importantly, I hope when you make a recipe of one of yours or my loved ones, that it helps to bring a bit of their spirit into your kitchen again.
Your Mama will always be a better cook than you, me, Martha or Julia. There was never any competition.
At the end of this post in the comments, I'd really like for you to share any memories you'd like about your mamas and how they cooked for you. Tell me about your Mama's heart, her sense of humor, lessons she taught, or about how good it made you feel when she wrapped her arms around you.
Most of all, tell me how your Mama did it just right.
For this, you'll need: Self rising flour, vegetable shortening, and milk.
Isn't it amazing how all of the best Southern recipes have the fewest and most simple of ingredients?
Just think about all of the food channels and fancy cookbooks touting "quick and easy" that have ingredient lists a mile long!
All we need to do is look to the old days when folks used what they had on hand.
If you'd like to know how to make your own self rising flour, just visit my Frequently Asked Questions page.
Now take your ugliest baking sheet,one with a bit of a lip around the edges,and pour some vegetable oil on it.
You just need enough to coat the bottom.
You know that really ugly baking sheet you have that you make sure you don't use when company comes? That is the one we want for this. Mine is so old and ugly I covered it in foil so you wouldn't see! Bless it's little heart, its a workhorse of a pan though! I normally do not cover my pan in foil so don't feel that you have to.
Place that baking pan in your oven while it preheats to get the oil good and hot.
Measure your flour into a bowl.
Add your shortening.
Cut your shortening into the flour by repeatedly pressing down with a fork and stirring it up a bit as you do so.
I've mentioned before that you can buy a fancy pastry cutter for this but I find a long tined fork works just as well and I don't have one more thing to keep up with. Simple is better here at Bountiful.

It'll look like this when you are done.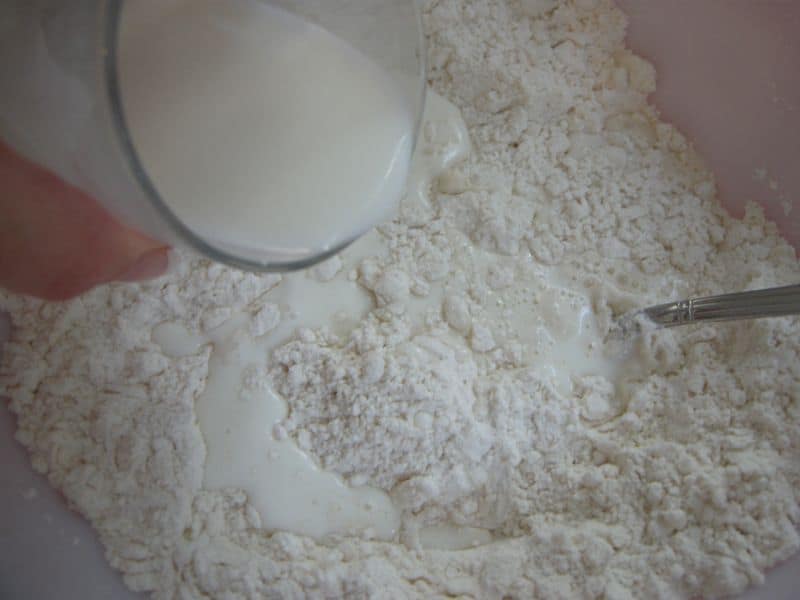 Now pour in your milk.
I used the very last bit of milk I had for these drop biscuits! Been so busy lately I haven't had time to get groceries.
Stir it up until you have a batter that is just a little softer than regular biscuit batter.
It will be lumpy but that is perfectly fine so don't go frettin' over it.
Katy calls these "grumpy biscuits" because of how they look when baked.
She sure does love to eat them though!
Drop globs by large spoonful onto heated baking sheet.
The oil should be hot enough to sizzle a little bit when you add the batter.
Now tilt your pan a bit until some of the heated oil pools in the corner and spoon a bit of that oil over each biscuit.
This will get us nice and crunchy tops!
Here are our drop biscuits all ready to go.
These are pretty good sized ones and this recipe ended up making about eight of them.
If you make them a little smaller you could get a dozen.
Bake at 425 until golden brown, 10-15 minutes.
Ingredients
2

cups

self rising flour

1

cup

milk

1/2

cup

vegetable shortening
Instructions
Preheat oven to 425. Pour a thin layer of oil to cover the bottom of a large baking pan and place in oven to heat.

Cut shortening into flour well. Pour milk in and stir until wet – add a little more milk if needed.

Drop by large spoonfuls onto well heated pan and spoon a bit of hot oil over each one.

Bake for ten to fifteen minutes or until browned.
Be sure to try the original recipe, too! Click here.
Happiness is like potato salad,

when shared with others – it becomes a picnic!

Submitted by Southern Plate reader, Kathi.

To submit your positive or motivational quote (or to read a whole heap more!), click here.
Would you like to get an email from me every time I post something new on Southern Plate? You can do this by subscribing!
Click here to subscribe. Please note: No one has or will ever have access to these emails but me.
Now,~settles in and leans forward with interest~ tell me bout yer Mama! Can't wait to read! As always, feel free to talk amongst yourselves as well. If you'd like to reply to someone else's comment, just click "reply" beneath what they wrote.

Gratefully,
Christy 🙂
Yum