Easy Monkey Bread With Biscuits
All you need is 4 ingredients to make my easy monkey bread with biscuits. Tasty any time these pull apart soft and flaky biscuits coated in cinnamon sugar and baked in butter to golden perfection.
Monkey bread has been a family favorite ever since my son was a toddler. We made this the other night and I let the kids do all of it with very minor supervision. Katy is still talking about it. Last night when I put her into bed she said "Mama, I really liked making that monkey bread, can we make it again sometime?" So below I've included instructions for how you can make your monkey bread with biscuits alongside some little helpers.
But whether you make solo or as a family, the most important thing is that you make it! Because no one will be able to say no to flaky biscuit pieces coated in cinnamon and sugar and baked in butter until they're golden brown and crisp on the outside and soft on the inside.
As I mentioned, all you need is 4 ingredients to make my easy monkey bread… so there's no excuse 😉. As you can probably guess, the ingredients are canned biscuit dough, butter, cinnamon, and sugar. The instructions are too easy too. All you have to do is separate each biscuit piece into 2 layers, roll them into balls, and toss them into a cinnamon sugar mixture. Then place the biscuit dough balls in a bundt pan, pour in your melted butter, and bake it in the oven for 30 minutes. So easy but so good, y'all.
Monkey bread is such a yummy snack, breakfast, or coffee (and hot chocolate) treat. We ALWAYS make it at Christmas time but it is great any time of the year. I hope you try out this easy monkey bread recipe these holidays as well.
Recipe Ingredients
Flaky layer biscuits
Butter
Ground cinnamon
Granulated sugar
How to Make Monkey Bread With Biscuits
Add sugar…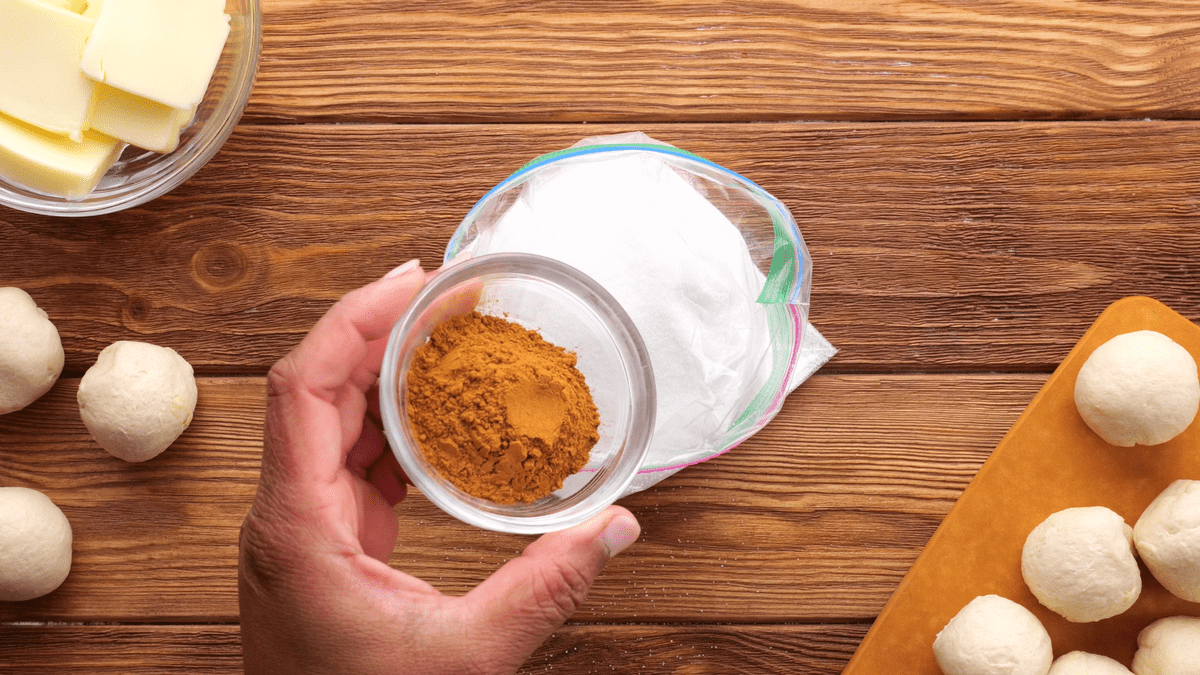 And cinnamon to a zipper-seal bag and toss to combine.
If you have helpers, divide the sugar mixture into multiple zipper-seal bags (one for each child).
Next, take the biscuits out of the can and separate them.
I separate each biscuit into two layers.
Then I fill a plate with biscuit dough for each child.
Let kids roll each slice up into a ball like this. They really love this part.
Not often that you get to put their play-doh skills to such good use! But rest assured, younger kids will have more uniquely shaped dough balls :).
Then have them drop a few dough balls into their bag, seal it, and give it a good shake!
Hopefully, they'll look like this afterward.
Place coated dough balls into a bundt pan.
Once I have them all in the pan, I sprinkle a few tablespoons of leftover cinnamon sugar mixture over them.
Melt butter in the microwave and pour over the dough balls in the pan.
Bake at 350 for about 30 minutes or until done.
Let the monkey bread sit in the pan for about 5 minutes and then carefully turn it out. As you can see above, I place a plate on top and then quickly turn it over.
If all goes to plan, it will look like this!
Decorate with some cranberries this holiday season and most importantly, enjoy!
Storage
Store leftover monkey bread in an airtight container in the fridge for up to 4 days or in the freezer for up to 3 months. I recommend reheating it in the oven or air fryer briefly before serving.
Recipe Notes
For an even sweeter monkey bread sauce, combine the melted butter with 1/2 cup of brown sugar before pouring it into the bundt pan. This will make a caramel glaze that's to die for!
Speaking of extra sweetness, you can also top your monkey bread with a vanilla glaze. Simply mix together 1 cup of powdered sugar, 1 teaspoon of vanilla extract, and 3-4 tablespoons of heavy cream until it reaches your desired consistency. Then pour this over the monkey bread before serving.
Instead of cinnamon, you can use pumpkin pie spice or apple pie spice or add 1/4 teaspoon of ground nutmeg to the cinnamon.
Recipe FAQs
What is monkey bread sauce made of?
The monkey bread sauce is simply made of cinnamon, sugar, and butter.
What kind of nuts go in monkey bread?
The best nuts for monkey bread are chopped pecans or chopped walnuts. If you like, add half a cup among the biscuit pieces in the bundt pan before adding the sugar. You can also add 1/2 cup of raisins.
Monkey bread gets its name from the way you break off pieces of dough with your fingers like a monkey grooms a friend! Yes, really.
Can I use any type of canned biscuits for this monkey bread with biscuits recipe?
Absolutely! I've used cheap no-name refrigerated biscuits before and the monkey bread turned out just fine.
What can I use instead of a bundt pan for monkey bread?
To make monkey bread, you can use a round cake pan, an 8×8 baking dish, a loaf pan, or even a muffin pan (see my monkey bread muffin recipe below).
Yes! I'd make it up to 24 hours in advance. Follow the directions until adding the butter and wrap the bundt pan in plastic wrap or aluminum foil and store it in the fridge. Then add the butter before baking the next day.
Check out these other tasty breakfast treats:
Monkey Bread With Cream Cheese Stuffing
French Breakfast Puffs with Fresh Strawberries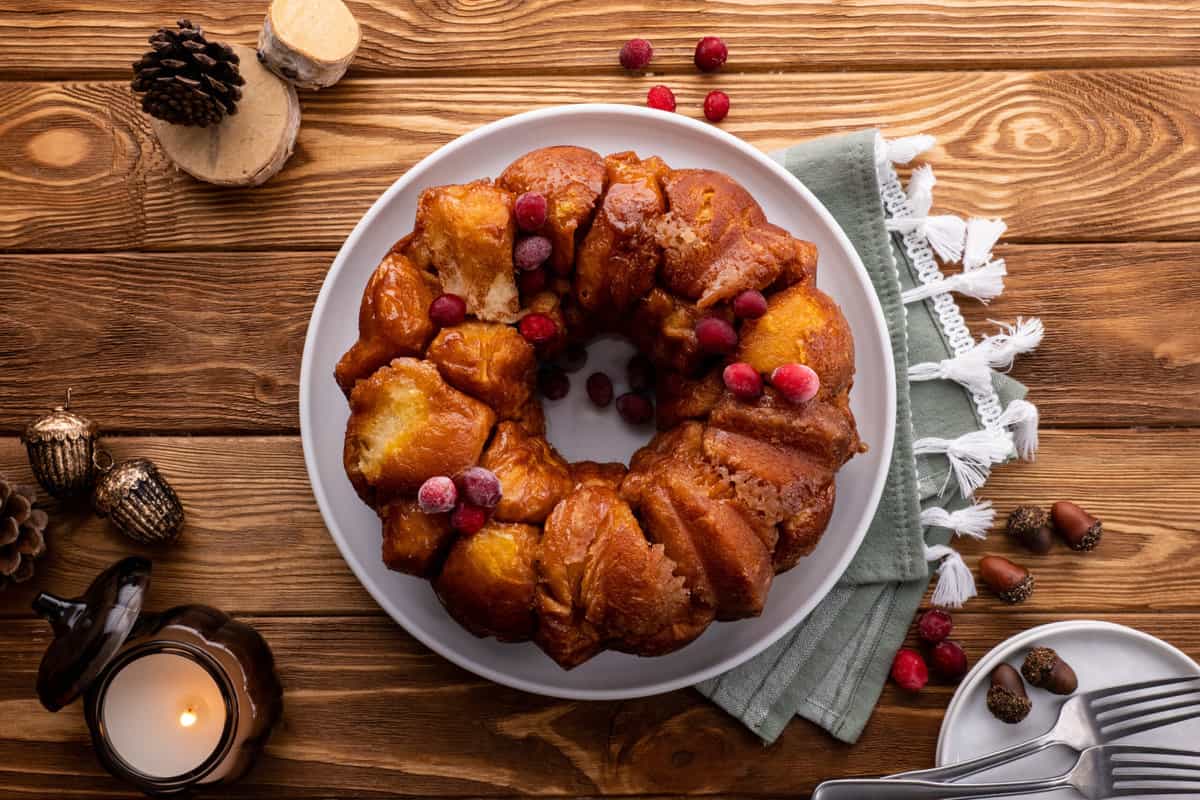 Ingredients
2

cans

flaky layer biscuits

1

stick

butter or margarine

1

cup

granulated sugar

1.5

tbsp

ground cinnamon
Instructions
Open biscuits and divide them among however many children are helping, placing them on a large plate. Have kids separate or tear each biscuit into two pieces. Roll each piece into a ball.

2 cans flaky layer biscuits

Combine sugar and cinnamon and divide among zipper-sealed bags, giving one bag to each child. Have them drop their dough balls inside and seal them, then give them a good shake.

1 cup granulated sugar,

1.5 tbsp ground cinnamon

Place coated dough balls into a bundt pan. Once all dough is in the pan, sprinkle 2 to 4 tablespoons of cinnamon sugar mixture over top.

Melt margarine and pour it into the bundt pan.

1 stick butter or margarine

Bake at 350 for 30 minutes.

Let the monkey bread sit in the pan for 5 to 10 minutes before turning it out onto a plate.
Nutrition