These Mini Boston Cream Pies are absolutely melt in your mouth delicious and the filling and chocolate… Oh MY! When you make these Southern Style you are going to love and hate me at the same time.
These mini pies are delicious and perhaps my favorite of the canned biscuit doughnut recipes I've posted. The filling is made with sugar-free pudding, light whipped topping, and fat-free or low-fat milk. The only real sugar in the recipe comes from the small amount of icing on top, so as far as calories and guilt go, you could do a heck of a lot worse than these! Don't bother telling anyone in your family they are actually light, no one will believe you!
Recipe Ingredients
Canned biscuits
Sugar-free instant jello
Lite cool whip
Vegetable oil
Milk (I used 1%)
How to Make Mini Boston Cream Pies
Here's a step-by-step guide to how to make these mini pies:
Place about 1/2 inch of oil into your pan and heat it on medium heat for about five minutes or so, to make sure it is good and hot.
Add in biscuits.
After less than a minute, they will be ready to turn. Turn them over and let them get good and golden brown on both sides. Remove from oil and place onto a paper towel-lined plate.
Now we make the cream filling for our pies. This is one of my favorite fillings. I use this recipe to fill cream puffs and as a light icing for cold cakes. It's also great just dolloped over fresh fruit.
Place 1 1/2 cups of fat-free milk in a mixing bowl. Add an entire small box of sugar-free french vanilla pudding. Note that we are adding 1/2 cup less milk than what the pudding calls for so this will be a bit thicker.
After that is mixed up, add eight ounces of lite whipped topping.
Make sure it is all blended up well. I mix mine with the mixer for a minute or two and then stir from the bottom with a rubber spatula to ensure I didn't miss any. This is just delicious.
Now, using a pastry bag with a tip or just a new oral syringe (which you can get at any pharmacy for next to nothing – they might even give it to you if you tell them you'll bring them some of these!), press the tip into the side of the doughnut and pipe a little filling in each one. I go for a little less than a tablespoon but you can do as much or as little as you like.
There ya go, filled doughnut …er uh…mini Boston cream pie!
Now, you are more than welcome to make the icing for your mini cream pies from scratch. However, this is meant to be a quick and easy recipe, so I just used some store-bought chocolate icing and stuck it in the microwave for about thirty seconds to get it to a good glaze consistency. Repeat with each individual Boston cream pie. Yummmm.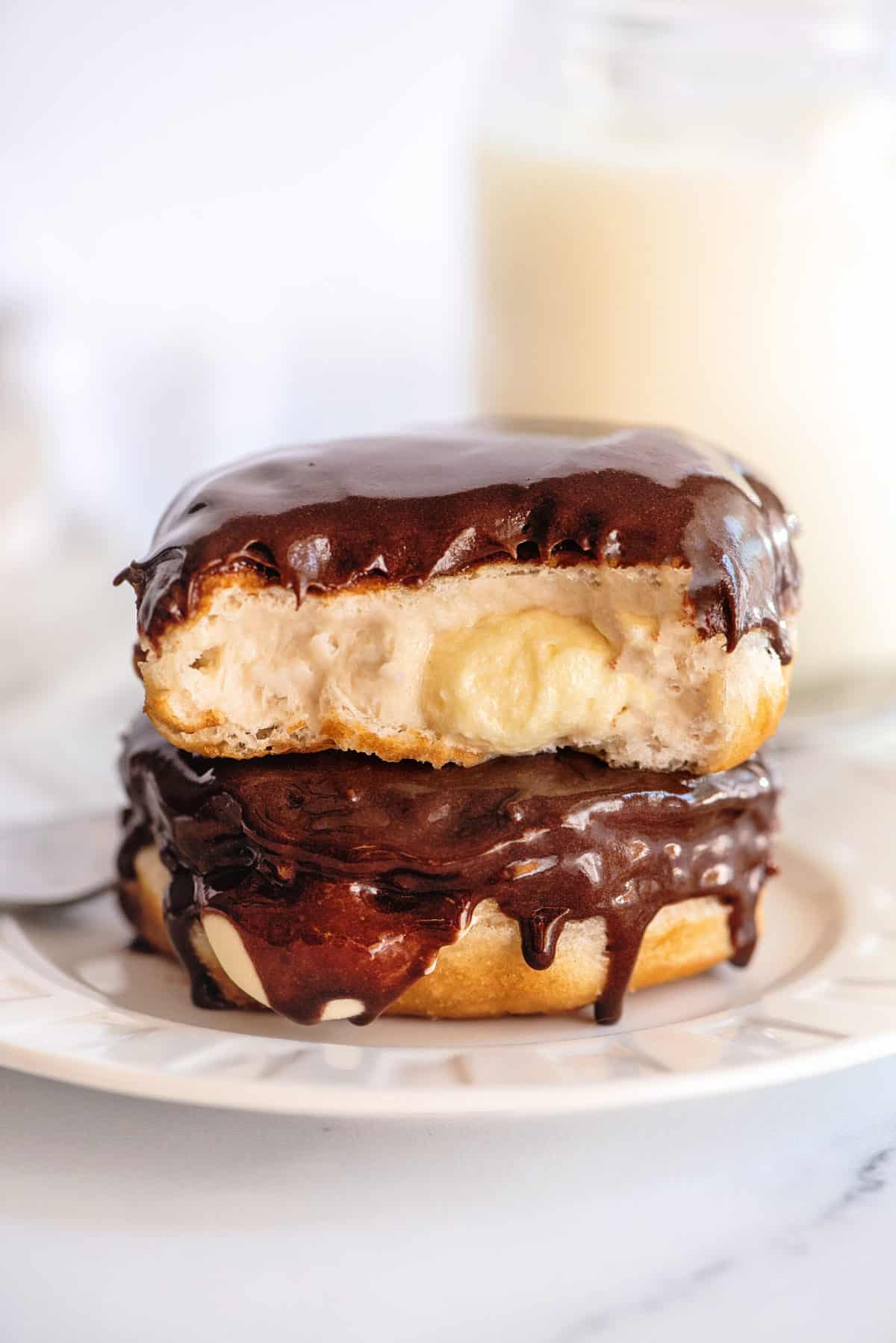 Ingredients
1

can biscuits

five or ten count, NOT the flaky layers type

vegetable oil

vanilla pudding

small box, sugar free

1 1/2

Cups

fat-free milk

or low fat

8

ounces

light whipped cream

or low fat

4

tbsp

chocolate frosting

we used a canned frosting
Instructions
Pour oil in a skillet to a depth of 1/2 inch. Place on medium heat and let it heat up for about five minutes to make sure the oil is good and hot.

Place biscuits in hot oil, turn as soon as they become brown and let brown on both sides. Remove to a paper towel-lined plate.

To make the filling, mix milk and the instant vanilla pudding together in medium bowl, blend well. Add whipped topping and mix until well blended. Stir with spatula from the bottom a few times to continue mixing.

Place in icing bag with tip or oral syringe and pipe into doughnuts from the side.

Heat chocolate frosting in microwave for about thirty seconds, until it is of glaze consistency. Pour into small bowl. Dip the top of each creme mini Boston cream into ganache and place on plate to serve.
Nutrition
Calories:
266
kcal
|
Carbohydrates:
18
g
|
Protein:
4
g
|
Fat:
21
g
|
Saturated Fat:
12
g
|
Polyunsaturated Fat:
1
g
|
Monounsaturated Fat:
2
g
|
Sodium:
129
mg
|
Sugar:
17
g
Other products of my canned biscuit doughnut frenzy:
Quick and Easy Jelly-Filled Doughnuts
Take a lesson from the weather, it pays no attention to Criticism.

Submitted by Bev