This is a copycat version of Applebee's beloved fiesta lime chicken recipe. Tender marinated chicken breasts are covered in a deliciously creamy and tangy sauce and lots of melted cheese then served with crushed corn chips.
Fiesta lime chicken has got to be one of Applebee's most popular dishes. If that's true, it's easy to see why. You have marinated grilled chicken breasts covered in a thick creamy sauce and lots of melted cheese with the tantalizing crunch from a bed of delicious tortilla chips. Who can say no to a combo like that? Well, today we're making homemade fiesta lime chicken. This is a copycat recipe, so it's my version and as close as I can get. If you can't get out to Applebees to have it, this is a close second.
Now, don't be scared by the number of ingredients in the below picture and list. Yes, there are a few. But I bet a lot you already have at home. The thing is, we need to make both the chicken marinade and the creamy sauce, and to make them as flavorful and as close to Applebee's version as can be, we need lots of ingredients. First, let's talk about the marinade, which is made with teriyaki sauce, lime juice, liquid smoke, salt, minced garlic, and ginger. How tasty does that sound?
Then we have the creamy sauce, which includes mayo, sour cream, salsa, milk, Cajun seasoning, parsley, hot sauce, cumin, and dried dill. It's creamy, a little bit tangy, and very delicious. The final step is lots of melted cheese goodness on top. While there are lots of ingredients, there really aren't a lot of steps and this is overall a pretty easy supper recipe. We just need to make the marinade, marinate the chicken, make the sauce, cook the chicken, and then melt the cheese on top.
Now, I love to serve my fiesta lime chicken on a bed of crushed corn chips, but I've included other serving suggestions below. Are you ready to give it a go?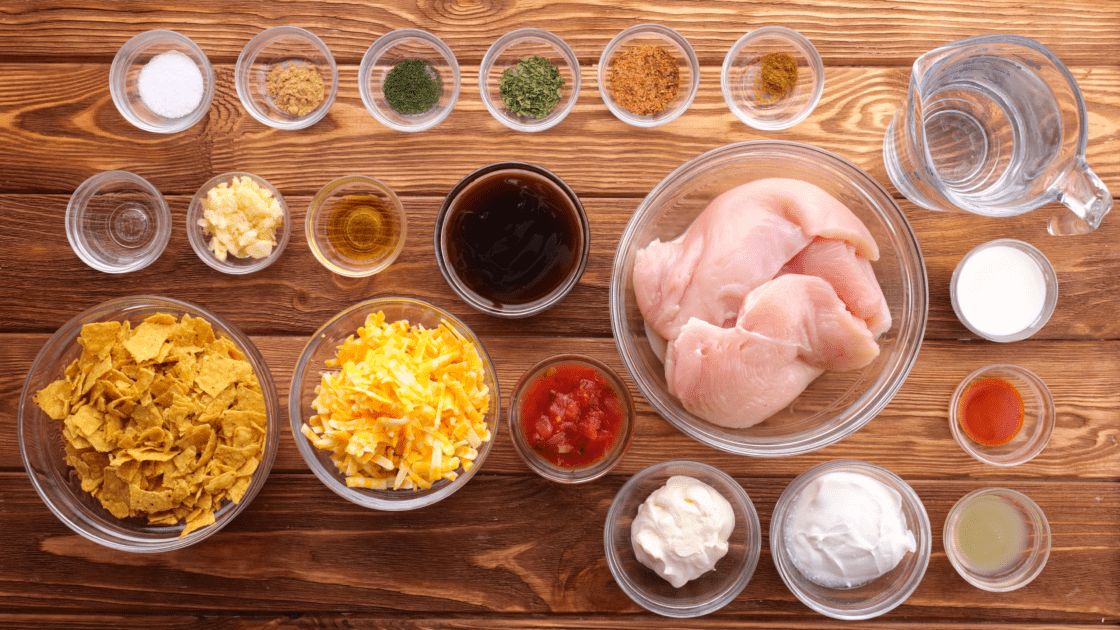 Recipe Ingredients
Water
Teriyaki sauce
Lime, juiced
Minced garlic cloves
Tequila (optional)

Liquid smoke
Salt
Ginger
Boneless skinless chicken breast
Mayonnaise
Sour cream
Salsa (chunky and spicy to your preference)
Milk
Cajun blackened spice
Dried parsley
Hot sauce
Cumin
Dried dill
Colby Monterey Jack cheese
Crumbled corn chips
How to Make Fiesta Lime Chicken
First, we're going to make our marinade. Whisk together water…
Teriyaki sauce…
Lime juice…
Minced garlic…
Tequila (optional)…
Liquid smoke…
Salt…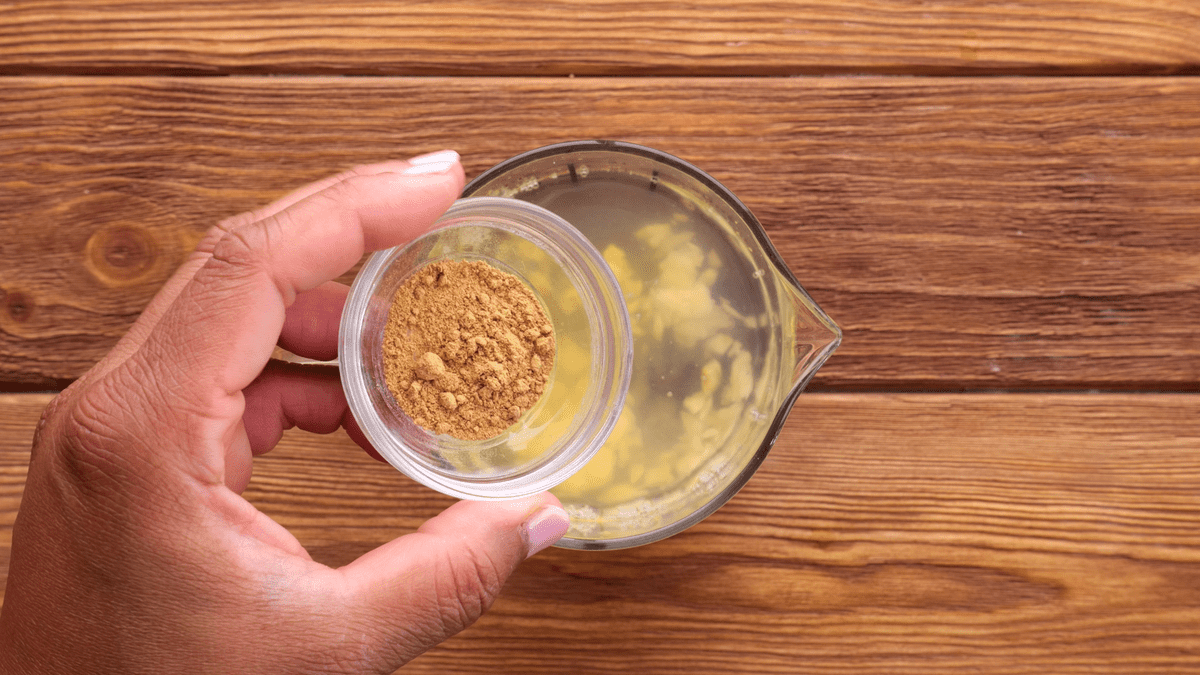 And ground ginger.
Coat the chicken in the mixture. Use either a mixing bowl and cover it with plastic wrap or use a ziplock bag.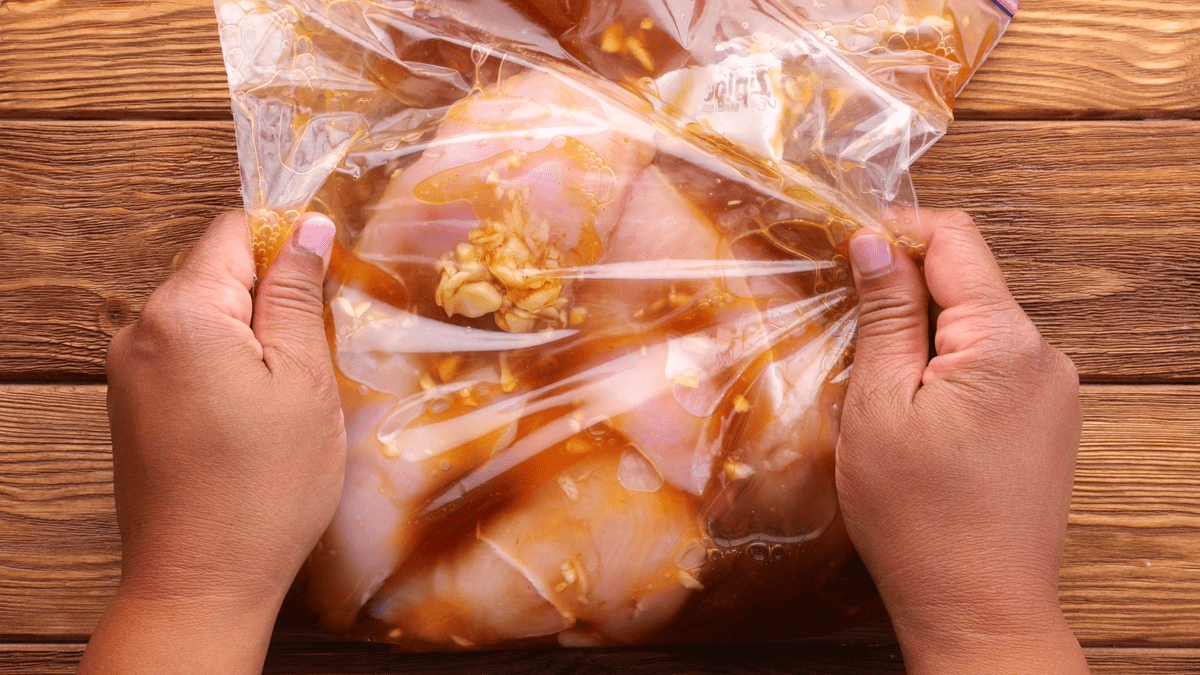 Then let the chicken marinate for about 2 hours.
In the meantime, we have to make our sauce. So in a mixing bowl, combine the mayonnaise…
Sour cream…
Salsa…
Milk…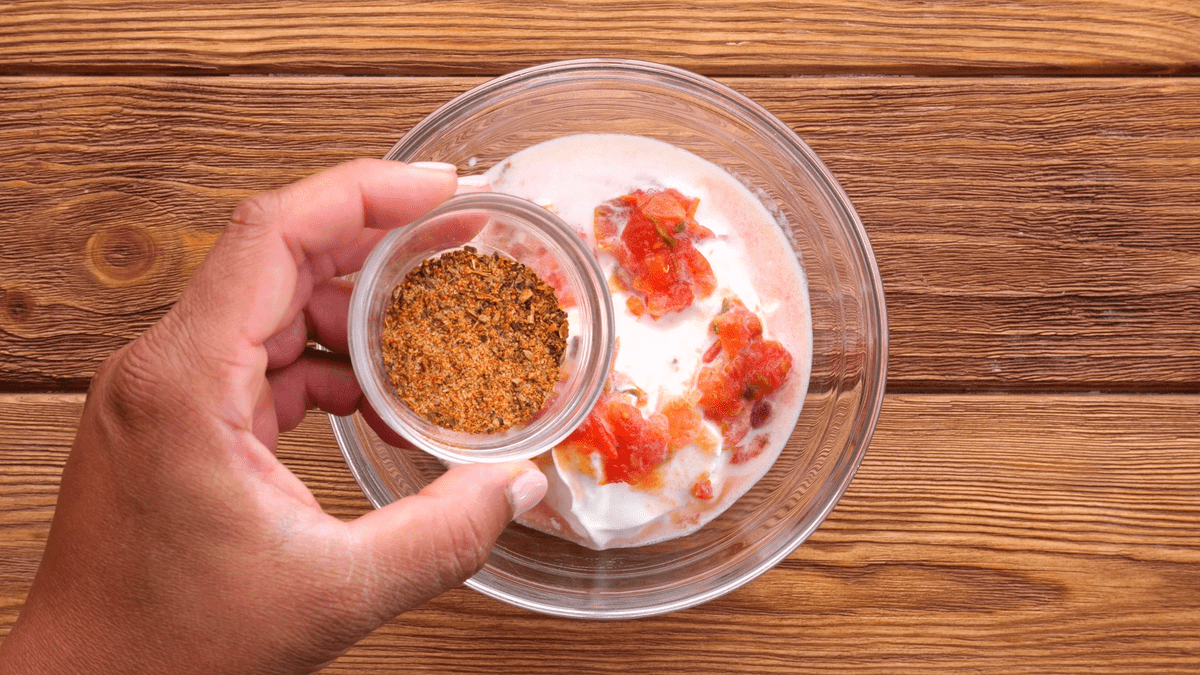 Blackened spice mix…
Dried parsley…
Hot sauce…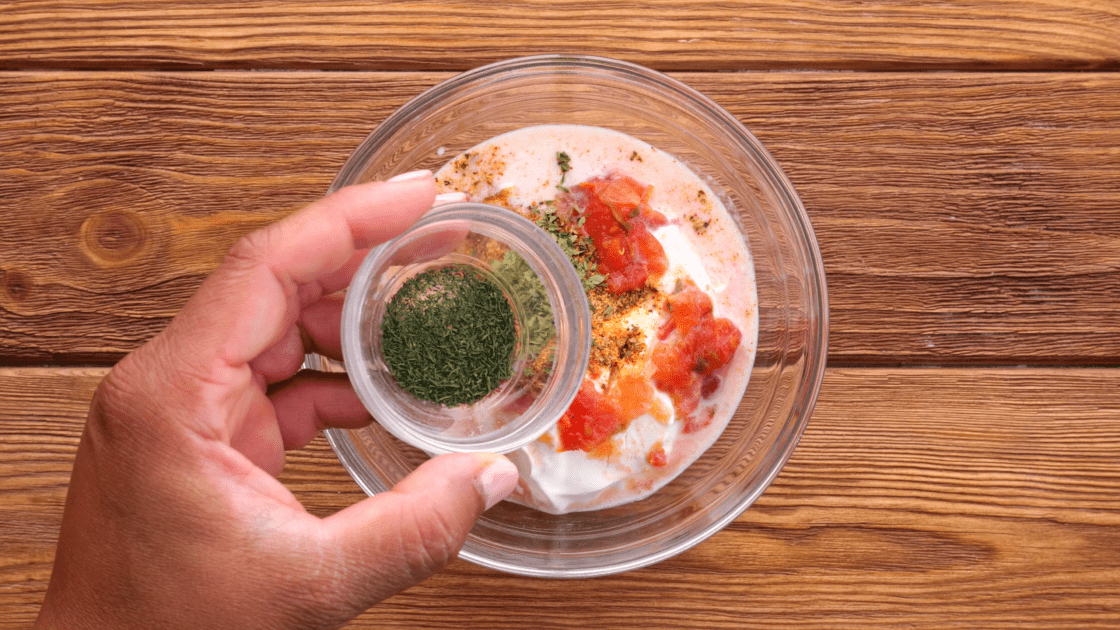 Dried dill…
And cumin.
Mix well, cover, and chill.
Grill the marinated chicken breasts until cooked through (internal temperature of 165 degrees).
Take the sauce that was chilling and brush it onto the grilled chicken.
Put cheese on top…
And broil until the cheese melts, like so.
Serve over a bunch of crushed tortilla chips and add an extra squeeze of lime and some chopped fresh cilantro if you like.
Enjoy!
Storage
Store leftovers in an airtight container in the fridge for up to 4 days. You can reheat them in the microwave, the oven, or the air fryer.
You can also freeze leftovers for up to 3 months. Thaw overnight in the fridge before reheating as above.
Recipe Notes
If you like, make a Mexi ranch sauce instead and substitute the mayo for ranch dressing.
You can marinate the chicken for 2 hours or overnight, whatever works.
Feel free to omit the tequila, but back in the day did you know this dish was called Tequila Lime Chicken?
You can also whatever type of shredded cheese you have on hand, whether that's cheddar cheese or Pepperjack cheese.
Recipe FAQs
How do you serve fiesta lime chicken?
Besides serving it as a main dish with tortilla strips, it also tastes delicious served with pico de gallo, guacamole, and a side of Mexican rice.
You may also like these easy chicken recipes:
Crockpot Fiesta Chicken and Rice
Buffalo Chicken Quesadilla Recipe
BBQ Chicken French Bread Pizza
Blackened Chicken Recipe With Cheese Topping
Ingredients
1

cup

water

1/2

cup

teriyaki sauce

1/2

lime, juiced

3

garlic cloves, minced

1

tsp

tequila (optional)

1

tsp

liquid smoke

1/2

tsp

salt

1/2

tsp

ginger

1

lb

boneless skinless chicken breast

1/4

cup

mayonnaise

1/4

cup

sour cream

2

tbsp

salsa (chunky and spicy to your preference)

1

tbsp

milk

1

tsp

cajun blackened spice

1/4

tsp

dried parsley

1/4

tsp

hot sauce

1/4

tsp

cumin

1/4

tsp

dried dill

1

cup

Colby Monterey Jack cheese

2

cups

corn chips, crumbled 
Instructions
Whisk together water, teriyaki sauce, lime juice, garlic, tequila (optional), liquid smoke, salt, and ginger.

1 cup water,

1/2 cup teriyaki sauce,

1/2 lime, juiced,

3 garlic cloves, minced,

1 tsp tequila (optional),

1 tsp liquid smoke,

1/2 tsp salt,

1/2 tsp ginger

Place chicken in the mixture and coat it. Then let this marinate for about 2 hours.

1 lb boneless skinless chicken breast

Combine the mayonnaise, sour cream, salsa, milk, blackened spice mix, dried parsley, hot sauce, dried dill, and cumin. Cover and chill. Set aside.

1/4 cup mayonnaise,

1/4 cup sour cream,

2 tbsp salsa (chunky and spicy to your preference),

1 tbsp milk,

1 tsp cajun blackened spice,

1/4 tsp dried parsley,

1/4 tsp hot sauce,

1/4 tsp cumin,

1/4 tsp dried dill

Grill the marinated chicken breasts until cooked through (internal temperature of 165 degrees).  

Take the sauce that was chilling and brush it onto the grilled chicken. Put cheese on top and broil until the cheese melts.

1 cup Colby Monterey Jack cheese

Serve over a bunch of crushed tortilla chips.

2 cups corn chips, crumbled 
Video